If you are truly a basketball fan, you must know this sensational and talented female, Jaden Newman. She is an American amateur basketball player originally from Orlando, Florida.
As an up-and-coming basketball prodigy, she is famous for averaging 30.5 points and over 7 assists for her varsity high school team at the tender age of just 9 years old.
Moreover, at 9, she was already a recruiting target of an NCAA Division I basketball program, the University of Miami.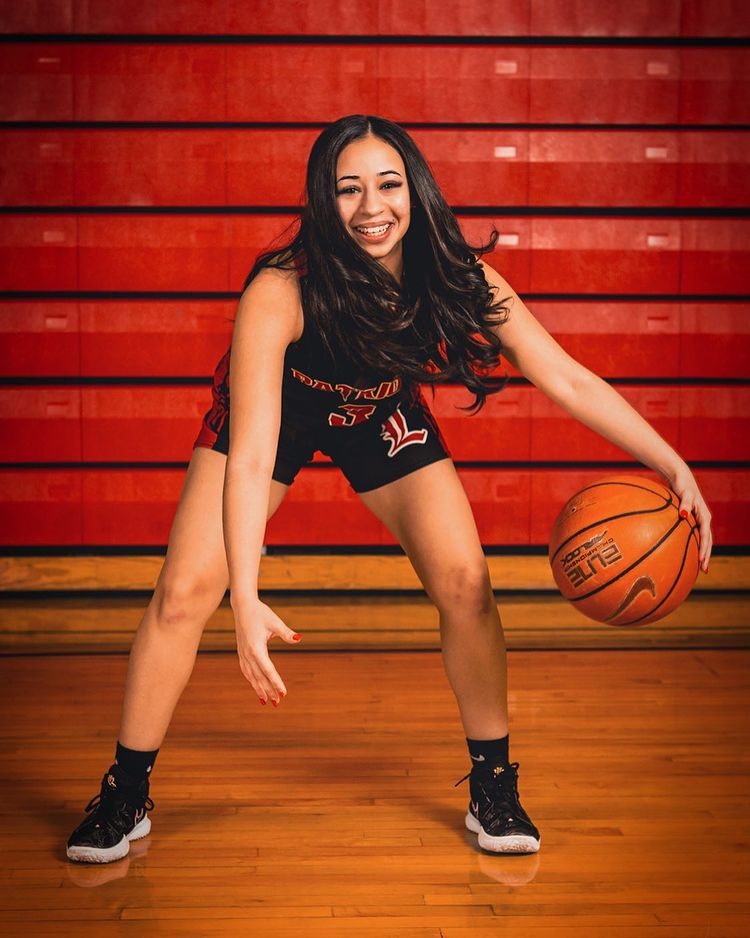 At only 18 years of age, there is absolutely anywhere Newman's future can take her. Her participation in the reality TV show has also opened up her prospects in the entertainment sector.
So what does this young talent aspires to be? What is driving her enthusiasm? Let us find out all about the young athlete through this biography.
Before that, let's start with some quick facts.
Jaden Newman | Quick Facts
| | |
| --- | --- |
| Full Name | Jaden Newman |
| Birth Date | June 13, 2004 |
| Birth Place | Orlando, Florida, United States |
| Nationality | American |
| Education | Downey Christian School, Orlando, Florida |
| Horoscope | Gemini |
| Father's Name | Jamie Gonzalez |
| Mother's Name | Vivian Gonzalez |
| Siblings | Julian Newman |
| Age | 18 years old |
| Height | 5 feet 3 inches/162 cm |
| Weight | 60 kg/132 lb |
| Profession | Amateur basketball player, TV personality, Instagram star |
| Debut | N.A. |
| Net Worth | $200K |
| Marital Status | Single |
| Partner | N/A |
| Children | None |
| Salary | N/A |
| Social Media | Instagram, Twitter |
| Basketball Merch | Shoes, Accessories |
| Last Update | March, 2023 |
Jaden Newman | Early Life, Family, and Education
Jaden Newman, the beast on the court, was born on June 13, 2004, in Orlando, Florida. She is currently 18 years old, and her zodiac sign is Gemini.
Similarly, her father's name is Jamie Gonzalez, and her mother's name is Vivian Gonzalez. Her 19-year-old brother Julian is also a famous amateur athlete player just like herself.
Jaden and Julian are of Jewish and Puerto Rican descent. Their father, Jamie, played for his school, the Colonial High School in Orlando as a point guard.
Then he became a history teacher and basketball head coach at his kids' school, the Downey Christian School. Jaden's mother, Vivian, is a Puerto Rican.
Vivian played at University High School in Orlando, Florida as a point guard and then served four years in the navy before working at the United States Postal Service. The Newman family resides in a beautiful house in Orlando, Florida.
When she was only 9 years of age, the NCAA Division I program, the University of Miami (FL), reportedly recruited Jaden. Besides that, details regarding her class rank are kept private.
Sabrina Ionescu Bio: Basketball, WNBA, Family & Net Worth >>
Jaden Newman's Sibling | Julian Newman
Jaden and her brother Julian are the youngest male and female athletes to surpass 1000 points at the varsity prep level.
The Newman family has not only one star but two. Jaden's sibling Julian Newman is also an amateur basketball player. He was born on September 6, 2001, and will turn 21 years old this year.
The star came to attention when his basketball highlights and skills were uploaded on Youtube.
He was playing varsity basketball for Downey Christian School and was given the name "child prodigy." This was not well received by critics who objected to the marketing tactics.
Besides that, he is considered a great prospect for the NBA draft. Likewise, he follows a daily workout and training routine and focuses on improving his basketball skills.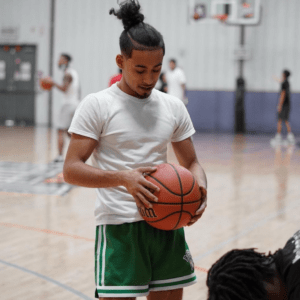 Julian Newman, the basketball player, is available on social media platforms like Instagram. He is very popular among young people, and almost 768k people follow him.
Furthermore, you can watch a mixtape of his junior year games on Youtube.
Jaden Newman | Height and Weight
As we know, Newman is a beautiful young girl who stands at the height of 5 feet 3 inches or 162 cm. Jaden weighs around 60 kg or 132 lb.
She is a trouble to the court's basketball players at this stature and weight with her agility and speed. Despite her petite physique, Jaden is like a beast on the court.
Her dribbling skills are amazing, which makes it difficult for others to counteract her.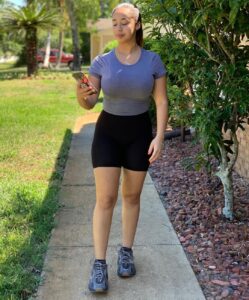 Her hair color is dark brown, and so is her eye color. Her waist size is reportedly 29, and her hip size 38.
Jaden Newman: Professional Career
Jaden, the aspiring player, first started playing basketball with her brother Julian. She began her career in third grade, playing for the varsity team.
She dressed up for Downey Christian School's varsity team when she was only eight.
Similarly, this happened when the team needed a new point guard, and her father, Jamie, who was also the coach of the team, suggested Jaden's name.
By that time, Jaden was already dominating older players at the local YMCA.
To your surprise, the young basketball player is Also the youngest girl to score over 1,000 career points at the varsity prep level.
Newman averaged 14.8 points and 7.5 assists and, along with her brother, became the youngest female and male athlete ever to surpass 1000 points at the varsity prep level.
Jaden averaged over 15 points a game in the fifth grade, 30 points per game in the sixth and the seventh grade, and afterward, over 45 points a game in the eighth grade.
Early in her career, Newman was not confident about her game because of her short stature, but she figured out how to stay relevant on the court with her superb shot-making and passing.
In a game in 2018, she scored 70 points in a single game, in the process tying a national record of 17 three-pointers made.
Achievements
Newman's debut drew her nationwide attention, and she even appeared on the famous "The Queen Latifah Show."
Furthermore, the NCAA Division I program, the University of Miami, started recruiting the young star in the hope of making her commit to the program.
However, Jaden has always wanted to play for the University of Connecticut (UConn), Storrs, Connecticut, and has always been a big UConn Huskies supporter.
The young athlete and media personality has also appeared in a footlocker commercial with the professional basketball player Stephen Curry and has gone face to face against Curry in a 3-point shooting contest too.
In 2019, Newman made her entry into the music industry with her debut single "I Run It," featuring Orlando, Florida-based R&B artist Chandler Broom.
Candace Parker Bio: Brother, Daughter, Dunk & Net Worth >>
Jaden Newman | Stats
| | | | | | | |
| --- | --- | --- | --- | --- | --- | --- |
| Season | GP | PPG | APG | RPG | SPG | BPG |
| Career | 86 | 27.6 | 7.1 | 4.5 | 5.1 | 0.1 |
Learn more about her basketball highlights, NBA draft, prospect, and scouting report on DME Academy, MAX Preps, and Prep Girls Hoop.
Overtime | Hello Newmans
If you are a regular sports watcher, you might be familiar with Overtime's sports network.
It is a distributed sports network that programs across different social media platforms like Instagram, Twitter, Facebook, YouTube, Snapchat, and Overtime.
Jaden Newman, with her family, has a reality show, "Hello Newmans," launched by Overtime. It has many viewers, and the show is a 'hit.'
The whole series revolves around the Newmans, father Jamie Newman, mother, and brother Julian Newman. It shows us their everyday matches, the parents building a clothing brand, and the young Newman's basketball skills.
If you are interested, then you can directly click on their website and have access to it.
Jaden Newman | Relationships & Boyfriend
You might be wondering whether the aspiring basketball player has a boyfriend or if she is dating anyone. Well, we are here to provide you with all the answers you are looking for.
As for now, there is no news of Jaden Newman dating anyone or of her boyfriend.
Newman is only 16 and has many decisions left to make in her life. One such decision is of her boyfriend.
The basketball prodigy is reportedly not dating anyone and is focused on her TV appearances and basketball career for now.
However, since she has garnered fame and her family now, it won't be a surprise to see her in a relationship soon. So, let's see what the future has for the young athlete.
Jaden Newman | Net Worth and Income
Although Jaden is not earning basketball yet, her family is associated with Prodigy's sports apparel brand, and they sell courtside and elsewhere.
Furthermore, she earns from her appearances on the reality TV show Hello Newmans, presented by the sports network Overtime on social media.
She also reportedly earns from her Instagram feeds as she has garnered a big fan base on her Instagram. In the years to come, her net worth will increase with the new basketball competitions and endorsements.
As of 2020, Jaden Newman has an estimated net worth of $200 thousand.
Jaden Newman | Social Media Presence
She has been in the eyes of the media and sports fans from an early age. So naturally, therefore, Jaden is confident on camera with her grace, and we can find this on her Instagram.
People love the young athlete, and she makes sure to stay connected by posting pictures from time to time.
Moreover, she shares her training sessions and travels to keep people motivated to follow their own dreams.
Jaden has a verified account on Instagram, where she has 943 thousand followers.
She is also available on Snapchat, where her username is Jadennewman01, on TikTok, under the username Jadennewman, and has a Twitter account ( 4492 followers).
Jaden Newman | FAQs
What is Jaden Newman's jersey number?
Jaden Newman's jersey is #1.
Is Julian Newman accused of arson?
No, the rising basketballer is not accused of arson, even though he almost set fire to people's cars accidentally while lighting fireworks on the 4th of July.
Has Jaden Newman received scholarship offers from Kentucky?
There is no definite news regarding any offers from Kentucky.
How many tattoos does Julian Newman have?
Julian has a large tattoo on his chest. In addition, he tattooed his family members, including his parents and sister, on his chest.
What is Jaden Newman's current goal?
Like every other person, Jaden Newman has her own set of goals and dreams as well. In an interview, young Jaden was asked about her current goals and dreams.
"After I graduate high school, I want to go to UConn. Every girl wants to go there," she said.
Moreover, Newman also said that she would love to go to the WNBA to play for L.A Sparks.
The Women's National Basketball Association ( WNBA) was established on April 22, 1996, and is a professional basketball league in the United States.
Hopefully, she could be the first woman to play in the NBA.
What was Julian's issue with Dropbox?
Dropbox accidentally deleted all of his files without him actually deleting them.