Jalen Johnson, an American NBA player, is a small forward for the Atlanta Hawks. He is surfing the NBA streams with the Hawks after they chose him as the 20th overall pick in the 2021 NBA draft.
On October 21, 2021, Johnson signed a four-year contract with the team that includes club options for the 2023-24 & 2024-25 season.
A consensus five-star prospect, the basketball star's athleticism trait comes from his parents, who played collegiate basketball.
Moreover, his brothers also played basketball in high school & college.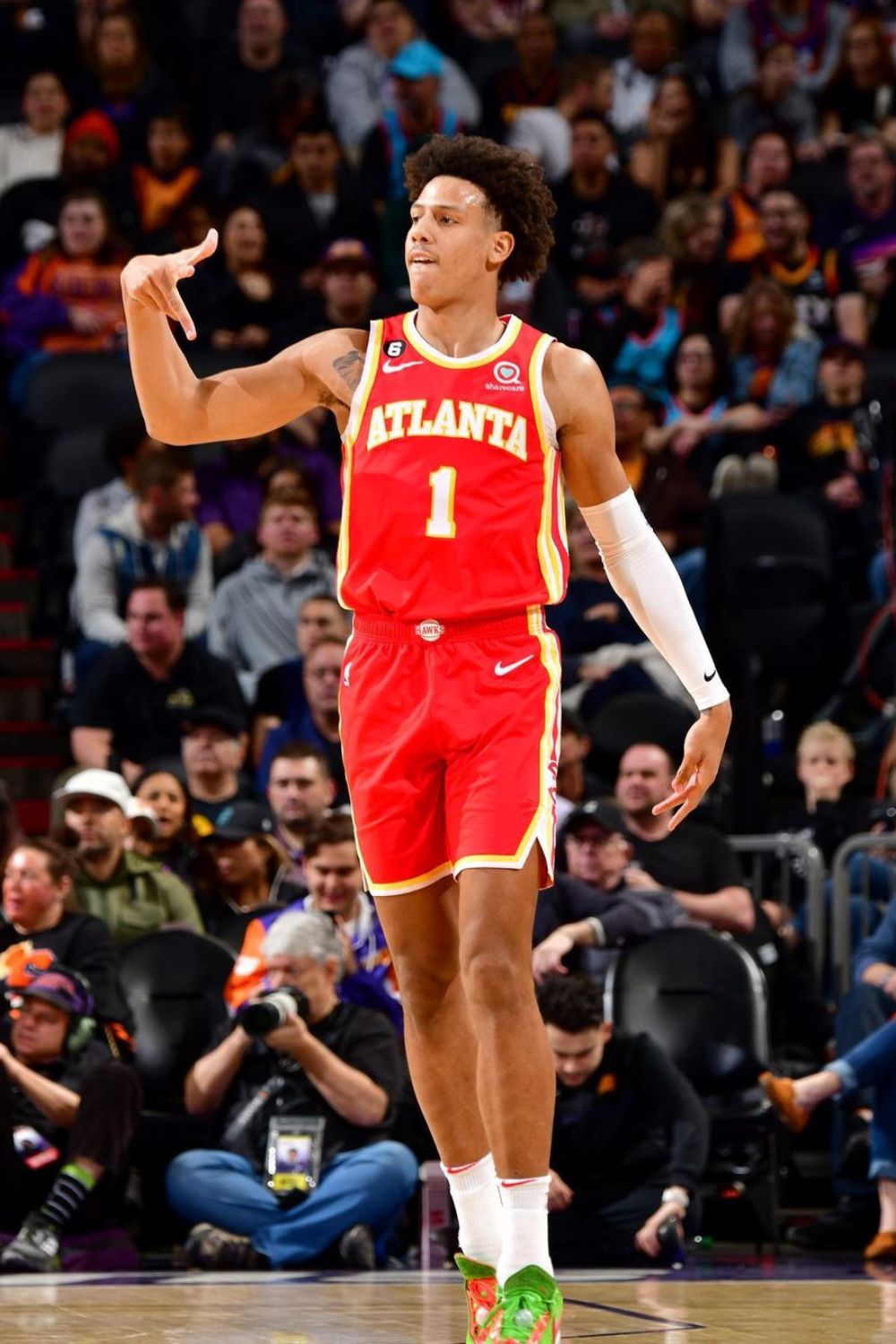 After completing high school at Nicolet, Jalen Johnson committed to collegiate basketball at Duke University.
However, in the midst of his freshman year at Duke University, he decided to declare for the 2021 NBA draft.
And his NBA success is an answer to those who doubted his potential!
In this article, we will cover Jalen Johnson's family background, his journey from high school to college and ultimately to the NBA, as well as his net worth and contracts.
Quick Facts
Full Name
Jalen Tyrese Johnson
Known As
Jalen Johnson
Date of Birth
December 18, 2001
Age
21 Years Old
Birth Place
Wausau, Wisconsin
Nationality
American
Father's Name
Roderick Johnson Jr.
Mother's Name
Stacy Johnson
Siblings
Three
Zodiac Sign
Sagittarius
Height
6 feet 9 inches/ 206 cm/ 2.06 m
Weight
220 lbs/ 99 kg
Education

High School: Sun Prairie, Nicolet
College: Duke University (2020-2021)

NBA Draft
2021/ Round:1/ Pick: 20th Overall
Playing Career
2021-Present
Current Team

Atlanta Hawks (2021-Present)

Position
Small Forward/ Power Forward
Jersey Number
1
Base Salary for 2022-23
$2.79 Million
Net Worth
$2 Million -$3 Million
Social Media
Instagram, Twitter
Merch
Signed Basketball
Last Update
June 2023
Jalen Johnson's Family Details!
Jalen Johnson was born on December 18, 2001, to Stacy Johnson and Roderick Johnson Jr.
His father, Roderick Johnson, played college basketball for Milwaukee and Southeast Missouri State for two years each before pursuing a two-year professional career in Poland.
Roderick is currently an officer with the Madison Police Department in his home state of Wisconsin, where he has been serving since 2008.
Jalen's mother, Stacy, also played college basketball at Wisconsin-Milwaukee.
He has three brothers: Rod Johnson, Kobe Johnson, and Rodez Watson.
His brother Rod (birthday: September 25) attended Sun Prairie High School. He played college basketball at Northern Michigan in his freshman year, UT Chattanooga in his junior year, and Western Illinois in his senior year.
Jalen's other brother Kobe, born on January 15, 2003, attended Nicolet High School before committing to play collegiate basketball at the University of South Carolina.
The information regarding his other brother is currently unknown.
Age, Height & Body Measurements
Jalen Johnson is currently 21 years old, and his zodiac sign is Sagittarius.
The black-haired and dark brown-eyed basketball stands 2.06 m (6 feet 9 inches) tall and weighs 220 lbs (99 kg).
In addition, his wingspan and standing reach measure 2.13 m (7 feet) and 2.69 m (8 feet 10 inches), respectively.
High School & Collegiate Career
Jalen Johnson saw his first two years of high school years at Sun Prairie High School. There he led the Cardinals to their first-ever appearance in the Division I semifinals of the state tournament.
Following his sophomore year, he transferred to Nicolet High School and played a pivotal role in the team clinching the Division 2 State Championship.
Johnson chose Duke University over numerous offers to pursue his college basketball career.
During his stint as a Blue Devil, he featured in only 13 games, starting in 8 of them, and averaged 11.2 points and 6.2 rebounds per game.
However, on February 15, 2021, he decided to forego the remainder of his freshman season and declare for the 2021 NBA Draft.
NBA Journey Of Jalen Johnson
The Atlanta Hawks selected Jalen Johnson as the 20th overall pick in the 2021 NBA draft.
The Duke alumnus made his NBA debut on October 21, 2021, against the Dallas Mavericks, scoring 6 points during his 4 minutes cameo.
Although he played in 22 games in his rookie season, he did not get a chance to start any of them.
On December 2, 2022, the shooting forward played in the main rotation for the first time against the Denver Nuggets, where Dejounte Murray scored a game-high 34 points.
He recorded his career-high of 16 points on March 4, 2023, against the Chicago Bulls.
Johnson repeated the same feat, scoring 16 points in his next game against the Washington Wizards on March 5, 2023.
In the 2022-23 season, he played in 70 games, starting in 6 of them, and averaged 5.6 points per game.
Net Worth & Contracts
As of 2023, the estimated net worth of Jalen Johnson ranges between $2 million to $3 million.
There is no denying that most of his earnings come from his basketball career.
Also, the Hawks' small forward banks a great deal of money from his multi-year endorsement deal with Nike. However, no information regarding the deal has been disclosed yet.
Following his selection by the Hawks in the 2021 NBA draft, Johnson signed a four-year rookie scale contract worth $12.89 million on August 4, 2021.
The deal offers an annual average salary of $3.22 million, with club options for the final two years (2023 & 2024 seasons).
On October 11, 2022, the Hawks exercised an option contract worth $2.93 million for the 2023-24 season.
For the 2024-25 season, Johnson's salary will be $4.51 million upon exercising the option deal.
Relationship & Social Media Presence
Jalen Johnson maintains an active presence on social media platforms such as Instagram and Twitter, with 130k and 23.1k followers, respectively.
Although he rarely posts on these platforms, his content primarily consists of in-game basketball pictures.
Furthermore, the basketball player has been private about his dating history and relationship status, and fans are curious to know if he has a girlfriend.
However, Johnson has remained tight-lipped about this matter, and while sources suggest that he is allegedly single, he has not confirmed this matter.
Popularity Graph
Jalen Johnson was chosen to play in the Jordan Brand Classic. However, the event was canceled due to the outbreak of the COVID-19 pandemic.
The above graph depicts the popularity trend of Jalen Johnson in the last year, with the highest point being in April 2022.
Frequently Asked Questions (FAQs)
What team does Jalen Johnson play for?
Jalen Johnson plays for the Atlanta Hawks (2021-Present).
How much salary Jalen earns from his contract?
Jalen Johnson inked a 4-year contract worth $12.88 million with the Hawks which averages an annual salary of $3.22 million.