Dejounte Murray is a professional basketball player for the National Basketball Association's San Antonio Spurs (NBA).
He played one season of collegiate basketball with the Washington Huskies, where he was named to the Pac-12 second team as a freshman in 2015–16.
Murray was selected to his first NBA All-Star Game in 2022. He has the most career triple-doubles for the Spurs.
Here, we have assembled all you need to know about Dejounte Murray, including his personal and professional life, in one page.
So, if you want to learn more about the player, read the article all the way to the conclusion. But first, let's take a look at some quick facts about Dejounte.
Quick Facts
Full Name
Dejounte Dashaun Murray
Birth Date
September 19, 1996
Birth Place
Seattle, Washington
Nick Name
Baby Boy
Religion
Christianity
Nationality
American
Ethnicity
Black
High School
Rainier Beach (Seattle, Washington)
College
University of Washington
Playing Career
2016 – present
Zodiac
Virgo
Chinese Zodiac
Rat
Father's Name
John Murray
Mother's Name
Not known
Siblings
Two sisters
Age
27 years old
Height
6 feet 4 inches
Weight
82 kg
NBA Debut
2016
Shoots
Right
Tattoos
Yes
Food Habits
Non-veg
NBA Draft
2016, Pick: 29th overall, Round: 1,(Selected by the San Antonio Spurs)
Hair Color
Black
Eye Color
Black
Career Highlights and Awards

NBA All-Star
NBA All-Defensive Second Team, etc.

Build
Athletic / Muscular
Children
A daughter
Wife
Not married
Jersey Number
5
Position
Point guard
Profession
Basketball player
League
NBA
Net Worth
$80 Million
Salary
$15,428,880
Social Media
Merch
Basketball Card
Last Update
December 2023
Dejounte Murray: Tough Childhood
The NBA player Dejounte Murray was born on September 19, 1996, in Seattle, Washington.
Murray grew up in Seattle's South End, where desperation and cruelty went hand in hand.
His entire childhood tale cannot be shared in its entirety because he is not ready to do so.
However, even a cursory glance reveals how terrible the background was. The player's childhood still haunts him to this day.
If you imagine a young child in the streets, gang, dealing drugs, and doing whatever to make money, that's exactly what it was. That's exactly what the player was.
Dejounte got arrested for the first time when he was 11 years old. However, he was unconcerned about it.
Juvenile meant nothing to him when he was 11 years old. He wasn't afraid or nervous since he did not know what was happening.
His encounters with violence were regular, as evidenced by the body-numbing sensation after learning that a close friend or cousin had been tragically shot.
His mother was in and out of jail, and his father was not always around. Murray says that neither of his parents was a full-time parent.
The player does not even have a favorite cartoon. That's how much time he spent on the streets. Dejounte's lifestyle was more of a fate than a choice.
The Cycle
Murray is not the only one in his family who has been through the worst. Starting right from my grandmother, his entire family had lived the same life.
The player has heard stories about his great-grandmother being in gangs, insane, and doing the worst.
It was a cycle that had been passed down through generations. Everything has been handed down to Murray. It was usual for his family to sell drugs or do whatever they wanted on the streets.
The player moved from one apartment to the next, from one hotel room to the next, and from the room sofa to the couch. When he was arrested for the first time, his mother was booted out of state housing.
Dejounte Murray: High School Days
Rainier Beach High School in Seattle, Washington, was Murray's alma mater.
The institution has produced NBA players such as Jamal Crawford, Doug Christie, Terrence Williams, Nate Robinson, and Kevin Porter Jr.
Actually, the player's life altered during his sophomore year of high school when he met the NBA veteran Jamal Crawford.
Crawford, a fellow Seattle native and Ranier Beach High School graduate convinced Murray he had what it takes to make it to the NBA and took him under his wing.
Murray stated that Crawford frequently phoned and texted him, pressing him to get off the streets, into the gym, and get his grades in line.
Dejounte transformed during high school. He was the Vikings' coach for three Class 3A state championships.
Murray was also selected Washington Mr. Basketball by the Washington Interscholastic Basketball Coaches Association.
The player was also The Seattle Times State Player of the Year.
Dejounte Murray: College Career
The player was awarded second-team All-Pac-12 and Pac-12 All-Freshman Team as a freshman at the University of Washington in 2015–16.
He achieved this feat after averaging 16.1 points, 4.4 assists, and 1.8 steals, 5.9 rebounds in 33.5 minutes while starting all 34 games.
Likewise, the player declared for the NBA draft on March 23, 2016, preceding his remaining three years of NCAA eligibility.
Also, Read About: Spencer Dinwiddie: NBA, Girlfriend & Net Worth>>
Dejounte Murray: Professional Career
Dejounte was picked by the San Antonio Spurs with the 29th overall choice in the 2016 NBA draft on June 23, 2016.
Murray joined the Spurs for the NBA Summer League of 2016 and signed his rookie scale deal with the team on July 14.
Likewise, Murray made his NBA debut on October 29, 2016, in the Spurs' third game of the 2016–17 season.
Rising to Glory
In a 120–111 defeat against the Utah Jazz on February 3, 2018, Murray became the first player since Kawhi Leonard to have 500 points and 300 rebounds in his first 100 games with the Spurs.
Further, Murray got eight rebounds in an 89–75 win over the Warriors on March 19, 2018. As a result, he broke the franchise record for most rebounds by a point guard in a single season.
At the end of the season, he was selected to the NBA All-Defensive Second Team, making him the NBA's youngest All-Defense player.
Likewise, the Spurs and Murray agreed to a four-year, $64 million contract extension in October 2019, bringing the total contract value to $70 million with incentives.
NBA All-Star
On February 7, 2022, Dejounte was chosen as an NBA All-Star as an injury substitute for Warriors' Draymond Green for the first time.
The player got 13 points on 6-8 shooting, 3 assists, and 2 rebounds in his opening 9 minutes of the All-Star Game.
Likewise, he entered the game earlier in the second half and threw it to himself off the glass for another thundering slam.
Dejounte Murray: Major Setbacks
Injury
Dejounte suffered a torn right anterior cruciate ligament in a preseason game against the Rockets on October 7, 2018. As a result, he missed the whole 2018–19 season.
Following the injury, LeBron James posted on Instagram, expressing his concern for Dejounte. The player wrote:
"Man, I feared that would be the case when I saw the play! F*#% man! Lil bro, you'll be back stronger, quicker, faster, and more athletic when you return."
Illness
The other major setback came for the player in 2022. On April 5, 2022, the All-Star point guard tweeted an update on his illness.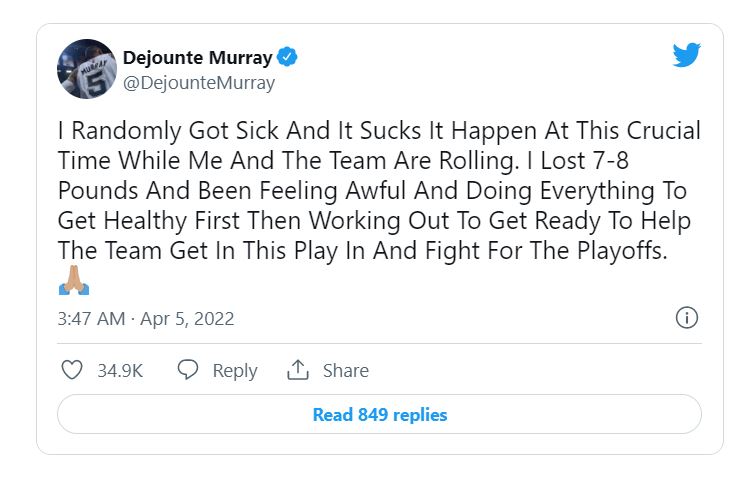 It has been confirmed that Dejounte has an upper respiratory illness. As a result, the player has been missing many games.
Tre Jones, a 2020 NBA draft, has filled in for Dejounte.
Love from Fans
It's not a surprise for an NBA player to be loved and idolized by the public. Likewise, Dejounte has always received enormous love and support from his fans.
Usually, the fans buy Jersey of their favorite players to show love and support. However, Dejounte's fan went an extra step ahead and got it tattooed.
Saige Flores, 19, refers to Dejounte Murray as his "hero." The Spurs fan lives in Chicago and claims he often sees the team when they come to town.
Moreover, he had a tattoo of the player's jersey inked on his body. He showed the tattoo to Murray via Instagram. Dejounte could not believe it, so the boy decided to show the tattoo to the player in person.
Saige waited for Dejounte after the Spurs v. Bulls (January 2020) by the tunnel in hopes of getting his idol's attention.
The fan screamed above the other fans, informing Dejounte that he was the one who received the tattoo.
Murray eventually heard him and went back to see the ink for himself and sign some autographs. Saige describes the encounter as the "greatest" experience of his life.
According to Saige, Murray's online presence, which often consists of inspirational statements and photographs, has had a good influence on his life.
Moreover, Murray's recovery from an ACL injury in 2018 inspired him to "be better and just keep going."
Dejounte Murray: Girlfriend
The basketball player is currently in a relationship with Jania Meshel. The player confirmed the relationship by posting a picture with Jania in a private jet. He mentioned that they would be rocking forever.
Likewise, Jania also posted the same picture on Instagram and called Dejounte her love and best friend.
She also mentioned spending the rest of their lives together.
Before dating Dejounte, Jania was in a relationship with the NBA Youngboy. Likewise, Dejounte was in a relationship with Jilly Anais before finding his love in Jania.
Dejounte Murray: Kids
The NBA player has a daughter named Riley, born on July 31, 2017. However, the answer to who is the mother to Riley is still a matter of mystery.
Murray celebrated his daughter's first birthday with a heartwarming Instagram picture.
The player also mentioned his daughter's custody struggle in the caption. He also wrote that he is no longer hiding his daughter from the world.
Dejounte Murray: Body Measurements
The basketball player, Dejounte Murray, was born in the year 1996. So, he is currently 27 years old.
Murray was born in the Rat year, according to the Chinese calendar. The year is the first year of the 12 months Chinese zodiac calendar.
Talking about Dejounte's physical appearance, the player has a muscular and well-maintained body and looks very handsome. Murray exercises regularly to keep up with his athletic lifestyle.
Further, the American player stands tall at 6 feet 4 inches and weighs around 82 kg. Unfortunately, Murray's other body measurements are currently unknown.
Likewise, the player also has tattoos inked on his body. Additionally, Murray has black hair and black eyes. His ethnicity is also black.
In addition, Murray's zodiac is Virgo. Sapiens with the Virgo sign are hardworking, generous, and down-to-earth. They are also brilliant. Dejounte Murray is no different.
Also, go through Chris Chiozza: Early Life, Career & Net Worth>>
Dejounte Murray: Awards
2022 NBA All-Star
2018 NBA All-Defensive Second Team
2016 Second-team All-Pac-12
2015 First-team Parade All-American
2015 Washington Mr. Basketball
Dejounte Murray: Net Worth
Dejounte Murray has made enough money for himself to live a life of luxury. Most of his earnings come from his profession as an NBA basketball player.
The NBA Player Dejounte Murray has an estimated net worth of $80 Million.
Moreover, in October 2019, Dejounte Murray secured a "multi-million dollar" shoe endorsement agreement with New Balance, which resulted in an increase in his overall earnings.
Additionally, the player has agreed to terms with the San Antonio Spurs on a four-year, $64,000,000 contract, with $64,000,000 guaranteed and an annual average salary of $16,000,000.
Likewise, Dejounte will earn a base salary of $15,428,880 in 2021-22, with a cap hit of $15,428,880. He will also make a dead cap value of $15,428,880.
Similarly, the player's estimated career earnings for the six seasons is $35,929,149.
Social Media Presence
Frequently Asked Questions
What is Dejounte Murray's favorite basketball movie?
As revealed by the player, his favorite basketball movie is Love & Basketball. The 2000 American romantic sports drama movie was written and directed by Gina Prince-Bythewood.
What is Dejounte Murray's nickname?
The player, Dejounte, is also popularly known as the 'Baby Boy.' The nickname was given by his grandmother when he was young.