Jevon Carter is a prominent American professional basketball player for the National Basketball Association's (NBA) Milwaukee Bucks. He was a West Virginia Mountaineer basketball player in college.
Jevon Carter, a WVU alum and Phoenix Suns point guard, continues to live up to his nickname, "bulldog," playing in the NBA with the same passion, hustle, and defensive tenacity.
Carter continued to show hustle, grit, and determination during the Suns' run inside the NBA bubble, scoring a season-high 20 points with six 3-pointers in the team's win over the Miami Heat.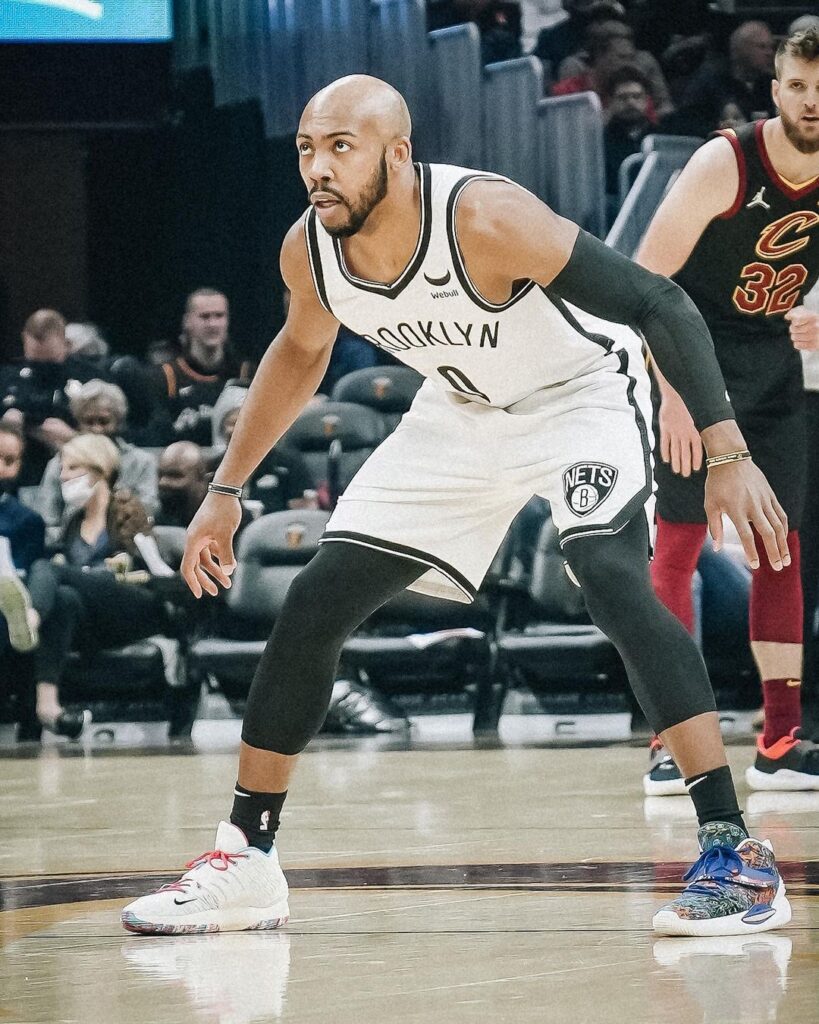 Carter's calling card since college has been his aggressive on-ball defense skills, which he honed as the face of WVU basketball during the Press Virginia era.
He was an absolute treat as a Mountaineer, winning the Big 12 Defensive Player of the Year award in back-to-back seasons. After his junior and senior seasons, he won the NABC Defensive Player of the Year and the Lefty Driesell Award.
Furthermore, he was the inaugural Naismith Defensive Player of the Year in his final season. Continue reading to learn everything about Jevon Carter.
Quick Facts
Full Name
Leroy Jevon Carter
Known as
Jevon Carter
Nickname
Bulldog
Birth Date
September 14, 1995
Birth Place
Oak Park, Illinois
Residence
Not Available
Religion
Christianity
Nationality
American
Ethnicity
African American
Education
Proviso East (Maywood, Illinois) and West Virginia (2014–2018)
Zodiac Sign
Virgo
Father's Name
Leroy Carter
Mother's Name
Cynthia Johnson
Siblings
4, Briana Johnson, Daren Carter, Kalin Fisher, and Cameron Carter.
Age
27 years old
Height
6 feet 1 inch
Weight
200 lb (91 kg)
Eye Color
Brown
Hair Color
Black
Body type
Athletic
Profession
Basketball Player
Marital Status
Single
Girlfriend
Not Available
Children
None
Active since
2018 – present
Teams
Milwaukee Bucks
Achievements

Consensus second-team All-American (2018)
Naismith Defensive Player of the Year (2018)
2× Lefty Driesell Award (2017, 2018)
Senior CLASS Award (2018)
Academic All-American of the Year (2018)

Endorsements
Not Available
Net Worth
$1 million
NBA Draft Pick
2018 / Round: 2 / Pick: 32nd overall
Position
Point Guard
League
NBA
Merch
Trading Card
Social Media
Instagram, Twitter
Last Update
March 2023
High School Career
Jevon attended Proviso East High School in Maywood, Illinois, where he played basketball. In high school, he mostly played off the ball.
From 2011 to 2012, he competed in the AAU competition for Team NLP, which included Jalen Brunson.
According to 247Sports.com, Carter was a three-star recruit and the No. 299 player in the 2014 class.
Akron, Dartmouth, Kent State, Lehigh, Toledo, Valparaiso, UW-Green Bay, and Illinois State offered scholarships, but he chose West Virginia.
College Career
At West Virginia, he switched to point guard and quickly established himself as one of the Big 12 Conference's top defensive players.
He was a prominent figure in the development of "Press Virginia," coach Bob Huggins' defensive scheme that forces numerous turnovers.
As a sophomore, Carter became a starter and averaged 9.5 points and 2.3 rebounds per game.
After his junior season, Carter declared for the 2017 NBA draft but did not hire an agent. He eventually decided to return to the Mountaineers for his senior year.
Jevon was unanimously named to the preseason All-Big 12 team prior to the start of the 2017–18 season.
He surpassed Greg Jones' all-time steals record of 252 in a win over NJIT on November 30, 2017.
Read about; John Collins: Injury, Net Worth & NBA>>
Professional Career
Carter was selected 32nd overall by the Memphis Grizzlies in the second round of the 2018 NBA draft on June 21, 2018. The Memphis Grizzlies announced on July 12, 2018, that they had officially signed Carter.
He was assigned to the Memphis Hustle, the Grizzlies' G League affiliate throughout his rookie season.
Jevon made his NBA debut on December 15, 2018, coming off the bench to score eleven points, two steals, a rebound, and a block in a 97–105 loss to the Houston Rockets.
Carter set a career-high with 32 points, four rebounds, two assists, and a steal in a 132–117 victory over the Golden State Warriors on April 10, 2019.
The Memphis Grizzlies traded Carter to the Phoenix Suns on July 7, 2019. Jevon scored a season-high 20 points on 7–10 shooting, including 6–9 from three-point range, in a 119–112 win over the Miami Heat on August 8 in the 2020 NBA Bubble.
Jevon and the draft rights to Day'Ron Sharpe were traded to the Brooklyn Nets on August 6, 2021, in exchange for Landry Shamet.
He was waived when the Nets signed Goran Dragi on February 22, 2022. He signed a contract with the Milwaukee Bucks on February 24, 2022.
Jevon Carter: Age, Height & Weight
Jevon was born on September 14, 1995. Thus he is currently 27 years old.
Carter isn't as much of a threat in the NBA as he was in college, but it's still his best quality.
He's a little undersized at 6'1′′ and 200 pounds, but that doesn't stop him from defending. He's been a tenacious and aggressive defender who will go after whoever is in front of him.
Jevon's zodiac sign is Virgo. People born under the Virgo zodiac sign are ambitious and organized, with a clear understanding of the steps that must be taken to reach the goal and the point of resolution.
Don't miss out; Harrison Barnes: Career, Net Worth & Wife>>
Jevon Carter: Improvements
During his time at West Virginia, Jevon Carter developed into a reliable shooter, and he found a groove in his second and third seasons with the Phoenix Suns.
Carter shot nearly 40% from 3 on 2.5 attempts in 118 games with the Suns and was very influential on catch-and-shoot attempts.
For whatever reason, his shooting dipped with the Nets this season. He hit 33% of his 3s and 34% of his 2s, which is not ideal!
According to NBA.com/stats, Carter shot much better on pull-up 3s (39.5 percent, 38 attempts) than catch-and-shoot (30.2 percent, 86 attempts).
When Carter is on the court, he'll get open looks off of Holiday, Khris Middleton, and Giannis Antetokounmpo, no matter how much he plays. It will be up to him to make them to gain more playing time.
His defense and energy are contagious, and he played a vital role in some of Phoenix's best moments, particularly during the team's early-season success. He was Phoenix's second-best three-point shooter this season, hitting 39.3 percent of his attempts.
Jevon Carter: Family
According to the wiki, Jevon Carter was born to his mother, Cynthia Johnson, and father, Leroy Carter.
In terms of siblings, he has three brothers named Daren Carter, Kalin Fisher, and Cameron Carter and a sister named Briana Johnson.
Jevon has a strong bond with his parents. He credits his father and mother for shaping him into the man he is today. He divided his time between his mother's and father's residences.
His mother was an academic scholar (she attended the University of Tennessee in Chattanooga and was on the Dean's list with an academic scholarship). She was concerned with Jevon's academic performance.
She didn't pressure him to get all as in school, but she did expect him always to do his best.
Father As A Coach
Carter's father, Leroy, a former baseball and basketball player, was in charge of all of his son's sporting activities.
With Jevon, he was an absolute drill sergeant. In athletics, he pushed him every day. He instilled the discipline required to be an elite athlete at a young age in Jevon.
Leroy worked with and helped condition several future NBA players from the Proviso, Illinois area when they were young (Cory Maggette, Michael Finley, Shannon Brown, Dee Brown, to name a few).
Moreover, he played high school basketball with Reggie Jordan and Doc Rivers. Leroy was an excellent player, but he lacked the necessary attitude and family support to pursue an NBA career as a young man. He didn't want his son to go through the same thing.
The athlete had to put in a lot of effort to develop and perfect his craft. He did it as a child, a teenager, and now as an adult at the pinnacle of his chosen profession.
His success results from his God-given abilities, incredibly hard work, and exceptional parenting by his mother and father.
Sacrifice
Jevon's mother (C.J. Johnson) stated that she first realized he (Jevon) would make it to the NBA in his sophomore year when he decided to give up baseball and devote all of his energy and focus to basketball despite being scouted for professional baseball.
While other boys his age were playing video games, Jevon was dribbling in the driveway or working on his game at the gym. He took meticulous care of his toys and kept his room and clothes neat and tidy at all times.
In other words, he wasn't like the other kids. His mother stated that he appeared to be a "natural leader."
As early as three years old, she recognized genuine leadership qualities in him.
There were numerous exhausting late nights and early mornings. Arriving at practice hours before everyone else and staying for hours afterward.
Perfecting his craft is what drove Jevon, and it's why he went from a relatively unknown recruit to one of the best college basketball guards in the last decade to now playing for an NBA team.
If you know Jevon, you know he's not finished and hasn't "proven" anything to himself yet.
Off the Court
Fans probably think Jevon is mean because of his seriousness on the court, but he's very compassionate. In addition, he loves to spend his free time giving back to underprivileged youth," C.J. Johnson said of his off-court behavior.
He truly "loves the kids," evidenced by his frequent postings. He doesn't drink or use drugs, so he isn't into the nightclub scene.
Phoenix's culture shift began not only with new hires in the front office and coaching staff but also with the players they brought in and the character and work ethic they possessed.
Jevon was a big part of this shift, and even though he's one of the younger guys on the team, the way he busts his a$$ in practice is commendable.
According to rumors in the locker room, he has a great personality and is one of his teammates' favorite players.
The impact cannot always be measured on the court because what happens off the court is almost as essential to team success.
Jevon Carter: Friendship
Many people who have followed Jevon Carter's rise want to credit James Long, the college teammate turned graduate assistant turned friend who was frequently found in the gym with Carter long after others had gone home to shower.
Long believes that you need more than just a buddy willing to rebound your shots to progress from a high school role player to a breakout stud on an NBA court.
To become the type of player Carter has become, you must keep your priorities straight while taking it on the chin.
James, a West Virginia teammate of Carter's, connected with the bulldog defender because they shared a desire for hard work.
James, now the head coach at West Virginia Tech, knew he wanted to coach, whereas Carter saw a future in the NBA. They joke that they can't pinpoint their friendship to a single moment in the gym but rather to thousands.
Girlfriend
Aside from his successful basketball career, Jevon Carter appears to have a low-key love life.
When we dig deeper into Jevon's romantic relationships and love life, he hasn't revealed anything about any of his girlfriends or lady love.
Jevon Carter, who is incredibly talented, has no rumors of being in a relationship or having a girlfriend. So, for the time being, Jevon is single and focused on his enthralling career.
Nonetheless, if there is any romantic news about Jevon carter, it will be updated as soon as possible.
Go through Malcolm Brogdon: NBA, Net Worth & Injury>>
Net Worth
Jevon Carter's net worth is estimated to be around $1m. There is no information available on his endorsements. However, we believe that he might be associated with various famous brands as an athlete.
Jevon Carter agreed to terms with the Milwaukee Bucks on a one-year, $457,149 contract, with $457,149 guaranteed and an annual average salary of $457,149.
Carter will earn a base salary of $457,149 in 2021-22, with a cap hit of $441,278 and a dead cap value of $441,278.
On July 7, 2019, the Memphis Grizzlies traded Jevon to the Phoenix Suns.
He agreed to terms with the Phoenix Suns on a three-year contract that included an annual average salary of $3,833,333 and a base salary of $3,925,000 in 2020 and 2021.
Charity Works
Carter has worked with several charitable organizations, including the Dream Foundation and United Way.
Jevon Carter and his mother, Cynthia Johnson, raised funds for Alex's family through the Next Level 3 organization by holding a raffle for items autographed by the former Mountaineer.
Alex Miller, a former Roane County High School football player, died in 2019.
"The Next Level 3 Organization was founded to support charities and devastating situations that touch our hearts, such as this one," Johnson explained.
"I taught my son that it doesn't matter how much money you make if you don't make a difference!" West Virginia will always be a part of us, and we're just doing our job as Mountaineers!"
Social Media Presence
Jevon Carter is active on various social media platforms. Below is the link to his social media accounts;
Instagram– 87.3k followers
Twitter– 26.2k followers
FAQs
Are Jevon Carter and Vince Carter related?
Vince Carter is not related to Jevon Carter, the young player. They both have the same surname. Due to the age difference, fans speculate that they are a father-son team. However, the two basketball players are not related biologically.
Is Jevon Carter a good defender?
His strong defense has carried over into his NBA career.
According to NBA.com/stats, Carter has been an excellent defender on the perimeter this season, as opposing guards are shooting 36.9 percent from the field and 21.6 percent from deep when he is defending them.