James Harden's brother Akili Roberson played football for many years and even established himself as a talented quarterback.
James Harden was born in Los Angeles, California, and grew up in a family of athletes. Harden started playing basketball at a young age and quickly developed a passion for the sport.
He was recognized as the Pac-10 Player of the Year and a unanimous All-American while playing collegiate basketball for the Arizona State Sun Devils in 2009.
The Oklahoma City Thunder selected Harden as the third overall choice in the 2009 NBA Draft.
He is known for his exceptional dedication and work ethic toward his game. He is often praised for his tireless training routine and his commitment to improving his skills.
James Harden Brother: Akili Roberson
The shooting guard has an older half-brother named Akili Roberso. He is the oldest child of James Harden's mother, Monja Willis.
Roberson spent a lot of time playing football and even made a name for himself as a skilled quarterback. He played football at Alain LeRoy Locke College Preparatory Academy in Los Angeles.
Harden has mentioned the influence and importance of his brother, Akili Roberson, on his life and career. Roberson has been a source of inspiration for his younger brother and has helped him develop a strong work ethic and determination.
Harden's admiration and respect for his brother's strength and determination have helped shape his own approach to life and basketball.
Akili spoke with Sean Gregory of Time.com and said his brother virtually always had a basketball in his hands.
While asked about whether she was a big sports person growing up, Monja admitted that the real reason behind putting her kids in sports was to keep them active and out of trouble.
Akili Roberson Recruitment
Harden has undoubtedly made a name for himself in the NBA, while his brother Akili has succeeded as a quarterback on the football field.
In an interview, their mother mentioned the numerous recruitment letters adorned Akili's room, highlighting his potential as a talented athlete.
However, as reported by Dan Arritt in the Los Angeles Times, Roberson's academic ineligibility prevented him from accepting a scholarship offer from Nebraska.
He went on to play at LA Southwest College before ultimately transferring to Kansas. Following the end of his collegiate career, Akili pursued professional football and spent time playing in the Arena Football League.
James Harden Family Tree
James Harden was born on August 26, 1989, in Los Angeles, California, in the United States, to his parents, Monja Willis, and James Harden Sr.
Monja Willis, his mother, and Barbara Davis, his grandmother, raised him. Harden has a stepsister named Arnique Willis and a half-brother named Akili Roberson.
He has openly discussed his personal bond with his mother and grandmother, who have consistently encouraged and inspired him throughout his career.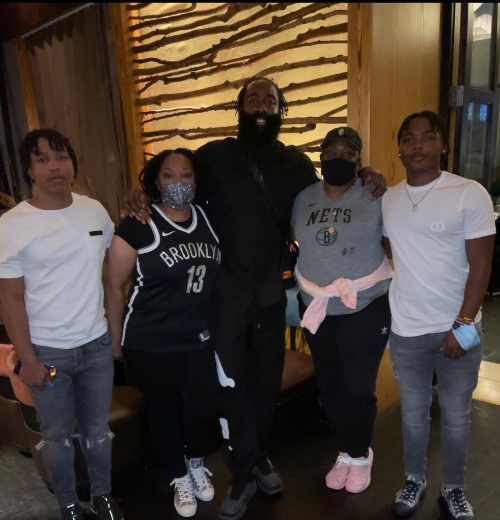 James Harden Sr., James' father, served in the US Navy before turning to drugs.
For his drug involvement, Harden Sr. was given a prison sentence and completed a lengthy time. James' relationship with James Harden Sr. is strained as a result.