James Henry Harrison Jr. is an American former professional football player who played as an outside linebacker in the National Football league (NFL). He has been working as a football analyst for Fox Sports since 2018.
James started his collegiate career with Kent State University and later played for Pittsburgh Steelers, Baltimore Ravens, Rhein Fire, Cincinnati Bengals, and New England Patriots.
He is the winner of the two Super Bowls (XL and XLIII) with the Steelers and was selected for five Pro Bowls (2007-2011).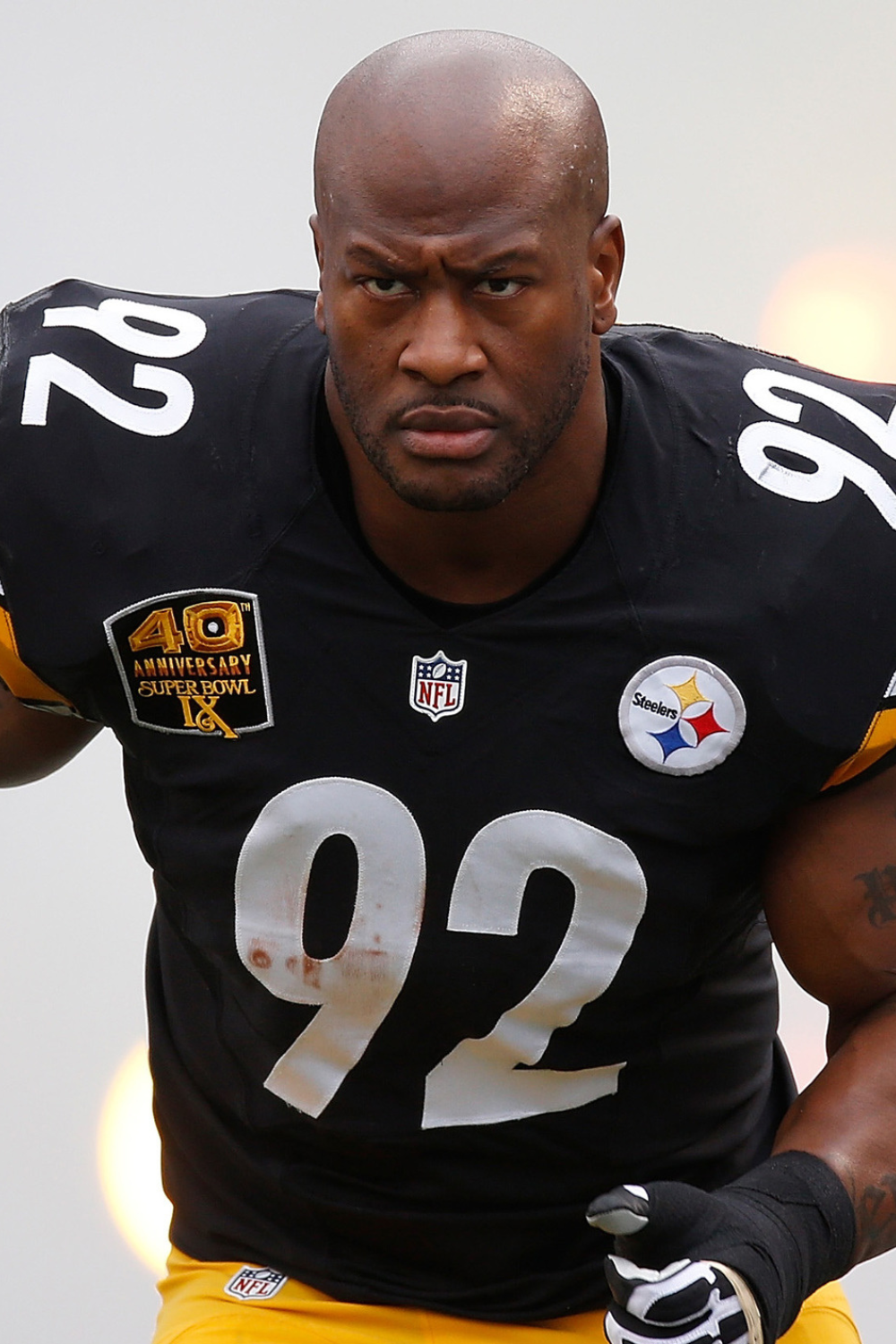 In his football career, he won several awards and was inducted into Kent State's Varsity "K" Hall of Fame in 2010.
In a podcast with Ben Roethlisberger in December 2022, Harrison talked about his father's role in his long NFL career. He also recalled his infamous hit on former Cleveland WR Mohammed Massaquoi.
Reading the above, it is pretty sure you want to know much more about him.
Let's find out about his career succession, awards & recognition, personal life, salary, net worth, and other essential aspects of life.
James Harrison | Quick Facts
Full Name
James Henry Harrison Jr.
Birth Date
May 4, 1978
Birth Place
Akron, Ohio
Age
45 Years Old
Nickname
Mr. Monday Night, Silverback
Religion
Christianity
Nationality
American
Education
Kent State University
Horoscope
Taurus
Father's Name
James Harrison Sr.
Mother's Name
Mildred Harrison
Siblings
Johnny
Height
6'/1.83 m/183 cm
Weight
110 kg/242 lb.
Build
Athletic
Shoe Size
14
Eye Color
Black
Hair Color
Black
Position
linebacker
League
NFL
Team
Pittsburgh Steelers, Baltimore Ravens, New England Patriots
Married
Partner Beth Tibbott
Past Lovers
N/A
Children
Henry & James
Profession
Professional Football Athlete
Debut
2004
Career Highlights and Awards
Super Bowl Champion (XL, XLIII)

Pro Bowl (2007-2011)

First-team All-Pro (2007-2010)

Second Team All-Pro (2007, 2009)

NFL Defensive Player of the Year (2008)

Net Worth
$12 Million
Social Media
Instagram, Twitter
Merch
Football Card, Autographed Photo, Jersey
Last Update
June 2023
James Harrison | Height & Weight
James Harrison is an athlete and conscious about his health. Like his game, Harrison has a perfect workout, routine, and diet plan.
Similarly, James is not only famous for his outstanding NFL career but is remembered for his workout and ideal physique.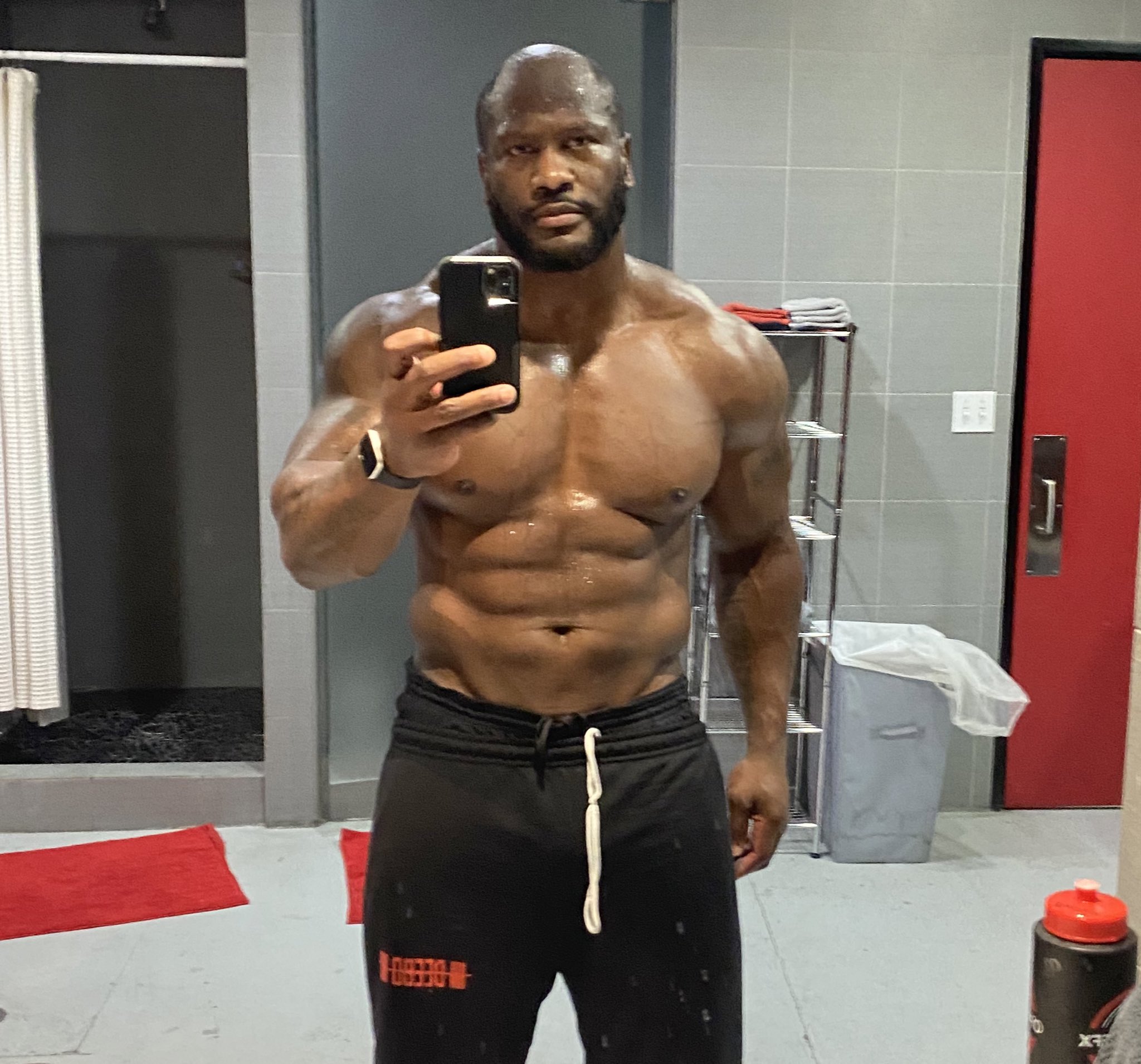 He often posts his workout videos on his social media.
His regular gym diet includes dairy, caffeine, iodized salts, gluten, nightshades, and white sugar. James Harrison has a height of 6 feet (1.81 meters) and a weight of around 110 kg (242.5 pounds).
James Harrison | Early Life, Family, & Education
The former NFL player was born on May 4, 1978, in Akron, Ohio, United States. He belongs to the Afro-American ethnicity.
The athlete is the son of James Harrison Sr. and Mildred Harrison. Since his childhood, Harrison has had a keen interest in sports, especially football.
However, initially, his mother did not want him to be a footballer. Young James also took part in the track & field.
As for his education, James went to two high schools, Archbishop Hoban High School and Coventry High School.
From the beginning of his school career, he excelled as a linebacker and running back.
James Harrison | Collegiate Career
After finishing his high school career, James went to Kent State University, where he played for the Kent State Golden Flashes Football team.
In 1999, the American-born became a starter for the last three games and led his team with 106 total tackles and 13 tackles. However, the game ended in a loss.
In a game against Miami University, James accomplished 12 tackles and five sacks. he recorded 98 tackles and 20 tackles in a loss with 15 sacks.
After he graduated from Kent, he declared his intention to enter the 2002 NFL Draft. Unfortunately, the player went undrafted.
James Harrison | NFL Career
Rookie Season
In the beginning, no teams signed, as James was short for the football game. He was just 1.81 meters tall as well as too light.
However, some teams still sent him an invitation to the training camp. Later the Pittsburgh Steelers signed him, and he spent two years on the practice squad there.
Later in 2003, the Baltimore Ravens signed Harrison and sent him to the Rhein Fire, the European-based football team.
Second Stint With The Steelers (2004)
In 2004, Steelers retained James, so Harrison remained with the Steelers from 2004 to 2012.
During the 2004 season, most often, he played as a linebacker. James made his debut against the Cleveland Browns with a victory of 24-10.
He scored his career's first touchdown on a fumble recovery against the Buffalo Bills in the final week of the 2004-05 season.
2005 – 2006
During 2005 and 2006, James started three games as a linebacker after their starting linebacker Clark Haggans was injured. After getting to play as a starting linebacker, Harrison showcased a remarkable performance against the San Diego Chargers.
Harrison was able to gain attention after he restrained a Cleveland Browns fan during a 41-0 win.
The Steelers won the Super Bowl XL, where Harrison recorded a team-high three special teams tackles.
2007 – 2012
On November 5, 2007, the Ohio native played against the Baltimore Ravens. He played outstandingly well and had nine tackles, 3.5 sacks, and nine fumbles.
That same year on November 26, Monday Night Football's commentator called him "Mr. Monday Night" due to his brilliant performance on November 5.
He was also voted team MVP for the 2007 season, as he recorded 8.5 sacks, 7 forced fumbles, 3 recovered fumbles, and 98 tackles.
Likewise, in 2008, he had an impressive performance against the New York Giants and Baltimore Ravens.
He was honored with AP NFL Defensive Player of the Year (2008) and became the first undrafted player to bag the award.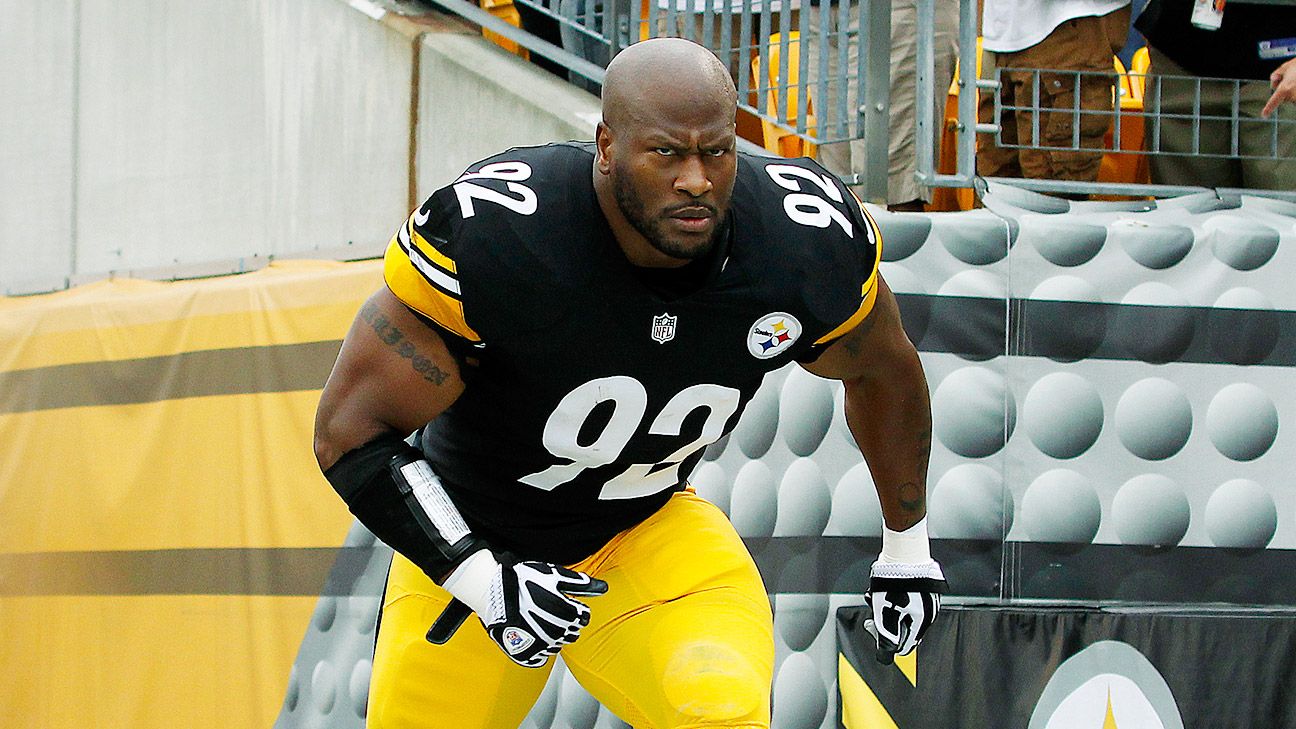 In 2009, James signed a 6-year worth $51.75 million contract extension with the Steelers.
Due to his excellent performance again, he won AFC defensive player of the Month honors for October. In four games in October, he piled up 10 sacks and 79 total tackles (60 solos).
The year 2010 didn't go as he wanted as he was fined by referees and the NFL for illegal hits.
James was fined for flipping Vince Young of the Titans, and during his time with the Steelers, he made brutal tackles against Drew Brees, Mohammed Massaquoi, Hosh Cribbs, Jason Campbell, and Ryan Fitzpatrick.
He was handed with a fine of $120,000 in 2010, while his overall career fine hiked to $223,529.
In 2010, he had 100 tackles in total, 70 solo tackles, 10.5 sacks, 2 interceptions, and 6 forced fumbles. In the year 2011, he had 59 tackles and 9 sacks in 11 games. Furthermore, he had 6 sacks and 70 tackles in 2012.
Harrison was released by the Steelers for salary cap reasons on March 9, 2013, after they were unable to reach an agreement on a pay cut.
Cincinnati Bengals
Harrison agreed on a contract with the Cincinnati Bengals on April 13, 2013. However, he just stayed for 11 months with the team and got released on March 13, 2014.
For the Bengals, he recorded 16 solo tackles (30 total) and 2 sacks.
Retirement And Third Stint With Steelers
After releasing from Cincinnati Bengals, James retired as a member of the Steelers on September 5, 2014.
However, he returned to the game and agreed on a 2-year extension with the Steelers for $2.65 million and $500k as a signing bonus.
Due to Harrison's good performance, the Steelers made him sign a new contract with a two-year extension on March 1, 2017.
However, Harrison was released by the team on December 23, 2017, after playing a few games.
Playing For New England Patriots And Second Retirement
Three days after his release, Harrison signed a 1-year/$1 million contract with the New England Patriots. Harrison recorded 2 sacks, a forced fumble, and 5 total tackles in his debut against the New York Jets.
The Patriots went on to play in the Super Bowl LII. however, they lost 41-33 to the Philadelphia Eagles.
After playing for 15 seasons, Harrison announced his retirement on April 26, 2018, via his Instagram.
James Harrison | Awards And Accomplishments
This talented player of the NFL set not only outstanding records but also won several awards and accomplishments throughout his professional career.
Here are the lists of awards which he won throughout his career:
Super Bowl Champion (XL, XLIII)
Pro Bowl (2007-2011)
First-team All-Pro (2007-2010)
Second Team All-Pro (2007, 2009)
NFL Defensive Player of the Year (2008)
Pro Bowl (2007-2011)
James Harrison's | Personal Life, Wife, & Kids
Talking about the personal life of James Harrison, he is not a married man. Currently, he is in a relationship with Beth Tibbott.
The pair has two children, James Harrison III (2007) and Henry (2009).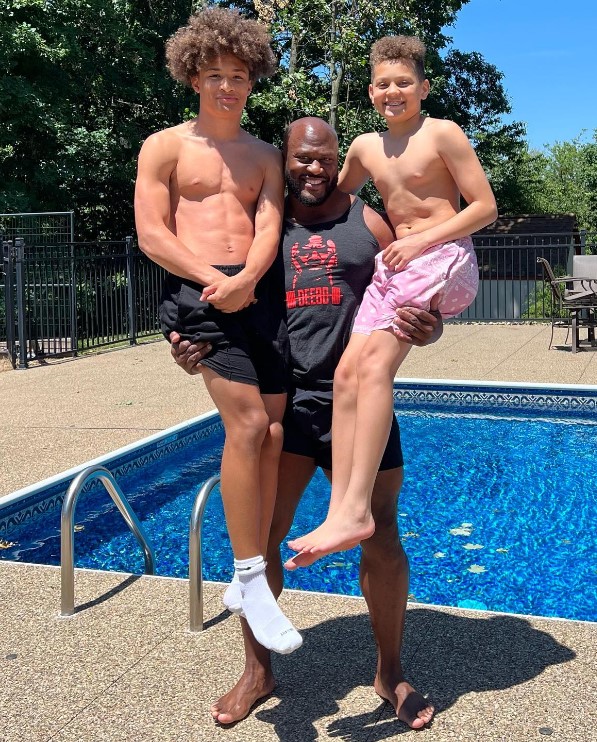 The couple has been dating for a long time. As of now, they haven't talked about when they are going to have their wedding.
For those unaware, Harrison's partner Beth Tibbott is a defense attorney and also the owner of Tibbott and Richardson.
She started her law career in 2003 and is currently involved with the strategic management of criminal defense.
She is Summa Cum Laude from Mount Aloysius College and received her Juris Doctorate in 2007.
James Harrison | Controversy & Other Incidents
The NFL linebacker has been a part of the controversy alongside his fruitful career.
He was caught in 2008 and charged with assault and domestic violence against his girlfriend, Beth Tibbott. Later all charges were dropped, but he still underwent anger management counseling.
The arrest of Harrison added some controversy to his life, but later everything was properly sorted out. Again in 2011, controversy stepped into his life.
During an interview with the magazine, he mentioned NFL Commissioner Roger Goodell was a "crook and puppet."
"I hate him and will never respect him," James told the reporter.
Furthermore, he also commented about his quarterback Ben Roethlisberger as well as linebacker Brian Cushing. Later, he made an apology for his mistake.
James Harrison | Net Worth, Contracts, & Philanthropic Works
This NFL player had a bit of a struggle in the initial phase of his career. However, later he established himself as a prominent player and played with Pittsburgh Steelers, Baltimore Ravens, Cincinnati Bengals, and New England Patriots.
Harrison's biggest contract was the 6-year $51.75 million deal with the Steelers in 2009. He also got paid $10 million as a signing bonus. He had total earnings of $13.3 million that season.
In 2010, his annual earnings were reported to be around $7.55 million, with a $2.8 million roster bonus and an additional $4 million option bonus.
The linebacker agreed on a 1-year/$1 million contract with the Patriots. However, he retired before the end of his contract.
Mr. Monday Night, Aka James Harrison, made approximately $44 million from his NFL career.
According to the Celebrity Net Worth, Harrison has an estimated net worth of $12 million as of 2023.
Harrison and his partner Beth Tibbott have spent a large fortune in their dream house, which is reportedly worth $1.8 million.
Philanthropy
Like some other NFL players, Aaron Rodgers, Eli Manning, Peyton Manning, and Tom Brady, Harrison is also involved in philanthropic work.
He is giving a lot of his time to James Harrison Family Foundation. He is also raising funds for the James Harrison Kitty Foundation.
Acting
Besides football, Harrison has also been featured in different movies; he played Apocalypse on Heels and S.W.A.T in the season 2 episode 'The B-Team.'
James Harrison | Social Media Presence
James Harrison is popular on social networking platforms. The NFL star is available on Instagram using the handle @jhharrison92 and on Twitter @jharrison9292.
The former NFL player keeps his fan updated about his life and family. His Instagram is filled with pictures of him at the gym and his children.
Instagram: 1.4m followers
View this post on Instagram
Twitter: 645.6k followers
James Harrison | Popularity
James is a popular former NFL player. He was continuously in the limelight during his football career for his illegal hit and brutal tackles.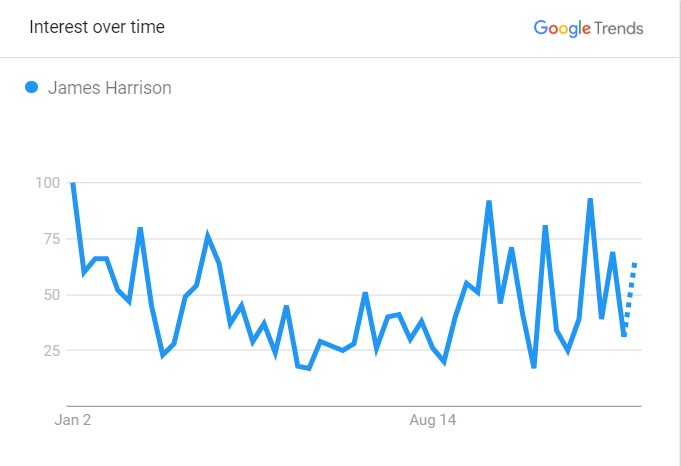 The above image gives brief information about the popularity of James Harrison in the US over a year.
James Harrison | FAQs