Aaron Rodgers, aka "A-Rod," is a famous American football player for the Green Bay Packers of the NFL. Although he has had many ups and downs, Rodgers is known for setting numerous football franchise records.
Aaron Rodgers is currently a hot topic in the media with the rumors of him being traded to the New York Jets from the Packers.
With his exceptional skills, he was the Super Bowl XLV champion and the Super Bowl XLV MVP.
He has had several honors under his name throughout his career, including 2× NFL Most Valuable Player, 2× First-team All-Pro, Associated Press Athlete of the Year, and many more.
He was named to his tenth Pro Bowl on December 23, 2021. Rodgers was named Associated Press Athlete of the Year in 2011 and was voted league MVP by the Associated Press for 2011, 2014, 2020, and 2021 NFL seasons.
On March 8, 2022, he signed a 3-year deal worth $150.8 million with the Green Bay (GB).
As per different sources, he is in a relationship with another girl after breaking up with the Divergent star, Shailene Woodley.
For more detailed information about the Packers quarterback, please read the whole thing.
First, let's look into some quick facts.
Quick Facts
Full Name
Aaron Charles Rodgers
Birth Date
2 December 1983
Birth Place
Chico, California
Age
39 Years Old
Nickname
A-Rod
Religion
Christianity
Nationality
American
Education
Pleasant Valley, University of California, Berkley
Horoscope
Sagittarius
Father's Name
Edward Wesley Rodgers
Mother's Name
Darla Leigh Pittman Rodgers
Siblings
Jordan Rodgers, Luke Rodgers
Height
6'2″/1.88 m/188 cm
Weight
102 kg/225 lb.
Build
Athletic
Shoe Size
12
Hair Color
Light Brown
Eye Color
Blue
Position
Quarterback
League
NFL
Team
Green Bay Packers
Marital Status
Unmarried
Girlfriend
Charlotte Brereton (aka Blu)
Past Lovers
Olivia Munn, Danica Patrick, Shailene Woodley
Children
None
Profession
Professional Football Athlete
Debut
2005
Career Highlights And Awards

Super Bowl champion- XLV
Super Bowl MVP- XLV
2× NFL Most Valuable Player- 2011, 2014
2× First-team All-Pro- 2011, 2014
Second-team All-Pro- 2012
8× Pro Bowl- 2009, 2011, 2012, 2014–2016, 2018, 2019

Net Worth
$200 Million
Social Media
Instagram, Twitter, Facebook
Merch
Books, Poster & Jersey
Last Update
March, 2023
Net Worth
Reportedly, Rodgers is one of the NFL's highest-paid players. He also has endorsement deals with famous companies like Adidas, State Farm Mutual Auto Insurance, Bose, Panini, Pizza Hut, Sharpie, Izod, Bergstrom Automotive, and Prevea Healthcare.
Moreover, he also owns a minority stake in the NBA's Milwaukee Bucks, making him the first active player with an NBA franchise ownership stake.
Furthermore, Aaron Rodgers is also the brand ambassador for the Watchmaker, Zenith.
Looking back at his contract details, the presumable net worth of Aaron Rodgers was around $120 million.
In the 2022-23 season, he is making $42 million per year, and he is set to receive $59 million in 2023. He is due to make a $49 million salary in 2024, completing the $150.815 million deal.
Rodgers's contract blows the previous record of Patrick Mahomes' 10-year, $450 million deal had been the high mark with a $45 million average annual value.
State Farm Commercials
Aaron Rodgers was featured in a State Farm commercial alongside Kansas City Chiefs quarterback Patrick Mahomes.
Together, they appear for a thirty seconds clip in a different spot with the character "Jake from State Farm."
During the commercial, Rodgers played fetch with a dog while talking about insurance. Also, the commercial aired during the NFL Kickoff Game between the Chiefs and Houston Texans.
Early Life, Family, & Education
The renowned quarterback Aaron Rodgers was born on December 2nd, 1983, to his parents, Edward Wesley Rodgers and Darla Leigh Pittman Rodgers, in Chico, California.
Aaron's father, Edward, was also a football player for the Chico State Wildcats.
Aaron has two siblings; Jordan Rodgers and Luke Rodgers.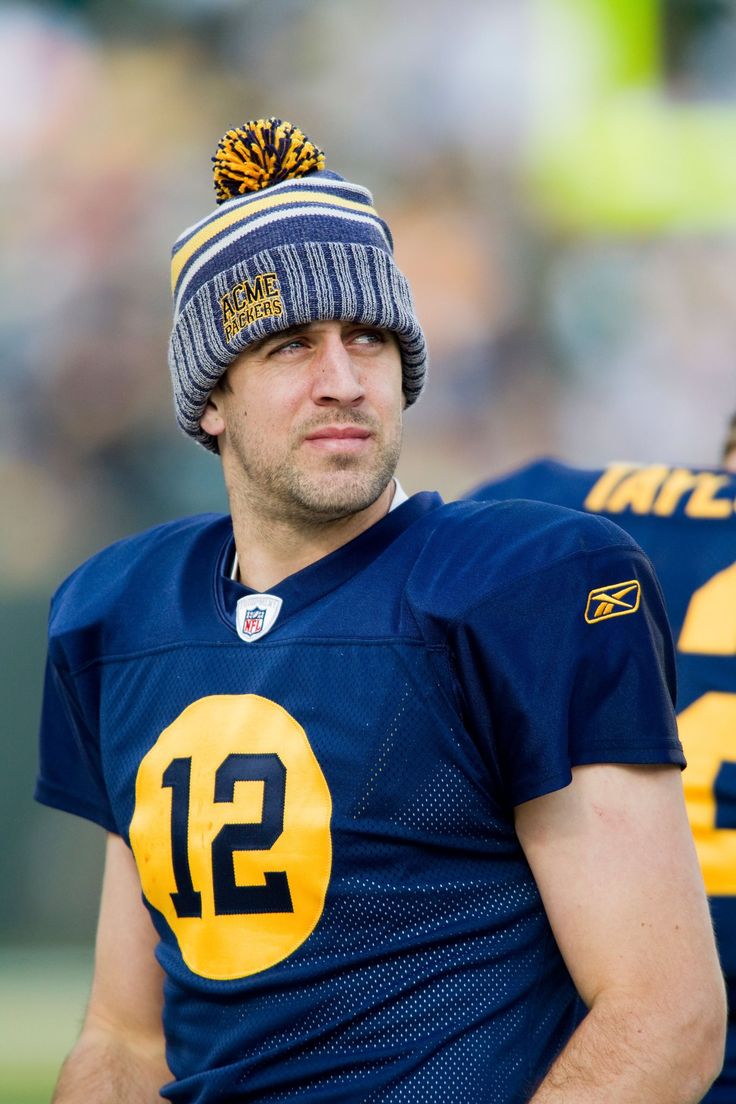 His brother Jordan played for Vanderbilt University as a quarterback and also for different NFL teams like Jacksonville Jaguars and Tampa Bay Buccaneers.
Aaron's father, Edward, always taught the Rodgers brother not to drink and party in college.
He consistently told them to limit themselves to sports like his past self.
Especially Aaron took his dad's word to heart and became the football star we know today.
Moreover, at the age of ten, The Ukiah Daily Journal highlighted Rodger on the front page for his best performance at a local basketball free throw competition.
Growing up, Rodger's parents raised him as a Christian, but reportedly, he stated that he no longer affiliates himself with any religion.
According to the horoscope, Aaron is a Sagittarius. People with this sign are mostly known for their optimistic, spontaneous, and intellectual nature.
Education
Rodgers attended Oak Manor Elementary School when his family moved to Ukiah, California.
After his family moved to Beaverton, Oregon, he joined Vose Elementary School and Whitford Middle School.
He played baseball for the Raleigh Hills Little League in various positions like shortstop, center field, and pitcher.
In 1997, his family returned to Chico, where he attended Pleasant Valley High School. While playing for his school, he made a single-season school record with 2,466 yards in 2001.
Besides being an exceptional athlete, Rodgers was also focused on his studies. He graduated from high school with A-Average and an impressive 1310 score on SAT.
As for his college, Rodgers attended the Butte Community College and the University of California.
Age, Height, & Body Measurements
A-Rod turned 39 years old in 2023.
Rodgers has an athletic build, a height of 1.88 meters, and a weight of 225 lbs. Moreover, he has light brown colored hair and blue eyes.
Back then and even now, Aaron Rodgers is well-known for his mustache. Also, his style of beard has had a considerable evolution.
Diet
Aaron Rodgers talked with his team nutritionist, Adam Korzun, and then Rodgers made specific changes in his diet to stay healthy.
Now, his new diet includes red meat at times and some chicken.
Furthermore, he has also cut the number of dairy products from his eating habits. Without any doubt, he also prefers a load of greens on his plate.
Career
Before jumping into Aaron's professional career and achievements, let's look into his remarkable college career.
College Career
Even after Rodger's impressive high school record, he drew little interest from the recruiters.
Reportedly, he stated that the acquired lack of attention in the recruiting process was due to his unimpressive physical size as a high school player of 1.78 meters and 165 lbs.
He wanted to attend Florida State University and play under Bobby Bowden, the college team's head coach.
However, the University rejected him, and the University of Illinois offered him a chance to compete for a scholarship.
He declined the offer and considered abandoning football to study in a law school. Eventually, he was recruited by Butte Community College, located in Oroville, to play football.
Rising Career
As a freshman in Butte, he led the school with a 10-1 record towards achieving the NorCal Conference championship and a No. 2 national ranking.
Jeff Tedford, the head coach of the California Golden Bears, took notice of him. Tedford was astonished that none of the college teams had recruited Aaron earlier.
As a result of Aaron's good high school record, he was qualified to transfer to the University of California, Berkeley.
The coach named Rodgers the starting quarterback in the fifth game of the 2003 season, and as a sophomore in college, he led the Golden Bears to a record of 7–3.
Sadly, Aaron was replaced in the second half of the game by Reggie Robertson due to an injury.
In the same season, his 394 yards pass made him MVP in the Insight Bowl while playing against Virginia Tech.
Aaron led the team to a 10–1 record during his junior year and a top-five ranking in the regular season. He set a new school record for 26 consecutive completed passes in the same game.
Aaron completed the 2004 season with 24 touchdowns, eight interceptions, and 2,566 passing yards.
Professional Career
After completing the 2014 season, Aaron chose to leave his senior season to enter the 2005 NFL Draft.
2005 NFL Draft
Aaron was presumed to be selected beforehand in the 2005 NFL Draft as he had impressive stats during his college.
Before the draft, he was sure the San Francisco 49ers would pick him, who he grew up supporting.
However, the San Francisco 49ers picked quarterback Alex Smith, and Aaron became the 24th overall pick by the Green Bay Packers.
Aaron's slide to the 24th selection, the Green Bay Packer's choosing to pick Brett Favre's eventual replacement, was one of the draft's biggest stories.
However, Rodgers was determined to be the second quarterback.
Backup Years
In August 2005, Aaron agreed to a five-year deal worth $7.7 million, including $5.4 million guaranteed money.
His rookie season was spent as the team's backup quarterback, although Aaron played in a few games.
After the Green Bay Packers fired coach Mike Sherman and replaced him with Mike McCarthy, his coach sent him to "Quarterback school" six hours a day and numerous times a week.
His skills eventually improved, and his coach McCarthy was very impressed and believed in his abilities. During this time, the friendship between Aaron and Favre began to grow.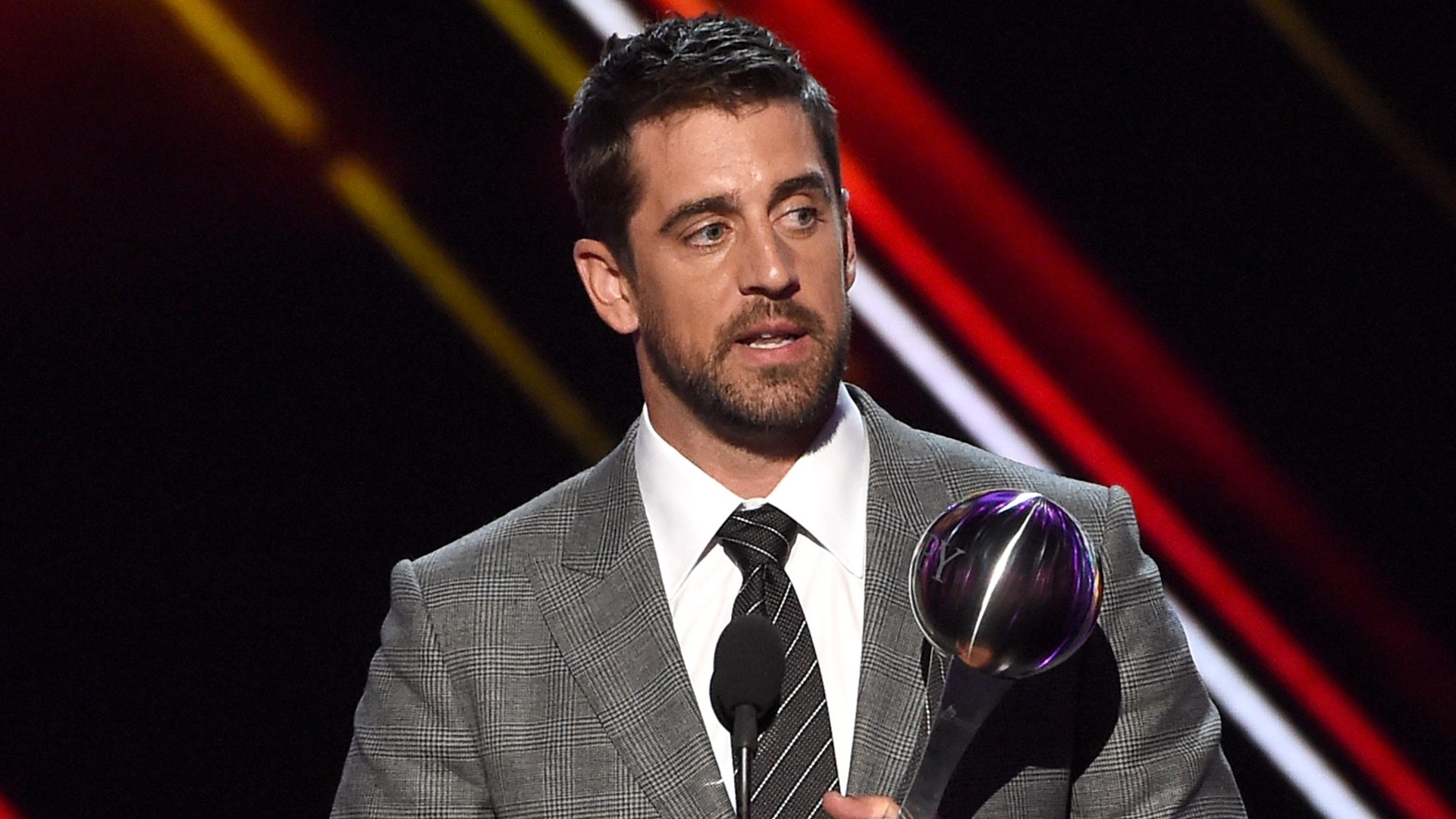 During a game on November 19th, 2006, Rodgers got into an injury while playing against the New England Patriots and eventually missed the remainder of the 2006 season. Soon he made a full recovery and started the 2007 season.
Earlier in the 2007 season, rumors about Aaron's potential trade started to surface, but he was not traded and stayed with the Green Bay Packers.
Transition To Starter
On March 4th, 2008, Brett Favre announced his retirement. This decision cleared the Packers' starting quarterback position to Aaron for the 2008 season.
Although Favre chose to return from retirement, the Packers traded Favre to the New York Jets.
Aaron's stats of 4,038 yards passes quickly proved that he was one of the best quarterbacks in the league. With him as a starter, the team defeated the Minnesota Vikings.
The following week, Aaron became the FedEx Air award winner through votes during his second NFL start.
In the fourth week of the season, his 157 consecutive pass attempts with no interception ended while playing against Tampa Bay Buccaneers. The streak became the third-longest in franchise history.
Aaron suffered from a severe shoulder sprain during a game but proceeded to start and play well, and the team won against the Seattle Seahawks.
His dedication proved his toughness to many. Later, he signed a six-year contract extension worth $65 million on October 31st, 2008.
2009 Season
For the 2009 season opener, Aaron recorded his first win during a comeback. Rodgers won the NFC Offensive Player of the Month for October 2009.
Also, the Green Bay Packers set a new franchise record by scoring 461 total points. They broke the previous record set by the 1996 Super Bowl team.
Aaron became the first quarterback in the NFL to throw 4,000 yards during his first two years as a starter.
Rodger's exceptional regular-season performance earned a trip to his first Pro Bowl as the NFC's third quarterback after Drew Brees and Brett Favre.
However, after Favre left due to injury and Brees was ousted because he participated in the Super Bowl XLIV, Aaron became the NFC's official starter.
Super Bowl XLV Season
In the 2010 season, while playing against the New York Giants, his 400-yard pass earned him his second NFC Offensive Player of the Week and FedEx Air NFL Player of the Year awards.
Aaron tied an NFL record for back-to-back playoff games with at least three touchdown passes during the Divisional Round contest.
He also set an NFL record by becoming the only quarterback to pass ten touchdowns combined with three consecutive playoff games.
On January 23rd, 2011, Aaron had a 55.4 passer rating, and the Packers beat the No.2 seed Chicago Bears and won the NFC Championship.
After winning the NFC Championship, the Green Bay Packers received a trip to Super Bowl XLV—where they won, scoring 31–25 while playing against the Pittsburgh Steelers.
In the game, Aaron completed 24 of 39 pass attempts for 304 yards with three touchdowns and won the Super Bowl MVP award for his performance.
He became NFL history's third player to pass for over 1,000 yards in a single postseason and one of only four quarterbacks to record over 300 yards passing, with no interceptions and three touchdown passes in a Super Bowl.
Aaron became the only player to pass for at least 900 yards and two touchdowns rushing from the postseason. He was 11th on the list of NFL Top 100 Players of 2011.
2011 Season
In 2011, Aaron earned NFC Offensive Player of the Month awards for September, October, and November, including FedEx Air Player of the Week six times.
He was also the winner of the 2011's Galloping gobbler MVP of the Thanksgiving game between the Green Bay Packers and the Detroit Lions.
He also won the league's MVP award with 48 out of 50 votes.
Pro Bowl selected Rodgers to go along with a First-Team All-Pro honor. His fellow players voted him the best league player for the NFL Top 100 Players of 2012.
2012 Season
During Week 6, Rodgers tied the franchise record by throwing six touchdown passes to earn NFC Offensive Player of the Week.
He was also NFC's Offensive Player of the Month for October.
Rodgers earned his third career Pro Bowl nomination for his performance during the 2012 season. He was ranked sixth through his peers votes for the NFL Top 100 Players of 2013.
2013 Season
The Packers and Aaron agreed to a 5-year contract extension worth $110 million on April 26th, 2013, which made him the highest-paid player in NFL that year.
He scored a career-high 480 passing yards to tie the franchise record while playing against the Washington Redskins.
A-Rod won the NFC Offensive Player of the Week for his accomplishment.
Rodgers also became the first quarterback since Y. A. Tittle threw at least 480 yards and four touchdowns with no interceptions in a game.
He became NFC Offensive Player of the Week for his performance. This season, he was in the 11th position on the NFL Top 100 Players of 2014.
2014 Season
Rodgers became AP NFL Most Valuable Player for the 2014 season by receiving 31 votes.
He also won the NFC Offensive Player of the Year award from the Kansas City Committee of 101, including Fed-Ex Air NFL Player of the Year.
Pro Bowl selected him for the 2014 season, and he became the second-best player in the NFL Top 100 Players of 2015.
2015 Season
Rodgers was selected for his fifth Pro Bowl and became the sixth-best player on the NFL Top 100 Players of 2016.
2016 Season
In season 2016, Aaron finished with 401 completions and 610 attempts, and a 65.7% completion percentage.
He led the statistic with 40 touchdown passes for the first time in his career. He became one of the four quarterbacks to pass for at least 40 touchdowns in multiple seasons.
Moreover, his peers ranked him sixth on the NFL Top 100 Players of 2017.
2017 Season
After suffering a shoulder injury from a hit from Anthony Barr, Rodgers had surgery for his broken collarbone.
On October 19th, he underwent surgery and was officially on injured reserve the next day. A total of 13 screws were implanted to support his collarbone.
On December 2nd, 2017, he returned to practice and played during Week 15 against the Panthers but was set back into injured reserve.
2018 Season
Moreover, Aaron signed a four-year contract extension with the Packers worth $134 million and a $57.5 million signing bonus on August 29th, 2018.
On December 18th, 2018, Pro Bowl selected him for the seventh time. However, he rejected the appearance due to an injury.
2019 Season
The Packers started the 2019 season with a new head coach Matt LaFleur.
During week 7, while playing against the Oakland Raiders, Aaron set his first-ever game with a perfect passer rate of 158.3. He won the NFC Offensive Player of the Week award for his performance.
2020 Season
Rodgers aided the Packers to a four-game winning streak to start the 2020 season. That winning streak ended in Week 6 against the Tampa Bay Buccaneers, in which he recorded 160 passing yards and two interceptions, including a pick-six (the third of his professional career), during the 38-10 loss.
They won against Chicago Bears in Week 12, in which Rodgers threw 211 yards and four touchdowns.
He became the 11th player in NFL history to eclipse 50,000 career passing yards, achieving the milestone on a 39-yard touchdown pass to tight end Robert Tonyan midway through the third quarter.
Green Bay Packers won against Philadelphia Eagles in Week 13. Aaron's third touchdown pass of the game was to Davante Adams, wide receiver, and it was his 400th career touchdown pass.
Rodgers was named the NFC Offensive Player of the Week for his performance in Week 13. He was selected for the 2021 Pro Bowl on December 21, 2020.
He was named the NFC Offensive Player of the Month for his performance in December after passing for 15 touchdowns and one interception in five victories for the Packers.
Overall, Rodgers concluded the 2020 regular season with 4,299 passing yards, 48 passing touchdowns, and five interceptions. His passing touchdowns total set a new franchise record.
Rodgers had seven total games with four passing touchdowns and led the leagues in numerous statistical categories, including completion percentage, touchdown passes, and passer rating.
2021 Season
On January 8, 2021, Rodgers made the 2020 All-Pro Team first team. He was named the NFL MVP by The Pro Football Winters of America.
The Packers ended with a 13-3 record and won the NFC North; he also fell to 1-4 in conference championship games and became the first quarterback in NFL history to lose four in a row.
After the season, he won the AP Most Valuable Player Award and the FedEx Air Player of the Year. He was ranked 3rd by his fellow teammates on the NFL Top 100 Players of 2021.
He had a rough start in the 2021 season, completing 15 of 28 passes for 133 yards and two interceptions as Green Bay lost 38-3 to the New Orleans Saints at TIAA Bank Field.
However, Rodgers and the Packers recovered, going on a seven-game winning streak following the loss in New Orleans.
On November 3, he was kept in the COVID-19 reserve. He missed the game against the Kansas City Chiefs as he was on ten days' leave as per the COVID-19 policies for unvaccinated players.
Despite replying, "Yeah, I'm immunized," when asked the preseason if he had been vaccinated against COVID-19, he had not received a vaccination.
Instead, he received homeopathic treatment from his doctor. He committed multiple violations of NFL COVID-19 protocols for unvaccinated players.
He was fined $14,560 for violations of the agreed protocols, and his team was fined $300,000.
Rodgers restarted playing for the team on November 14 against the Seattle Seahawks, a game the Packers won 17-0.
In Week 15, he threw for 268 yards and three touchdowns in a 31-30 victory over the Baltimore Ravens, which clinched the NFC North title for the Packers for a third consecutive season and earned him NFC Offensive Player of the Week honors.
Rodgers was the fifth player to win NFL in consecutive seasons, joining Peyton Manning, Brett Favre, Joe Montana, and Jim Brown.
2022 Season
In Week 16, Packers won against the Cleveland Browns; Aaron threw his 443rd career touchdown pass, passing Brett Favre for the most all-time career touchdown passes in Green Bay Packers history.
For his play in December 2021, he earned NFC Offensive Player of the Month honors. He also earned his fourth career First-team All-Pro selection on January 14, 2022.
On March 8, Aaron confirmed that he would return to the Packers for the 2022 season after speculations that he could retire or demand a trade to another team.
There was news that A-Rod and the Packers had agreed to terms of a 4-year, $200 million contract extension that would have made him the highest-paid player in NFL history.
However, he denied those reports on Twitter, stating that the numbers on the proposed contract were inaccurate and that he had yet to sign such a contract.
He assured that he would return to play his 18th NFL season with the Packers. On March 16, he officially signed his contract extension.
The final terms of the contract was a 3-year deal worth $150.8 million, with $101.5 million guaranteed.
The new contract made him the highest-paid player in North American sports history annually, surpassing the NBA's Damian Lillard's $49 million per annum contract.
Rodgers threw for 251 yards and two touchdowns in Week 4 against the New England Patriots but also threw his fourth career pick-six to Jack Jones in the 27-24 overtime victory.
Rodgers bounced back in Week 10 against the Dallas Cowboys, throwing 14-of-20 passes for 224 yards and three touchdowns in a 31-28 overtime victory.
Following a Week 11 defeat to the Tennessee Titans, Rodgers confirmed he has been playing with a broken thumb which he suffered from in Week 5.
Further
According to news released on 28 November 2022, the A-Rod status for the game against the Chicago Bears was not fixed.
As he was unsure if he had broken ribs, he needed to go through more x-rays to find out.
"As long as I check out fine tomorrow I expect to play this weekend," Rodgers said. "I might not be able to go Wednesday, but as long as there's no major structural damage, I'll try to get back out there", he said.
However, the Packers might have wanted to shut A-Rod down because they were 4-8 and did not have much to play for, but Rodgers said he was not ready to throw in the towel.
"We have a five-game stretch, we need to win all five and probably need a little help," he said. "As long as we're mathematically alive I'd like to be out there."
Despite the dilemma, he played against the Chicago Bears, where the Packers won the game 28-19. Aaron recorded 182 passing yards and 1 passing touchdown.
Touchdown Celebration
Since 2008, Rodgers has been known for his unique touchdown celebration, which he and his teammates have dubbed the "Championship Belt." After scoring the game, he celebrates by making a motion like he is putting an invisible championship belt on his waist.
The gesture caught the praise of WWE wrestler Triple H and has become common for Green Bay fans to mimic during games.
Awards & Achievements
College Awards And Honors
Honorable mention All-Pac-10 – 2003
Insight Bowl Offensive MVP – 2003
California Golden Bears Co-Offensive MVP – 2004
First-team All-Pac-10 – 2004
Second-team Academic All-Pac-10 – 2004
Honorable mention All-American by Sports Illustrated – 2004
NFL Awards And Honors
Super Bowl MVP – XLV
NFL Most Valuable Player – 2011, 2014
FedEx Air NFL Player of the Year – 2010, 2014
NFC Offensive Player of the Year – 2011, 2014
GMC Never Say Never Award – 2013, 2014
The Wisconsin Legislature approved December 12th, 2012, "Aaron Rodgers Day" in honor of Rodger's jersey number in the NFL.
It's been surreal hosting my favorite show @Jeopardy for the past week. Thank you so much for tuning in and for all the beautiful words of encouragement this week 🙏🏻💯. One week in and one more to go 💪🏼❤️ #followingalegend # pic.twitter.com/2OXdbAnTQl

— Aaron Rodgers (@AaronRodgers12) April 9, 2021
Apart from his career achievements and honors, Aaron Rodgers speaks his mind. Even back when President Donald Trump commented on LeBron James' intelligence, Rodgers stood about it.
Rodgers said LeBron had a logistical answer for it. Further, he added, "He knows he has the support of his contemporaries in his sport and other sports. I think that the more we give credence to stuff like that, the more it will live on. If we can learn to ignore or not respond to stuff like that."
Girlfriend
Rodgers was reportedly in a romantic relationship from 2014 to 2017 with Olivia Munn, an American Actress. He was single for the time being after Olivia Munn.
Soon after, he started dating Danica Patrick, an American former professional racing driver. Patrick and Rodgers were together from 2018 until July 2020.
After separating from Danica, he was engaged to Actress Shailene Woodley.
During his NFL MVP acceptance speech, he announced his engagement on February 6, 2021. They were engaged then and planned to marry soon.
However, in early 2022 Rodgers and Shailene decided to go separate ways.
After his breakup with Shailene, the Packers quarterback is reported to have moved on with a new lady, Charlotte Brereton, who now goes by the name Blu. She is a social media influencer, motivational speaker, and podcaster. She hosts a podcast called Deja Blu.
The duo was first caught together in June 2022, and their relationship was confirmed after some fans saw Rodger's tattoo matching Blu's.
On October 10, 2022, Woodley, Rodger's ex-girlfriend, made some comments that some believe were directed to Blu.
Shailene, being a long-time supporter of the Native American culture, spoke on Instagram Live on Indigenous Peoples Day with Dee Jay and said, "People appropriate Native culture constantly and yet don't actually have any knowledge or education or awareness! Basic awareness of Native American culture or Native Americans in general."
Social Media Presence
Rodgers is active on social media platforms. You can find updates through his accounts.
View this post on Instagram
Instagram: 2.1 million followers
Twitter: 4.5 million followers
Facebook: 1.3 million followers
Aaron Rodgers | Popularity
Aaron Rodgers is a famous NFL player for the Green Bay Packers.
His Google search rate hiked because many people were looking for his girlfriend's information and also due to his recent injury (2022 season).
Frequently Asked Questions (FAQS)
What restaurant chain does Aaron Rodgers own?
Aaron Rodgers and Ryan Braun co-owned the 8 Twelve MVP Bar & Grill in Brookfield, WI. However, after Braun's PED scandal, the restaurant cut its association with him and changed its name to Hom Wood Fired Grill.
Does Aaron Rodgers talk to his family?
In which stand did Aaron Rodgers finish during the celebrity golf tournament?
Aaron Rodgers finished in the 16th stand for the American Century Championship celebrity golf tournament. Also, it was located at Edgewood-Tahoe in Nevada.
How many Super Bowl rings does Aaron Rodgers have?
Aaron Rodgers has one Super Bowl ring. He has faced many ups and downs but has set many records in the NFL.