There aren't many sportsmen known for their accomplishments in two different sports, but James Johnson is one of them.
James Johnson had made significant progress in his MMA career before entering the NBA. Currently, he plays for the Brooklyn Nets of the National Basketball Association (NBA).
From 2007 to 2009, the athlete was the Wake Forest Demon Deacons' starting power forward. The Chicago Bulls selected him 16th overall in the 2009 NBA draft.
For all the nights pursuing the precariousness of the NBA lifestyle, a career cratering in the NBA's lowest depths, the most trying part of his path had been peering into his fans' eyes as anyone but the perfect role model.
Johnson quickly established himself as a key player in the rotation, a speed demon off the bench.
In his 14th season, Johnson has rediscovered his ability to pass the ball, attack the basket, and defend quickly both on the perimeter and around the rim.
On his previous teams, Johnson has seen many players come and go, with some never reaching maturity. He needed to mature, and he now has younger teammates waiting for him on team buses and during team functions.
Quick Facts
Full Name
James Patrick Johnson
Known as
James Johnson
Nickname
Bloodsport
Birth Date
February 20, 1987
Birth Place
Cheyenne, Wyoming
Residence
Not Available
Religion
Christianity
Nationality
American
Ethnicity
African American
Education
Cheyenne East (Cheyenne, Wyoming) and Wake Forest (2007–2009)
Zodiac Sign
Pisces
Father's Name
Willie Johson
Mother's Name
Vi Johnson
Siblings
8
Age
36 years old
Height
6 feet 7 inches
Weight
240 lb (109 kg)
Eye Color
Brown
Hair Color
Black
Body type
Athletic
Profession
Basketball Player
Marital Status
Married
Wife
Diana Issa
Children
Naymin and Harlem
Active since
2009– present
Current Team
Brooklyn Nets
Achievements

2× Third-team All-ACC (2008, 2009)
ACC All-Freshman team (2008)

Endorsements
Not Available
Net Worth
$1- $5 million
NBA Draft Pick
2009 / Round: 1 / Pick: 16th overall
Position
Small Forward & Power Forward
League
NBA
Merch
NBA Basketball Trading Card
Social Media
Instagram, Twitter
Last Update
March 2023
High School & College Career
Johnson went to Cheyenne East High School, located in Cheyenne, Wyoming. The athlete averaged 28 points and nine rebounds per game during his final year.
Johnson, a four-star prospect, was ranked as the No. 16 small forward and No. 62 player in the nation by Rivals.com in 2007.
James had an immediate impact as a rookie at Wake Forest in 2007–08, earning third-team All-ACC accolades and finishing second in the 2008 ACC Rookie of the Year voting while leading the Demon Deacons in scoring and rebounds.
Johnson led the team in rebounding as a sophomore, propelling the team to a 24–5 record and a #1 rating in the 2008–09 season.
He was chosen to the All-ACC third team once more. Following the season, Johnson announced his NBA draft eligibility for 2009.
Don't miss on NBA G League's player Justin Jackson!
Professional Career
After being picked with the 16th overall choice in the 2009 NBA draft, Johnson signed with the Chicago Bulls on July 8, 2009. Johnson was assigned to the NBA D-Iowa League's Energy before being recalled by the Bulls.
Johnson was traded to the Toronto Raptors on February 22, 2011, and he also played for the Sacramento Kings starting July 16, 2012.
James was signed by the Atlanta Hawks on September 30, 2013, for a few months before being transferred to the Rio Grande Valley Vipers, where he averaged 18.5 points, 9.1 rebounds, 4.8 assists, 1.9 steals, and 3.4 blocks per game.
On December 16, the same year, he joined the Memphis Grizzlies. The Toronto Raptors re-signed Johnson on July 17, 2014. However, he was dismissed following the 2015-2016 season.
The Miami Heat signed James Johnson to a one-year agreement worth $4 million. He had a season-high 26 points in a 108-99 win over the Brooklyn Nets while playing for Miami.
In a 112–99 victory over the Charlotte Hornets on April 5, 2017, he scored 26 points and hit 6 of 7 from three-point range.
Johnson re-signed with the Heat on July 7, 2017. The athlete set a career-high with 31 points in a 149–141 double-overtime victory over the Denver Nuggets on March 19, 2018.
Johnson signed with the Brooklyn Nets on August 6, 2021.
Brooklyn Nets Relying On James Johnson
Johnson's offensive style isn't very diverse, but he can easily hit floaters and jump hooks in the paint.
Brooklyn has become one of the finest mid-range teams in the league, thanks to the combination of Johnson and LaMarcus Aldridge on the inside. Blake Griffin may be the most significant impediment to consistent playing time.
Griffin has a considerably higher offensive upside than Johnson, but he hasn't lived up to expectations this season.
Johnson should get some early game minutes until Griffin wakes up from whatever coma he's in. Even if he doesn't average a double-double, he can score at a high rate.
Johnson's defense isn't great, but he can be a good rim protector and on-ball defender when called upon.
Johnson should be able to fit in on a Brooklyn squad that spent the entire offseason adding defensively focused players to surround their three stars.
James Johnson: Age, Height & Weight
James Johnson, the basketball player, was born on February 20, 1987, in Cheyenne, Wyoming. He is currently 36 years old.
He's 6-foot-7 and roughly 240 pounds, with the physique of a grizzly on a juice fast.
He is an American and belongs to the African-American ethnic group. In addition, his zodiac sign is Pisces.
From afar, Johnson's neck is braced by a crown of bones, or perhaps the Monster energy drink emblem.
It's easier to see the lettering up close. His neck tattoo spells out NAYMIN, his son's name and the muse behind Johnson's comeback.
Read upon NBA's Most Improved Player for 2012, Ryan Anderson
James Johnson Was MMA Fighter Before NBA
Before entering the NBA, James Johnson was an unbeaten MMA fighter.
James Johnson, a power forward for the Brooklyn Nets, has spent the last 13 years in the NBA. He was, however, a formidable MMA fighter with seven MMA fights under his belt and a 20-0 kickboxing record prior to that.
In martial arts, Johnson holds a second-degree black belt. At 18, he had his first MMA fight, dominating and finishing his opponent in just 97 seconds.
Because of his remarkably fancy movement during fights that resembled the late Muhammad Ali's, he was dubbed 'Little Ali.'
MMA Blood Runs In The Family
Johnson's family has a long history with mixed martial arts. His parents and siblings, in fact, are all black belts in mixed martial arts. The basketball player is the fifth of nine children, and all eight of his siblings have black belts in some capacity.
James was born to Willie and Vi Johnson. Johnson has two sisters and six brothers. Johnson's father is a seven-time global kickboxing champion, while his mother has won five national kickboxing titles.
Johnson was frequently questioned about his MMA experience during his NBA tenure. He was frequently asked about how it connects to basketball.
Fighting and basketball, according to the 6-foot-7 forward, are nearly identical. The main distinction, according to Johnson, is that MMA is an individual activity, whereas basketball is a team sport.
James is now in his 14th NBA season. While 'Bloodsport' continues to play for about 20 minutes per game, he understands that basketball is a game for young men.
When asked if he'd be interested in pursuing a UFC career if Dana White approached him, Johnson stated he'd be delighted to return to his "first love."
Trading Punches
Johnson got involved in a fight with Serge Ibaka in the third quarter of the Heat vs. Raptors game on Tuesday night, during which punches were fired.
James and Serge both were suspended for one game by the NBA.
Johnson was out on a Wednesday night Heat vs Pacers game and Ibaka sat out of the game against the Cavaliers.
James Johnson: Wife
Diana Issa is the second wife of the forward James Johnson. There is no other information about her on the internet as no websites have covered her personal and professional life.
According to our sources, she is associated with Velvet Lane Cakes Toronto. She is also a fit woman, implying that she is a fitness nut who is likely to participate in certain fitness activities.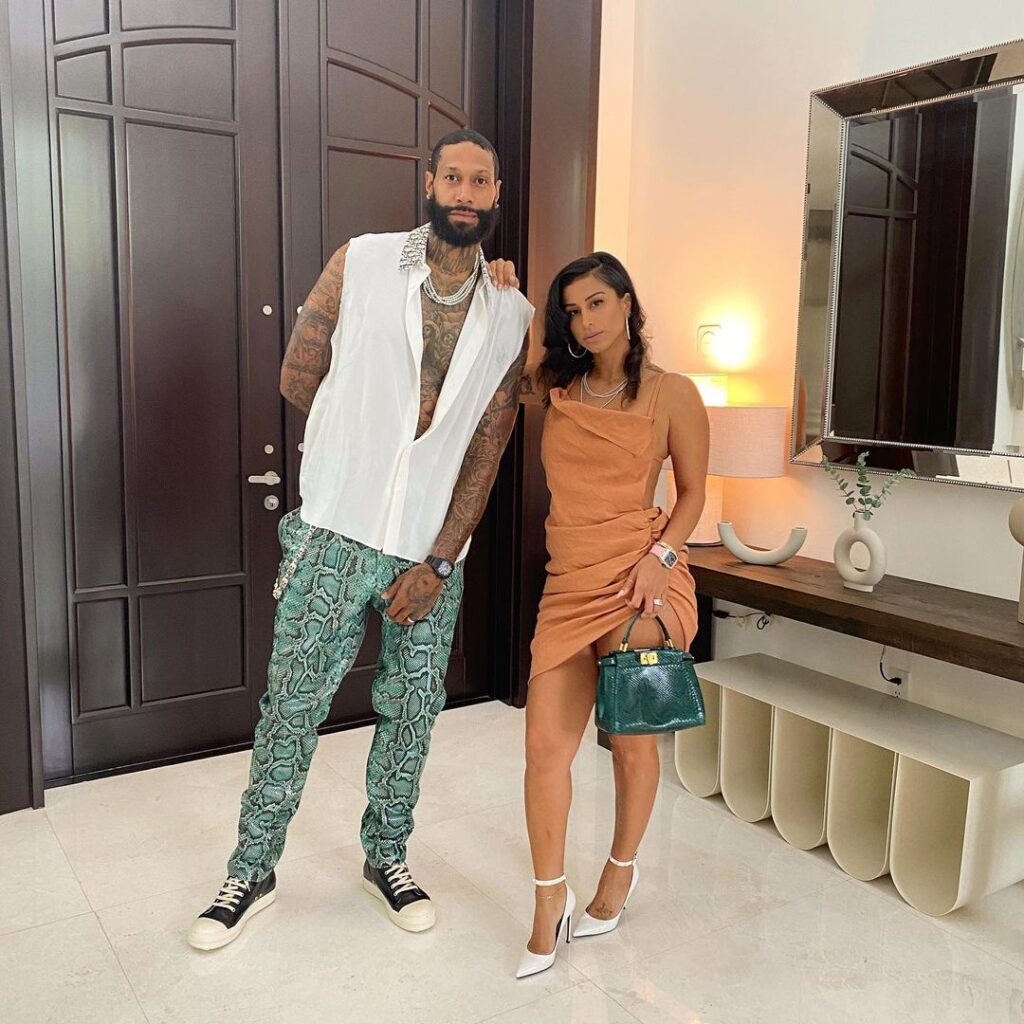 The NBA Player's wife is also active on social media platforms. On her official Instagram account, @dede.johns, she shared multiple photos of herself and her children.
Moreover, James and Issa reunited when James traveled to Miami, and the couple's relationship grew even stronger, and the couple also got engaged.
James Johnson: Previous Marriage & Controversy
James Johnson was previously married to Callie Johnson, but the pair divorced after a short period, and Callie received custody of their kid.
In addition, on June 7, 2014, the athlete was accused of domestic assault after reportedly hitting and choking his ex-wife, Callie, at their home.
Johnson and his wife had just come home, according to WMC-TV, when Johnson allegedly slapped her in the face with an open hand before choking her. Johnson left and returned when the cops arrived, where he was apprehended.
He allegedly smashed a hole in the bathroom door while she and their child were inside. He walked away, only to return later to discover officers questioning his wife.
According to authorities, she had no injuries to her face or neck. She admitted to authorities that they had both been drinking.
Johnson was also charged with causing bodily harm to a family member. Johnson's case was eventually dropped on June 30, 2014, after his wife left to appear in court.
Net Worth
James Johnson's net worth is between $1 and $5 million.
The Brooklyn Nets signed James Johnson to a one-year, $2,641,691 contract, with $2,641,691 guaranteed and a $2,641,691 yearly average salary.
Johnson's base salary in 2021-22 will be $2,641,691, with a cap hit of $1,669,178 and a dead cap value of $1,669,178.
Johnson earned a base pay of $14,431,700 and an incentive bonus of $220,000 in 2018-19 as part of a three-year, $43,295,100 contract with the Miami Heat while carrying a cap hit of $14,651,700 and a dead cap value of $29,561,100.
His possessions include a luxurious home and an automobile, in addition to his financial gains. James Johnson makes money from a variety of sponsorships as well.
Social Media Presence
James Johnson is present on various social media platforms. However, he rarely posts pictures on there.
Most pictures on his social media are mainly based on his basketball games. Even though he has gained a significant number of followers with such a little inactivity.
Below is the link to his social media accounts; you might want to follow him;
Instagram– 81.2k followers
Twitter– 26.5k followers
FAQs
What is James Johnson's neck tattoo?
The idea for the tattoo came from a tattoo on Johnson's neck that reads "NAYMIN 3.9. 13" and commemorates the birth of his son, who arrived six weeks early.
"Life changed for me after that," Johnson remarked of the day his kid was born, according to Rovell. "It wasn't just about me anymore."
Is James Johnson waived by Brooklyn Nets?
The Brooklyn Nets have requested waivers on the veteran James Johnson.