Professional basketball players, unlike baseball players, rarely require time to master skills after high school or college.
There are exceptions, but for the most part, outstanding high school and college basketball players can impact the NBA. The elite players, in particular.
In basketball, college basketball players almost always go on to become elite NBA players. And they do it reasonably quickly. There are, however, exceptions to the rule.
After college, professional basketball players may develop late or significantly improve their game. And occasionally, they simply slip through the cracks.
Perhaps we can add JaMychal Green to that list as well. He remained undetected for an extended period.
JaMychal Green is a well-known American professional basketball player for the National Basketball Association's(NBA) Denver Nuggets. Green went undrafted after graduating from Alabama in 2012.
Green knew the D-League was only a phone call away from the NBA. And that call came in January 2015, when the Memphis Grizzlies offered him a 10-day contract.
Quick Facts
Full Name
JaMychal Green
Nickname
Not Available
Birth Date
June 21, 1990
Birth Place
Montgomery, Alabama
Residence
Not Available
Religion
Christian
Nationality
American
Ethnicity
Black
Education

University of Alabama (2008–2012)
St.Jude (Montgomery, Alabama)

Zodiac Sign
Cancer
Father's Name
Alonzo Green
Mother's Name
Rita Green
Siblings
Kemeche L. Green
Age
32 years old
Height
6'11" (2.11 m)
Weight
227 lbs
Eye Color
Brown
Hair Color
Black
Body type
Athletic
Profession
Basketball Player
Marital Status
Married
Wife
Not Available
Children
Jada, Mike Jr.
Beginning of Professional Career
2012
Teams

Austin Toros (2012–2013)
Chorale Roanne (2013–2014)
Austin Spurs (2014–2015)
San Antonio Spurs (2015)
Memphis Grizzlies (2015–2019)
Los Angeles Clippers (2019–2020)
Denver Nuggets (2020–present)

Achievements

NBA D-League All-Star (2015)
NBA D-League All-Rookie Second Team (2013)
First-team All-SEC (2011)

Endorsements
Not Available
Net Worth
$5 million–$10 million
NBA Draft Pick
Undrafted
Position
Power forward / Center
League
NBA
Merch
Rookie Card
Social Media Presence
Instagram, Twitter
Last Update
June 2023
Early Career
JaMychal Green led Montgomery's St. Jude to the Class A State Championship in 2006 and 2008 and was named tournament MVP in 2006.
He scored over 2,500 points in high school and was a member of St. Jude's National Honor Society.
During his high school career, he received numerous honors, including 2008 McDonald's All-American, 2008 Alabama Mr. Basketball, and three-time Alabama Sportswriters Association "Player of the Year" (2006, 2007, and 2008).
Moreover, ESPN rated him the #6 overall and #1 power forward in the 2008 recruiting class.
Green also represented the United States at the 2008 FIBA Americas Under-18 Championship in Argentina, where the athlete was coached by Anthony Grant, who would later become his head coach at Alabama.
Green chose Alabama over Ole Miss on August 23, 2007. Green started all but one of The Capstone's 32 games as a freshman, averaging 11.6 points per game and ranking first among SEC first-year students in rebounding with 7.9 per game.
The athlete finished second in the SEC with five double-doubles, including four straight against Georgia, Vanderbilt, Florida, and Mississippi State.
He was named a collegeinsider.com Freshman All-American and a unanimous Freshman All-SEC selection.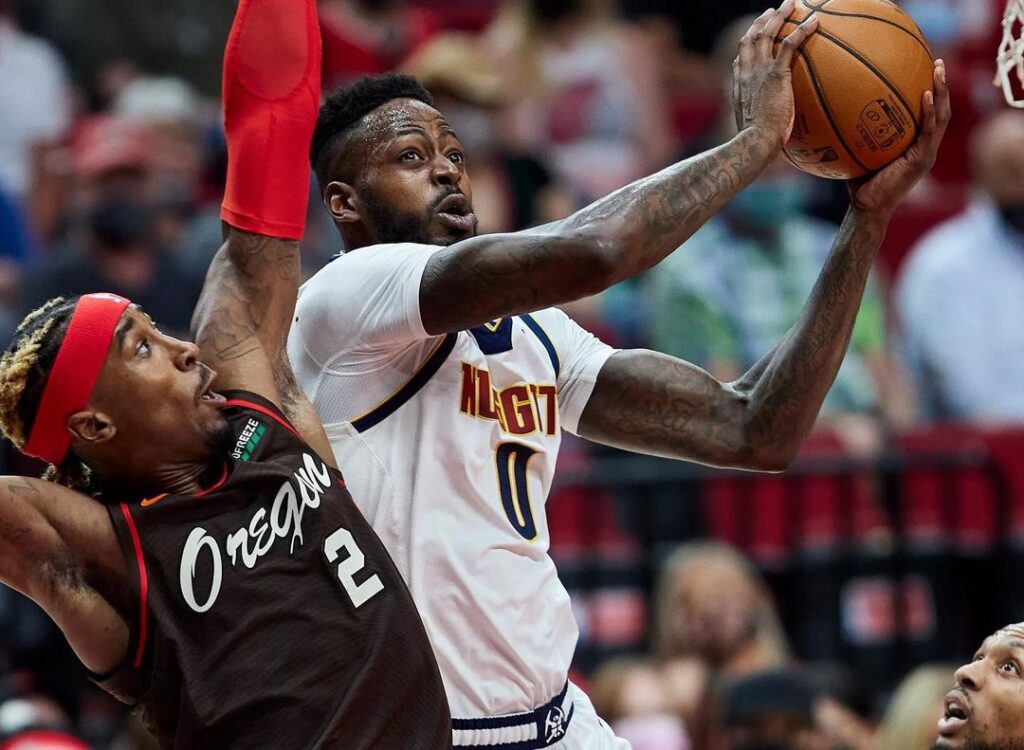 During his sophomore season, Green ranked ninth in the SEC in rebounding (7.2) and seventeenth in scoring (17.4). (14.1).
He was named to the 2009 Old Spice Classic all-tournament team after winning the game against No. 15 Michigan, putting-back dunk with 5.4 seconds remaining, and blocking Michigan's game-tying shot as time expired.
Green scored 27 points and 13 rebounds in a win over Mercer, earning him SEC Player of the Week honors.
Junior Season
JaMychal changed his number from 32 to 1 to begin his junior season and was named to the first-team All-SEC voted on by the coaches.
After Alabama achieved 0–3 in the Paradise Jam Tournament, Anthony Grant suspended Green for three games for "conduct detrimental to the team"; Alabama went 2–1 without Green.
Green surpassed 1,000 points in his Alabama career on January 22, 2011, when he scored 15 points against the Auburn Tigers.
Age & Body Measurements
JaMychal was born on June 21, 1990, in Montgomery, Alabama, in the United States. The 32-year-old NBA star was born under the sign of Cancer.
In 2006 and 2008, he won the Class A State Championship at St. Jude Educational Institute.
JayMachal's body measurements include a height of 6 feet and 8 inches and a weight of 227 lbs.
Family
JayMachal Green was born to Rita and Alonzo Green. Green grew up in a big family with twelve siblings on his mother's side and eight on his Father's side.
JaMychal's brother was murdered in 1992 when JaMychal was only two years old. During the time, the athlete was unaware. Further, his late brother had two children.
The 6'11" player and his nephews are currently launching the JaMychal Green Foundation in Montgomery. The Green family's organization focuses on informing, educating, and inspiring youth.
His sister also has a Ph.D. and works as an education specialist for the Alabama State Department of Education.
He also expresses his affection for his family through frequent social media updates. He said his best wishes and devotion to his grandmother, who turned 100 on August 12, 2019.
Before that, on June 17, he celebrated Father's Day with his Father and the rest of his family.
Professional Career
JaMychal joined the San Antonio Spurs for the 2012 NBA Summer League after going undrafted in the 2012 NBA draft. He signed with the Spurs on October 22, 2012, but was later waived by the team on October 26.
On November 1, the athlete was acquired as an affiliate player of San Antonio by the Austin Toros of the NBA Development League.
He averaged 8.3 rebounds, 12.3 points, and 1.3 assists per game in 44 games for the Toros in 2012–13. The athlete joined the San Antonio Spurs for the 2014 NBA Summer League in July 2014.
He signed with the Spurs on August 6, 2014, but was later waived by the team for the second time on October 25, 2014. The Austin Spurs acquired him on November 1.
JaMychal joined the Los Angeles Clippers for the 2013 NBA Summer League in July 2013. He signed with the Clippers on September 30, 2013, but was released on October 8.
Green signed with Chorale Roanne of France for the 2013–14 season on October 31. He averaged 6.6 rebounds and 11.8 points per game in 25 games for the club.
JaMychal signed a 10-day contract with the San Antonio Spurs on January 18, 2015.
After his contract expired on January 28, the Spurs decided not to re-sign Green to a second 10-day contract, and he returned to Austin.
NBA Teams
Memphis Grizzlies (2015–2019)
Green returned to the NBA before returning to Austin, signing a 10-day contract with the Memphis Grizzlies on February 2, 2015.
On February 19, he signed a second 10-day contract with the Grizzlies, followed by a multi-year contract on March 2. He returned to the Grizzlies for the 2015–16 season, where he saw some early-season action off the bench.
Due to multiple injured teammates, his minutes increased following the All-Star break, and on March 6, 2016, he scored a then-career-high 17 points in a loss to the Phoenix Suns.
In a defeat to the Boston Celtics on March 9, he had 17 points and a then-career-high 13 rebounds. Two days later, he set a career-high with 21 points and ten rebounds in a 121–114 overtime victory over the New Orleans Pelicans.
Career High Records
JaMychal had a career-high 18 rebounds in an 88–86 win over the Portland Trail Blazers on December 8, 2016.
His previous high was 17 rebounds against the New Orleans Pelicans. He scored 29 points in a 107–99 win over the Minnesota Timberwolves on February 4, 2017.
Green became a restricted free agent following the 2016–17 season. He re-signed with the Grizzlies on September 27, 2017, to a two-year, $17 million-plus contract.
Injury
JaMychal missed the next 12 games with a broken jaw after starting the first two games of the 2018–19 season.
When he returned to the lineup, he was moved to a reserve role and scored a season-high 24 points in a 107–103 victory over the Pelicans on December 7.
Green had 24 points and 11 rebounds in a 112–108 loss to the Miami Heat on January 12.
Los Angeles Clippers (2019–2020)
JaMychal and Garrett Temple were traded to the Los Angeles Clippers in exchange for Avery Bradley on February 7, 2019.
Green re-signed with the Clippers on July 18, 2019.
In free agency, the Denver Nuggets reportedly signed veteran forward JaMychal Green to a two-year contract on Saturday.
The deal is worth $15 million, according to Shams Charania of The Athletic and Stadium, and includes a player option for the second season.
Green will add to the Nuggets' impressive depth as a team member. Green's current role appears to be a backup to center Nikola Jokic and power forward Michael Porter Jr., as Paul Millsap is a free agent.
Wife
JaMychal Green, a professional NBA player, is married and the Father of two children.
JaMychal's marital ties came to light on April 22, 2011, when he tweeted himself as a 'happily married man.' Since then, the professional basketball player has used social media to keep his wife and family up to date.
The Nuggets player is not afraid to be seen with his wife at various events and occasions. The couple's Christmas of 2018 became memorable when they announced their second child's birth.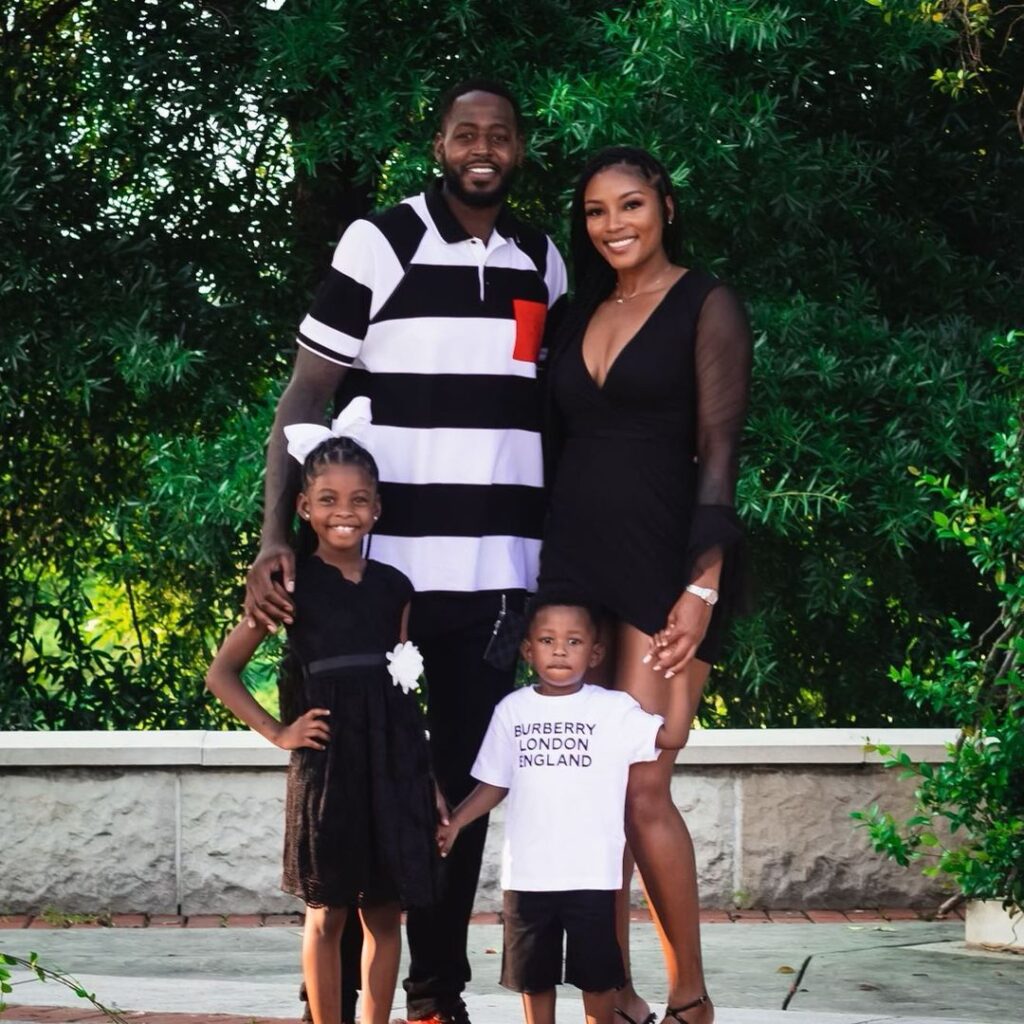 During their celebration, JaMychal's wife flaunted her baby bump, and he accompanied her in a black suit.
The basketball player and his beautiful wife welcomed their second child, a son named Mike Jr., in April 2019, just four months after announcing their pregnancy. In addition, the couple has their first child, Jada.
Regardless of JaMaychal's marital status, the details of his girlfriend-turned-wife remain unknown. He had also managed to keep the location and date of their wedding ceremony a secret.
Net Worth
JaMychal Green's net worth is estimated to be between $5 million and $10 million as of 2021, according to sources. His salary and various endorsements account for the majority of his net worth.
Green signed a two-year, $16,400,000 contract with the Denver Nuggets, with $16,400,000 guaranteed and an annual average salary of $8,200,000, according to Spotrac.
The basketball player will earn a base salary of $8,200,000 in 2021-22, with a cap hit of $8,200,000 and a dead cap value of $8,200,000.
There is no information about Green's endorsement deals available.
Social Media Presence
JaMychal Green is active on various social media platforms. He primarily uses his social media to connect with his fans and followers.
The athlete often posts pictures with his family and gives glimpses of his personal life to his curious fans.
Below is the link to his social media; you can follow him there;
Instagram– 38.8k followers (as of Feb 2022)
Twitter- 17.6k followers (as of Feb 2022)
Frequently Asked Questions (FAQS)
Is JaMychal Green good?
JaMychal Green's forte is being tough on the glass and throughout the game, which will break the opponent's spirit.
If JaMychal maintains his excellent rebounding ability and combines it with an efficient shooting percentage, he has the potential to be one of the NBA's most valuable stretch fours.
Is JaMychal Green injured?
JaMychal Green is not injured. He missed his recent game against the Trail Blazers for personal reasons, but he'll be back in action on Saturday against the Lakers.