Well, well, well, it seems the rabbit is finally out of the hat. Professional football quarterback Jared Goff had been taunting his fans with his secret relationship for a few months.
But finally, the name was revealed, and we were not disappointed! Guys, meet Jared Goff's girlfriend, Christen Harper.
And not to mention, this hunk's girlfriend just happens to be a swimsuit model and is also starting her career as an actress.
No wonder Jared hid her from the media; Harper is the epitome of beauty.
Today, we will talk more about this gorgeous lady and her life as we go on. And surely, the hot topic will be Jared's and Christen's relationship. Let's start, shall we?
Christen Harper | Quick Facts
| | |
| --- | --- |
| Full Name | Christen Harper |
| Birth Date | May 28, 1993 |
| Birth Place | California, The United States of America |
| Now known as | Christen |
| Religion | Unknown |
| Nationality | American |
| Ethnicity | Caucasian White |
| Education | Cal State University of Northridge |
| Horoscope | Gemini |
| Father's Name | Michael Harper |
| Mother's Name | Daria Harper |
| Siblings | Older Brother |
| Age | 29 Years Old |
| Height | 5 feet 9 inches(175 cm) |
| Weight | 55 kgs(121 lbs) |
| Dress Size | 2 (U.S.) |
| Hair Color | Brown |
| Eye Color | Black |
| Build | Slim |
| Body Measurements | 34-27-35 inches |
| Marital Status | Unmarried |
| Profession | Model, Actress |
| Net Worth | $500k |
| Famous As | Girlfriend of NFL player Jared Goff |
| Social Media | Instagram, Twitter, Facebook |
| Merch of Jared Goff | Jersey, Funko Pop, Rookie Card |
| Ex-Boyfriend | Andrew Rohrbach |
| Last Update | November, 2022 |
Christen Harper Short Bio | Early Life, Parents, and Ethnicity
Christen Harper, who remained a mystery all this time as a Jared Goff girlfriend, was born in a town outside of Los Angeles, California, the United States.
She is the daughter of her Father, Michael Harper, and mother, Daria Harper. Apart from their names, other details, such as their whereabouts and works, are unknown.
Likewise, Harper grew up alongside her older brother, Shane Harper. Unlike her, Shane is athletically gifted and has pursued his career as one too.
He is a former left-wing hockey player who has played for several American Hockey League teams, including the Florida Panthers, between 2016 and 2017.
Shane later joined the Russian team HC Lada Togliatti. While her brother followed the path of the sportsperson, Christen was drawn towards media and glamour.
Moreover, for her education, Harper went to the Cal State University of Northridge and received her bachelor's degree. Later she enrolled in an acting course at Baron Brown Studio.
You might also want to read: Mya Lynn Lesnar Bio- Mother, Brock Lesnar, Weight, Twin, WWE, Instagram >>
Christen Harper | Age, Height, Weight & Body Measurements
The beautiful Christen Harper was born in 1993, making her 29 years old. Her birthday falls on May 28 every year, under the sign of Gemini.
Likewise, the sign is known to be free-spirited, talented, and smart compared to other characters.
Christen is a model and an emerging actress in the Hollywood scene. It's no wonder that she is visually blessed.
The American beauty stands at 5 feet 9 inches(176 cm) and weighs around 55 kg (121 lbs).
Similarly, the gorgeous model has a slim figure measuring 34-27-35 inches showing her curves. Along with that, Christen has long black hair and stunning black eyes.
Skincare and Makeup
Christen Harper is a skincare geek. Her profession demands heavy makeup, and Harper believes in having that glow with or without makeup.
Devoted to healthy rituals, Harper traditionally follows a skincare regime. As a result, she has managed to look ravishing 24/7 despite harsh weather conditions and exposure to layers of makeup.
Her skin is prone to breakouts. Hence, she is always seen wiping off her makeup after a shoot.
She then washes her face, tones it with a toner, and then apply facial oil as soon as she reaches home.
Harper's morning skincare includes Kiehl's Ultra Facial Cleanser and an organic almond and rosehip facial oil.
Her night skincare regime first consists of coconut oil to remove layers of stubborn makeup, followed by a facial cleanser.
Her go-to products are spot treatments, organic facial oils, and eye creams. She also likes exfoliating a few times a week.
But she avoids overdoing it as it might bring negative consequences. Similarly, she makes sure that her skin is hydrated before her photoshoot.
She religiously uses sheet masks as a part of her pre-photoshoot skincare routine.
There are days when she lets her skin breathe with minimal products. She only goes for a tinted brow gel, some mascara, and a pop of lip salve on those days.
Her holy grails must be coconut oil for removing makeup and a nice sunscreen.
Christen Harper | Professional Career
As we all know, Christen is a successful model represented by modeling agencies like L.A. Models and Wilhelmina Models.
At the moment, she is under the management of W360 Management. So when did she start modeling? Like every other model, Christen also started modeling from an early age.
Even though she never thought anything of it, Harper's opinion changed once she went to college and started taking it as a career option.
But life as a model was more hectic than she anticipated. She faced many troubles and setbacks while pursuing it.
However, her career flourished once she was signed by L.A. Models and Wilhelmina Models, the most renowned modeling agency.
Soon her hard work started to pay off as Harper appeared in ad campaigns and magazine spreads, including one in 'Bliss Magazine.'
Thanks to that, her popularity grew as many people recognized and followed her on social handles.
Moreover, she started promoting products from brands like Reformation, Monday Swimwear, Realisation Par, Love Culture, REVOLVE, Guess, etc. In December 2017, Christen was interviewed on 'Maxim.'
More
While she might be famous as a model, she has also shown interest in acting. When she was a child, Harper appeared in the short film Seven's Eleven in 2004.
Similarly, a couple of years later, Christen appeared as a teenage girl in season 3, episode 2 of the HBO series, Entourage.
Not to mention, Christen took acting lessons at Baron Brown Studio to polish her skills as an actress.
Furthermore, the 29 years old is set to appear in the drama film 'The Obituary of Tunde Johnson' where she will play Caroline's role.
Her other anticipated acting role happens in the sci-fi drama film Auggie. Both of these films are in the post-production stage.
You might also be interested in reading: Meet Sidney Crosby wife, Kathy Leutner – Career, Model & Pregnant>>
Favorite Food: Continental Dished
Favorite Colors: White and Pink
Hobbies: Shopping, Styling, and Fashion
Favorite Celebrities: Brad Pitt, Scarlett Johansson
Holiday Destination: London and Italy
Jared Goff's Girlfriend Christen Harper | Their Relationship
After the news broke out, Jared and Christen spoke about their relationship. Though Jared tried to keep his beautiful girlfriend a secret, his plans eventually failed. So, where did the rumor start?
Christen, now best known as the girlfriend of NFL quarterback Jared Goff, has always been a sports fan.
Even before Goff, Christen dated Andrew Rohrbach, the former Colorado Rockies Pitcher.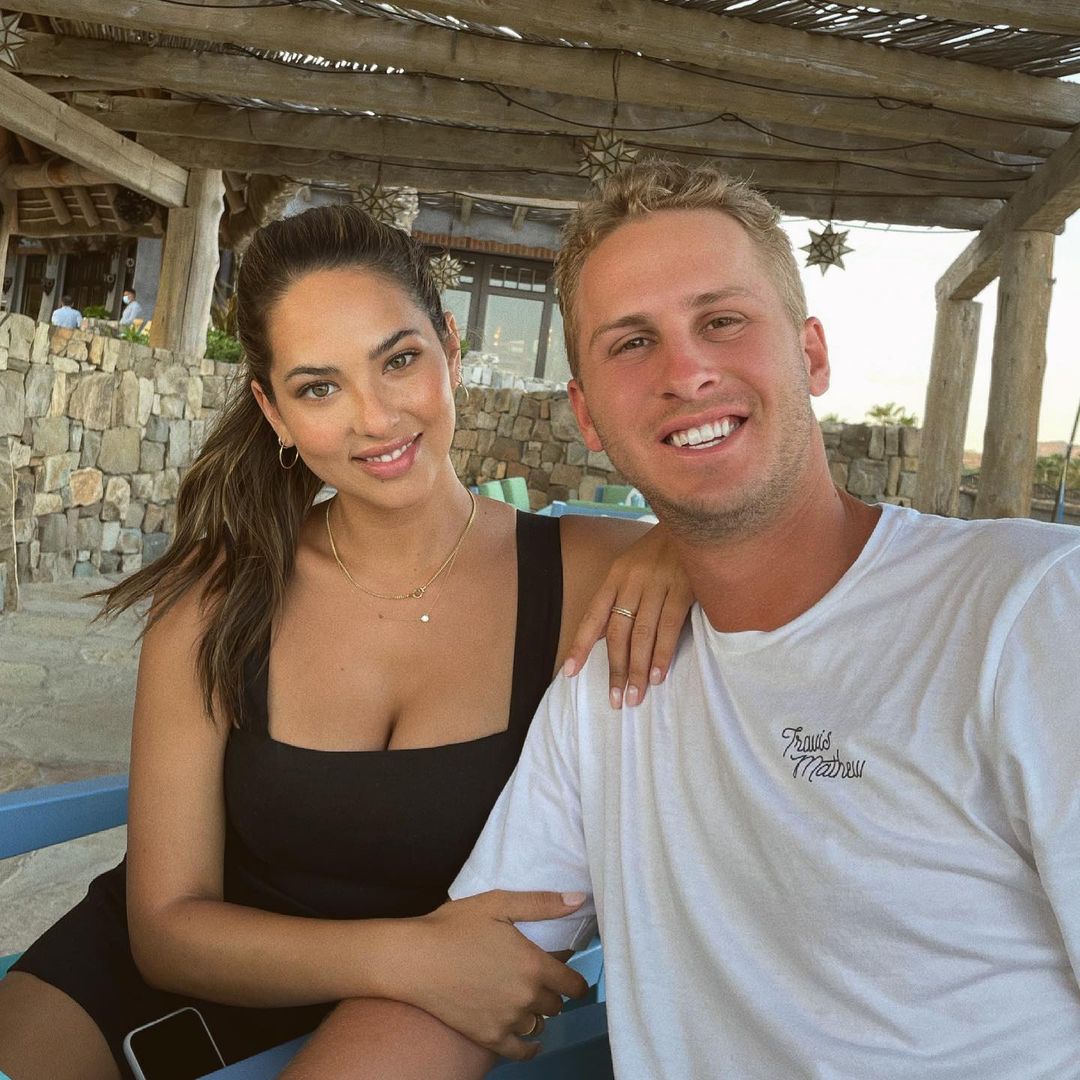 Andrew and Christen dated from later 2013 to 2015, though the date they split is unclear. After this break-up, a rumor started to brew about Christen's new sportsman.
Likewise, the dating news started to hit up, especially in January 2019. SportsGossip.com first released an article on January 18, 2019, linking the model with the star NFL player, Jared.
More to this, they added how Jared was shielding her girlfriend from others except for friends.
"Jared is hiding her from everyone except some friends. She was at the game last weekend but sat with the Whitworth clan and not his family and friends from home."
Later Christen was spotted at a Rams game, sitting apart from Jared's family and friends. A few days last, the couple was seen at a Halloween Party, hinting they knew each other before the rumor started.
Also, in 'On Air with Ryan Seacrest, ' Goff's roommate, Patrick, dogged the question regarding Jared Goff's girlfriend but admitted following her on Instagram.
More on Their Relationship
With the rumors reaching a new climax, Christen dropped an Instagram story from Mercedes-Benz Stadium confirming all the news about her and Jared.
Looking back, Jared Goff's girlfriend was featured in 2017 Maxim. There she spilled some of her thoughts on romance.
>How can a man catch your attention?
A smile catches my attention, but a funny joke will make me stay a while.
> What's your ideal date?
I'm a walking cliche, but I love nothing more than a nice meal and a movie.
>What about a man turns you on the most?
Confidence and sense of humor.
> What's the worst pick-up line you've ever heard?
There are so many; just scroll through my DMs. In person, I always feel it's strange when guys use "What are you?" about my ethnicity as their pick-up line.
>How do you let a man know you're interested?
I tend to laugh harder at stupid jokes when I like someone. But I think aside from that. I don't give much away.
Judging by the answers, we can see a bit of character that Jared possesses. Smile, confidence, and sense of humor scream Jared Goff, or maybe we are delusional.
Jared Goff's Girlfriend Christen Harper | Net Worth and Income
As of 2022, Christen Harper has earned an estimated net worth of $500 thousand. Most of her income comes from her successful career as a model and actress.
Not to mention, Harper also receives a handsome amount by endorsing several brands and promotions.
Meanwhile, her boyfriend, Jared Goff, has an impressive net worth of $30 million. The star quarterback player was drafted #1 overall in the 2016 NFL Draft by the Los Angeles Rams.
Likewise, between 2016 and 2017, he earned $29 million, while his annual salary amounted to $19 million. In August 2019, he signed a new four-year deal with the Rams worth $134 million.
The contract includes an NFL record of $110 million guaranteed money, a $25 million signing bonus, and a $21 million roster bonus.
Moreover, Goff earned $2 million yearly from endorsing brands like Red Bull, BMW, Bose, Banana Republic, Pizza Hut, and Nike.
Apart from his career, Jared also launched a clothing line called JG16 featuring his hoodies, hats, and t-shirts.
Furthermore, in May 2020, Goff paid about $6 million for a newly-built home in Hermosa Beach, California.
Surprisingly, it is not the only million-dollar real estate purchase for young Jared. Before this, in May 2018, he paid $4 million for a home in Hidden Hills, California.
Social Media Presence:
You can follow Christen Harper on her different social media handles via these links:
Facebook: 3.3 million Followers
Instagram: 401k Followers
Twitter: 1.2k Followers
Some FAQs about Christen Harper:
Which agency is Christen Harper associated with?
Christen Harper is currently associated with the modeling agency named Wilhelmina Models.
Is Christen Harper an actor?
Christen Harper is a popular model and actor. She has acted in movies like Auggie (2019), Seven's Eleven (2004), and The Obituary of Tunde Johnson (2019).
What is Christen Harper's heritage?
Christen Harper comes from a Caucasian heritage.
Where does Christen Harper's boyfriend currently play?
Christen Harper's boyfriend, Jared Thomas Goff, currently plays for the Detroit Lions of the National Football League.
More on Jared's net worth and lifestyle, right here: Jared Goff Net Worth: Contracts, Earnings & House >>