California-born Jason Hart is a skilled former player and basketball coach for NBA G League Ignite.
He'd played for ten different NBA teams, and his efforts and abilities had led him to become a well-known and respected coach.
His incredible scoring and passing ability on the court are greeted with screams of delight from his fans. Moreover, Jason has been praised and appreciated for his talent inside the basketball court.
Jason retired when he was in his thirties, but he stayed active in basketball and used his skills to help other young players by coaching them.
Similarly, Hart was a terrific rebounder for his height because of his quickness and ability to drive the lane.
Let's learn more about Jason Hart's personal life and much more, but first, let's look at some quick facts about him.
Quick Facts
Full Name
Jason Annalysa Hart
Birth Date
April 29, 1978
Birth Place
Los Angeles, California
Nick Name
Not Known
Religion
Christian
Nationality
American
Ethnicity
Black
Education

Inglewood High School
Syracuse University

Horoscope
Taurus
Father's Name
Richard Hart
Mother's Name
Deborah Claire Hart
Siblings
Two older brothers
Age
45 years old
Height
6'3″ (1.91 meters)
Weight
180 pounds (82 kg)
NBA Draft
2000/ Round 2/ Pick: 49th Overall
Hair Color
Black
Eye Color
Black
Career Highlights & Awards
First-team All-Big East (2000)
Build
Athlete
Marital Status
Married
Girlfriend/Wife
Brandi Hart
Children
Jason Hart Jr., Justin Hart
Position
Point Guard
Profession
Basketball Player, Coach
Net Worth
Around $9 million
Salary
$15,626,423
Last Plays For
Minnesota Timberwolves
League
NBA
Active Since
2000-2010
Social Media
Instagram, Twitter
Merch
Trading Card
Last Update
June 2023
Jason Hart | Early Life, Family & Education
Jason was born and raised in south-central Los Angeles, California, to parents Richard and Deborah Claire Hart on April 29, 1978.
Similarly, Jason's family consists of five members, including his two older brothers, but nothing about them is known. Hart began playing basketball at the age of six and continued through high school.
Also, he attended three high schools: his homeschool, Crenshaw High School, and then, when his mother wanted him to leave the neighborhood, he attended Westchester High School for the first three years before transferring to Inglewood for his final year.
Jason began playing quarterback until his sophomore year when his father asked him to pick between football and basketball, and he chose basketball.
Growing up in Los Angeles, he was encouraged to play basketball, and one of the reasons for this is because of Magic Johnson.
Jason received his first basketball offer while attending Adidas camp, and he was a basketball sleeper.
Moreover, Hart was unknown nationally but well-known locally, and being recruited was tough, so he accepted an invitation to the Sunnyvale ABCD Recruiting Camp, where he drew the attention of college coaches and began receiving offers.
He attempted to advance to the next level like many other youngsters, but one thing he learned from his early basketball experiences is to be careful with who you share your dreams with.
When he tells someone about his dream, they tell him it won't happen, but the rest is history.
Jason Hart | Careers
Early Careers
Jason began his high school education at three different schools: Crenshaw, Westchester, and finally Inglewood, where he prepared himself for basketball and made numerous friends.
After finishing his early education, he attended Syracuse University in New York to pursue his university degree and played basketball for four years.
Jason was a starter as a freshman and worked hard to earn a spot on the team, and the player was chosen to the Big East all-rookie team that year.
Hart was a threat to other teams in his junior and sophomore seasons as he assisted his team in scoring and victories. In his junior season, Jason was also named to the Big East Third Team.
During his senior years, he helped his team become one of the best defensive teams in the country. Although he was still susceptible to mistakes, Hart returned to his playmaking roots, and his teammates profited as a result.
Jason's dedication and hard work earned him a position on the Big East All-First Team and the Syracuse All-Century Basketball Team.
NBA Careers
Jason's NBA career began with the Milwaukee Bucks when he was drafted in the 2000-01 season. Even though the athlete only appeared in one game and scored two points.
Similarly, he was a newly founded NBDL with Asheville Altitude in the 2001 season and was eventually called by the San Antonio Spurs. With Spurs, he appeared in ten games.
Jason played with Makedonikos BC for the 2002-03 season before returning to the Spurs for the 2003-04 season, where he competed in 53 games.
Furthermore, for the 2004-05 season, Hart was signed as a free agent by the Charlotte Bobcats, and in the first game, he made the first steal in Bobcats history.
He also ended third in league with 9.5 points per game, 5.0 points per game, and 2.7 rebounds per game, which was a career-high.
On March 2, 2007, the Sacramento Kings released Jason, and he was signed by the Los Angeles Clippers a few days later. With Utah jazz, Jason signed in 2007 and could not attend eight games because of injury.
In 2008, Jason was traded back to the Clippers in the deal of exchanging Brevin Knights and was waived by the Denver Nuggets in 2009 for the rest of the seasons.
Lastly, during his last years before retirement, he played with Minnesota Timberwolves, Phoenix Suns, and New Orleans Hornets. Later, he retired from his playing career.
Coaching Career
Jason's desire has always been to be a coach after he retired, and now he has achieved that goal, which he is quite pleased with.
Similarly, he began his coaching career in 2011 as an AAU basketball coach in Los Angeles before becoming the head coach at Taft High School.
He was an assistant coach at Pepperdine the next year, aiding head coach Marty Wilson. He also studied at the University of California's Andy Enfield Staff.
Moreover, he was named head coach of the NBA G League Ignite after his hard work and efforts. Jason was undoubtedly proud of his journey, which took him from an NBA G League player actively pursuing a career in basketball to a head coach in the League.
Also, read Russell Westbrook Net Worth | Earnings, Contract & Shoes>>.
Awards & Recognitions
Jason has always been a basketball lover, and he has never let his enthusiasm for the game fade away. He has shown himself and garnered many praises and support during his basketball career and as the head coach of the G League.
Even though he hasn't won many honors during his basketball career, we all know how good his basketball talents are. Jason Hart's prize is as follows:
First-team All-Big East(2000)
Jason Hart | Age, Height & Weight
Jason Hart, a former California native, is now 45 years old. The athlete's zodiac sign is Taurus, and he was born in April.
He is still in excellent athletic shape at this age. Jason has been following this as part of his primary training to stay in condition as an athlete.
Jason Hart is 6 feet 3 inches (1.91 meters) tall, which allows him to score on a basketball floor easily.
Speaking of his weight, Jason weighs 180 lb or 82 kg, which is an ideal shape for an athlete.
Also, read Top 10 Point Guards in the NBA>>.
Jason Hart | Net Worth & Salary
Playing for ten different NBA teams and now as a head coach of the NBA G League, Jason has been earning a sufficient amount to be living a luxurious life.
His actual net worth, however, is unclear, although, it is estimated to be at the $9 million level.
Moreover, his total salary playing for different NBA clubs is $15,626,423.
Jason Hart | Personal Life
Let's take a closer look at Jason Hart's personal life.
Jason Hart and his high school sweetheart, Brandi Hart, have been married for twenty years and still love each other completely.
Brandi Hart was born in Inglewood and is the founder of Bella reign LLC, which specializes in natural skincare and haircare products.
The lovely duo has two kids together, Jason Hart Jr and Justin Hart. Jason Hart Jr., firstborn, is a high school basketball player who is succeeding in the footsteps of his father.
Similarly, Jason is a proud father who always treats his sons like friends and encourages them to achieve better.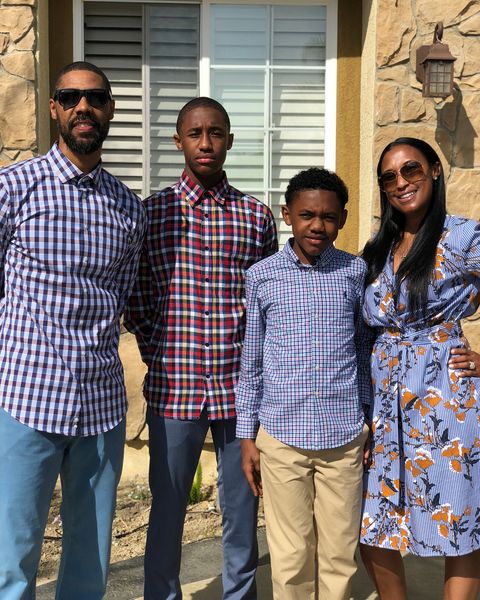 Jason's affection for his family is incredibly beautiful to behold, as he frequently writes about them and expresses his appreciation and support for them.
Furthermore, he has a strong relationship with his parents and often praises them for making him into the person he is now. Jason's excellent relationship with his family simply shows that he is a family guy who enjoys being around them.
He also spent most of his covid quarantine time with his family, and one of his Instagram posts shows him cutting his youngest son's hair with the caption "Hart Barbershop."
Furthermore, Jason created a charity called "Hart to Hart Reach for You," which is an after-school program that brings the community together through sports and education.
In addition, he has opened a Get Max Tax location in his hometown, which focuses on helping people with financial education and work opportunities.
Social Media
You can follow Jason Hart on his social media accounts using the given link below.
Frequently Asked Questions (FAQs)
What jersey number did Jason Hart wear during his basketball career?
Jason Hart wore Jersey numbers of 7 for Bucks, 1 for Spurs, Bobcats, and Clippers, 5 for Kings, 3 for Jazz, 6 for Clippers, Nuggets, Timberwolves, and 11 for Hornets.
Who was the head coach of Jason Hart during his collegiate years?
Jim Boeheim was Jason Hart's college head coach at Syracuse University.