Currently enjoying his post-football life, Jay Novacek is one of the top football tight-end contenders in the National Football League (NHL).
To date, he has only featured for St. Louis/Phoenix Cardinals and Dallas Cowboys; however, he has achieved quite a feat in his tenure.
To illustrate, the athlete has bagged three Super Bowl rings in four seasons, five Pro Bowls, and has earned one All-Pro nod.
Moreover, Novacek was popularized for his immense receiving skills and claimed the Western Athletic Conference's decathlon championship.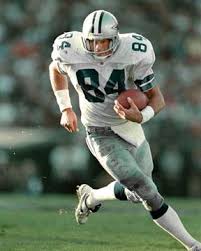 Before further in-depth corners of his life, let us run through a quick dose of general get-to-go facts about the athlete.
Quick Facts:
Full Name
Jay McKinley Novacek
Date of Birth
October 24, 1962
Birth Place
Martin, South Dakota
Nick Name
Not Available
Religion
Christianity
Nationality
American
Ethnicity
White
Zodiac Sign
Scorpio
Age
60 Years Old
Height
6 ft 4 inches (1.93 m)
Weight
234 lb (106 kg)
Hair Color
Dark brown
Eye Color
Blue
Build
Athletic
Father's Name
Pat Novacek
Mother's Name
June Novacek
Siblings
Jason "Bump" Novacek
Jim Novacek
Education
Gothenburg High School
Wyoming Cowboys Football
Marital Status
Married
Wife
Leanne Novacek (m. 1998-2010)
Amy Bradley (m. 2010)
Kids
Blake Novacek
Profession
Football player
Position
Tight end
Affiliations
St. Louis/Phoenix Cardinals (1985-1989)
Dallas Cowboys (1990-1995)
Active Years
1985-1995
Net Worth
$5 million
Social Media
Instagram, Twitter
Merch
Football Card, Signed Jersey, Dallas Cowboys Jersey, Rookie Card
Last Update
March, 2023
Jay Novacek | Early Life, Family & Education
Novacek (fully named Jay McKinley Novacek) was born on October 24, 1962, under Scorpio's sun sign.
Jay is one of the three sons of June Novacek and Pat Novacek. To illustrate, his other brothers' names are Jason "Bump" Novacek and Jim Novacek.
As Novacek was born in Martin, South Dakota, he had no trouble growing up or facing any hurdles during his childhood. Altogether, his childhood went on happily.
Education
As for education, Jay attended Gothenburg High School in Central Nebraska. He has always been athletic in the field of sports.
Moreover, Novacek played football as a quarterback during his high school tenure and even tried pole vault and basketball.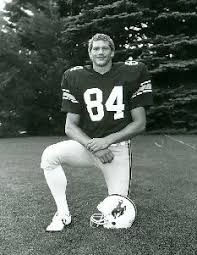 After graduating from high school, Novacek enrolled at the University of Wyoming in Laramie with a scholarship.
Thus, he commenced his college career in football first as the split end and moved to play as the tight end under head coach Al Kincaid's supervision.
Apart from football, Novacek was also featured in the track and field for the Cowboys.
Age, Height & Weight
Likewise, every single athlete, Jay Novacek, is fit and athletic with a toned body.
Even though a detailed table of his measurements isn't made, he is a man towering at 6 ft 4 inches (1.93 m).
Altogether, he maintains his weight at 234 lb (106 kg). As for his appearance, he has fair skin with blue-toned eyes and dark brownish hair.
You might be interested in reading: <<Darrin Jackson Bio: Wife, MLB, Broadcasting & Net Worth >>
Jay Novacek | Amateur Achievements
As a high schooler, Jay Novacek's significant achievement was the state titles for the pole vault events and hurdles.
Furthermore, he also bagged the All-state football and basketball player as he was inducted into the Nebraska High School Sports Hall of Fame in 1996.
Most importantly, his jersey number retired from high school alongside Novacek.
As we move onto his college highlights, Novacek had recorded an NCAA single-season record for average per reception (22.6 yards) by a tight end.
Similarly, his statistics stood at 33 receptions for 745 yards, 4 touchdowns, the All-American football team, and the Western Athletic Conference (WAC) first team.
For his track and field record, Novacek gained All-American honors and was fourth in the NCAA Championship.
He had claimed the WAC decathlon championship and posted 7,615 as the school's decathlon record. He was featured in the 1984 Olympic trials as a decathlete.
Furthermore, his college career record is 83 receptions for 1,536 yards and 10 touchdowns.
By the end of college, Novacek was inducted into the 1993 inaugural class of the University of Wyoming Athletics Hall of Fame.
Following it, he was also at the 2008 College Football Hall of Fame. In 2014, he again appeared in the Texas Cowboy Hall of Fame.
Jay Novacek | Professional Career
Novacek had a stellar career in his amateur days, and as he moved for the big games, he still managed to put himself at the top.
However, what's saddening is his career was cut short due to the numerous incidents, injuries, and accidents of his life.
St. Louis/Phoenix Cardinals
Jay Novacek first entered the 1985 NFL Draft, where St. Louis Cardinals signed him as the 158th overall pick in the sixth round.
Alongside the Cardinals, the Houston Gamblers signed Novacek for the United States Football League (USFL).
Starred as the 69th overall pick in the fifth round, he was first assigned as a wide receiver.
Altogether, his rookie years had a rough start as he faced many injuries right in the beginning.
After he was moved to the tight end position, Novacek was on the injured list on October 25, 1987.
It was during the match against the New York Giants that he broke his elbow. Following it, he stood on the list again on November 2.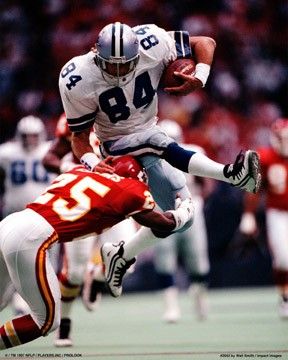 Before the start of the 1988 season, the Cardinals moved to be the Phoenix, and by then, Novacek's stats stood with 20 receptions for 254 yards and 3 touchdowns.
Afterward, he commenced his gameplay with 569 receiving yards and 4 receiving touchdowns.
However, that record later stumbled to 23 receptions for 225 yards and one touchdown.
Like one after another, tragedy struck Novacek when the team's coach was changed, and Joe Bugel entered.
The team was then reformed, where he wanted the tight end to be a blocker or an H-Type.
However, he didn't see Novacek as the perfect candidate and was, thus, kicked out of the team in 1990.
Dallas Cowboys
After it, the Dallas Cowboys quickly reacted as they took in Jay Novacek and Rob Awalt.
As Novacek was signed as the Plan B Free agency, he was posted as the team's started tight end, where he posted 59 receptions for 657 yards and 4 touchdowns right in the start.
Novacek became the league's top receiving tight end, widely known as the vital contributor to the offense in the early nineties.
Following it, Novacek took the Cowboys to five straight ProBowl and three Super Bowls.
Altogether, Novacek was named an All-Pro in 1992 as he had 68 receptions for 630 receiving yards and 6 touchdowns.
After posting his career-high 705 receiving yards, Novacek had to undergo arthroscopic surgery on his right knee.
He missed a few times in games due to his surgery.
However, near their recovery, he now struggled with the degenerative disc in his back and was only put on the injured reserve list on January 3, 1997.
Overall, he stood to return to the NFL on July 15, 1997, but only had to retire due to his chronic lower-back problems.
Jay Novacek dedicated 11 seasons in the NFL, where he posted 422 receptions for 4,630 yards and 30 touchdowns.
Don't forget to check out: <<Sam Mills Bio: Early Life, Professional Career, NFL & Cancer >>
Jay Novacek | Achievements and Stats
All-Western Athletic Conference (1984)
Honorable-mention All-American (1984)
5× Pro Bowl (1991–1995)
First-team All-Pro (1992)
Second-team All-Pro (1991)
3× Super Bowl champion (XXVII, XXVIII & XXX)
Summary Career Stats
Let's have a look at the summary career stats of Jay Novacek.
| | | | | | | | |
| --- | --- | --- | --- | --- | --- | --- | --- |
| SUMMARY | G | AV | Rec | Yds | Y/R | TD | FantPt |
| Career | 158 | 52 | 422 | 4630 | 11.0 | 30 | 642.2 |
Jay Novacek | Net Worth & Salary
As of today, Jay Novacek is expected to earn $5 million approximately. During the day, Novacek earned a salary of $60,000 with a $35,000 signing bonus from the NFL.
Currently, the athlete lives with his family in a house in Joshua, Texas. To date, Novacek has been involved in numerous charitable works.
To illustrate, he helped in the charity hunting trip of the Oklahoma Sportsmen Against Hunger program.
Furthermore, he has also stood as the speaker in the First Baptist Church of Conroe's monthly Men's Power Lunch program.
You might be interested in Marcus Spears Bio: Early Life, Wife, Net Worth & Career>>>
Jay Novacek | Personal Life, Wife, and Kids
Apart from his professional life, if we peep into his private one, Novacek loves hunting and fishing.
Furthermore, he also watches movies, among which Rudy is his favorite. What's interesting is Novacek loves personal appearances.
It means Novacek splits his time between his ranches in Nebraska and just outside Fort Worth.
Additionally, he is often speaking to motivate and encourage people through his dedication and personal improvement.
Not to mention, Novacek is an avid supporter of the Cowboys too.
"People like to think they are in control of their lives. But the Lord is the one in control."
-Jay Novacek
Love Life
Jay Novacek is a married man, living his life with his small family of four. However, before his marriage to his current wife, Amy Bradley, Novacek shared his peace and sorrows with LeAnne Novacek.
Leanne Novacek
The ex-wife of Jay Novacek, LeAnne Novacek, was a pretty lady with an infectious positive mind.
The duo got married in 1998 and shared a beautiful daughter. Everything was going pretty well until the year 2010.
On February 1, 2010, LeAnne Novacek was found dead in the bedroom at their mother's home in Burleson, Texas, in the 7700 blocks of FM1902.
According to the personnel, Novacek had an apparent self-inflicted gunshot wound.
As a piece of additional information, the duo was heartwarming, participating in every charitable program.
The Children's Advocacy Center of Johnson County is one of their many works.
Amy Bradley
After a tragic event, Jay Novacek again found his way and love with Amy Bradley.
Therefore, Novacek remarried in 2010; even Bradley had a near-to-death accident in 2013.
Currently, they share a son named Blake Novacek, who made the headlines in 2017.
The 2017 Fraternity Hazing Incident And Blake's Health
In 2017, tragedy again struck Jay Novacek through his son, Blake Novacek.
As per the sources, in October 2015, Blake Novacek was arriving at the fraternity house at the University of Oklahoma when he was blindfolded and hit with a baseball bat.
In addition, it made Blake fall unconscious for 10 hours, and he didn't even receive medical help then.
Later, the reality was shone into light in a 2017 interview after filing a lawsuit.
The incident traumatized Blake until he was treated in two mental hospitals. However, his health has only deteriorated since then.
In the report, Blake showcased "a traumatic brain injury and effects similar to those of an elderly patient with dementia."
He suffers multiple seizures and is unable to work or go to school.
Thus, today, Novacek and his wife stand as big advocates for the use of medical marijuana and have been supportive of their son.
Social Media Presence:
Jay Novacek is quite active on social media. You can follow him via these links.
Some FAQs?
What does Jay Novacek do now?
Jay Novacek is currently busy with his share of life. However, he can be seen for autograph signings and owns and runs a youth football camp.
What was the Jersey number of Jay Novacek?
During his NFL career, Jay Novacek featured in the jersey numbers 84 and 85.
How much is Jay Novacek's rookie card worth?
Jay Novacek's rookie card price ranges from $0.19 to $32.97.
What is Jay Novacek's 2000 Fleer Greats of the Game #75 card value?
Jay Novacek's 2000 Fleer Greats of the Game #75 card value is $0.34.
Is Jay Novacek a Hall of Famer?
Jay Novacek was inducted into the College Football Hall of Fame in 2008.