The parents of the Boston Celtics power forward Jayson Tatum separated when he was young. From his father's side, the NBA star has 2 half-siblings: a brother & a sister.
Jayson Christopher Tatum Sr., known as Jayson Tatum, is an American professional basketball player with the Boston Celtics of the National Basketball Association.
The Missouri-born player played high school basketball at Chaminade College Preparatory School and featured in McDonald's All-American game.
Jayson went on to play collegiate basketball for the Duke Blue Devils, where he played for only his freshman season.
The Boston Celtics then selected Jayson as the third overall pick in the 2017 NBA draft, and he has been playing for them ever since.
Throughout his tenure with the Celtics, he has helped the Celtics reach the NBA Finals and has also been named the 2022 NBA Eastern Conference Finals Most Valuable Player.
In addition, he also won a gold medal as a member of the United States Olympic squad in Tokyo in 2020.
Off the court, he has his own foundation named Jayson Tatum Foundation, which is involved in several charity events.
A devoted Christian by religion, Jayson always remains humble in his accomplishment and is sure to put family first before anything else.
Jayson Tatum: Brother Jacob & Sister Kayden
The basketball player has two younger half-siblings, one brother and one sister, from his father's other relationship after separating from his mother.
He has a younger brother named Jaycob Tatum (born: January 27, 2004), who is a college football player for the Western Illinois Leathernecks.
Jaycob plays as a linebacker for the Leathernecks and stands 6 feet 2 inches tall. Before attending Western Illinois, Jaycob enrolled in Christian Brothers College High School.
Jaycob places his brother in very regard and looks up to him, in an interview, he said, "Growing up, I always wanted to play basketball. I wanted to be just like Jayson.
He started football when he got to high school after moving to St.Louis. The brother was encouraged to join football after his father gave him a nudge.
The brother has an Instagram handle by the name of @jaycobtatum2.
His little sister Kayden is just 9 years old. She is still an achiever, just like her brothers, and it's pretty imminent that she will go on to be successful too.
She plays martial arts and loves to hang out with her brothers and family.
Parents: Brandy Cole & Justin Tatum
Jayson Tatum was born on March 3, 1998, to parents Brandy Cole and Justin Tatum.
The power forward was born in St. Louis when both of his parents were freshmen in college. Brandy knew she was pregnant just a few weeks after her high school together.
The pair never lived together and eventually split. As a result, Brandy raised him as a single mother.
He spent most of his infancy at his parents' respective schools, as his mother would often take him to attend classes with her at the University of Missouri–St. Louis.
While his father was playing basketball at Saint Louis University, he would also find himself in the locker room there.
The player claims this he is a "mama's boy" and that his mother is his "best friend."
Brandy was one of the top five students in her graduating class and the senior class president when she graduated from high school.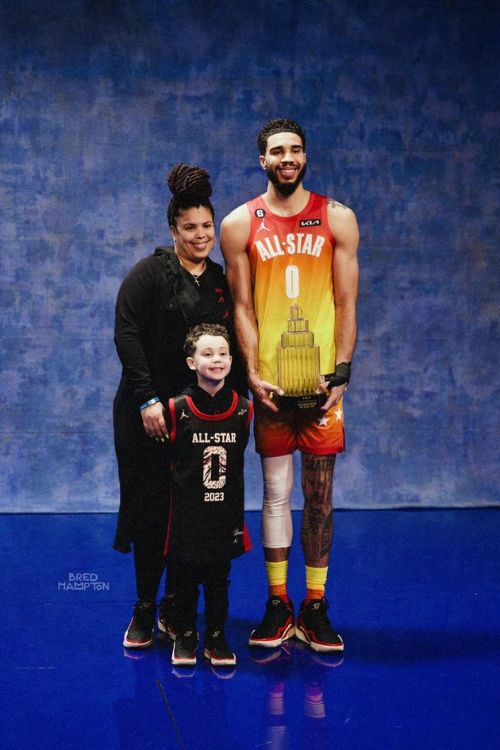 His mother did not only look after him but also his son Jayson Jr. Talking about Brandy's present relationship, she married Marcus Barnes in 2016.
When it came to his interest in basketball, Jayson followed in his father's footsteps. Justin had always had an immense love for the sport.
After graduating from college, he went on to play basketball in the Netherlands. He then decided to transition his career from player to coach after returning to the U.S.
Now for over a decade, he has held youth camps to provide kids the opportunity to learn basketball.