The Celtic's power forward, Jayson Tatum, is said to have a net worth of a whopping $25 million as of 2023, much of which can be attributed to his NBA salaries and brand endorsement deals.
The 25 year old, Tatum has been one of the highest-earning NBA players, with an annual salary of $32.60 million.
On top of his NBA earnings, endorsement deals with brands such as Jordan brand, Gatorade, NBA 2K, and Subway earn him an eight-figure salary each year.
Tatum was drafted with the third overall pick by the Celtics in the 2017 NBA Draft. He was voted NBA All-Rookie First Team the following year.
Jayson Tatum Contract
Jayson signed a four-year, $30.07 million rookie scale contract with Boston on July 1, 2017. This contract guaranteed $12.34 million at signing, an average annual salary of $7.51 million.
On October 31, 2018, Celtics exercised a $7.83 million option for the 2019-20 season and a $9.89 million option for the 2020-21 season on October 14, 2019.
The real deal for Tatum came on November 25, 2020, when he signed a 5-year $163 million maximum rookie scale extension with Boston.
This deal includes 2025 Player Option and language for 30% rookie supermax.
His current contract with the team pays him an annual salary of $32.60 million. Also, it includes full, $163 million guaranteed.
Total NBA Earnings
So, how much has the player earned so far?
So far, Tatum has earned $88,039,225 just in NBA salaries. And by the time his current contract with the Celtics concludes, he would have made $192,584,245 in career earnings.
Quite impressive, huh?
Endorsement Earnings
As aforementioned, Jayson Tatum earns an eight-figure annual salary from his brand endorsement deals.
He has promotion deals with the companies such as Jordan brand, Gatorade, NBA 2K, and Subway.
Even though the financial terms of these deals have not been revealed, we are quite sure that Tatum makes handsome money considering his on-court success.
Shoe Deal
In 2019, Tatum made a significant career move by leaving Nike to join Jordan Brand, signing a lucrative multi-year deal.
As one of only five basketball players personally chosen by Michael Jordan, Tatum became an ambassador for the renowned Air Jordan shoe line.
Although specific details regarding the financial terms and expiration date of Tatum's shoe deal remain undisclosed, his exceptional performance on the court indicates a promising long-term partnership with Jordan Brand.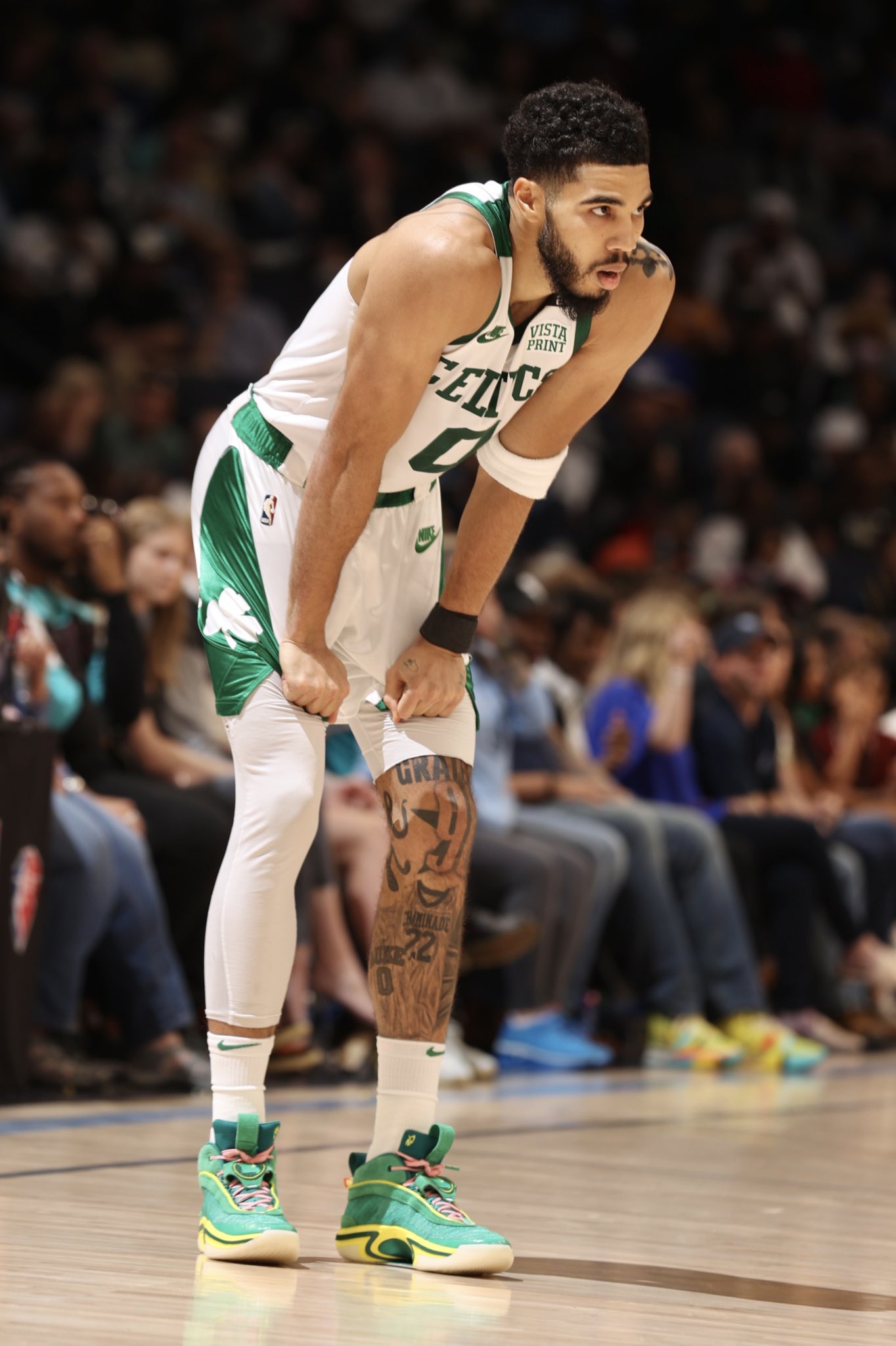 In January 2019, Jayson Tatum became the first NBA player to showcase Nike's revolutionary HyperAdapt BB shoe during official games.
These sneakers gained attention for their cutting-edge auto-lacing feature, drawing inspiration from the iconic HyperAdapt 1.0 sneakers from the movie Back to the Future, which had a public release in 2016.
Furthermore, at the beginning of the 2018-19 season, Tatum distinguished himself as one of only seven NBA players involved in designing a personalized edition of the PG 2 shoe, aptly named "Coloring Book."
This unique collaboration highlighted Tatum's creativity and incorporated elements representing his bond with his son.
Jayson Tatum And His Mother's Deal
Despite his substantial contract with the Celtics, Tatum entrusts the management of his NBA salary to his mother, Brandy Cole.
In an interview with journalist Graham Bessinger, Tatum revealed that his budgeting habits are thanks to his mother's oversight.
"My mom is like the overseer, right? Everything goes through her," Tatum acknowledged during the interview.
Recognizing his long-term financial well-being, Cole made a deal with Tatum before he was drafted, ensuring he would live off his endorsement earnings rather than his Celtics salary.
"We had an agreement that I couldn't spend the money I make from the Celtics, and that I have to rely on my endorsements," Tatum shared with Bessinger.
"Her and my accountant came to that agreement. They didn't anticipate how much I would make off the court. So, in my mind, I feel like I have to spend that money."
While Tatum does indulge in the luxuries that come with his success, such as a memorable night out with friends that cost him $12,000, his mother keeps a watchful eye on his spending habits.
His penchant for splurging on watches, in particular, catches her attention, prompting her to scrutinize all his transactions.