Jeremy Clarkson, a well-known face in the television world, is a British journalist, broadcaster, farmer, businessman, game show host, and writer specializing in motoring. Clarkson, with Andy Wilman, produced "The Grand Tour" for Amazon Prime and now writes weekly columns for The Sunday Times and The Sun.
He is globally famous as the best host for BBC international sports car program Top Gear, one of the most acclaimed television shows.
Jeremy's outspoken nature and excellent presentation skills were admired and have successfully captured much of the public's attention.
Clarkson has produced programs and books on history and engineering, such as Robot Wars, Clarkson, and Inventions.
Founder of W. Chump & Sons, Jeremy was also plunged into controversy for assaulting a Top Gear producer, after which BBC replaced him.
The man recently made headlines after death threats were made against two people who opposed to Clarkson's Diddly Squat farm expansion. More on this in the section below.
This article will comprehensively discuss his education, early life, career, achievements, and many more. I bet you are excited, aren't you? Let's begin with some quick facts.
Quick Facts
Full Name
Jeremy Charles Robert Clarkson
Birth Date
April 11, 1960
Birth Place
Doncaster, West Riding of Yorkshire, England
Nick Name
Jeremy Clarkson, Jezza
Religion
Christianity
Nationality
British
Ethnicity
White
Education
Repton School
Hill House School
Horoscope
Aries
Father's Name
Edward Grenville Clarkson
Mother's Name
Shirley Gabrielle Clarkson
Siblings
Joanna Clarkson
Age
62 Years Old
Height
6 feet 5 inches (1.96 m)
Weight
107 Kg (235.89 lbs )
Shoe Size
12 (UK)
Hair Color
Grey
Eye Color
Blue
Body Measurement
Unknown
Figure
Unknown
Married
Yes
Wife
Alexandra James
Frances Cain
Lisa Hogan (2017-present)
Children
Finlo Clarkson
Emily Clarkson
Katya Clarkson
Profession
English broadcaster, Journalist, Writer, Presenter, Columnist, Businessman
Net Worth
$79 million
Salary
$20 million (annually)
Currently Works At
ITF, Amazon Prime TV
Affiliations
BBC, Top Gears
Merch
Canvas Posters
Social Media
Instagram, Twitter, Facebook
Last Update
March 2023
Early Life, Family, & Education
The famous journalist was born on April 11, 1960, in Doncaster, West Riding of Yorkshire, England.
Also, Clarkson is the son of Edward Grenville Clarkson and Shirley Gabrielle Clarkson. Jeremy's parents struggled very hard to live.
His father was a traveling salesman who used to sell tea cozies, and his mother was a teacher.
Besides his parents, Clarkson grew up with his sister, Joanna Clarkson. Jeremy first attended Hill House School for his primary Education and Repton School for Secondary Education.
However, he got expelled from Repton School for drinking, smoking, and awful behavior, which disappointed his parents.
He said, "They were so cross with me, but I knew something would come along. Something always comes along. It does in my life, anyway."
After his expulsion, he then started helping his parents in their business of selling Paddington Bear toys.
Also, Jeremy started working for BBC by voicing Atkinson, a public schoolboy from the Children's Hour serial adaptation of Anthony Buckeridge's Jennings novels.
How old is Jeremy Clarkson? Age, Height & Nationality
Clarkson is 62–years old as of this year.
According to horoscope charts, Jeremy's sun sign is Aries, energetic, talented, honest, and generous simultaneously.
On the other hand, he stands at 6 feet 5 inches(1.96 m) and weighs around 107 kg (235.89 lbs).
His shoe size is 12(UK). Sadly, his other measurements are unknown now, but we will update you on those soon.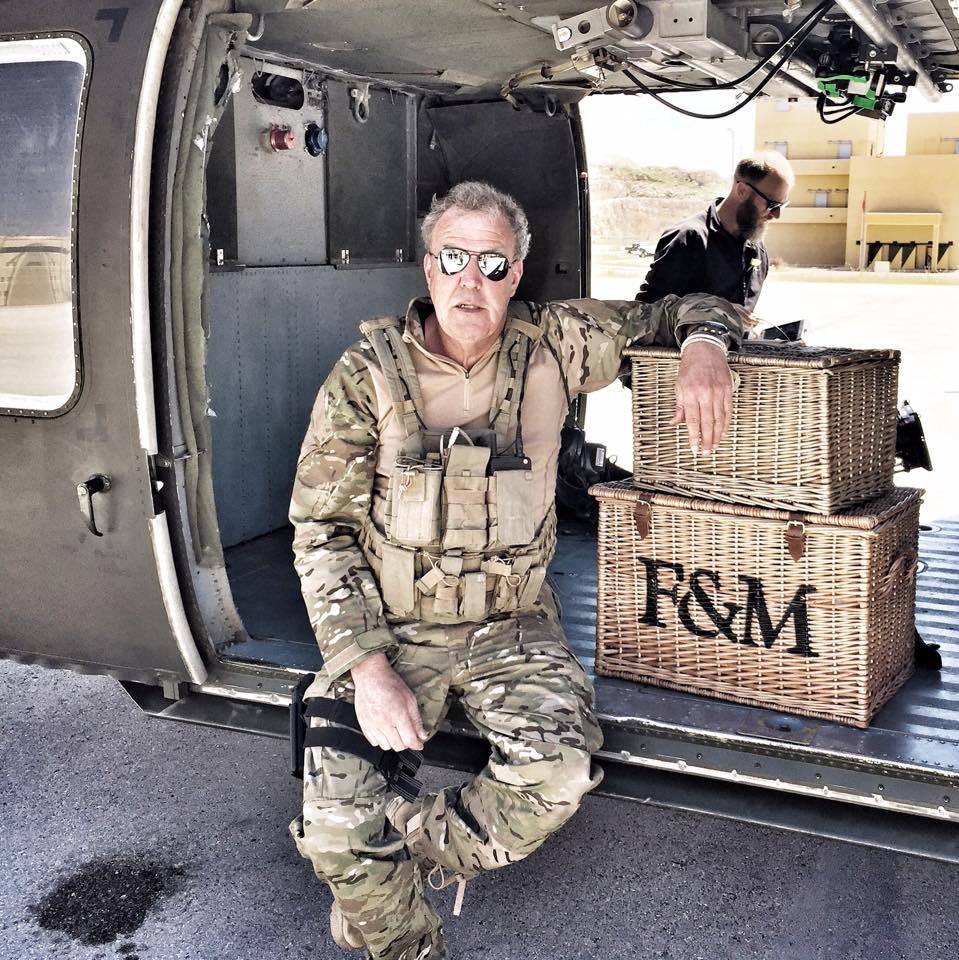 Nonetheless, Clarkson still looks impressive with his grey curly hair and stunning big blue eyes. Also, he has a long growing beard on his face.
Not to mention, Jeremy is British by nationality, while his ethnic background is white. Also, he is Christian by religion.
Jeremy Clarkson Career
Writing Career
Jeremy trained with Rotherham Advertiser and started working as a journalist. He then worked with newspapers, including the Rochdale Observer, Rotherham Advertiser, Wolverhampton Express and Star, Shropshire Star, and Lincolnshire Life.​
In 1984, Clarkson and his friend journalist Jonathan Gill formed the Motoring Press Agency (MPA), where they conducted road tests for automotive magazines and local newspapers.
Likewise, Jeremy's journalistic talents later gained him to write for The Sun and The Sunday Times in the Big newspapers.
He also wrote for Amstrad Computer User and Amstrad CPC game reviews in 1987.
Furthermore, Jeremy has also written several books about cars and other subjects. He also writes for the "Wheels" section of the Toronto Star.
His book includes insights, thoughts, jokes, and opinions on everything. Below are the names of a few books he published.
Jeremy Clarkson's Motorworld
Born to be Riled
Clarkson's Hot 100
Driven To Distraction
If You'd Just Let Me Finish
The World According to Clarkson
What Could Possibly Go Wrong
I Know You Got Soul
Jeremy Clarkson on Ferrari
Planet Dagenham
Television Career
Jeremy got his first opportunity to work as a TV presenter for the British motoring show Top Gear and worked with Tom Boswell, Tiff Needell, and Tony Mason in 1988.
Many people admired his performance. Since then, he has worked as a presenter for numerous TV shows.
Moreover, he soon caught the attention of the BBC Network and started a new talk show called Clarkson in 1988, which featured interviews with musicians, politicians, and television personalities.
Additionally, he worked as one of the presenters for the satirical comedy Have I Got News for You on the BBC.
Likewise, Jeremy has also made several appearances in many TV shows like Room 101, Parkinson, Friday Night with Jonathon Ross, and Question Time.
Following that, he appeared in the first twenty-two series of the BBC and presented documentaries on military, science, and inventions happening in the world.
However, in 2015 Jeremy got suspended from Top Gear following a fight with the show's producer.
He then hosted The Grand Tour's television show, which premiered on the video-streaming website with his co-presenters, Richard Hammond and James May.
Not to mention, Jeremy is also working as a presenter in the international television game show Who Wants To Be A Millionaire? on ITV, which was previously hosted and presented by Chris Tarrant.
Recently, he started "Clarkson's Farm," a British television documentary series about Jeremy Clarkson and his Cotswolds farm.
Amazon Prime Video initially aired it on June 11, 2021. Clarkson's attempts to administer a 1,000-acre farm in the Cotswolds are documented in the series.
The show has garnered mostly favorable reviews. The series got renewed for a second season in July 2021.
Recognition
Jeremy received an honorary degree from Brunel University in 2003 for his work popularising in engineering. Likewise, he also got honored with a Doctor of Engineering degree in 2005.
Besides that, he was also nominated for BAFTA for Best Entertainment Performance in 2006. A year later, he was awarded the National Television Awards for best presenter 2007.
He was also ranked 49th on the Magazines Power list as the most influential figure in the automotive industry in 2011 on Motor Trend.
Interests
Jeremy has a keen interest in the military and British armed forces; as a result, he has several television shows featured in a military theme.
He also wrote and presented Jeremy Clarkson: Greatest Raid of All Time about World War II.
Besides that, Clarkson is also involved in military charity to provide better services and facilities to wounded British service members since 2007.
Apart from this, Jeremy is also passionate about engineering and inventions, including engines, guns, computers, the telephone, and television.
Not to mention, Clarkson is a huge car lover and rides and owns numerous vehicles. He has an extensive collection of more than 26 luxurious cars.
The fantastic car broadcaster loves to try new brands with the latest innovative technology.
Similarly, his garage includes Mercedes-Benz 600 Grosser, Lotus Elise 111S, BMW M3 CSL, Ferrari F355, and Aston Martin Virage.
Jeremy Clarkson | Net worth & Salary
Clarkson has received much fame and wealth from his successful career in different fields. As of 2023, Jeremy's Net worth is around $70 million.
At the moment, he makes $4 million annually from his Salary. Moreover, the presenter was a Host and Presenter in TV shows for over three decades.
He earns an additional $7–$13 million yearly in bonuses and dividends from the shows. Also, he gets paid $29 million for presenting in The Grand Tour.
Besides that, he owns a cottage on 312 acres of land worth around $5.5 million in the Cotswolds.
He has also invested in many big multinational companies and organizations and gained a considerable profit as a businessman.
The famous presenter is also an author, so he has earned a hefty amount from selling his books.
Hence, Jeremy has worked hard throughout his life in every field and deserves every penny of his massive net worth.
Personal Life & Wife
Jeremy might be successful in his career, but not so much in his personal life. For those who don't know, The Brit has divorced twice in his life.
Clarkson was first married to his girlfriend, Alexandra James, in June 1989, with whom he had been dating since 1988.
Unfortunately, their marriage fell apart six months later because of personal issues. After Divorce, Clarkson started dating Frances Cain and married again in May 1993.
But after a few years, things didn't turn out well, and Jeremy divorced Frances in April 2014.
Not to mention, Clarkson has three children from his relationship with Frances; two daughters named Katya Clarkson and Emily Clarkson and a son named Finlo Clarkson.
According to the sources, Jeremy is currently in a relationship with Lisa Hogan and is living a luxurious life in Chipping Norton, England.
She was featured in Jeremy's Amazon Prime series Clarkson's Farm show.
Controversies
According to an article published in The Guardian on 13th March 2023, two people who opposed Jeremy's Diddly Squat farm expansion have received death threats.
The threats came sometime after the airing of season two of Clarkson's Farm via Amazon Studios on 10 February 2023.
Jeremy is also challenging the council's move to shutter his restaurant on the same plot of land because he opened it allegedly without planning permission in July last year.
One of the threats has been reported to Thames Valley police.
The whole operation is under media scrutiny, and the West Oxfordshire district council has said that due to these reasons, the current planning permission could never apply to the new enterprise.
Nevertheless, the final decision on the plans will be published in the coming weeks.
Jeremy Clarkson | Social Media Presence
Instagram: 4.9m Followers
Twitter: 7.8m Followers
Facebook: 975k Followers
Jeremy's Popularity Curve
Jeremy is a buzzword in the media that keeps repeating itself for interesting and controversial content and statements.
Recently, he seems to have gained popularity because of his death threat controversy.
Frequently Asked Questions (FAQS)
What is Jeremy Clarkson's favorite car?
Jeremy Clarkson is a big fan of his particular favorite, Lexus LFA.
Is Jeremy Clarkson still married?
Jeremy has been married and divorced twice. Currently, he is dating his long-time girlfriend, Lisa Hogan.
What is Jeremy Clarkson doing now?
Jeremy Clarkson has been working as a Presenter on the popular television show, Who Wants to be a Millionaire? since 2018. He is also running a show called Clarkson's Farm. In addition, It's Clarkson On TV, and The Grand Tour are the two of his other series being broadcasted.
How much does Jeremy Clarkson earn from Who Wants To Be A Millionaire?
According to the sources, he makes around $20 million per year as a presenter and host on Who Wants To Be A Millionaire making him one of the best-paid stars on television.
Was Clarkson fired from BBC?
He was fired from the BBC after losing his rag over his dinner after unscathed several earlier incidents.
Did Jeremy test positive for Covid-19?
Yes, he tested positive for Covid-19. Clarkson revealed he had tested positive for COVID-19 in January 2021. Clarkson became the victim of a death hoax on Twitter in October 2021, when the hashtag "#RIPJeremyClarkson" began trending in the United Kingdom.
Are Jeremy Clarkson and Piers Morgan friends?
Jeremy and Piers are not good friends. They had an infamous punch-up at the 2004 British Press Awards.
What is Jeremy Clarkson worth?
Jeremy Clarkson's net worth is around $70 million.
Why is Clarkson no longer on Top Gear?
Clarson is no longer on Top Gear because he exited the car-themed TV show in 2015 after having a violent incident with a producer. In reaction, his co-hosts Richard Hammond and James May resigned, joining Clarkson on a new Amazon Prime series called The Grand Tour.
Did Tesla sue Top Gear?
Yes, on March 29, 2011, Tesla sued the BBC television program "Top Gear" for libel and malicious falsehood.
How much did Amazon pay for Clarkson's farm?
Amazon paid $250 million for Clarkson, Hammond, And May Deal.
Why did Jeremy get fired?
Jeremy got fired in 2015 because he had launched an 'unprovoked' attack on Oisin Tymon, and after that, BBC refused to renew Clarkson's Top Gear contract.
How long was Hammond in a coma?
Hammond was in a coma for 14 days. He suffered from post-traumatic amnesia and a five-second memory after the car crash, which nearly killed him.
Who owns Clarkson's farm?
Jeremy Clarkson owns Clarkson's farm, about a thousand acres (4 sq. km). The farm was formerly part of the Sarsden estate in Oxfordshire, which Jeremy bought in 2008.
Why was Diddly Squat Farm shut?
Jeremy Clarkson had announced that the shop on his Diddly Squat farm would be forced to close for at least two months after the authorities demanded needed renovations.