Joc Pederson sister, Jacey & two brothers: Champ & Tyger Pederson, are ardent supporters of his baseball career. While the Palo Alto native sought his career in baseball & flagged his MLB journey, his younger sister went for soccer.
Jacey, the youngest of all four siblings, played collegiate soccer as a forward for the UCLA Bruins. Moreover, she represented the United States national under-17 team.
Unlike her brothers, her professional career may not have blossomed but is certainly an aspiration step for youngsters.
Jacey's older brother Joc Pederson is currently the baseball outfielder for the San Francisco Giants (2022- now).
Pederson, the 2010 MLB draft pick of the Los Angeles Dodgers, made his major league debut in 2014 & played for seven seasons until 2020. Then, he would split his 2021 season with the Chicago Cubs & Atlanta Braves before joining the Giants.
In his MLB journey, he became a two-time World Series Championship & two-time All-Star.
Pederson manages his professional & personal life pretty well. He married his longtime girlfriend-turned-wife, Kelsey Williams, in January 2018, with whom he shares three kids: Poppy Jett, Wilder & Rhodes Russell.
Joc Pederson Sister, Jacey Pederson: A Soccer Player
The American-born MLB player's sister Jacey Pederson is the youngest of the four Pederson siblings.
She pursued her career in soccer, unlike the family tradition of baseball- her father & two brothers (of three): Joc Pederson & Tyger Pederson, all played baseball.
In her life story shared in Untold Athletes, she stated that she used to hate soccer growing up but fell in love with it. At her school, Jacey's favorite sports were soccer & basketball but chose the former in her seventh grade.
After attending Palo Alto High School, she enrolled at the University of California, Los Angeles, in 2016 & graduated with a Psychology major in 2020.
She played college soccer as a forward for the UCLA Bruins, but it didn't come without challenges to her physical & mental abilities.
In 2018, during her junior year, Jacey was sidelined only after three games due to torn meniscus in the right knee.
Even though she recovered for her comeback in 2019, it was temporary as she had to redshirt her senior year after a tearing ACL in her left knee.
On February 7, 2021, Jacey Pederson returned to the field & scored her first collegiate goal in the season opener at Pepperdine.
Off the field, Jacey enjoys cooking, baking, listening to music, hiking, and practicing yoga.
Her current profession is not out, but according to her LinkedIn profile, she used to work as a front desk officer at YogaSource Palo Alto.
Jacey Is Mother Of Daughter- Is She Married?
On her VSCO profile, Jacey often shares pictures with her daughter & soon-to-be husband, Mitch Martella.
They are yet to share the details of their daughter or how their relationship began.
According to Zola.com, the couple is planning to get married on November 11, 2023.
Her soon-to-be husband, Mitchell Martella, is a graduate of Urban and Regional Development from the University of Arizona. Currently, he works as an enterprise account executive at Cloud Software Group (December 2022- now).
Family Tree Of Joc Pederson
Joc Pederson hails from a remarkable lineage of baseball enthusiasts, forming a true dynasty of the sport.
His father, Stu Pederson, had the honor of playing for the Los Angeles Dodgers back in 1985, showcasing his talent on the big stage.
Following in his father's footsteps, Joc & his brother, Tyger Pederson, also pursued a career in professional baseball, spending some time with the Dodgers before venturing into independent league baseball.
The eldest brother, Champ Pederson, has Down Syndrome but never leaves any games of his brother unattended.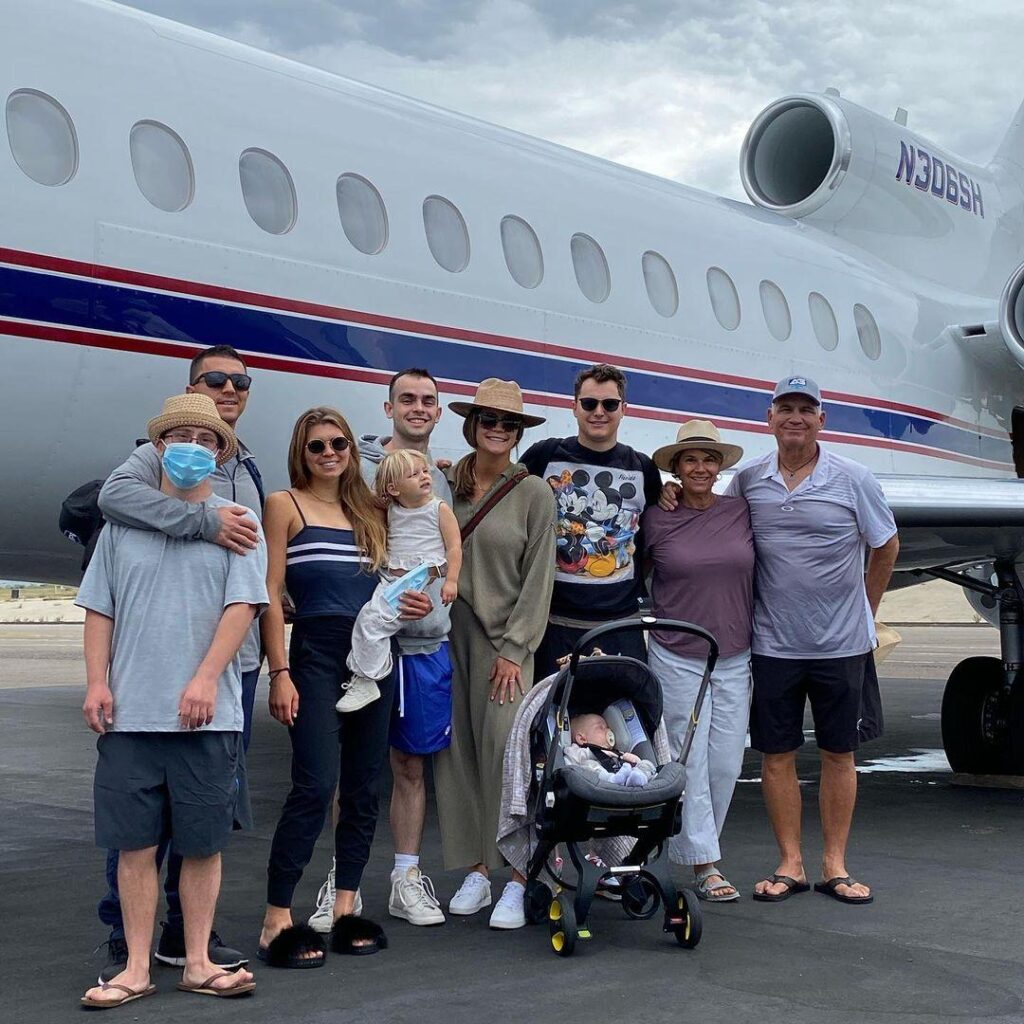 What's even more captivating is the family's unique connection to the game. Joc's uncle, Champ Pederson, made his mark in college baseball and had a memorable moment facing off against his own brother, Stu, in an exhibition game.
Delving further into the lineage, Joc's grandfather, Frank Pederson, himself excelled in the realm of sports, particularly track and field. This inherent athletic prowess seems to be ingrained within their family DNA.
Joc Pederson's rise to prominence in Major League Baseball is a testament to the enduring legacy of his baseball heritage.