Joseph Howarth Ingles (Joe Ingles) is an Australian professional basketball player playing for the Utah Jazz of the NBA. Not to give a false idea, but he is probably the best hooper Australia has produced.
To top that, he has an excellent skill set of efficiency, playmaking, and solid defense.
Ingles surely is an all-rounder playing as a guard, forward, and defender, and can even pass for a starting point guard.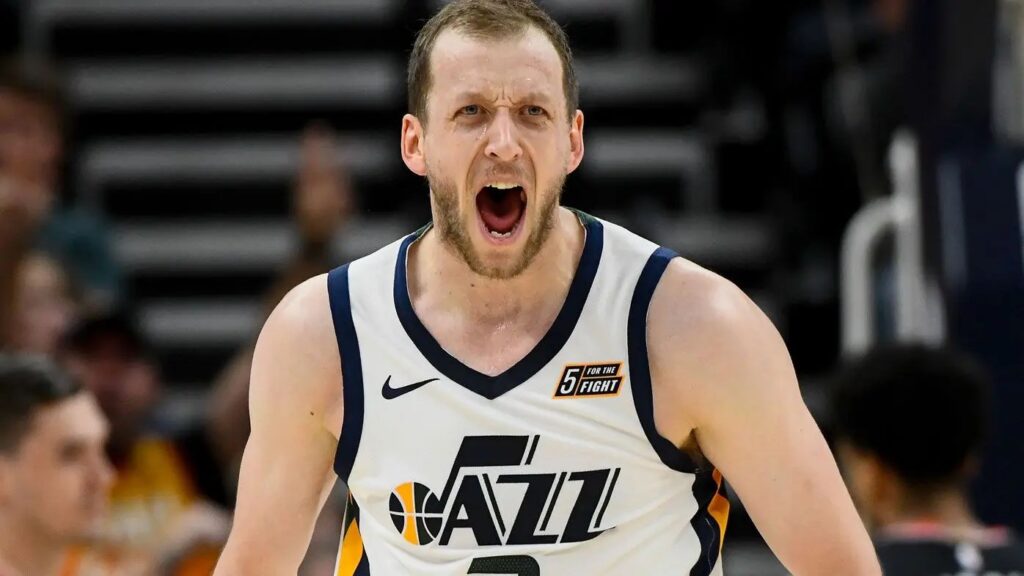 The defender has been playing nationally and internationally both. His Australian team, the Boomers, has played about three times in the Olympics.
He may not give you feels like a typical basketball player, but just a boy-next-door image; however, he can leave your mouth hanging when you see him playing on the court.
But, even as a 36-year-old, he's s been playing for about 25 minutes per game. So, we can conclude that he may seem average, but he is not an average player.
Before getting into further details, let's scan his quick facts.
Quick Facts
Full Name
Joseph Howarth Ingles
Birth Date
October 2, 1987
Known As
Joe Ingles
Birth Place
Happy Valley, Australia
Nick Name
Slow-Mo Joe, Jinglin' Joe, Jingles
Nationality
Australian
High-School
Springbank Secondary College
University

Lake Ginninderra College
Australian Institute of Sport (AIS)

Horoscope
Libra
Father's Name
Tim Ingles
Mother's Name
Lynne Ingles
Siblings
Megan Ingles
Age
36 years old
Weight
220 lbs (100 kg)
Height
203 cm (6 feet 8 inches)
Build
Athletic
Marital Status
Married
Wife
Renae Ingles
Children
Three
Profession
Professional Basketball Player
Position
Small Forward, Shooting Guard
League
Team
National Team
NBA Draft
2009/Undrafted
Net Worth
$30 million
Salary
$13,036,364
Active Status
2005-present
Experience
7 years
Social Media
Instagram, Twitter, Facebook
Merch
Notebook
Last Update
November 2023
Ingles's Early Life & Education
Ingles was born in Adelaide, a suburb of Happy Valley in Southern Australia.
He grew up in a rural-city area where one could enjoy both lives. His father, Tim Ingles, and mother Lynne Ingles brought up Joe and his sister Megan Ingles.
Jingles joined the junior basketball team of Springbreak Secondary College named Southern Tigers.
The player didn't stay in the same college and decided to attend Lake Ginnidelra College and later the Australian Institute of Spurs (AIS).
The AIS stands for East Australian Basketball League, where he played from 2005-06.
In his younger days, he played several sports like Australian football and cricket; however, he gave up focusing on his career-sport basketball.
After a year of training in the AIS, Ingles was sought out by various teams of the National Basketball League of Australia.
The Adelaide 36ers proposed a 17-year-old Joe for a two-year deal of $12,500 per, plus two season tickets.
Although he was interested in 36ers, he was disappointed by the company's inconsiderate behavior. Offering half the amount as to what other teams gave it, an offer letter misspelling his name.
After that, it drew his attention to Melbourne, playing for Southern Bulls for the seasons from 2006-09.
Professional Career
Jingles, the all-rounder, joined the National Basketball League at 18. It was a multi-year deal with the South Dragons debuting the team in March 2006.
He was the first player to sign with the club. As a rookie, Joe was the first in Australia to score 29 points ever. He received the NBL Rookie of the year for such great efforts.
Ingles signed a three-year deal with FC Barcelona Basquet, a Spanish basketball club, in November 2010.
Maccabi Tel Aviv is an Israel-based basketball club. After joining, he got to play in the 2013-14 Euro League Championship.
Even after being drafted in 2009, Joe Ingles did not join the NBA Team. Instead, he played for Spanish & Israeli teams for five years before coming to the US in 2014.
As an experienced player coming from both Australian and international teams, Los Angeles Clippers acquired him for the pre-season that same year.
The first-ever double-double of his entire time in the NBA was played to win over the Indiana Pacers for a 104-84 win. Joe made 11 points and 10 assists during the name.
Ingles broke the record of Foye, made in the 2012-13 season, a total of 179 3-points.
The Jazz took a 2-1 leading Game 3 of Utah's first-round playoff series against the Oklahoma City Thunder for a 115-102 win.
Ingles helped Utah tie the series in a 1-1 in the Grand of the Jazz second-round series. He completed the season as a runner-up for the NBA Sixth Man of the Year.
Get on Nikki Johnson Bio: Basketball, Olympics & Net Worth!
International Career
The first-ever Olympics Joe played was during the Summer Olympic 2008 held in Beijing.
The Australian Boomers had finals with the American team when they faced a 116-85 loss. He was on the court for the entire game's final quarter and made 11 points with 2 rebounds and 1 assist.
For the 16th FIBA World Championship in 2010, Ingles scored an average of 10.3 points, 3.0 rebounds, and 2.2 assists in the six games he played.
Joe Ingles's second Olympics was the 2012 London Olympics. Again, he was one of the top two performers for the Boomers averaging 15.0 points, 5.0 rebounds, and 4,2 assists per six games.
Again, in the 2014 FIBA Basketball World Cup, Australia couldn't bring the trophy home.
In the 2020 Tokyo Olympics, his national team won bronze, Ingles the first player to basket for Australia.
Joe Ingles |
Net Worth & Salary
Ingles is the highest-paid Australian Player with a $30 million net worth. In addition, he has made himself one of the known names in the NBA territory. Joe's development as a player from international and national teams helped increase his NBA salary gradually over the years.

While the following shows the increment in his NBA salary over the years as an all-rounder for the Utah Jazz.
| | | |
| --- | --- | --- |
| Season | Team | Salary ($) |
| 2014-15 | Utah Jazz | 507,336 |
| 2015-16 | Utah Jazz | 2,100,000 |
| 2016-17 | Utah Jazz | 2,100,000 |
| 2017-18 | Utah Jazz | 13,636,364 |
| 2018-19 | Utah Jazz | 12,545,455 |
| 2019-20 | Utah Jazz | 11,454,546 |
| 2020-21 | Utah Jazz | 10,363,637 |
| 2021-22 (Projected) | Utah Jazz | 13,036,364 |
Joe Ingles | Personal Life
Its fate, we have to say, an Olympian marrying an Olympian. Joe Ingles and Renae Hallinan started dating sometime in 2013. They had been together for almost nine years to date.
The lovely duo got married after two years of dating in 2015. They have three beautiful babies named Jacob 5; Mila 5 was a set of twins. Their youngest son Jake was born in November 2020.
Around 2018, their eldest son was found to have autism. So the couple started going out in campaigns and participating in awareness programs to help other people understand them.
Renae, born in 1986, is a former Australian netballer. She retired from her 15-year career in 2019.
She is a four-time premiership player and has won gold in the 2014 Commonwealth Games.
To be with her husband and take care of the kids, she decided to leave Australia to go to the US.
As of 2020, Renae is said to have returned to her previous team Melbourne Vixen for good.
During an interview, Renae mentioned, "Playing for 15 years and leaving left a hole in my heart. I missed being in the gym, the walks, and everything. I am glad to have returned."
Ingles | Autism Journey
Ingles and his netballer wife, Renae, welcomed their twins in 2016. After three years or so, they saw some behavioral differences in their son Jacob.
So, after a quick diagnosis, he was found to have Autism. However, the doctors said it to be an "invisible disability."
Life would be difficult for him, facing challenges ahead and seeing himself as different from others. But with all the support and teaming up with Kulture City Kids, children like Jacob can be happy and cheerful along the way.
Get on: Dwight David Howard Bio: Career, Girlfriend, Kids & Net Worth
So, from mid-2018, both the parents started campaigns to raise awareness about Autism helping people know how to understand how Autism works.
Moreover, their efforts were acknowledged by the Utah governor, Salt Lake City Mayor, also the Salt Lake Police Department. It got a great response.
You can find the links to Kulture City and 4asdkidscharity in his Instagram profile.
The 4asdkidscharity assists families in need affected by Autism through funding therapy and related resources.
Ingles | Social Media
The basketball star seems to enjoy his social media, as there are about 500 posts on his Instagram account. He shares his ongoing with fans a lot and adventures in his personal life.
Joe keeps posting his family pictures. They surely are an amazing family with such love and support for each other.
His Twitter account is also active. He retweets several videos shared by parents and families of children with special needs.
Recent Tweets
A few days back, the athlete posted a tweet regarding an autistic student being bullied by his peer at a middle school in Norman, Oklahoma.
He quoted," That video destroys me inside."
Indeed, it puts great pressure on parents like Joe and Renae, who try every day to help their children gain confidence, learn and grow.
Hence, people must acknowledge and understand that being different is also normal and be respectful to everyone.
Frequently Asked Questions (FAQs)
What city does Joe live in?
The Utah Jazz veteran is living in Salt Lake City with his wife and three children.
Did Ingles and his family test COVID Positive?
At the start of January 2022, Joe Ingles tested positive when Jazz had to play in Denver. All of his family members were praying for his speedy recovery.
Take some time to read about Shake Milton: Early Life, Basketball Career & Net Worth.