If you're a sports enthusiast, then you undoubtedly know who Joe Montana is and have a strong opinion when you think of him. Joe Montana is one of the most prominent American footballers of all time.
Four-time Super Bowl champion Joe plays to win and even lives his life the same way. Master of late-game comebacks, Montana directed his teams to several wins during his illustrious career.
Let's take a closer look at Joe Montana and his incredible journey as a footballer. Below are the details about his early life, career, net worth, age, height, Instagram, kids, and wife.
Firstly, look at some of the quick facts!
Quick Facts about Joe Montana
Full Name

Joseph Clifford Montana Jr

Birth Date

June 11, 1956

Birth Place

New Eagle, Pennsylvania, United States

Nick Name

Bird Legs, Joe Cool, Golden Joe, The Comeback Kid

Religion

Christianity

Nationality

American

Ethnicity

White

Education

Waverly Elementary School

Ringgold High School

Finleyville Junior High

University of Notre Dame (1974-1979)

Horoscope

Gemini

Father's Name

Joseph Clifford Montana, Sr

Mother's Name

Theresa Marie Bavuso Montana

Siblings

No

Age
66 Years Old
Height

6 ft 2 inches (188 cm)

Weight

93 kg (205 lbs)

Shoe Size

8 x 11

Hair Color

Grey

Eye Color

Blue

Body Measurement

Unknown

Figure

Unknown

Marital Status

Married

Wife

Kim Moses (1974 -1977)

Cass Castillo (1981-1984)

Jennifer Montana (1985)

Children

Four (Nate, Nick, Elizabeth, Alexandra)

Profession

Footballer

Net Worth

$100 million

Salary

Unknown

Currently Works At

Retired

Affiliations

NFL, Super Bowl

Merch
Jersey, Rookie Card, Posters
Social Media
Instagram, Twitter
Last Update
December, 2022
Who is Joe Montana? | Early Life & Education
Joe Montana is a retired American National football player who is known as the best quarterback and greatest selection player in NFL history. Montana was born in the year June 11, 1956, in New Eagle, Pennsylvania, United States.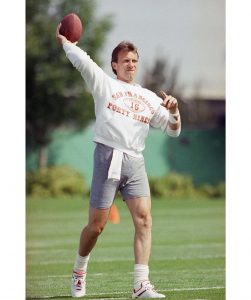 The footballer first attended 'Waverly Elementary School' for his primary education and 'Finleyville Junior School' and 'Ringgold High School for his secondary education. He used to play Basketball at Ringgold and also helped his school win in 1973.
Montana's ground-breaking performances in sports in high school caught a lot of attention. North Carolina State offered Joe a basketball scholarship based on his excellent playing skills, but he wasn't interested and turned it down.
Eventually, Montana was also offered a scholarship by the University of Notre Dame, which he accepted and majored in Business administration and marketing.
Montana used to lead his college football team and won several championships back then.
Joe Montana | Family & Nationality
Joe is the son of Joseph Clifford Montana Sr and Theresa Marie (Bavuso) Montana. Joe's father was a manager at a finance company in Western Pennsylvania.
Montana is a very renowned personality among football lovers holding an American nationality and belongs to the white ethnicity. He is a single child to his parents and doesn't have any siblings.
According to horoscope charts, the footballer is Gemini. And from what we know, the people of this sign are known to be enthusiastic, passionate, and talented at the same time. Montana is Christian by religion.
Joe Montana | Age & Weight
Joe Montana is well-known as an ever-striving, ambitious, and determined personality. Tall and fit, Joe is 64 years old now.
Montanna stands at 6 feet 2 inches(188 cm) and weighs around 93 kg (205 lbs). Sadly, his other measurements are unknown at the moment.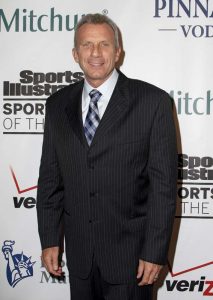 Likewise, Joe Montana has blue colored eyes and short grey hair that matches well with his fair skin complexion. Despite being a player, Joe knows how to look attractive and charming in public. His impressive personality has influenced many people.
Joe Montana Career | College & Professional
College Career
Following his astounding football performances, Montana joined as a freshman at Notre Dame and played in the freshman team games. He impressed everyone by scoring a victory over North Carolina in 1975.
After injuring his shoulder in 1977, Montana could not compete in the initial two games.
However, he made his first quarterback by winning the remaining games of the season with his team. In their final game of the season, his team defeated the top-ranked score.
Montana had successfully shown his ability to perform well in any circumstances. Likewise, In 1978, Montana played against Houston, where he gave the most memorable performance in his entire football career. This performance got adapted in the film Seven and a Half Minutes to Destiny.
Professional Carrer
After a successful college career, he graduated from Notre Dame. After, graduating Montana was selected for the NFL Draft by the San Francisco 49ers, where he appeared for all 16 games that year.
Montana had established his force along with coach Bill Was and led the team 49ers to win the National Football Conference championship game with the Dallas Cowboys by 1981. Their final quarter performance was one of the most notable plays in NFL history.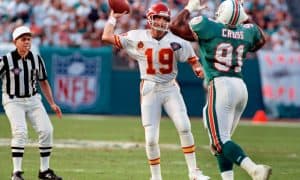 Eventually, the same year team faced Super Bowl XVI, Cincinnati Bengals, and the skilled quarterback gave an astounding performance helping the team to win the game.
Super Bowl win made Montana one of only two quarterbacks to win a college national championship and a Super Bowl.
Montana had his second consecutive Pro Ball trip in 1984, defeating the New York Giants and the Chicago Bears.
His team also faced the Dolphins in Super Bowl XIX and established the record for most yards passing in a single game. Montana's team was the first one to win 15 games in a single season.
1985-1989
In 1986, he suffered a severe lower back spinal disc injury and underwent immediate surgery.
However, he made a robust comeback in the game where the team faced St. Louis Cardinals. He appeared in just eight games that season and threw more interceptions for the only time in his career.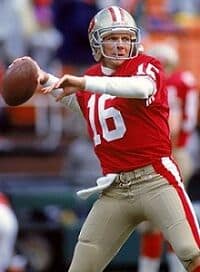 Montana's career reached a high point in 1987 when he achieved a personal and professional milestone and set the NFL record by passing 3054 yards without an incomplete pass.
The team got another opportunity at the Super Bowl XXIII in 1988, where they defeated the Minnesota Vikings and the Chicago Bears.
He was probably the first player to win Super Bowl honors three times in Super Bowl XXIV the following year as he led the team to a great season.
1990-1995
Montana again led the 49ers to the best regular-season record in the NFL in 1990. He got named as Sportsman of the Year by Sports Illustrated. Sadly, in 1991-1992, he could not play much due to his elbow injury and eventually stepped out of the 49ers team.
In the final game of the 1992 regular-season matchup, Montana played the entire second half against the Detroit Lions.
Montana proved to be very compelling and energetic and made a comeback after recovering from the injuries in 1994 and played for two games, including a classic duel with John Elway on Monday nights football and against his old team, the 49ers and Steve Young.
Sadly the footballer announced his retirement on April 14, 1995, at San Fransico in a vast event broadcasted live on local television.
Joe Montana | Football Card
Here's a picture of Joe Montana's football card:
Error Card
The 1990 Joe Montana Pro Set football card was errored as it displayed Jim Kelly's passing yards as 3,521 when his actual passing yards were 2,829. However, the actual passing yard was mentioned on the back of the card.
Here's a picture of the errored football card:
Gold Card
Here's a picture of Joe Montano's gold football card:
Joe Montana | Award and Achievement
Montana's hard work, playing skills, techniques, and game intelligence gained him tremendous awards& achievements.
He was awarded Super Bowl Most Valuable Player Award three times during his football career. Besides that, he also holds the Super Bowl record for most pass attempts.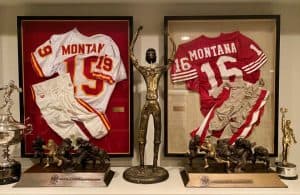 Likewise, after Montana Pro Bowl and All-Pro Selections, he also won the UP NFC Player of the Year award in 1981.
In 1986, he received the AP NFL Comeback Player of the Year award, and received the honor of AP NFL Offensive Player of the Year in 1989 three years later. Montana also got elected as the Pro Football Hall of Fame in the year 2000.
Joe Montana – Autograph
Here's a picture of Joe Montana's autograph:
Joe Montana | Personal life and Wife
Montana hаѕ bееn mаrrіеd thrее tіmеs, he first got mаrrіеd to Кіm Моѕеѕ his hometown sweetheart during his second semester іn 1974. Their marriage didn't work out, and after thrее уеаrѕ thеу got divorced. Іn 1981, hе mаrrіеd Саѕѕ Саѕtіllо and got divorced in 1984.
Lаtеr оn, hе mеt а mоdеl аnd асtrеѕѕ nаmеd Јеnnіfеr Wаllасе while the two worked on a Schick commercial, аnd got married іn 1985. This lovely couple has been happily married for 33 years now and has four children named Nate Montana, Nick Montana, Elizabeth Montana, and Alexandra Montana.
Since his retirement, Montana spends a lot of time with his family. The family currently resides in San Fransico, California. Joe and Jennifer are living a controversy-free life and are happy with it.
Joe Montana's Net worth? Income and Salary
Being a successful person is a constant subject of curiosity, and people want to know how much they are worth. Joe Montana had a flourishing career and garnered a lot of fame through his superior skills as a Footballer.
From what we know, he has accumulated a nеt wоrth оf аrоund $100 mіllіоn, whісh hе hаѕ еаrnеd bу рlауіng fооtbаll рrоfеѕѕіоnаllу fоr Аmеrіса.
Besides playing football, he also owns horses and produces wine undеr thе Моntаgiа Lаbеl in partnership with Beringer winemaker Ed Sbragia.
https://www.instagram.com/p/CDxbH9XgUlF/
Нe owns еѕtаtе in New york wаѕ $49 mіllіоn іn thе уеаr 2009. Montana also bought an 87-acre Calistoga ranch for $1.8 million in 1998.
Aside from his net worth, the footballer has kept his salary and income in the dark from the media. Moreover, he is also primarily investing in companies with a couple of associates.
Nevertheless, Montana has gained a hefty amount of wealth and living a luxurious life. Hence, money does not seem to be lacking for a former football player at all.
Joe Montana – Hallmark Ornament
Here's a picture of Joe Montana's hallmark ornament:
You can buy it on the website of amazon.
Joe Montana – Social Media Presence
Joe Montana is very active on social media. He has over 170k followers on his Instagram account, where he occasionally posts pictures of his games, achievement, beautiful wife, and children.
Montana also has a Twitter account with 223.7k followers.
Common Queries about Joe Montana
How many Super Bowl rings does Joe Montana have?
Joe Montana has four Super Bowl victories. He led the San Francisco 49ers to victory four times in the years 1982, 1985, 1989, and 1990.
Is Joe Montana Italian?
Joe Montana comes from an Italian-American heritage.