As of 2021, four times NBA All-Star basketball player Joel Embiid has earned a total net worth of $35 million.
The Cameroonian NBA player Joel signed a five-year contract with the Philadelphia 76ers in 2017, worth $178 million.
Moreover, this high-achieving basketball player gained 48th ranking in the Forbes list of the World's highest-paid athletes in 2019.
Even though Joel was all set to play volleyball in Europe, he started playing basketball at 15, and there was no looking back from that moment.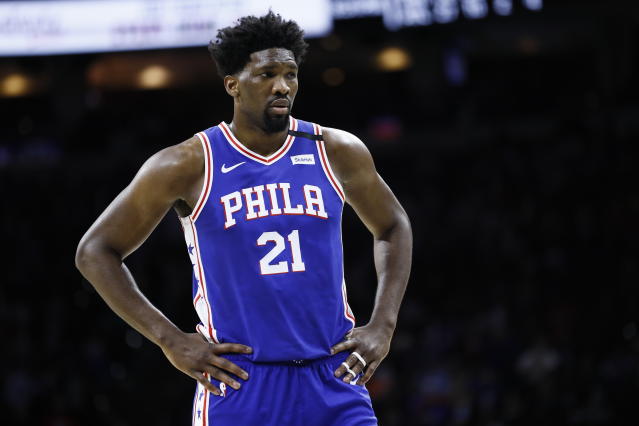 Born to a military officer Thomas and Christine, in Cameroon, Joel moved to the United States at 16 to become a professional basketball player. During his high school career, Rivals.com listed him as a five-star recruit.
Furthermore, Joel got drafted with the third overall pick by the Philadelphia 76ers, which made him the highest-selected player from Cameroon.
So far, Embiid has achieved titles of NBA All-Rookie First Team and four times NBA All-Star players.
Let's check some quick facts about Joel before we go any further.
Quick Facts
| | |
| --- | --- |
| Full Name | Joel Hans Embiid |
| Birth Date | March 16, 1994 |
| Birth Place | Yaounde, Cameroon |
| Nick Name | The Process |
| Religion | Not Available |
| Nationality | Cameroonian |
| Ethnicity | Black |
| Education | Monteverde Academy, University of Kansas |
| Horoscope | Pisces |
| Father's Name | Thomas Embiid |
| Mother's Name | Christine Embiid |
| Siblings | Arthur Embiid, Muriel Embiid |
| Age | 29 years old |
| Weight | 280 lbs (127 kg) |
| Height | 7 feet (2.13 m) |
| Build | Athletic |
| Profession | Professional Basketball Player |
| Position | Center/Power forward |
| Current Team | Philadelphia 76ers |
| Married | No |
| Wife/Partner | Anne de Paula |
| Children | Arthur Embiid |
| Net Worth (2021) | $35 million |
| Endorsements | $6 million |
| Agent | Jessica Holtz, Michael Tellem, Aaron Mints |
| Sponsors | Amazon, Electronic Arts, Fanatics, Under Armour, Hulu, Mountain Dew |
| Retirement | Active |
| Social Media | Twitter, Instagram |
| Merch | Books, Funko Pop, Rookie Card |
| Last Update | May, 2023 |
Joel Embiid | Salary | Net Worth
Coming from a country like Cameroon, Embiied has made a massive fortune for himself. Joel makes most of his earnings playing professional basketball.
In 2017, Joel signed a five-year contract with the 76ers worth $178 million, which is still active.
According to the contract specifies (from Bobby Marks of ESPN), Joel got $25,467,250 cash in a year in 2018-19.
Similarly, he collected $25,785, 250 in 2019-20 and $29,542,010 in 2020-21. Moreover, Joel is supposed to get $31,579,390 in 2021-22 and $33,616,770 in 2022-23.
Additionally, he endorses popular brands like Amazon, Under Armour, Hulu, Mountain Dew, and more. Such endorsements add $6 to $10 million to his earnings every year.
Adding up Embiid's basketball earnings and endorsements, his total net worth reaches up to $31.2 million, which is likely to grow with his growing popularity.
Embiid | Lifestyle | House & Cars | Vacation
Everyone is familiar with Embiid's funny persona and his social media popularity. This kind-hearted phenomenon is living a luxurious life.
Where is Joel's house located?
Embiid lives in Philadelphia with his girlfriend Anne de Paula and newly born son Arthur where he owns a $2.1 million apartment.
Talking about his apartment is located on the 48th floor of the building and is 2,250 square feet with three bedrooms and three and a half bathrooms. For now, Joel is happy in this cozy and scenic apartment.
Besides his apartment, Joel bought a new house for his parent in Cameroon. The actual price of the home is unknown for now, but it should be worth a million dollars.
Buying this house was a way of removing the horrific memory of his brother's death.
What car does he ride?
When it comes to cars, Joel did not buy a car until 2017 because he did not have a driver's license. Therefore, he used to travel around in Uber. Later, Embiid bought himself a Range Rover.
Now, NBA star Joel enjoys navigating in a stylish car on the street of his resident city.
If one has observed Joel, he seems to spend more on clothing and shoes than anything else. He had been seen wearing unique and stylish shoes on the court and outside.
Embiid has it all to his exposure to put him on the list of the wealthiest NBA players.
Also, read TJ Leaf Bio: Basketball Career, NBA, Family & Net Worth >>
Joel | Vacation
Joel must have faced a tough time transitioning from Cameroon to the United States. Learning how to drive to eat healthily was difficult for Joel.
Despite initial challenges, Embiid grew into the American lifestyle and culture well.
Now, Joel is not just a basketball player; he is a star who has established himself at the forefront of successful and wealthiest athletes. He lives in the central Philly area, drives luxurious cars, and vacations in great locations.
Even though Joel can afford almost anything for himself, he is always ready to help and support his friends and family.
What kind of charities does Joel do?
Joel is famous due to his excellent performance on the basketball court and for his charitable work. Last year, Embiid donated $500,000 as a coronavirus relief endeavor.
Moreover, he gave away another six-figure donation for antibody tests for healthcare workers.
Similarly, this year in March, Embiid announced support of Philadelphia homeless shelters, including Project Home, Sunday Breakfast Mission, and Youth Service Inc.
In total, he committed to donate $100,000 to fight homelessness, which he received from the NBA All-Star Game.
COVID-19
His support will provide meals, essential clothing items COVID-Vaccines to homeless and underserved people, and special funds for homeless youth.
After Joel announces his donation, the Philadelphia 76ers also declared that they would donate $100,000 to the same cause.
Likewise, Embiid has established a foundation to fight poverty in Cameroon, which his parents run.
Players like Embiid has become a significant role model in fighting social inequalities.
Also, read Seventh Woods Bio: Early Life, Injury, NBA & Net Worth >>
Joel Embiid | Endorsements
The 7-foot-tall athlete, Embiid, is also famous for various endorsements. In 2018, Joel signed a five-year contract of footwear and clothing endorsement deal with Under Armour.
Joel told ESPN, there's a stereotype about big men that can't sell shoes.
Signing that deal, Joel was able to break the stigma. Additionally, he said when he looks at himself, he is not a big man but a guard who would do everything on the basketball court.
When he signed with Under Armour, Embiid said that basketball had given him everything, and this has to be bigger than basketball.
Moreover, the deal with Under Armour made him the highest-paid NBA center.
In addition to the handsome money he gets, the Baltimore-based brand Under Armour has offered him other good works like charity commitments for Philadelphia and his hometown Cameroon.
An Insta post where Joel is thankful for being a part of Under Armour.
Before, Under Armour, Joel was an ambassador for Adidas. After signing the deal with Under Armour, he was let go from Adidas.
In like manner, Joel endorses popular brands like Amazon, Electronic Arts, Fanatics, Hulu, and Mountain Dew.
From endorsements only, Embiid makes $6 to $10 million every year.
You may be interested in reading: Troy Brown Jr. Bio: Basketball Career, Family, NBA & Net Worth.
Joel Embiid | Professional Career
There is a lot to talk about if we want to touch on the subject of Joel's career. But let's make it short and discuss the most significant events and achievements.
Before coming to the States, Joel played volleyball and soccer as a kid, and he was all set to play volleyball professionally in Europe.
But his career goal changed when Luc Mbah, a Moute, a Cameroonian NBA basketball player, noticed him at the basketball camp.
Luc Mbah a Moute invited him to come to the US and play high school basketball.
Following Luc Mbah's counsel, Joel arrived in the United States to become a basketball player.
After years of high school and college basketball in the States, Embiid got selected by the Philadelphia 76ers at the 2014 NBA draft as 3rd overall pick.
Unfortunately, Joel had to miss the first two seasons (2014-15 and 2015-16) due to his injuries. Yet, he did not give up and came forth with more passion and positivity.
Finally, Joel debuted with the 76ers on 4 October 2016 when he scored 6 points, four rebounds, and two blocks with a win for his team against Boston Celtics.
Move to 76ers
After a successful rookie year, Joel signed an ambitious contract with the 76ers worth $148 million in October 2017, which will continue until 2023.
Then, Joel is likely to continue as a free agent if other teams do not pursue him.
Last February 2021, Joel scored his career-high 50 points and 17 rebounds against the Chicago Bulls.
This successful player has acquired success, wealth, fame, and love in an equal manner. At the same time, Joel has been trying to give back to people through various causes and organizations.
Three Facts about Embiid
Before basketball, Embiid trained for pro volleyball. He was all ready to go to Europe and play volleyball.

In 2014, Embiid's younger brother Arthur Embiid died in a car accident. According to sources, Joel was close to his brother.
3. Joel was discovered by another Cameroonian basketball player Luc Mbah, a Moute, in a basketball camp in Cameroon, who invited him to come and play basketball in the States.
Great Quotes from Joel Embiid
"Having your teammates' backs – that's what I feel being a leader is."

"I love when people tell me that I was gonna be a bust. I enjoy it when people tell me, 'You suck. You can't dribble. You can't shoot,' because it's like, gotta go to the gym."

"Every time, the mindset I get when I get on the floor is that I'm the best player on the floor."
FAQs
How much does Joel Embiid make per season?
Joel Embiid, the active center/power forward for the 76ers, makes $29,542,010 per season.