Actually, the moments we call miracles or kinds of stuff are just someone's hard work and dedication.
I hope everyone remembers when YouTube and the country got crazy over a 14-year-old boy's videotape.
Yes, you are right; it's one and only Seventh Woods. As simple as that, he was labeled "the special kid," however, he has much more to his unbelievable athleticism, instincts, and toughness.
Moreover, the basketballer is well known for his skills and dunks. Therefore, while I cover the basketball player's life devoted to South Carolina Gamecocks Men's Basketball, you can help with your known information.
Furthermore, Woods, who is now playing for the Southeastern Conference (SEC), had also played for the North Carolina Tar Heels.
The young and rising star knew what was best for him, and however the public faces maybe, he will be just the same.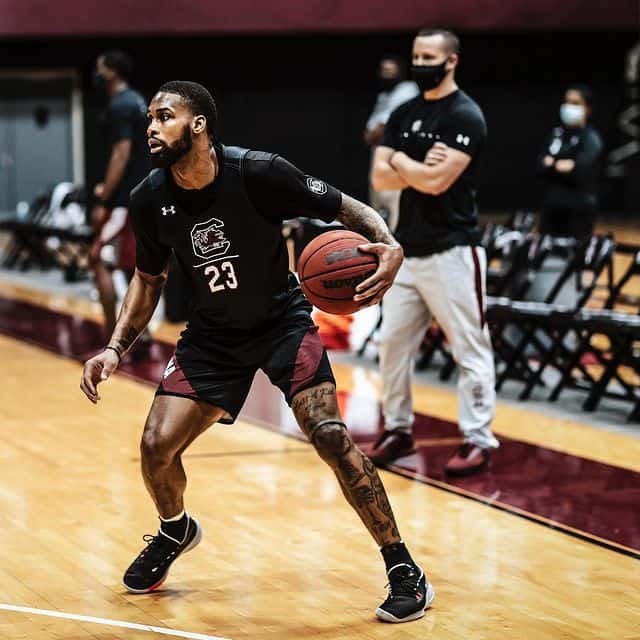 "There's no pressure on me. I have to go out there and do my best. People expect to see what they saw on that mixtape, but I've just got to play my game."
-Seventh Woods
Quick Facts:
Full Name
Seventh Day'Vonte Woods
Date of Birth
August 7, 1998
Birth Place
Columbia, South Carolina
Nick Name
None
Religion
Christianity
Nationality
American
Ethnicity
African American
Zodiac Sign
Leo
Age
25 Years Old
Height
6 ft 2 inches (1.88 m)
Weight
189 lb (86 kg)
Hair Color
Black
Eye Color
Brown
Build
Athletic
Father's Name
Louis Woods
Mother's Name
Monica woods
Siblings
One sister, Octavia Woods
Four older brothers, Christopher Woods, Eric Woods, Charles Woods, and Louis Woods
Education
Alcorn Middle School
Hammond High School
University of North Carolina
University of South Carolina
Marital Status
Unmarried
Girlfriend
None
Profession
Basketball player
Position
Point guard / Shooting guard
Affiliations
Hammond School varsity basketball team
North Carolina Tar Heels


South Carolina Gamecocks men's basketball

Active Years
2016-present
Jersey number
23
Net Worth
$1million-$5 million
Social Media
Instagram, Twitter
Merch
Southeastern Conference sweatshirt, SEC Apparel
Last Update
November, 2023
Seventh Woods | Early Life, Family & Education
Woods (fully named Seventh Day'Vonte Woods) was born on August 7, 1998, under Leo's sun sign.
He is the youngest of his four older brothers, Christopher Woods, Eric Woods, Charles Woods, and Louis Woods. At the same time, he also has a sister named Octavia woods.
Additionally, he was born to an African American family, and his father is Louis Woods, while his mother is Monica Woods.
Apparently, his father used to be a basketball player for the C.A. Johnson, a public school that opened in 1949 for black students in the Jim Crow era. However, his mother did not play any sort of sports.
Advancing further, it was said that Wood's father didn't want any apostrophes or the additional five letters on his middle name during the process of naming their child.
Therewith, Monica insisted on naming him the Seventh Day. According to the sources, his name signifies the seven days of work of Jesus Christ.
After forming all the world, God blessed the seventh day and made it holy, therewith marking it as his resting day.
You might be interested in reading: <<Vincent Poirier Bio: Family, Draft, Trade, Wife & Net Worth >>
Age, Height & Weight
Seventh Woods is a towering man of 6 ft 2 inches (1.88 m) with nearly shaved black hair and tan skin.
Furthermore, he has brown eyes and a muscled body that weighs 189 lb (86 kg). Equally important, you can't miss out on his tattoo-covered arms and bearded look.
Seventh Woods | Early Career
As special as his name, Woods commenced playing basketball at the age of four, which started similar to other kids per his father.
Indeed, he started normally with dribbles and shootings; however, he does not recall his commencement's exact moment as per Seventh.
Altogether, basketball isn't the only game he stood perfect in as he was quite good with baseball as well.
But yes, he gave his love to basketball, and as we move across his days, he first started in the recreational league at four or five years old.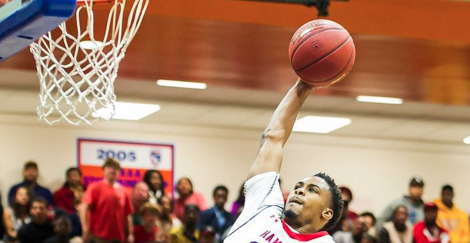 Following it, he starred in the AAU by the time he was 9, which came as the SC Ravens leader to the AAU under-12 national championship within two years.
During his tenure in the under-12 team, he had posted straight 12 points in a single game.
Back then, he was attending Alcorn Middle School, which was later named the 14th-worst public school.
Although Woods was doing really well during his middle school, his parents were concerned for his academics due to their school's labeling.
Hammond High School
while searching for Woods' alternate school, the Hammond High School offered them the scholarship.
As a transfer student, Woods enrolled in the Hammond School varsity basketball team in the 8th grade when he was only 13 years old.
During his tenure as a freshman, Woods posted an average of 19.3 points per game, making him the Hammond basketball player of the year.
Following it, he contributed to his team in the SCISAClass AAA state championship game with a record of 22–5.
Similarly, Woods was also the youngest player on the team to start the game, which won gold at the 2013 FIBA Americas U16 Championship in Uruguay.
Later, in his sophomore years, Woods advanced to 20 points per game with 4 steals, 3.8 assists, and 3.6 rebounds.
Not to mention, he also bagged the South Carolina boys basketball player of the year.
Moreover, he was selected to the U16 USA National Team, thus, claiming the U16 Championship.
Consequently, he ended his junior year by the last game in the state championship in 2015.
Under Armour Association Circuit
By the time Woods entered the Carolina Wolves on the Under Armour Association Circuit, he had put up on a glorious past.
He first commenced with an average point of 16.9 Points per game and 3.5 assists per game as a team member.
Later, he advanced his score to 18.9 points per game, 4.5 rebounds per game, 5.0 assists per game, and 3.5 steals per game.
Subsequently, he also matched against the Elite 24 Invitational game in Brooklyn, New York, in the summer of 2015.
Result
Until today, Seventh is best known for his Hoopmixtape in the 2013 spring, then a ninth-grader playing his second year of varsity at Hammond.
As of now, the viewers in that specific video have topped over 15 million views, which makes it the most-viewed basketball video on YouTube.
Likewise, his Dunk of the Year video has been viewed by over a million people.
Following it, ESPN had ranked him as the 4-star recruit, No. 54 prospects in the nation, and No. 14 in the point guard position in the Class of 2016.
Hence, Woods became one of the highest sought athletes of the time. Among North Carolina and South Carolina's choices, Woods devoted himself to North Carolina on November 11, 2014.
Seventh Woods | College Career
Even after transferring school, Woods was anxious about making new friends; however, he did everything well.
Thus, with graduation, he came out as one of the best athletes to have ever passed through Hammond's doors and the best NBA prospect the state has produced.
University of North Carolina
When Seventh Woodsstepped into the University of North Carolina, he majored in sports administration in the exercise and sport science department.
Apart from his academics, as a freshman, he featured in the North Carolina Tar Heels as the primary relief role behind Joel Berry II.
Therewith, during the regular season, Woods recorded 25 assists and 13 turnovers in ACC, where he made two steals five times.
Altogether, Woods played 40 games in the team, among which his best gameplay came against the Duke.
During the match against Duke, he posted four points and had a team-high four assists within eight minutes.
Later, he also led the UNC in assists and played a season-high 22 minutes against Radford.
Overall, Woods also made his career-high nine points as the opener against Northern Iowa.
Equally important, Woods couldn't become the starting point guard against Coby White in the offseason after his foot injury.
Basically, Woods had a stress fracture on his left foot, which had him missing out on much of the plays.
Through all his ups and downs with the team, Woods finally showcased his decision to transfer to South Carolina on June 7, 2019.
"I just wanted to do what was best for me. Going away was best for me at the time. I feel like sitting out a year will be great for me, and I'm going to try and use it to my advantage to make the most out of my senior year." -Seventh Woods
University of South Carolina
With the transfer from North Carolina, Woods sat out for a year with training himself.
After a year, he starred alongside the South Carolina Gamecocks men's basketball, where he made his debut in January 2021 over the Florida A&M.
During the match, Woods appeared as the point guard, where he played for 27 minutes.
He successfully recorded eight points, four rebounds, four assists, two turnovers, one steal, and one block during the time.
"I can focus on me getting into a groove. Learning a new system, and we didn't want to rush anything. I felt it was perfect timing just being able to come back home. To come back to a coach who allowed me to come back home. It meant everything to me to finally suit up and have my first game at the CLA. I had my parents out there, my brother, and my girlfriend. It felt good to play in front of them. They haven't seen my play since 2018. It felt great to be out there in front of them."
Although he is yet to be drafted into the NBA, many consider him a first-round pick.
Furthermore, his scouting report is not published as the NBA draft date was pushed back to July 29.
Don't forget to check out: <<Emily Whitmire Bio: Early Life, UFC, Career, Net Worth & Boyfriend >>
Seventh Woods | Highlights and Achievements
Woods is highly known for his high-flying athleticism, an ability from his high school days that still possess him.
Additionally, he has matured now, so with his skills with aggressive style and great passing ability.
2012 High School Sports Report Rookie of the Year
2013 MaxPreps Freshman All-American first team
MVP of 2013 SCISA Region
2013 HSSR Class AAA Player of the Year
2013 FIBA Americas U16 Championship (gold)
South Carolina Mr. Basketball (2016)
NCAA champion (2017)
College Stats
Let's have a look at the college stats of the Seventh Woods.
| | | | | | | | | | | | |
| --- | --- | --- | --- | --- | --- | --- | --- | --- | --- | --- | --- |
| Year | GP | GS | MPG | FG% | 3P% | FT% | RPG | APG | SPG | BPG | PPG |
| Career | 112 | 14 | 10.3 | .356 | .212 | .640 | 1.2 | 1.6 | .7 | .1 | 2.4 |
Seventh Woods | Net Worth And Salary
Currently, there are no fixed details about the net worth of the player. However, we expect his net worth to be ranging from $1 million to $5 million.
Apart from his basketball career as his primary source, Woods also earns through his endorsement for Lattimore.
Seventh Woods | Personal Life
Woods, apart from being an aggressive player, is quite a quiet person in actuality. He is more like a quiet, self-minded person but still great with teamwork and gameplay.
Apparently, it's never fixed with a good share of memories, if you will only live with it. The same goes for Seventh Woods.
While things were in sync in nature, Woods lost his paternal grandparents on December 13.
It was the same day when he was going to play in the Spring Valley. Indeed, Woods was really close with them as they lived only a couple of blocks away from there, so it did impact him.
With Ned and Helen Woods's death's ongoing tragedy, Seventh still appeared and played in the game.
As he lost his grandparents in the fire, he didn't let it get hold of him but only portrayed his professionalism. Many fans and media outlets appreciated his following quote,
"The tragedy kind of had me down, but they watched over me. Tragedies happen, but you have to play through them. They watched over me the whole game, and that's the only reason I did it."
-Seventh Woods
Girlfriend
When it comes to a celebrity, girlfriends and relationships get quite a sensitive topic. I mean, yes, because of their fans, and many more.
In Woods' case, he has not sparked any rumors or scandals about his love life. However, it's not that he doesn't have a girlfriend.
Well, in the debut game with South Carolina, after the match, he had referred he was happy playing in front of his family, friend, and "girlfriend."
It's not only me, who is thinking about the relationship, I know. Having said this, there is, unfortunately, no validation to it.
Even if you scroll through his Instagram or any social media pages, he doesn't seem to indulge in it. Therefore, let me leave this topic for you to figure out.
Until then, can we say he is single? Until the time he discloses himself, Seventh Woods is on his own journey as a rising star.
You might be interested in Armando Bacot Bio: Parent, College, Girlfriend, Tattoos & NBA >>
Social Media Presence:
Seventh Woods is quite active on social media. You can follow him via these links:
Some FAQs
Where can I find the Seventh Woods viral freshman mixtape?
Click on this link to see the viral freshman mixtape of Seventh Woods.
How much is Seventh Woods wingspan?
The basketballer has a wingspan of 6'3.5.
What round was Woods drafted in?
Seventh has not been drafted into the NBA as of now. Nevertheless, many experts predict that he might be drafted in the first round.