Do you guys know who the NBA superstar Joel Embiid's Wife is?
If you know Joel Embiid, then you certainly know who we are talking about. Yes, we are talking about his long-time girlfriend, Anne De Paula.
But, do you know everything about Anne De Paula and her relationship with Joel Embiid?
Well, that is why we are here.
Today, we have gathered all the information about Anne De Paula in this article. So, make sure to read the article until the end and find out everything you need to know about her.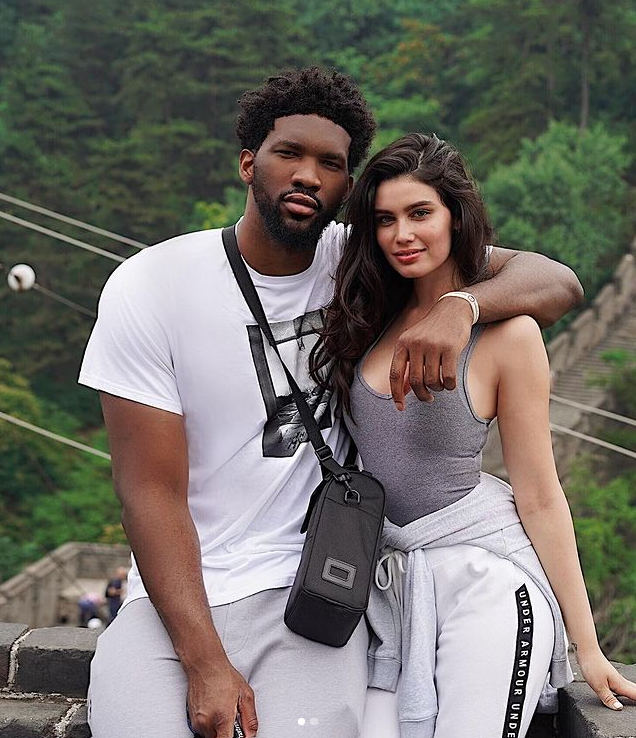 By the time you guys finish this article, you will know who Anne De Paula is, her career, net worth, relationship with Embiid, her kids, and more.
But before that, some quick facts.
Quick Facts
| | |
| --- | --- |
| Full Name | Anne De Paula |
| Nick Name | Anne |
| Age | 27 |
| Birthdate | March 31, 1995 |
| Birthplace | Rio de Janeiro, Brazil |
| Mother's Name | Leila De Paula |
| Father's Name | Rod De Paula |
| Siblings | Not available |
| Marital Status | Married |
| Husband | Joel Embiid |
| Husband's profession | Basketball player |
| Children | One son, Arthur Embiid |
| Religion | Christianity |
| Nationality | Brazillian |
| Height | 5'9" |
| Weight | 57 kg |
| Hair Colour | Brown |
| Eye Colour | Dark Brown |
| Shoe Size | 9.5 (US) |
| Tattoos | No |
| Zodiac Sign | Aries |
| Profession | Model |
| Currently signed with | Wilhelmina Models |
| Salary | Under Review |
| Net Worth | $600k-$100k |
| Social Media | Instagram, Twitter, Facebook |
| Merch | Joel Embiid's Jersey, Joel Embiid Rookie Card |
| Last Update | July, 2022 |
Who is Joel Embiid's Wife?
Anne De Paula, a gorgeous Brazilian lady, is Joel Embiid's Wife.
Anne started dating Joel Embiid in 2018. The couple met at a New York City dinner through a mutual friend.
The pair made their first public appearance in October 2018. However, in the beginning, they kept their love life private on social media.
Later, when their relationship became quite known, Anne started featuring her lover on her Social Media.
The couple lives together and seems to be deeply in love with each other.
However, the two have yet to announce their marriage and have made no comments about getting engaged or married.
Do Anne De Paula and Joel Embiid Have Kids Together?
On September 17, 2020, Paula gave birth to a beautiful baby boy.
The NBA player Joel Embiid announced the birth of their baby both on Twitter and on Instagram.
He went on adding a little humor stating, "First of 11 or more? Trying to convince her, but I'm not winning so far." Further, he added that all he is trying is to build a soccer team.
The couple has named their baby boy Arthur. Sources claim that Arthur is named after Embiid's late younger brother, who passed away in 2014 in Cameroon in a car crash.
Short Wiki on Joel Embiid: Career, Net Worth, and More
Joel Embiid is a professional basketball player who plays for the Philadelphia 76ers of the NBA.
Born on March 16, 1994, the Cameroonian NBA player is currently only 28 years old.
He is famous as an excellent player and is loved by all. With his outstanding career achievements, he has made a massive fortune for himself.
Embiid's estimated net worth is $60 Million
Besides, Joel also does various endorsements, which help him earn extra. In 2017, he signed a five-year contract with the Philadelphia for $178 million, still active.
The basketball player has a height of 7 feet and has an athletic build. He weighs about 127kg.
He is of black ethnicity, and his zodiac sign is Pisces.
As for social media, Joel Embiid is on Twitter as @JoelEmbiid. He is also on Instagram as @joelembiid.
Joel usually keeps his social media professional and shares about his matches and games. However, sometimes he also talks about Anne De Paula and their baby, Arthur.
He has 1.8M followers on Twitter and 4.9M followers on Instagram. So you can follow him to know more about him and his games.
What was Joel Embiid's Wife, Anna De Paula's Early Life and Family Like?
Anne De Paula was born on March 21, 1995, in Rio De Janeiro, Brazil.
Her father's name is Rod De Paula, and her mother's name is Leila De Paula. Unfortunately, no information can be obtained about her siblings.
Some say that her mother is a radiologist and her father is a nurse, but it is unclear.
Anne is very private about her family. However, the gorgeous model still shares pictures with her parents on her social media.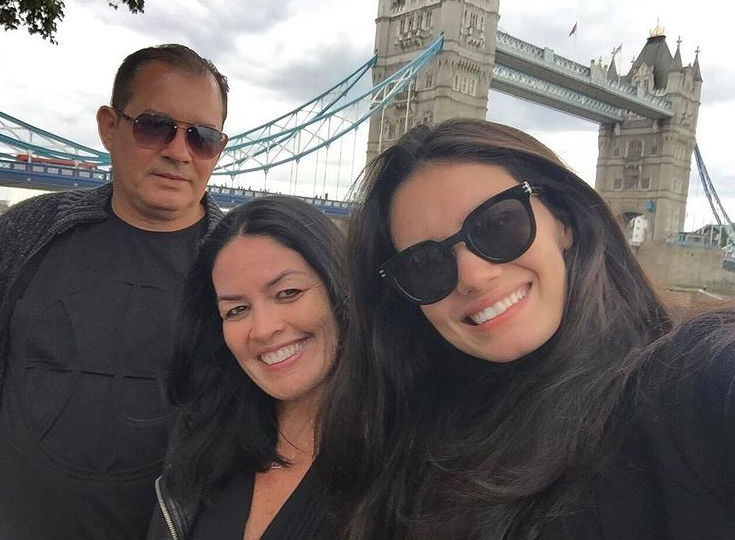 Both of her parent's accounts are set on private. If you wish to find more about her parents, you can follow them on Instagram.
Rod De Paula: Instagram
Leila De Paula: Instagram
Childhood
Growing up in Rio De Janeiro, Anne was very fond of soccer in her early childhood. However, it was her father who had encouraged her to play soccer.
Anne used to play soccer for her school team. She had even represented her city. Sources say that he wanted her to become a soccer player.
On the contrary, Anne's mother wanted her to try out modeling. So, at the age of 13, Anne gave up soccer and started modeling.
Anne's mother introduced her to the 'Sports Illustrated Swimsuit Issue.' She then started working for it and dreamt of becoming a bikini model.
Anne De Paula: Career
Five years later, Anne's career officially took off when she made her SI Swimsuit debut in the 2017 SI Swimsuit model search.
Anne became the winner of the SI Swimsuit Model Search Contest, 2017.
On winning the contest, Anne mentioned that coming from Brazil, it was tough for her to leave her country and be able.
"It's a dream come true for me, and it's the best birthday present ever,"
Anne said, whose birthday also happened to be on the same week the results were announced.
Winning the contest subsequently increased her followers, and she gained a great media presence.
She was also the first SI Swimsuit 2018 rookie and guaranteed her spot on the steamy SI Magazine.
She was also featured at the SI Swimsuit Magazine, 2019. Her images showed great glamour and beauty and stunned her audience.
Currently, Anne is signed with the New York City-based modeling agency 'Wilhelmina Models.'
<<Who is Julio Jones' Mother? Struggle & Success>>
Anne De Paula: Age, Body Measurements, and More
Joel Embiid's wife turned 27 this March.
Anne De Paula has a bold personality. Paula is 5'9″ tall. She weighs about 57 kg.
The gorgeous swimsuit model has a stunning figure with the body measurements (chest-waist-hip) of 34-26-35, respectively.
Anne looks dreamy with her brown hair and beautiful dark brown eyes. Her shoe size is 9.5 (US)
The model does not have any tattoos. Her zodiac sign is Aries.
Pets
Joel Embiid and Anne De Paula had a dog named Klaus. However, Klaus passed away last year. Anne and Joel were very close to Klaus.
Joel posted on his Social Media expressing his condolences upon Klaus' death, whereas Anne expressed that Klaus will forever be loved.
Klaus was a part of their family, and we are so sorry for their loss. R.I.P Klaus Hinkie De Paula Embiid
Who has Joel Embiid's Wife dated in the past?
Anne De Paula: Dating history
Apart from her modeling career, Anne has also constantly stayed in the limelight of media because of her dating history with Danny O'Donoghue.
That's correct. Before getting married to Embiid, the Brazillian babe was with the Irish singer and songwriter Danny O'Donoghue.
Danny is also the lead vocalist of a rock bank named 'The Script.' They started dating in 2015 after working together for a music video titled 'No Good in Goodbye.'
Initially, they kept their relationship low-key. Finally, after three years, Danny made a red carpet debut with his model girlfriend Anne in December 2017 at Star Wars: The Last Jedi.
Who is Julio Jones's girlfriend? Career & Children>>
That was their first public appearance together. Apart from that, they made a few public appearances together before breaking up in 2018.
Anne and Danny had a bitter separation after being together for four years. The break-up created quite a buzz in social media after Danny's sister commented on Anne's Instagram.
Whatsoever, Anne soon started dating Joel Embiid and is living a happy life now.
Now that Anne and Joel have a kid together, fans are also hoping for the couple to tie a knot and get married soon.
However, it is not our place to comment, so we hope that the pair does whatever fits best for them and live a happy life.
How much does Joel Embiid's Wife earn?
Net Worth
Anne has been accumulating most of her wealth through her successful modeling career.
She has also endorsed famous brands like Fallon Jewelry, Berta, Hemingways Collection, etc.
Anne's Net Worth is estimated to be between $600k – $1000k
Besides, the information about her salary, houses, cars, etc., is still under review.
Is Joel Embiid's Wife on Social Media?
Social Media
At present, the Brazilian beauty is on Instagram, Facebook, and Twitter. She has millions of followers altogether.
She usually shares information related to her personal as well and professional life on her social media.
If you guys are curious about her and her lifestyle, feel free to follow her on her following accounts:
Facebook: Anne de Paula (2.1M followers)
Instagram: @annedepaula ( 241k followers)
Twitter: @AnnedePaula_ (7,171 followers)
Anne does not have a YouTube channel yet.
However, her videos are posted on YouTube by various channels, including the official channel of Sports Illustrated Swimsuit. As a result, all her videos are viral.
Joel Embiid's Wife: Frequently Asked Questions
Are Joel Embiid and Anne De Paula married?
No, the NBA star Joel Embiid and Anne De Paula are not married. However, they live together and have a son named Arthur together. They have been together since 2018.
How did Anne de Paula and Joel Embiid meet?
In 2018, Anne and Joel met when they attended the same dinner in the New York City with a mutual friend.
Therefore, we can say that Anne De Paula and Joel Embiid's meeting each other was coincidental.