As Ohio State fans are aware, two Bosa siblings (Joey Bosa and Nick Bosa) are now ripping it up in the NFL.
Joey Bosa, a defensive end for the Los Angeles Chargers, is 27 years old.
Similarly, equally talented to his older brother is the Nick Bosa of the San Francisco 49ers of the National Football League (NFL).
Since his college days at Ohio State, Nick Bosa has contributed his skills and strategy to college football.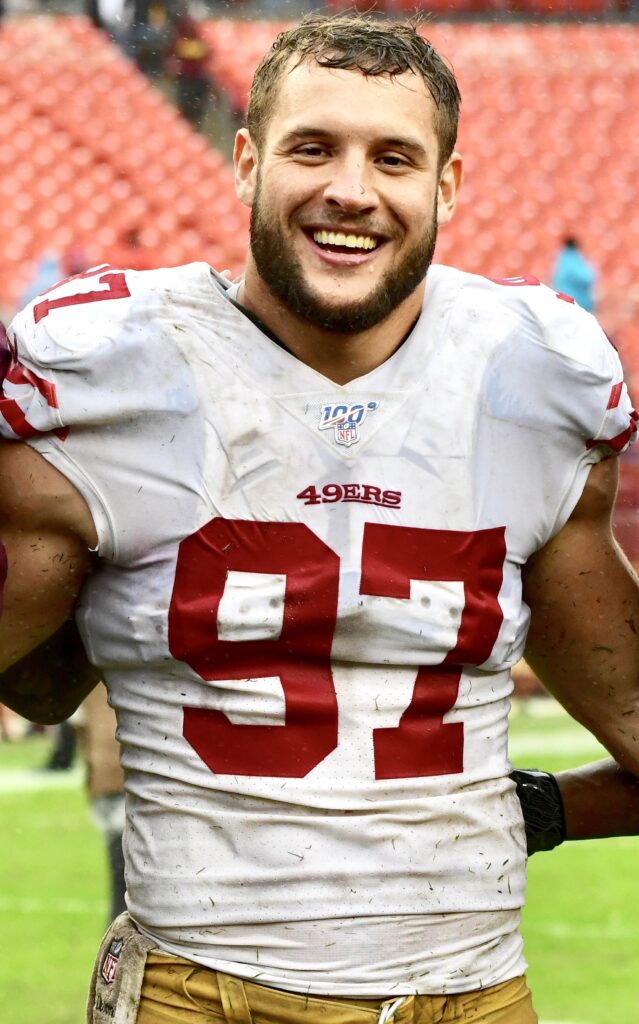 Likewise, the Francisco 49ers picked him second overall in the 2019 NFL Draft.
After recording nine sacks and contributing to the team's Super Bowl LIV appearance, Bosa was named NFL Defensive Rookie of the Year.
Before diving into Nick Bosa's career journey, here are some interesting quick facts about him.
Nick Bosa: Quick Facts
Full name
Nicholas John Bosa
Nickname
Nick Bosa
Smaller Bear
Birthdate
23 October 1997
Birthplace
Fort Lauderdale, Florida, United States
Nationality
American
Ethnicity
White
Religion
Unknown
Horoscope
Scorpio
Age
25 years old
Father's name
John Bosa
Mother's name
Cheryl Bosa
Sibling
Joey Bosa
Residence
Not Available
High School
St.Thomas Aquinas
College
Ohio State University
Marital status
Single
Ex-Girlfriends
Not available
Height
In meters: 1.93m
In feet: 6 ft 4 in
Weight
In kgs: 121 kg
In lbs: 266 lb
Body type
Athletic
Eye Color
Dark Brown
Hair Color
Brown
Profession
Professional Football Player
League
National Football League (NFL)
NFL Draft
2019/ Round: 1/ Pick: 2
Position in team
Defensive end
Current team
San Francisco 49ers
Career History
2019 – present
Jersey Number
97
Agent

Brian Ayrault
Tom Condon
Todd France

Agency
Creative Artists Agency
Net Worth
$23.7 million
Salary
$454,412
Sponsors
Kroger
Electronic Arts
Nike
Panini
Food Habits
Not Available
Tattoo
Not Available
Hobbies
Not Available
Social Media
Instagram, Twitter
Merch
Poster, Jersey, Signed Apparel
Last Update
December, 2022
Life Before Fame of Joey Bosa's Brother, Nick Bosa
The younger son of the Bosa family, Nick, was born on October 23, 1997, in Fort Lauderdale, Florida.
He was born to Cheryl Bosa and John Bosa and is the second child of the Bosa family. His older brother, Joey Bosa, is also a defensive end for the Los Angeles Chargers.
The involvement of the Bosa family in the NFL goes back to the time of their grandfathers' contribution.
Some families appear to be destined for NFL glory. Joey and Nick's grandpa Palmer Pyle is the foundation of the Bosas' NFL success.
Between 1960 and 1966, Pyle was a member of the Baltimore Colts, Minnesota Vikings, and Oakland Raiders.
Similarly, Joey and Nick's Father, John Bosa, played professional football.
From 1987 through 1989, John Bosa played as a defensive end with the Miami Dolphins. Through this information, we can say their Father's position inspired the two Bosa sons.
John Bosa was the 16th overall choice in the 1987 NFL Draft. His kids took up the legacy and carried it even further.
Fortunately, the family line in NFL doesn't end there; the Bosa brothers' uncle Eric Kumerow and their cousin Jake Kumerow have also been a part of the NFL's legacy.
Nick Bosa: Education
Despite his interest in sports, Nick Bosa also prioritized his education equally. He attended St. Thomas Aquinas in his hometown, Fort Lauderdale, Florida.
There, Bosa was a four-year starter and a first-team all-state performer on several occasions.
He was considered a five-star recruit and was ranked among his class's best players during his academic days.
Later, he joined the Ohio State University to continue playing college football.
Click here to learn about Aaron Donald's Father-Archie Donald: Injury, Divorce & NFL >>>.
The career of Joey Bosa's Brother, Nick Bosa
College Career
In 2016, Nick Bosa started all 13 games for Ohio State as a true freshman, making 29 tackles, seven for a loss, and five sacks.
During his sophomore season, Nick was named the Buckeyes' starting defensive end in seven games.
Similarly, for his 32 total stops (14.5 for a loss) and a team-leading seven sacks, Bosa was selected unanimous First Team All-Big Ten and the Smith-Brown Big Ten Defensive Lineman of the Year.
He added two pass breakups, eight quarterback hurries, and a blocked kick to his start line.
Unfortunately, on September 20, 2018, he underwent core-muscle surgery and was ruled out indefinitely.
Thus, Nick Bosa announced his withdrawal from Ohio State for the rest of the season on October 16.
In addition, he also opted to skip his senior year and joined the 2019 NFL Draft after the season ended.
A look into his Journey to Professional Career
Most experts and scouts predicted Bosa to be the top overall selection in the draft coming out of Ohio State.
Due to his outstanding skill, he was invited to the NFL Scouting Combine as one of the top prospects at the draft.
He accomplished all mandatory combine and positional drills except for the 10-yard and 20-yard splits.
At the combine, Bosa got the opportunity to meet and interview with renowned 8 NFL teams.
The San Francisco 49ers, Arizona Cardinals, New York Jets, and Tampa Bay Buccaneers.
Get to know about the famous Dodger superstar Mookie Betts's wife, Brianna Hammonds >>>.
Bosa's political opinions and provocative tweets, such as labeling Colin Kaepernick a "clown," express support for the U.S.
President Donald Trump, and "liking" a post on Instagram with racist and homophobic insults as hashtags, drew criticism a week before the selection.
Later, acknowledging his hard work and skills, the San Francisco 49ers picked him in the first round with the second overall pick in the 2019 NFL Draft.
The 2019 Season
After being drafted, Nick Bosa signed a 4-year contract with the 49ers worth $33.5 million.
In addition, the contract featured a $22.5 million signing bonus and a fifth-year option.
In Week 1, the younger Bosa made his NFL debut against the NFL's Tampa Bay Buccaneers.
During the 31–17 win on the road, he recorded three tackles and sacked quarterback Jameis Winston once.
Similarly, in Week 5, with the help of his contribution, the team earned a 31-3 victory over the Cleveland Browns.
Halfway into the game, Nick Bosa sacked Baker Mayfield twice, earning the NFC Defensive Player of the Week.
Bosa sacked Kyle Allen twice and had his professional interception in the next game, a 51-13 triumph against the Carolina Panthers.
The Bosa brothers outshined everyone on the field; while Nick Bosa was honored with the NFC Defensive Player of the Week, his older brother, Joey Bosa, was voted for AFC Defensive Player.
In 16 games and 14 starts, Bosa has 47 tackles, nine sacks, a forced fumble, two fumble recoveries, two pass deflections, and an interception.
During the 27–10 triumph over the Minnesota Vikings in the Divisional Round of the playoffs, Bosa sacked Kirk Cousins twice.
Bosa received the AP NFL Defensive Rookie of the Year Award at the NFL Honors. However, his Father accepted the award on his behalf as he was in Miami for the Super Bowl.
During the 31-20 loss to the Kansa City Chiefs in Super Bowl LIV, he had a strip-sack on Patrick Mahomes.
The Recent Season (2020)
The 2020 season for Nick Bosa was a bit unfortunate as compared to his previous season. During Week 2 of the 2020 season, he suffered a torn ACL against New York Jets.
This led him to be ruled out for the rest of the season. Similarly, on September 23, 2020, he was placed on an injured reserve.
Career Highlights and Awards
NFL Defensive Rookie of the Tear (2019)
Pro Bowl (2019)
PFWA Rookie of the Year and All-Rookie Team (2019)
First-team All-Big Ten (2017)
Smith-Brown Defensive Lineman of the Year (2017)
Nick Bosa to be a Full Participant
It has been reported that Nick Bosa has been confined to solo workouts since the start of the training camp late last month, July 2020.
The team's strategy was gradually reintegrating the edge rusher into the lineup through position drills with the rest of the defensive line.
The San Francisco 49ers have created a training plan that allows him to take a day off between his three sessions to focus on his health and healing.
Bosa and the 49ers have both hinted at a comeback in Week 1.
The 49ers anticipate the pass rusher fully participating in practice beginning next week, increasing the possibility of that plan becoming a reality.
Nick Bosa: Net Worth and Endorsements
The skillful American football defensive end Nick Bosa has an estimated net worth of $23.7 million.
Nick Bosa makes the most of his money from his primary career as a professional football player.
Being the defensive player of the San Francisco 49ers and contributing to the team's victory, Bosa earns a $454 412 salary as of 2020.
In the span of his hard work and sweat in a two-season career, Nick Bosa has accumulated a total amount of $24,805,853.
In addition, with significant rising popularity and recognization, the 49er's defensive player has well-renowned sponsors such as Nike, Kroger, Panini, and Electronic Arts.
Support and backup from big companies have earned him approximately $1 million.
Nick Bosa also has expensive taste in his fashion as he has often been spotted wearing suits by the famous identity Michael Strahan.
Nick Bosa: Relationship Status
The San Francisco 49ers, Nick Bosa, is currently in a relationship with Jenna Berman.
Jenna Berman is a famous influencer in Tikotok and an Instagram Model from South Florida, United States.
Berman has over 278000 followers on her social media, Instagram, and a million followers on Tiktok.
Besides being an influencer, Berman is building a more significant future by becoming a physician's assistant.
In addition, the South Florida native co-founded Berman Sisters Cookie Co., a pastry business.
Berman, like her lover, is a vocal and ardent admirer of Donald Trump and frequently expresses her political opinions on social media.
Nick Bosa: Social Media Presence
The 49ers' defensive end, Nick Bosa, is active on social media such as Instagram and Twitter.
Nick Bosa is seen uploading posts, pictures of his practices and games, and a few family pictures.
Instagram: 673k followers with 504 followings (as of Sep 2021)
Twitter: 138.2k followers with 208 followings (as of Sep 2021)
Frequently Asked Questions (FAQs)
Are Nick and Joey Bosa twins?
No, the Bosa brothers are not twins. Joey was born on 11 July 1995, whereas Nick Bosa was born on 23 October 1997.
Has Nick Bosa joined another NFL team?
No, Nick has not joined the new team. Since 2019, Nick Bosa has been the defensive end for the San Francisco 49ers.