Known famously in the snooker community as "Wizard of Wishaw" is John Higgins, one of the best to grace the game.
Higgins became the first player to record four consecutive century breaks in a major tournament. The breaks recorded were 103, 104, 138, and 128.
Similarly, he is one of only five players in history to win the World and U.K. Championships in the same year.
In 2008, Higgins' contribution to the country earned him the title of Member of the Order of the British Empire.
In this article, you will get more information regarding the snooker champion. So, let's dig deeper into John Higgin's early life, height, weight, career, and other information.
Also, here are some quick facts about Higgins before we head further into the details.
Quick Facts
Name
John Higgins
Birth Name
John Higgins MBE
Nickname
"The Wizard of Wishaw"
Birth Date
May 18, 1975
Birth Place
Wishaw, North Lanarkshire, Scotland
Age
48 Years Old
Zodiac sign
Taurus
Chinese Zodiac
Rabbit
Nationality
scottish
Sexual Orientation
Straight
Body Type
Athletic
Hair Color
Salt and Pepper
Eye Color
Brown
Skin
Fair
Height
5 ft 88 in (1.73 m)
Weight
168 lb. (76 kg)
Profession
Snooker Player
Debut Age
16
Professional Years
1992–present
Current Ranking
7 (as of November 8, 2021)
Highest Break
147
No. of Highest Break
12
Century Breaks
854
World Championship Wins
1998, 2007, 2009 and 2011
Tournament Wins
31 (Ranking), 3 (Minor Ranking), 19 (non-Ranking)
Education
St Aidan's High School
Parents
John Higgins Sr. (Father)
Josephine Higgins (Mother)
Relationship Status
Married
Wife
Denise Higgins
Children
Oliver Higgins (Son),
Pierce Higgin (Son),
Claudia Higgins (Daughter).
Gender
Male
Hobbies
Poker and supports Celtic Football Club
Net Worth
$ 11.2 Million (2021)
Social Media
Not Available
Last Update
June, 2023
John Higgins | Early Life and Background
On May 18, 1975, John Higgins was born in Wishaw, North Lanarkshire, Scotland. He was raised in the same city on the edge of the Clyde Valley.
He was born to John Higgins Sr and Josephine Higgins. There is not much information about his parents, personal lives, or childhood. Likewise, his source of inspiration for picking up snooker isn't clear.
Nonetheless, John and his friends regularly played snooker from an early age. Thus, this hobby served as training for him indirectly.
Additionally, Higgins discovered that he was good at it and had a good time doing it. Consequently, when he was 16, he decided to turn professional.
He already had a few amateur tournaments to his name by this time. During this debut season, he advanced to the quarterfinals of the British Open.
Unlike many other amateurs, John transitioned well into the professional scene. What happened next is history!
You might also like to read about Is Ding Junhui, the most successful Asian snooker player?
John Higgins | Professional Career
Phenomenal Rise
John Higgins had a rather unusual rise in his snooker career. Higgins won his first ranking tournament two years after turning professional at the Grand Prix in the 1994/1995 season.
Higgins was just 19 years old when he defeated Dave Harold to clinch the win. John didn't look back since.
Eventually, he went on to win two more ranking tournaments the same year. He clinched the British Open and the International Open while reaching the Welsh Open and the Masters' finals.
His rise was indeed phenomenal. John went from 51st to 11th in the world rankings by the end of the season. After that, there was no stopping him.
Consequently, he rose to second in the world by the conclusion of the next season. He had added two ranking championships and another ranking final in the 1994/1995 season.
Furthermore, John won his first World Championship in 1998. He defeated reigning champion Ken Doherty in the final. Additionally, he set a new record with 14 centuries which Hendry later eclipsed.
As a result, Higgins became world number one for the first time after winning the world title. Also, he broke Stephen Hendry's eight-year reign at the top.
Staying at the Top
Higgins was the World No. 1 for two years before Mark Williams took his spot at the top of the rankings by the end of the 1999–00 season.
In 2001, he reached the World Championship final but lost to Ronnie O'Sullivan 14–18. But, he didn't let this loss be a significant setback as he worked harder than ever.
Consequently, John became the first player to win the first three season tournaments. He achieved this record by winning the Champions Cup, Scottish Masters, and the British Open in the 2001–02 season.
Notably, a rivalry was developing between John Higgins and Ronnie O'Sullivan. 2005 and 2006 editions of Masters Final saw the duo in the finals. In 2005, Ronnie defeated Higgins 3–10.
However, Higgins produced a 64 clearance to win 10–9 and win the Masters title for the second time in 2006.
The Pinnacle
The next half of the 2000's decade defined John Higgins as a player. In 2007, he advanced to the final of the World Championship after defeating the likes of Ronnie O'Sullivan and Stephen Maguire.
John went on to win four consecutive frames to win the finals and reclaimed the number one spot in the world.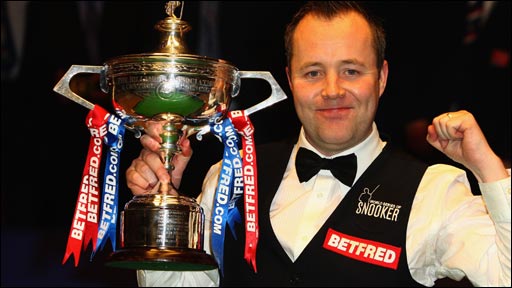 Similarly, John defeated Shaun Murphy in the final to win the World Championship 2009 for the third time.
In the 2009–10 season, he lost to Neil Robertson in the Grand Prix semi-final. After that, he won the Welsh Open by defeating Allister Carter 9–4 in the final.
John did fall short in the World Championship, losing to Steve Davis in round two. Nonetheless, he finished the season as World No. 1.
The Series of Unfortunate Events
The decade of 2010 couldn't have started worse. Instead, it marked the beginning of a turbulent period in Higgin's snooker career.
On May 2, 2010, John Higgins and his management were accused of match-fixing. A sting operation verified this information by the News of the World.
Consequently, he was suspended for a total of six months and fined a sum of £75,000. Higgins made his professional comeback on November 12, 2010. He went on to win the Ruhr Championship.
Moreover, his comeback was nothing short of a fairy tale return as he secured the 2010 U.K. Championship. John won enough points to reclaim his place as World No. 1 after slipping to third due to the ban.
2011 redefined his career as he went on to win the World Championship for the fourth time. He defeated the likes of Stephen Lee and O'Sullivan to clinch this win.
However, his father had been fighting cancer for five years. But, his health began to deteriorate around the time he was accused of match-fixing. Eventually, he lost his dad on February 4, 2011.
John always looked up to his father as an inspiration. As a result, there was a spike drop in his form after his dad passed away.
Hitting the Slump
John Higgins had a disappointing 2011–12 season right after his dad passed. He finished in the quarterfinals of only two major ranking tournaments. Hence, he concluded the season ranked fifth in the world.
John tired resurging fresh the next season of 2012-13 by winning the Shanghai Masters. However, Higgins was eliminated in the first round of the World Championship against Mark Davis.
As a result, he ended in 11th place, his first time out of the top ten in 17 seasons. The following 2013-14 wasn't different as he fell to 12th in the global rankings.
John failed to surpass the final 16 of any tournaments since the Wuxi Classic in June 2013. Subsequent defeats followed John in this turbulent period. Hence, it was no surprise when Higgins arrived at the 2014 U.K. Championship with a lack of confidence.
Furthermore, there was a fear that a bad performance might cost him his top-16 status and a spot in the Masters. Instead, he fared well enough to retain him in the top 16 after the end of the event.
The Rebound
Slowly, he regained his form and confidence at the Welsh Open in 2015. He recorded a fourth Welsh Open championship and his first ranking title in two and a half years.
Moreover, he continued this form as he began the 2015–16 season with a bang, winning the Australian Goldfields Open. Similarly, he won the International Championship, earning his 28th ranking win.
John was rising again after everything he had been through. In 2016, he won the China Championship and the Champion of Champions.
By 2017, he reaches the World Championship final for the sixth time. However, he couldn't clinch the title as he lost to Mark Shelby.
History repeated in 2018 as he advanced to the 2018 World Snooker Championship final. This final was his seventh World Championship final, but Mark Williams defeated him.
Furthermore, he fell short of the v as Judd Trump in the finals defeated him. This event was his third World Championship final in a row and his eighth overall.
John seems closer to the ultimate prize, but he keeps falling short at the final hurdle. So, he'll have to wait a bit further until he grabs that pinnacle again.
John Higgins | Match-Fixing Scandal and Controversy
John Higgins's career hit the most significant blow when he and Pat Mooney were accused of match-fixing. Mooney was his manager and board member of the World Professional Billiards and Snooker Association.
On April 30, an undercover team led by Mazher Mahmood visited the duo in a hotel room in Kyiv. The team was under the guise of organizing activities related to the World Series of Snooker.
According to sources, John agreed to lose four frames in four different tournaments. But, they wanted an exchange for a total payout of €300,000.
Consequently, John was immediately removed from the game. However, on the same day, Higgins published a statement denying involvement. Furthermore, he explained that he opted to "play along" out of concern for his safety.
David Douglas undertook a thorough examination of the claims. Additionally, there were independent investigations. Both reports concluded Higgins had truthfully accounted for his words and actions.
Nonetheless, they did find him guilty of giving the impression he would break betting rules. Therefore, he was banned from the professional scene for six months.
You might also like to read about Auston Matthews: Relationship, Career, Injury & Net Worth.
Is John Higgins Married? | Know About His Marital Status
As per notable sources like Webarchive and FreeLibrary, John has been married to Denise Higgins since 2000. Also, they have three children in the form of two sons and a daughter.
Denise has known John since they were both at Wishaw High School. Yet, he hasn't allowed his success to get the best.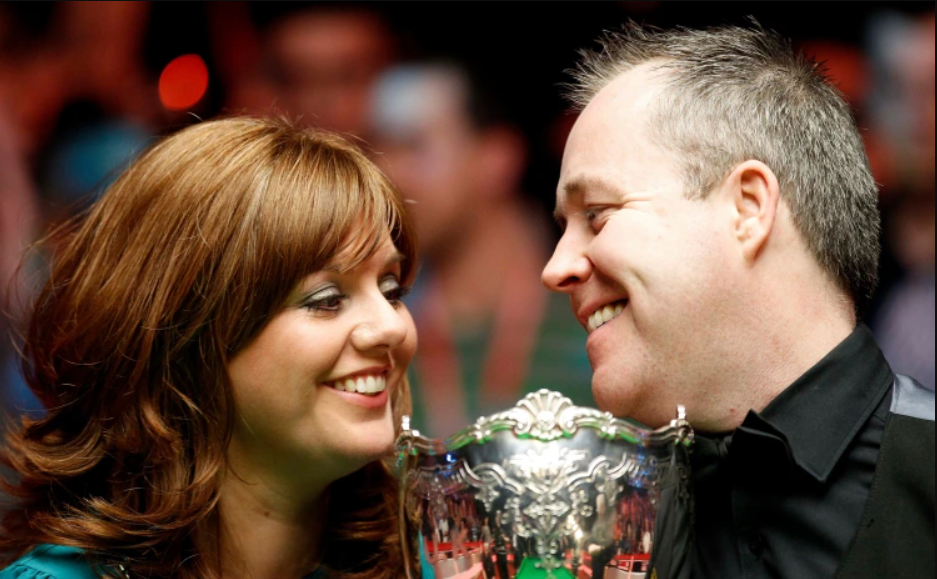 Denise has always expressed the Higgins family to be regular folks. The family is always down to earth and finds attention to be overwhelming.
Currently, the duo lives with their kids in Lanarkshire's separate, contemporary home. They have a property in Marbella and enjoy wonderful vacations.
Furthermore, the couple has made cameos too. John and his wife Denise went on ITV's Mr. and Mrs. in February 2010. After correctly answering all of their questions, they reached the final to earn £30,000 and donated to The Dalziel Centre.
John Higgins | Age, Height, and Personality
Higgins is a professional snooker player with the physique to match his athleticism on the table.
John is currently 48 years of age. However, Higgins still looks fresh and fit enough to compete in the snooker scene. He has considered retiring, but his love for the sport keeps him at bay.
Moreover, he weighs around 168 lb. (76 kg) and stands at an astonishing height of 5 ft—88 in (1.73 m).
His photos show that he's kept himself up to the professional league's standards. His actual physique proportions are Chest Size (44), Biceps Size (14), and Waist Size (36).
Furthermore, John has a down-to-earth personality. Maybe it owes to the fact that he might have easily given up between the cracks. But he has persevered and maintained his point of view.
Additionally, John has supported Celtic F.C. since he was a child. His hobbies include playing poker and watching Premier League side Everton play.
John Higgins | Net Worth & Earnings
John Higgins accounts for much of his net worth as a professional snooker player. Since his professional debut at a young age, he has competed in several tournaments.
According to sources, he has won more than $9.2 million in tournament prizes alone. As of recent, he made GBP 30,000 from his top 8 finish at the 2020 Tour Championship.
He has several brand sponsorships to his name because he is one of the top snooker players in the world. The most noteworthy is with Negotiate Now, a company director in his own country. This contract paid him between £50,000 and £100,000 each year.
Per Sporting Free, he is the third richest all-time snooker player globally. Hence, his net worth is estimated to be around $11.2 million.
You might also like to read about Kyren Wilson; The Warrior, Proud Father & Snooker.
Queries on social media
What was his controversy with Gary Wilson?
After missing a straightforward red ball, John's opponent Gary Wilson took an illegal second shot and blasted another red into the corner pocket. Gary was fined and apologized to John Higgins immediately.