As an NFL fan, there is no way you could not have heard the name John Madden. The former American football coach was a sportscaster and play-by-play commentator for NFL telecasts.
His voice has been broadcasted on all four major sports networks in the United States: CBS, Fox, ABC, and NBC.
He retired from his broadcasting job in 2008 but used to make irregular radio appearances.
Nowadays, people may only hear him for the long-running Madden NFL video game series.
This article presents a short story about his journey to becoming one of the most famous figures in American sports history.
As a legendary NFL coach, each stage in his career brought similar significance to the game.
Quick Facts
Full Name
John Earl Madden
Birth Date
April 10, 1936
Date of Death
December 28, 2021
Birth Place
Austin, Minnesota, U.S.A
Nick Name
John Madden
Religion
Christianity
Nationality
American
Ethnicity
White
Education
Jefferson High School
Horoscope
Aries
Father's Name
Earl Russel Madden
Mother's Name
Mary Margaret Madden
Age
85 years (at the time of his death)
Height
6'5″ (1.95 m)
Weight
95 kg (209 lbs)
Shoe Size
Not available
Hair Color
Gray
Eye Color
Gray
Build
Average
Relationship
Married
Girlfriends
No
Spouse
Virginia Fields (m. 1959)
Children
Two sons
Profession
Sportscaster, NFL coach (former)
Net Worth
$200 million
Salary

$9.5 million (in 2009)
$2 million (EA Sports)

Broadcasting Affiliations
NBC, ABC, Fox, CBS
Social Media
Twitter
Merch
Autographs, Books
Last Update
May, 2023
John Madden: Early Life, Family, and Education
John was born in Austin, Minnesota, to Earl Russell Madden and Mary Margaret Madden. His Father, Russell, was a vehicle mechanic. They were economically unstable. The family moved to Daly City in California with young John.
John went to Catholic Parochial School until 1950. Later, he joined Jefferson High School, where he graduated in 1954.
John Madden: Playing Career
John was a football star during his high school times. He played a season at the College of San Mateo.
The University of Oregon provided young talent with a football scholarship. He suffered a knee injury and underwent an operation. Subsequently, he became out of games.
From 1957 to 1958, John played offensive and defensive positions for the Mustangs at California Polytechnic State University in San Luis Obispo. He played as a catcher on the University's baseball team.
Aware of his talent and playing style, the NFL team Philadelphia Eagles, drafted him in 1958.
Sadly, he suffered another knee injury in his first training camp. Due to this, his professional career subsided before it could commence.
John Madden: Coaching Career
College coach
John's affection for the game did not fade, even though he could never go on the pitch. Hence, he began his coaching career at Allan Hancock College as an assistant football coach in 1960. There he got promoted to head coach two years later.
San Diego State University's football team employed him as a defensive coach since the 1963 season.
In his final Campaign in 1966, the team ranked among the top small colleges. John regards his boss, Don Coryell, as the one who influenced him greatly in his coaching.
The Oakland Raiders coach
The AFL Oakland Raiders hired John in 1967 as a linebackers coach. The team reached Super Bowl II in the same season with his influence.
Madden was made the head coach the next year after the former resigned. It gave him the professional football's youngest head coach title at 32.
With Madden, the Raiders reached five AFC title games in seven years and lost all of them. The first Super Bowl match for the Raiders was in 1977 in a 92-14 win against the Minnesota Vikings.
Becoming the coach with the most wins in Raider's history, John retired from their coaching career in 1979. Reports suggest the chief reasons for their retirement were his ulcer and occupational stress.
Even in the era of the top coaches, John had no losing season in his head coach times. His second rank in league history in terms of winning percentage makes him one of the bests.
John Madden: Television career
CBS Sports
In 1981, Madden paired with Pat Summerall in the CBS network's top football broadcasting. Madden teamed with Vin Scully and Verne Lundquist in Pat's absence. The Madden-Summerall duo worked together at CBS for five years.
Madden, and other CBS employees, became free agents when the Fox Network gained the NFC rights in 1994.
Aware of his stardom in football broadcasting, all the sports networks, including Fox, ABC, and NBC, proposed more than a $2 million-a-year contract.
Fox Sports
Amidst all the offers, the Madden and Summerall pair joined the Fox network in its NFL coverage.
Reports suggest Fox paid him more than any NFL player earns annually. But, at the same time, the NFL contract was turning out to be expensive for Fox. Due to this, it tried to cut the expenses in programs.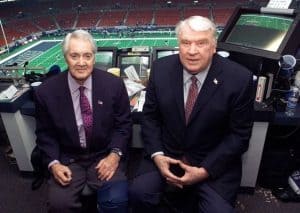 Madden left Fox in 2002 after Super Bowl XXXVI.
ABC Sports
Madden joined ABC network's Monday Night Football as a commentator in 2002. Al Michaels was his partner there. ABC provided him with $5 million annually during his tenure there.
NBC Sports
Later, in 2005, Madden joined NBC Sports as a color commentator for Sunday Night NFL games.
There is broadcast began in the 2006 season. Until October 13, 2008, Madden has a 476-weekend streak of consecutive appearances in broadcasting.
Madden's final broadcasting job was the 2009's Super Bowl XLII.
He became the first sportscaster to appear in the Super Bowl on all the "big four" American sports broadcasting networks. Following this, he retired from his outstanding broadcasting career.
John Madden: Other Media
Radio
Madden returned to San Francisco's KCBS AM radio in 2017 on his morning on-air chat. He has also done sports commentaries on the Westwood One radio network.
Films
During a television broadcast, Madden played a small role in the film Christine as an American football team's coach. He was also featured in 1994's sports comedy film Little Giants.
In the 2000's sports comedy film The Replacements, Madden played the role of broadcasting the make-believe games in the movie as himself. His partner Summerall was alongside him in the position.
Advertisements
Madden was the biggest star in his broadcasting days. Aware of this, big companies like Ace Hardware, Outback Steakhouse, Verizon Wireless, Toyota, and many others chose him for their radio and television appearances.
He also appeared in public service announcements on radio and television.
Shows
Madden was featured in a 1982 episode of NBC's Saturday Night Live, hosting the musical guest Jennifer Holiday. In 1999, he showed up for the "Sunday, Cruddy Sunday" episode of The Simpsons.
Apart from these, Madden was seen in the music video of U2's song "Stuck in a Moment You Can't Get Out Of" and Paul Simon's single "Me and Julio Down by the Schoolyard." He had football-related roles in both of them.
Video games
Electronic Arts Sports (EA) has featured his voice and name in the Madden NFL football video game series since 1988. The games have gained such popularity that TV shows feature the competitions in the game.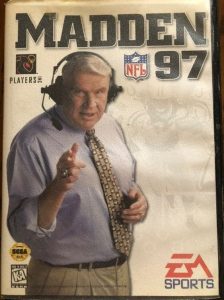 Many people recognize him as the game's figure ahead of his coaching and broadcasting career. He continues to feature in the series.
All-Madden
All-Madden is a team with players who fit his philosophy of football gameplay. He created the team in 1984 and continued it no matter which sports network he worked for.
the All-Madden Team has become synonymous with greatness.
The 2000's All-Time All-Madden team and 1997's All-Madden Super Bowl team are some of the editions. Howie Long, Dan Hampton, Walter Payton, and Bruce Smith are some of the NFL stars in various All-Madden groups.
Books
Madden has published many books in his life. Among them, "Hey Wait a Minute, I wrote a book," "One Size Doesn't Fit All," "One Knee Equals Two Feet," and "All-Madden" are featured in the New York Times best-seller list.
John Madden: Awards
Madden won Super Bowl XI with the Oakland Raiders in his coaching career. The 2002 Pete Rozelle Radio-Television winner has been inducted into the Pro Football Hall of Fame (2006), California Hall of Fame (2009), Bay Area Sports Hall of Fame (1991), and NSSA Hall of Fame (2010).
Madden has won Emmy Awards sixteen times for outstanding sports personality (analyst) and outstanding technical team remote.
The 1970 AFL coach of the year was also awarded NSSA National Sportscaster of the Year in 1984.
John Madden: Net Worth and Salary
After he began his career in broadcasting, Madden generated a lot of income. Although he had earned a good salary at the Oakland Raiders, sports networks like ABC provided him with an annual wage of more than $5 million.
Moreover, he had 4-year $32 million deal with Fox. Also, with NBC, he earned an annual $9.5 million in his late days there.
John Madden's net worth as of 2022 is $200 million.
EA Sports signed a contract worth $150 million for Madden NFL. The video game has earned $4 billion and provides Madden a royalty sum of $2 million every year.
Besides, he gathered fortunes from endorsements with Toyota, Verizon, Tinactin, etc.
John Madden: Wife and Children
Madden married Virginia Fields on December 26, 1959. The couple met in a bar in Pismo Beach, California. They gave birth to two sons: Joseph and Michaels. They reside in their beautiful mansion in Pleasanton, California.
The boys also inherited the love of football from their Father. Joseph played football at Brown University. Also, Michaels started as a receiver on Harvard University's football team.
John Madden: Social Media
John Madden uses an unverified Twitter account as his social media handle.
Twitter: 213,400 Followers
John Madden: Common queries
What does John Madden fear most?
John Madden feared flying. Consequently, he traveled mostly in coach buses and trains. Theories suggest that his fear was due to the 1960's plane crash of the Cal Poly football team.
Why did John Madden stop coaching?
After the end of the 1978-79 season, Madden retired as a coach due to deteriorating ulcer conditions and work stress.
What is John Madden doing now?
Before his death, John made irregular appearances on radio call-in shows on KCBS Radio. It seemed he could not get away with his love for the game.
How many Super Bowls did John Madden's Raiders win?
John Madden won one Super Bowl with the Oakland Raiders in the 1976-77 season.
When did John Madden die?
John Madden was killed on December 28, 2021, at 85.