"Do you believe in miracles? Yes!" The 80's Olympic fans could not forget this final-second exclamation.
The line was delivered by one of the greatest sportscasters of the generation Al Michaels at the 1980 Winter Olympic hockey game between the U.S. and the Soviet Union.
The American sportscaster is also the first to cover all four top sports competitions in the U.S., NFL, NHL, NBA, and MLB.
After having approximately three decades of tenure with ABC Sports, Michaels now serves at NBC.
Many National Football League fans may know him for calling play-by-play at Monday Night Football on ABC and Sunday Night Football on NBC.
Likewise, Michaels is also known for famous calls in other sports, including the earthquake-interrupted Game 3 of the 1989 World Series and the Miracle on Ice at the 1980 Winter Olympics.
Although his voice has been familiar to almost every NFL fan over the past three decades, many of them may want to read all the pages of his career.
In this article, we have shed light on his personal and professional life. So follow through to the end to know everything about this wonderful personnel.
Quick Facts:
Full Name
Alan Richard Michaels
Birth Date
November 12, 1944
Birth Place
Brooklyn, New York City, U.S. A
Nick Name
Al Michaels
Religion
Christianity
Nationality
American
Ethnicity
White
Education
Alexander Hamilton High School
Arizona State University
Horoscope
Scorpio
Father's Name
Jay Leonard Michaels
Mother's Name
Lila Roginsky
Siblings
Two
Age
78 Years Old
Height
5 feet 8 inches (1.78 m)
Weight
81 kg (178 lbs)
Sexual Orientation
Straight
Hair Color
Light Brown
Eye Color
Dark Brown
Build
Chubby
Marital Status
Married
Spouse
Linda Anne Stamaton (m. 1966)
Children
Jennifer Michaels, Steven Michaels
Profession
Sportscaster, Commentator
Active years
1964–present
Net Worth
$30 million
Salary
$6 million
Broadcasting Affiliations
NBC, ABC, CBS
Social Media
Twitter
Merch
Books, Autographs
Last Update
November, 2022
Where is Al Michaels from? Early Life, Family, and Education
Alan Richard Michaels shortly, Al Michaels was born in Brooklyn, New York, to his parents, Jay Leonard Michaels and Lila Roginsky.
Besides his parents, Al grew up with his brother David Michaels and sister Susan Michaels.
The Brooklyn Dodgers fan went to Alexander Hamilton High School in Elmsford, New York. With economic instability, the family had to move to Los Angeles.
Later, after graduating high school, Michaels joined Arizona State University. There, his majors were radio and television, and his minor was journalism.
In his college days, Michaels was a sportswriter for the university's independent student newspaper, The State Press.
Besides, Michaels called for the campus radio station in football, basketball, and baseball games of the Sun Devils (the university's athletic team).
Al Michaels | Early Career
Michael began his career in sportscasting for the Los Angeles Lakers in 1967 as a color commentator.
He served there with Chick Hearn on the team's radio broadcasting for a brief period. A year later, he moved to Honolulu to work for KHVH-TV as a sports anchor.
The 1969 Hawaii's "Sportscaster of the Year" called play-by-play for the Hawaii Islanders baseball team, the football and basketball teams of the University of Hawaii, and some other local high school football games.
In 1972, Michaels was the play-by-play commentator for NBC Sport's hockey coverage at the 1972 Winter Olympics in Japan.
Besides, he also aided in the network's coverage of the Fall Classic of the World Baseball Series for MLB's Cincinnati Reds.
Similarly, in 1974, Michaels called play-by-play for the San Francisco Giants and UCLA's basketball games. After leaving NBC, he joined CBS Sports in 1975 as the regional NFL announcer.
Al Michaels | Professional Career
ABC Sports
In 1976, Michaels signed for ABC Sports as a backup announcer for Monday Night Baseball. Becoming the lead baseball announcer in 1983, he covered many sports for ABC during three decades of his tenure there.
ABC Sports has been my professional home for the last 26 years
The 1980 Winter Olympics
At the 1980 Winter Olympics in Lake Placid, New York, Michael had the duty of broadcasting the ice hockey match between the U.S. and the Soviet Union.
He was chosen for the game due to his prior experience at a similar game in the 1972 Winter Olympics.
It was during this game Michael gave his most memorable call, "Do you believe in miracles? YES!"
The line suited the atmosphere as an unheard group of college lads from the U.S. team had to secure the Gold Medal against the favorites, the Soviet team. Michaels even stated,
When I look back, obviously, Lake Placid would be the highlight of my career. I can't think of anything that would ever top it.
The game is remembered with the nickname "The Miracle on Ice" due to Michaels' famous words.
Baseball Broadcasts
Michaels covered Major League Baseball games in 1985. Along with Jim Palmer, he called Game 5 of the American League Championship Series between California Angles and the Boston Red Sox.
He also has a one-time appearance on ESPN's Wednesday Night Baseball in 2003 as a guest commentator.
In the 1989 World Series between the Giants and the Oakland Athletics, the earthquake hit. Michaels and his partner Palmer were left with bruises while reporting.
This dedication provoked his nomination for Emmy Awards for news broadcasting.
Monday Night Football
Michaels served as a play-by-play announcer for ABC Sport's Monday Night Football broadcast for 20 seasons since 1986. He called Super Bowl in 1988 and 1991.
Dan Dierdorf and Frank Gifford assisted him until the 1997 season. After that, Boomer Esiason debuted on Sept. 7, 1998, replacing Frank Gifford, and assisted him until 1999.
Further, John Madden and Michaels duo gained immense popularity after Madden joined the show in 2002.
NBA Broadcasts
Michaels joined as the lead broadcaster of the NBA on ABC in the 2003-04 season.
Doc Rivers worked with him until Hubie Brown replaced him during the Shaquille O'Neal vs. Kobe Bryant game on Christmas Day 2004. Later, the duo became ABC's number one broadcast team.
However, Michaels received numerous criticisms for not being "a basketball guy" and lacking enthusiasm and confidence.
Some also said that he made very long explanations and was thus suited for baseball and football broadcasts.
NBC Sports
MNF moved from ABC to ESPN before the 2006 season. Thus, Michaels ended his 30 years of tenure with ABC and 20 years with MNF to join Madden on Sunday Night Football on NBC.
He was "traded" between NBC and ESPN's parent company Disney for the rights to the cartoon character Oswald the Lucky Rabbit.
The Michaels-Madden pair called together until 2009. After that, Cris Collinsworth replaced Madden. Michaels has called Super Bowls XLII, XLVI, XLIX, and LII for NBC. Identically, he eats his dinner during his telecast.
Olympic host
Michaels was the daytime host for the 2010 Winter Olympics coverage and co-hosted the closing ceremony for NBC.
In the 2012 Summer Olympics, too, he was given a similar role. Likewise, he hosted the 2014 Winter Olympics on weekdays and daytime on weekends on NBCSN.
He also hosted daytime coverage of the 2016 Summer Olympics. Besides, Michaels presented the Premier Boxing Championship on NBC Saturday nights.
MLB Network
Michaels, with Bob Costas, called the baseball game between the New York Mets and San Fransisco Giants in 2011 for MLB Network.
Al Michaels | Achievements and Honors
The five-time Emmy Award winner has been awarded the National Sportscasters and Sportswriters Association's National Sportscaster of the Year title three times.
He was also inducted into the NSSA Hall of Fame in 1998 and the Television Academy Hall of Fame in 2013. Similarly, he has also received a star on the Hollywood Walk of Fame.
The American Sportscasters Association's and Washington Journalism Review's Sportscaster of the Year has also received the Pete Rozelle Radio & Television Award.
He was awarded the Rozelle Award on Aug 2, 2013, during the annual Enshrinees' Gold Jacket Dinner in Canton.
Interestingly, that event is also where the Hall of Fame Class of 2013 received their gold Pro Football Hall of Fame jackets.
Moreover, Michales had also been awarded Walter Cronkite Award for Excellence in Journalism in 2002.
Not to mention, Alexander Hamilton High School's football stadium in Los Angeles is also named after Al as Al Michaels Field.
Al Michaels | Films
Michaels had a role in an episode of Hawaii Five-O. He also featured himself in the films Jerry Maguire and BASEketball, and the T.V. shows such as Coach and Spin City.
Al's voice can be heard during his call for the recreation of the 1980 Olympics game victory of the U.S. hockey team in the movie Miracle.
Moreover, he has also appeared in two episodes of the cable television series Arliss, portraying the older cousin of sports agent Arliss Michaels.
Likewise, Michaels has also appeared on Jimmy Kimmel Live! Show in 2015. His voice features in the computer game Hardball 3 and the Madden NFL series from 2003-2009.
Al Michaels's | Net Worth and Salary
Al Michaels easily falls on the list of the highest-paid persons on sports television. With a long career in broadcasting on ABC and NBC, Michaels has accumulated a good sum of health and rightly deserves to do so.
Al Michaels has a net worth of about $30 million as of 2022.
Michaels still has two years left on NBC, as per his contract. According to reports, he earns more than $6 million annually.
Michaels has published an autobiography, "You Can't Make This Up: Miracles, Memories, and the Perfect Marriage of Sports and Television," in 2014. The book reached the Bestseller List of The New York Times.
Al Michaels | Wife and Children
Michaels married Linda Anne Stamaton in August 1966. Linda and Al met when they were in the 10th grade and have known each other since they were 15.
Linda and Al both attended Hamilton High School in Los Angeles, which was where they met each other.
Besides being the greatest sportscaster, Al is also a caring husband and a great father. The couple has two children, Jennifer Michaels and Steven Michaels.
Both of his children are already married. Michaels' son Steven is the president and CEO of Asylum Entertainment, an independent film company in Los Angeles.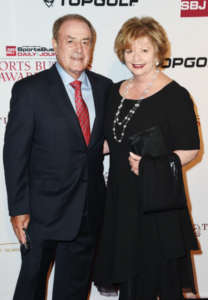 Moreover, Al and Linda currently reside in Los Angeles. The couple spends most of their time with their grandchildren.
Recently, they were also spotted taking their grandchildren to a hockey game. They have a hockey-obsessed 13-year-old grandson, though.
Social Media Presence:
Al Michaels has an unverified Twitter account as his only social media handle.
Twitter: 1,129 Followers
Minnesota vs Green Bay#SNFonNBC pic.twitter.com/HvbkgphaqK

— Al Michaels (@alrmichaels) December 24, 2017
Some FAQs:
Is David Michaels a brother of Al Michaels?
David Michaels is Al's younger brother. He is a television producer who produced NBC's Coverage of the Olympic Games, Fox Sport's Beyond the Glory series, and other sports shows.
Why was Al Michaels arrested?
Al Michaels was arrested in April 2013 and was charged with driving under the influence. The police released him after five hours.
What is Al Michaels's role in the movie Miracle?
In the 2004 movie Miracle, Michaels recreated the legendary 1980 Olympics commentary with his broadcasting partner Ken Dryden. In the movie, the director used the last 10 seconds of the original call, "Do you believe in miracles? YES!
What is Al Michaels's food habit?
Al Michael is a vegetarian. He also takes alcohol but does not smoke.
Why was Al Michaels pulled from Sunday Night Football in week 15?
Al Michaels was pulled from Sunday Night Football in week 15 due to NBCUniversal covid-19 safety protocols.
Who did Disney trade for Oswald?
Al Michaels made the Disney trade for Oswald. Oswald is a cartoon character created in 1927 by Walt Disney for Universal Pictures. Likewise, it belonged to Universal for a long time, until 2006.
In February 2006, Disney CEO Bob Iger decided to get Oswald back and initiated a trade with NBC Universal. The trade involved sending sportscaster Al Michaels from ABC/ESPN to NBC Sports.
About the trade, Al Michaels said, "I'm going to be a trivia answer someday."