Johnny Manziel, one of the brightest talents in college football, found constant support in his sister. He lived a controversy-filled career against media attention and anticipation.
Former NFL player Johnny Manziel recently opened up on many troubles he went through in his life. His sister Meri took to Instagram to voice her support for her brother.
Moreover, from mental health to substance abuse, the "failed prodigy" battled it all with the strength and support of his family.
Johnathan Paul Manziel is a 30-year-old former NFL quarterback who now plays for the Zappers of Fan Controlled Football (CFC).
Johnny started playing football in high school and shocked the recruiters and critics with his exceptional gameplay.
With several college offers on the table, Manziel committed to play at Texas A&M and became the first freshman ever to win the Danny O'Brien Award and the Heisman Trophy.
Despite many reports coming out on his arrogant behavior, Jonny made it to the NFL as the 22nd overall pick. He joined Cleveland Browns with the hope of ruling the league.
However, Johnny didn't take professional life seriously and got into partying, drinking, and drugs.
His short NFL stint ended with the Browns releasing the quarterback in 2016 because of multiple controversies.
Nonetheless, after his downfall, he had brief stints with several teams in the CFL and AFL.
Meet Sister of Johnny Manziel: Meri Manziel
Through his ups and downs, the one person who has constantly been by his side is his sister, Meri Manziel.
Meri is four years younger than her brother and shares the same birth month. She is married to Ty Malechek, and the couple has two daughters.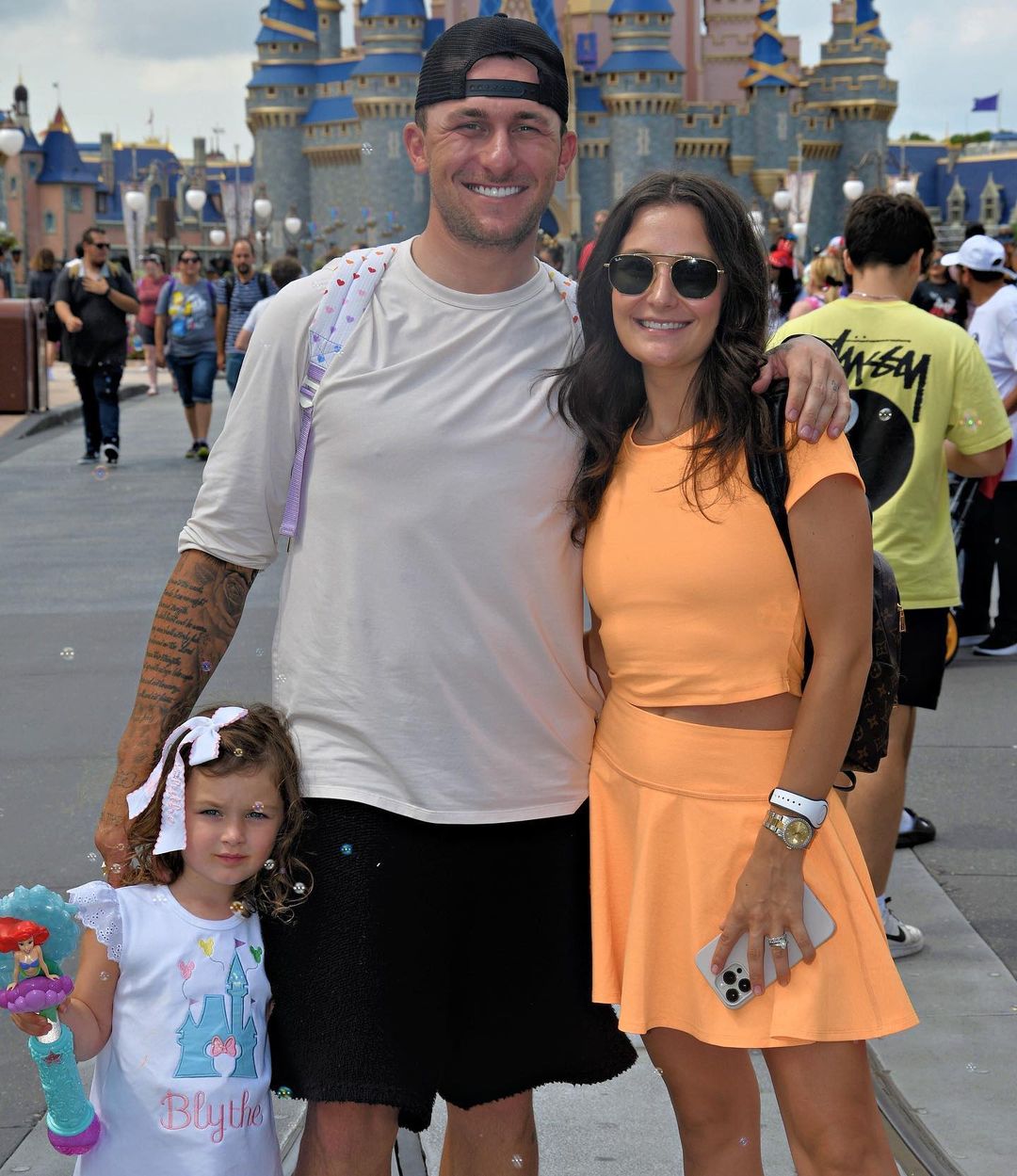 Johnny's sister attended Texas A&M University and later became a realtor at Lone Star Realty Group/Compass in College Station, Texas, in 2018.
She has a strong social media presence with 16k Instagram followers, where she also promotes her product on LTK.
She shares an excellent relationship with her brother, and her daughters love their uncle. Especially the older Blythe, who loved welcoming her uncle at the airport.
Moreover, through all the controversies Johnny faced, Meri has always supported him.
"I know who he is as a person, and I've never been concerned or worried about anything he's ever done," she said.
Johnny Manziel: Family Tree
Johnny holds Italian heritage from his mother's side, and his ancestors immigrated to the USA from Lebanon. They settled in the Southern state of Louisiana.
His Parents
Johnny Manziel is the son of Paul Manziel and Michelle Manziel. Johnny's parents inherited millions of dollars from Paul's grandfather, Bobby's oil empire.
Coming from a wealthy family, Johnny had a very comfortable upbringing.
Moreover, Johnny shares a shaky relationship with his father. When he started using drugs, Paul told ESPN his son is a druggie and needs help; he even wished Johnny would go to jail cause it would help him.
Johnny's mother, Michelle, is a realtor and frequently shares her son's photos on his birthday and other occasions.
Untold: Johnny Football
Netflix recently released a documentary showing Johnny's life through interactions with his friends, coaches, parents, and Johnny himself.
The documentary dives deep into his life, his controversies, and his relationship with his family.
Furthermore, it shows how the failed NFL player battled mental issues like Bipolar Disorder and suicidal thoughts.
Fans are showering prayers for Manziel, for the life he's had and the struggles he endured.