It takes a lot of hardship, expertise, and a high level of strength for a young woman to succeed in the physically and mentally challenging sport of Motocross.
Jolene Van Vugt has successfully met all the challenges earning respect and numerous achievements in her chosen field throughout her career.
Moreover, she is the first Women Canadian Motocross National Champion and Guinness world record holder to backflip a full-sized dirt bike.
Jolene's colorful personality, outstanding professionalism, and positive outlook on life have made her one of the most influential women in the Motocross industry.
Hence, Today we will be discussing Jolene's life and her incredible journey of becoming a stuntwoman. We will also talk about her net worth, family, body measurements, personal life, and many more.
Let's start with the quick facts below!
Quick Facts
Full Name
Jolene Van Vugt
Birth Date
September 17, 1980
Birth Place
London, Ontario
Nick Name
Nitro girl, Jo
Religion
Unknown
Nationality
Canadian
Ethnicity
White
Education
Unknown
Horoscope
Virgo
Father's Name
Bill Van Vugt
Mother's Name
Tina Van Vugt
Siblings
Michelle Van Vugt
Billy Van Vugt
Age
43 Years Old
Height
5 feet 8 inches (1.75 m)
Weight
64 kg
Shoe Size
9 (US)
Hair Color
Blonde
Eye Color
Dark Brown
Body Measurement
Unknown
Figure
Unknown
Married
No
Boyfriend
Unknown
Children
No
Profession
Stuntwoman
Net Worth
$2 million
Salary
$500,000
Currently Works At
Hollywood Stuntwoman
Affiliations
Nitro Circus
Active Since
2003-Present
Social Media
Twitter, Instagram
Merch
Helmet, Gears
Last Update
November, 2023
Jolene Van Vugt | Early Life, Family, and Education
Jolene Van Vugt is a professional stuntwoman and motocross racer best known for her excellent achievements in freestyle motocross competitions, stunt performances, and multiple Guinness world records.
Likewise, she is the daughter of Bill Van Vugt and Tina Van Vugt. Van Vugt grew up with her two siblings, her older sister Michelle Van Vugt and older brother Billy Van Vugt. Her brother Billy was also a motocross lover like her.
Furthermore, Jolene's father influenced her to step into the world of motocross as he was an enthusiastic motocross racer lover.
As a result, she got hugely impacted, and with little thought of the motocross path, she convinced her father to buy her a dirt bike at the age of 11.
Jolene decided to take motocross seriously and chose to focus full-time on it. Her enthusiasm and courage quickly made her rank on top of Canadian women's motocross earning multiple championships.
Likewise, Jolene's academic and anything linked to her education is not known.
Jolene Van Vugt | Age, Height, and Nationality
Having been born in the year 1980 makes Jolene's age 41 years old at the moment. Moreover, she was born on September 17, which makes her birth sign Virgo.
And from what we know, people who fall under this sun sign are typically Strong, perfectionist, hardworking and Passionate at the same time.
Moving on, Jolene stands 5 feet 9 inches (1.75 m) and weighs around 64 kg (141 lbs). Aside from this, her body measurements are unknown at the moment. But we believe it requires many diet plans and workouts to maintain such a sound and athletic body.
Not to mention, Jolene has got a pair of dark brown eyes and long blonde hair. Likewise, She is a Canadian citizen whose ethnicity belongs to White.
Jolene Van Vugt | Professional Career
2003-2006
Van Vugt began her professional career in 2003, thus winning the CMRC Ladies Ontario Provincial Champion.
Subsequently, she became the second female to win CMX Canadian National Championship and TransCan Canadian Grand National Championship that same year.
Furthermore, Jolene started competing in many motocross events. In 2004 she again won the CMRC Ladies Ontario Provincial Champion and lifetime National WMA Pro National Series.
Besides that, she also won the first position at CMX Ladies Canadian National Championship.
Also, She made history in 2005 by being the first woman to backflip a full-sized dirtbike and gained the third position in Ladies Ontario Provincial.
Similarly, she has also participated in WMA Pro Nation Glen Helen, Hangtown, and ThunderValley championships winning all of them in specific rankings.
Soon after that year, In 2006, she again made history, setting a female backflip distance record of 60 feet ramp to dirt. With the proper training and guidance from her talented best friend, Travis Pastrana, Jolene effortlessly performed the backflip setting history.
<<Find more about Travis Pastrana>>
Likewise, she also made an appearance in WMA Pro Glen Helen, ranking 16th, and in WMA Pro National Hangtown, ranking 18th. Sadly, she couldn't participate in the remaining season due to her injuries.
2007-2010
After recovering from her injuries, Jolene returned to action in 2007 and became a ladies champion, winning the TransCan Canadian Grand National Championship.
Soon after that, she set the world record of being the first woman to backflip a dirt bike into the Grand Canyon.
Moreover, she also participated in the 2007 WMA Pro National Budds Creek and Steel city, ranking 13th and 15th. The Stuntwoman set an impressive performance in every championship.
Likewise, In 2008 Jolene set two Guinness World Records for the first woman to backflip a dirt bike and for the longest female backflip. Similarly, she also came 11th in the WMA Pro National Southwick championship.
Not to mention, Van Vugt also set history in 2008, being the first woman to jump at MOD FMX in Austria and the first woman to backflip a full-sized dirt bike ramp to ramp in 2010.
Additionally, In 2010 she also participated in X-Games Women's Supercross, ranking 7th. Later that year, she also performed as FMX & BMX in Live-Action Sports show Nitro Circus Live in Australia.
2011-2015
Jolene further made her appearance in 2011 for Nitro Circus Live New Zealand Tour as FMX & BMX Performer. She soon caught the Filming industry's attention and performed as the Main Cast member in the Nitro Circus 3D Movie.
Moreover, in 2012 Van Vogt was recorded for the fastest land speed record on a motorized toilet. She also participated in NCL European Tour and became the first female to backflip a combo trick and one-hand backflip.
Unfortunately, In 2015 Jolene became the victim of a horrible accident while performing at Nitro Circus Tour and got seriously injured.
The injury required reconstructive surgeries of her forehead, nose, eye socket, and right arm with a spacious recovery period. Van Vugt said in one of her interviews,
Unfortunately, yes, part of our job does entail injury, some a little bit more extreme than others. This, for me, is one of my worst injuries.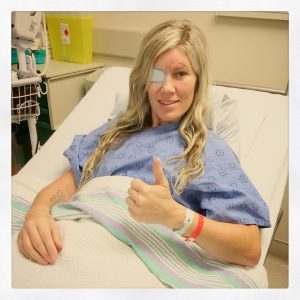 Eventually, she recovered after multiple surgeries and returned to action with all of her fans' respect and support. Not to mention, Jolene has survived several accidents as a stuntwoman and is a true inspiration to all women.
Film Career
Jolene made her appearance in several movies and series. Currently, she is also working as a Hollywood stunt performer. Below is a list of some of her films:
The Dark knight Rises (2012)
Ending the knight (2012)
Nitro Circus (2009)
Nitro Circus: The Movie (2012)
Action Figures (2015)
Nitro Circus Crazy Train (2015)
Nitro Circus live (2012-2014)
Ending the knight (2012)
In the shadow of the moon (2019)
Jolene Van Vugt | Net worth and Salary
In particular, the Stuntwoman is successful not professionally but also financially. As of 2023, Jolene has accumulated a net worth of around $2 million, with her average annual salary reported to be approximately $500,000.
<<Jessie Graff Bio: Husband, Age, Height, Career, IG, Net Worth, Salary Wiki>>
Moreover, Van Vugt is also working in Hollywood as a Stunt performer and earns a considerable amount for performing daring acts and stunts.
Besides that, Jolene is also part of the famous action sports show Nitro Cirus, which has also drastically boosted her net worth.
Likewise, being a stuntwoman, she has won several championships and earned a hefty amount through cash prizes and other winnings.
Jolene Van Vugt | Personal life
Sadly, as much as Jolene's professional life is known, not much has been found regarding her personal life. It seems that Jolene likes to keep her private life to herself and is not that open about her love life.
As of now, there is no valid information regarding her marriage to anyone. However, Van Vugt was rumored to marry the Canadian stunt performer of the hit TV show Nitro Circus Jim DeChamp.
Both were often seen together in many functions and spotted at the 2009 VMA awards, so the rumors could also be true.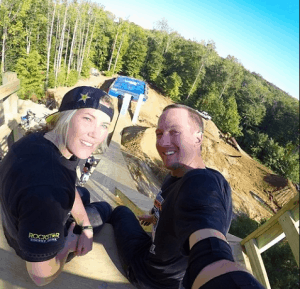 Although Jolene has not confirmed these rumors yet, so, at present, details regarding her love life are pretty much a mystery to everyone.
Social Media Presence
Jolene is very active in social media and has a huge fan following. She frequently shares her opinions and posts pictures of her achievement, friends, and family on different social platforms and keeps her fans updated.
Additionally, it is clear from her uploads that she shares a passion for tattoos and does have one herself. Remember the time when she tweeted that she loved hanging out and having late-night tattoos?
Not to mention, Jolene has over 242k followers on her Instagram account and 76.9k followers on her Twitter account.
Some FAQs:
What is Jolene Van Vugt doing now?
The motocross champion and professional Stuntwoman Jolene is currently working as a Hollywood Stuntwoman.
What happened to Jolene Van Vugt in Nitro Circus?
The first female member of the Nitro circus, Jolene, was jagged with a scar on her forehead and her right arm. She got multiple surgeries, including 17 screws into her arm with one large plate and reconstruction of her nose and left eye socket.
Is Jolene Van Vugt married?
According to sources, Jolene is still single and hasn't married or engaged with anyone till now.
Where do Jolene Van Vugt live?
Jolene Van Vugt currently resides in London, Ontario, Canada, along with her family.