Jessica Lauren Graff is an American professional stunt performer and sports-focused television personality. She has had training in five other martial arts, holds a black sash in Kung Fu, and is a black belt in Taekwondo. She is a champion gymnast, a pole vaulter, and a professional stunt performer.
For centuries, lines like "this is a man's job or leave it for the men to decide" have been used. But in the 21st century, an increasing number of successful independent women are bucking the age-old traditions day by day.
Likewise, one such female that emanates success is Jessie Graff.
On her own, Graff has managed to become one of the most well-known tv personalities thanks to the American Ninja Warrior. However, that is not the primary source of her incredible $3.5 million net worth.
Instead, it is her 13-year-long career as a stuntwoman for some of the biggest Hollywood blockbusters.
So get your safety gears on, folks, as we are going to take you through this stuntwoman's entire life. From her early life to her current days, you will find it all. Besides that, there is a host of other information that is sure to fulfill your appetite.
But before we begin, let's have a brief look at some facts.
Quick Facts
| | |
| --- | --- |
| Full Name | Jessica Lauren Graff |
| Birth Date | January 12, 1984 |
| Birth Place | New York City, New York, U.S.A |
| Nick Name | Not available |
| Religion | Christian |
| Nationality | American |
| Ethnicity | White |
| Education | Georgia Tech, University of Nebraska |
| Horoscope | Capricorn |
| Father's Name | Tom Graff |
| Mother's Name | Ginny MacColl |
| Siblings | No |
| Age | 39 years old |
| Height | 5 feet 8 inches/1.72 m/172 cm |
| Weight | 125-135 lb/56.7-61.2 kg |
| Shoe Size | Not Available |
| Hair Color | Blonde |
| Eye Color | Blue |
| Body Measurement | Not available |
| Build | Muscular |
| Married | Yes |
| Boyfriend | No |
| Spouse | Not Revealed |
| Children | No |
| Profession | Stuntwoman, TV Personality |
| Filmography | 78 credits |
| TV Show Appearance | American Ninja Warrior, Wipeout |
| Salary | $200,000 per year (Estimation) |
| Net Worth | $3.5 million |
| Social Media | Instagram, Facebook, Youtube |
| Last Update | November, 2023 |
Early Life, Family & Education
Tom Graff and Ginny MacColl gave birth to their daughter, Jessica Lauren Graff, on January 12, 1984. Moreover, she was born in New York City but grew up in Frederick, Maryland.
Just like her daughter, Ginny is also an American Ninja Warrior. But, she is not only limited to that.
Amazingly, this 39-year-old mother is also a dancer, actor, and swimmer.
Moving on to her education, Graff went to Urbana High School in Frederick, Maryland. Jessie was a pole vaulter, Track Team Leader, and honor roll student during her time at Urbana.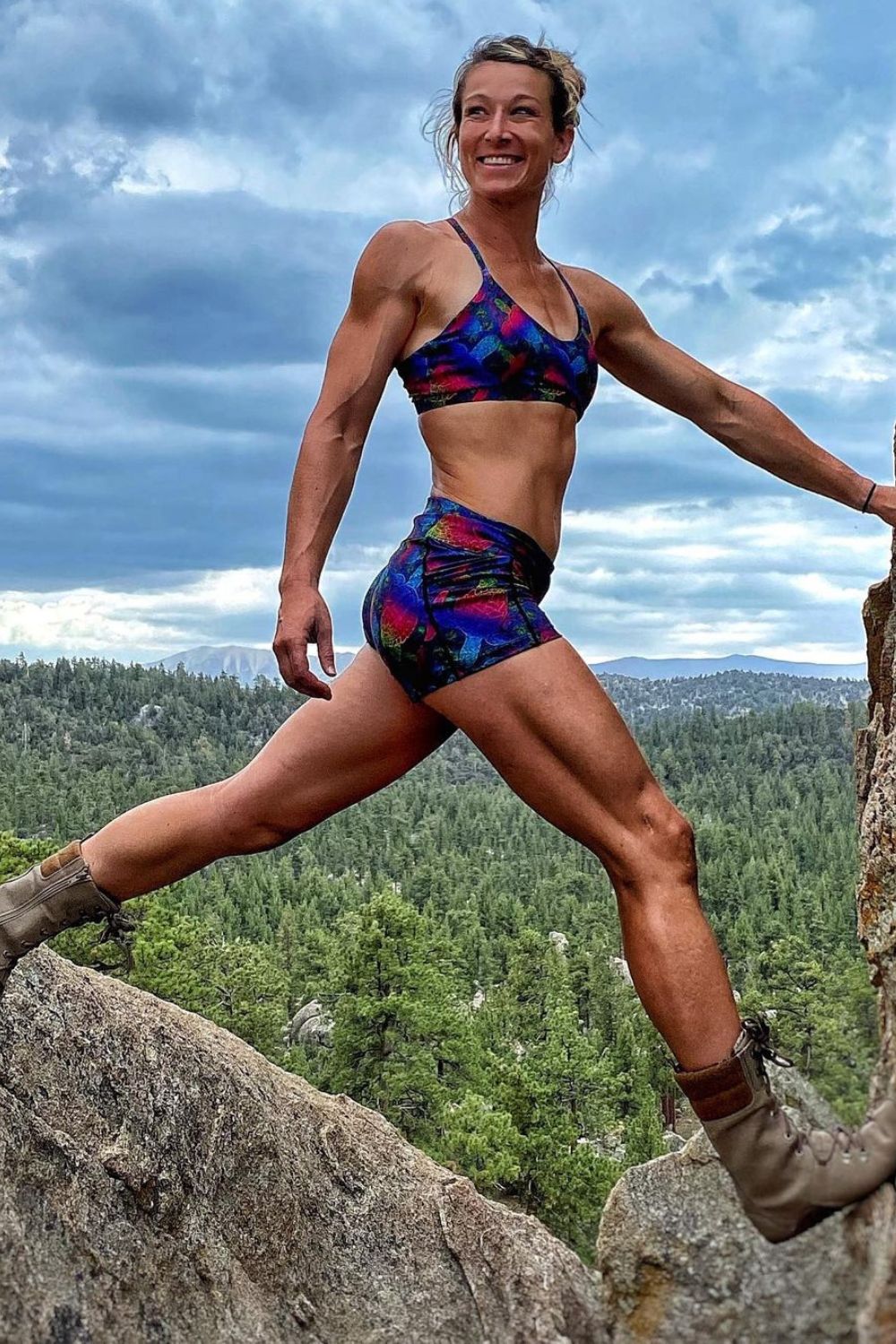 Additionally, she was also a member of the National Honor Society. After that, Graff majored in aerospace engineering at the Georgia Institute of Technology and theatre at the University of Nebraska (UNL).
Likewise, she graduated from UNL in 2007. Besides that, Jessie holds the pole vault record at the University of Nebraska and Georgia Tech.
Workout And Diet
Jessie Graff spends most of his days in a chaotic work schedule. But how big her work time may be, she makes sure to gain at least eight hours of complete sleep.
Right as her day starts, Jessie munches her diet and makes sure to have a healthy balance of protein and carbs.
Well, for breakfast, she starts with an almond milk latte and a breakfast sandwich or a wrap filled with eggs and as many vegetables as possible. Following it, she commences her training with boxing, capoeira, and Wushu.
Later, for lunch, she involves in leafy greens, fish or chicken, beans, mixed veggies, and brown rice or sweet potato. Often with lunch, Jessie drinks green tea or a latte.
Also, throughout the day, she has to maintain her energy level and hence tries to eat a meal or snack every three to five hours.
Additionally, after long hours of shooting, she goes to the gym to do some strength training for an hour and a half. Lastly, Jessie dives into her dinner, which usually consists of spicy salmon and asparagus with a dark green salad and fruit with plain Greek yogurt.
Therewith, Jessie ends her long day finally with an Epsom salt bath, foam rolling, and Graston scraping.
What Does Jessie Graff Do For A Living? Career
Jessie started her career in 2007 as a stunt woman. However, she did do a gig back in 1998. Specifically, she worked on Sports Theater with Shaquille O'Neal as a stunt double.
But, after nine years of absence, Graff formally started her professional career with Live Free or Die Hard in 2007. Since then, Jessie has worked in 78 movies and tv series as a stuntwoman.
What Movie Is Jessie Graff In? TV Career
She has worked in X-Men: First Class, Another Period, Knight and Day, Leverage, John Carter, and Wonder Woman. Likewise, her most recent high-profile stunt work was for CBS/CW series Supergirl in 2016.
Aside from that, Graff has also appeared in the popular tv show American Ninja Warrior (ANW). However, her first TV game show appearance happened to be on another popular show, Wipeout, in 2008.
Moving on, Jessie first appeared in ANW in the fifth edition of the show in 2013. Subsequently, she became the first woman ever to qualify for the City Finals course.
Another highlight of her time in ANW came in season 8 when she became the first woman to complete the new 14 1/2 foot Warped Wall. In doing so, Graff also reached another City Finals.
Besides that, Jessie has competed in every edition of the American Ninja Warrior from 2013 onwards. The only exception was in 2014, when she could not compete due to a knee injury.
Age, Height & Horoscope
Jessie was born in the year 1984. Hence, she is 39 years old as of 2023.
View this post on Instagram
Moving on, Graff stands at 1.72 m and weighs 125-135 lb. She is as fit as one can get. Being a stuntwoman and a professional obstacle course competitor, she needs to be in shape all the time.
And, about her horoscope, Graff enjoys her birthday on January 12. As a result, she is a Capricorn.
People who fall under the sign of Capricorn are the ultimate worker bees. Furthermore, they are organized, goal-oriented, practical, and don't mind the hustle.
Injury
Graff overestimated her rehabilitation in order to compete in season 12 of American Ninja Warrior, and it cost her.
In season 12, Jessie was unable to reach success. The injured stuntwoman overexerted herself, exacerbating her already-partially-healed wounds.
I was a fool and disregarded the agony, I could never rest, I overtrained before I rebuilt, I fell and hit the ground, says Graff.
Jessie is scheduled to compete in season 14 of American Ninja Warrior after successfully completing the difficult restoration phase.
What Is Jessie Graff's Net Worth? Salary
As of 2023, Jessie has a net worth of $3.5 million accrued from her career as a stuntwoman and a tv personality. Initially, she started as a stunt woman in 2007.
However, from 2013 onwards, Graff became a celebrity herself due to her participation in the American Ninja Warrior Show. Hence, Jessie deserves all the money she has.
Talking about her salary, unsurprisingly, Graff has decided to keep it to herself. However, our team researched and found out that stuntwomen in the U.S. earn anywhere between $5,000 all the way up to $250,000 per year.
Likewise, because Jessie has 78 films worth of experience, we are pretty confident that she takes home upwards of $200,000 per year.
Is Jessie Graff In A relationship? Husband & Daughter
Jessie Graff, the renowned athlete and competitor on "American Ninja Warrior," has managed to keep her personal life private, leading to speculation about her relationship status.
While she has never publicly discussed a significant other or romantic partner, there have been rumors and assumptions about her love life.
Some fans and media outlets have linked her to fellow competitor Drew Drechsel as a possible boyfriend, but Drew clarified in a 2018 interview that he already had a girlfriend and Jessie was married to someone else.
Confirmation of Jessie's marriage came during an Instagram Live session on April 12th, 2020.
However, she did not disclose the identity of her spouse, leaving fans curious about the mysterious man in her life.
Jessie has chosen to keep this aspect of her personal life out of the public eye, maintaining a level of privacy despite her fame.
Frequently Asked Questions (FAQS)
Does Jessie Graff have a tattoo?
Jessie is seen with a tattoo on her right shoulder. However, many are still in confusion if it's a real one.
Where does Jessie Graff live?
Jessie Graff lives a comfortable lifestyle in Los Angeles.