Jolien Boumkwo's parents come from mixed cultural backgrounds. Jolien's mother, Lieve Peeters, has Belgian roots, and her father has roots in Cameroon.
The 30-year-old Belgian athlete, Jolien Boumkwo, began representing her country in 2011.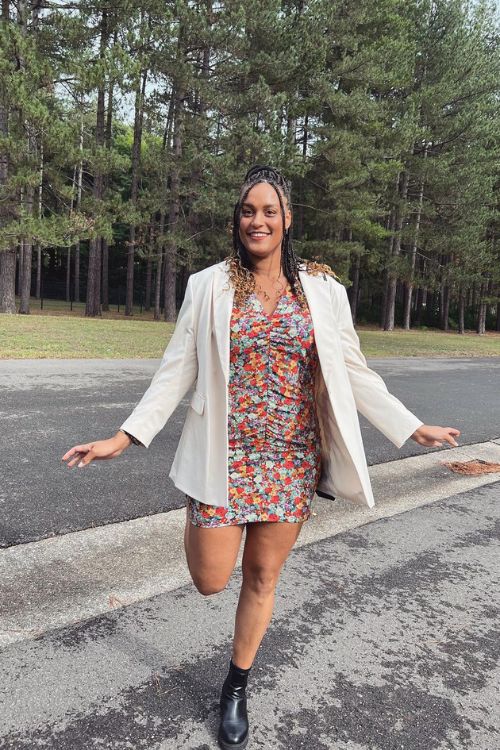 Known for her shot-put skills, Boumkwo impressed the world after competing in the 100-meter hurdles at the European Athletics Team Championships.
She stepped up for her injured teammate and saved her country from disqualification. But her effort wasn't enough to save Belgium from being relegated to second division.
The video of her carefully stepping over the hurdles quickly went viral over the internet, but at the same time, the shot-put athlete was praised for her effort.
Jolien Boumkwo Parents: Mother Lieve Peeters And Father
Jolien Boumkwo's parents raised two kids in Ghent, Belgium. Her mother, Lieve Peeters, has Belgian roots, and her father is from Cameroon.
Born on April 18, 1953, Lieve previously worked as a residential supervisor for adults with mental handicaps. She has given a glimpse of her life from her vlogs which she used to write during the late 2000s.
Lieve has given a link to her blogs on her Facebook handle, which is dedicated to sharing posts about her family life. She is also available on Instagram, where she has shared several posts about her two kids.
The Belgian athlete has shared several tribute posts for her parents on the photo-sharing platform. She shared a photo of her and her mom walking hand in hand on Lieve's 70th birthday.
Boumkwo has also shared posts of visiting her father's village in Cameroon with him, and her brother and friends.
Jolien Boumkwo Brother, Joram Kunde Is A Musical Artist
Jolien Boumkewo's older brother, Joram Kunde, is a singer, rapper, and musician based in Belgium. He goes by the stage name, his middle name Kunde.
The name pays homage to his Cameroon roots as in Basa, one of many languages spoken in Cameroon it means "Freedom."
He has been actively pursuing his career in music for more than 15 years. In 2021, the older brother of Jolien released his 19-track beat tape Meanwhile. He had previously released an EP titled From Roots To Fruits in 2018.
Recently, Kunde performed at the Brussels Jazzweekend with the band Indiago Mango. He has previously collaborated with several artists and mostly prefers doing projects with bands.
The singer is currently in a relationship with Joséphine Vandekerckhove, a Ph.D. candidate in Art History at Ghent University. Kunde has shared a few snaps with his partner on his Instagram handle. The couple's last snap shows them taking a trip to Morocco.
Jolien Boumkwo Boyfriend Maxime
The Belgium athlete, Jolien Boumkwo, is currently in a relationship with a man named Maxime.
The couple became Instagram official on December 22, 2020, with Jolien sharing a photo of her and Maxime surrounded by Christmas decorations.
Since then, Maxime has shared several romantic pictures of her and her beau for the world to see on her Instagram. There's no doubt that the couple adores each other.
In 2021, Jolien shared a photo of her and her man, which she captioned, "The smile maker and me."
The shot putter celebrated her first anniversary with Maxime on November 8, 2021, by sharing a series of romantic posts. And for their second anniversary, Jolien shared a cute video of her and her partner and their trips.