Jordan Bell is a rising basketball star in the United States. He is currently a center forward for the Fort Wayne Mad Ants of the NBA G League.
Prior to that, he had played for several other NBA G League teams, but Bell enjoyed his time with the Santa Cruz Warriors the most because they reached the NBA Finals and won the championship the same year he joined the team.
The athlete was a member of the Oregon Ducks during his college career. As a junior in 2017, Jordan earned second-team all-Pac-12 honors while also being named the conference's Defensive Player of the Year.
The Chicago Bulls picked him in the 2nd round of the 2017 NBA Draft. Bell won his first championship when the Golden State defeated the Cleveland Cavaliers in his rookie season in 2018.
Let's explore more about the athlete through the article here. But before getting into the details of Jordan Bell, let's take a look at quick facts about him.
Quick Facts
Full Name
Jordan Trennie Bell
Known As
Jordan Bell
Nickname
The Eraser
Birth Date
January 7, 1995
Birth Place
Los Angeles, California
Residence
Not Available
Religion
Christian
Nationality
American
Ethnicity
Black
Education
University of Oregon, Long Beach Polytechnic High School
Zodiac Sign
Capricorn
Father's Name
Not Available
Mother's Name
Carolyn Gray
Siblings
4, Josh Bell (brother)
Age
27 years old
Height
6'7″(2.01 m)
Weight
98 kg (216 lb)
Eye Color
Brown
Hair Color
Black
Body Type
Athletic
Profession
Basketball Player
Marital Status
In a relationship
Girlfriend
Clarissa West
Children
1
Beginning of Professional Career
2017–present
Teams

Golden State Warriors
Minnesota Timberwolves
Memphis Grizzlies
Washington Wizards
Erie BayHawks
Santa Cruz Warriors
Chicago Bulls

Achievements

Second-team All-Pac-12 (2017)
Pac-12 Defensive Player of the Year (2017)
NBA champion (2018)

Endorsements
Not Available
Net Worth
$3 million
NBA Draft Pick
2017 / Round: 2 / Pick: 37th overall, Selected by the Chicago Bulls
Position
Power forward
League
NBA
Merch of Chicago Bulls
The Storied Franchise, T-Shirt
Social Media Presence
Instagram, Twitter
Last Update
December 2022
Early Career
Jordan Bell grew up in Los Angeles and went to Long Beach Polytechnic High School in Long Beach, California.
Bell has committed to playing college basketball at the University of Oregon.
Bell sat out the 2013 season. As a redshirt freshman at Oregon, he averaged 5.1 points, 6.1 rebounds, and 2.7 blocks per game.
His 94 blocks set a new school record for a single season. As a redshirt sophomore, he averaged 5.4 rebounds, 7.0 points, and 1.8 blocks per game.
As a redshirt junior, he averaged 10.9 points, 8.8 rebounds, and 2.3 blocks per game, helping Oregon reach the Final Four.
Also, read about Michael Redd: NBA, Retirement & Net Worth
Jordan Bell: Age & Height
Jordan Bell, a basketball player, was born on January 7, 1995. As a result, he is now 27 years old.
Regarding Jordan's physical appearance, he has a well-kept body and appears to be very athletic. He keeps his body in shape by eating well and working out at the gym every day.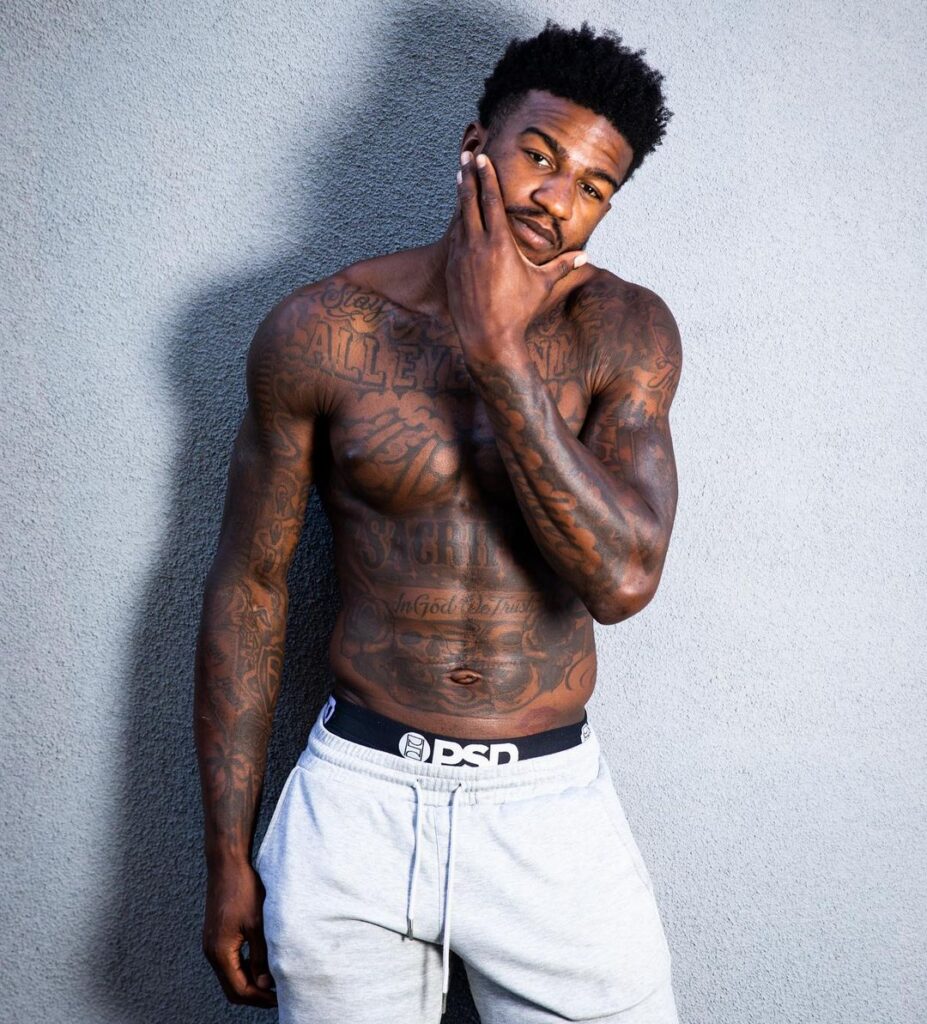 Furthermore, the American player is 6 feet 7 inches tall and weighs around 98 kg. Unfortunately, the rest of the player's body measurements are unknown. We will provide you with measurements as soon as possible.
Jordan, too, has tattoos on his body. He has attractive dark hair and eyes. His nationality is American, and the player is of black ethnicity.
Jordan's zodiac sign is Capricorn. Sapiens born under the Capricorn astrological sign are courageous, self-assured, and optimistic. They are also born leaders with exceptional leadership abilities, and he is no exception.
NBA Draft
On April 18, 2017, Jordan declared for the 2017 NBA Draft, and the Chicago Bulls selected him with the 38th pick. Later, the athlete was traded to the Golden State Warriors for $3.5 million in cash considerations.
Bell took part in the 2017 NBA Summer League. During a 133–103 victory over the Dallas Mavericks on October 23, 2017, he dunked the basketball after bouncing it off the backboard to himself.
The play enraged the Mavericks' players and coaches, sparking a social media debate about sportsmanship.
Jordan scored 16 points on 8-for-10 shooting in 16 minutes of action against the Orlando Magic on December 1, 2017, in a 133–112 victory.
He had a career-high 20 points on 9-for-13 shooting and a career-high ten rebounds in 25 minutes against the Los Angeles Lakers on December 22.
On April 14, 2018, Bell made his NBA playoff debut, scoring three points and grabbing two rebounds off the bench in a 113–92 victory over the San Antonio Spurs.
2018 NBA Summer League
Bell represented the Warriors in the 2018 NBA Summer League. The Warriors suspended Bell for one game on March 27, 2019, for "conduct detrimental to the team."
On May 16, 2019, Jordan came off the bench and scored a playoff career-high 11 points, along with three rebounds, two steals, an assist, and a block.
Jordan made his first career playoff start against the Portland Trail Blazers on May 20, contributing two assists, 7 points, and a steal in a series-clinching win.
The Warriors advanced to the NBA Finals in 2019 but were defeated in six games by the Toronto Raptors.
Other NBA Teams
The Warriors extended Bell a qualifying offer on June 28, 2019, making him a restricted free agent. Jordan signed a contract with the Minnesota Timberwolves on July 11.
Jordan and Robert Covington were traded from the Timberwolves to the Houston Rockets in a four-team, 12-player deal on February 5, 2020.
The following day, he was dealt with the Memphis Grizzlies in exchange for Bruno Caboclo and a 2023 second-round pick swap. The Memphis Grizzlies waived Bell on March 2, 2020.
The Capital City Go-Go, NBA G League, announced on March 11, 2020, that they had added Bell off waivers.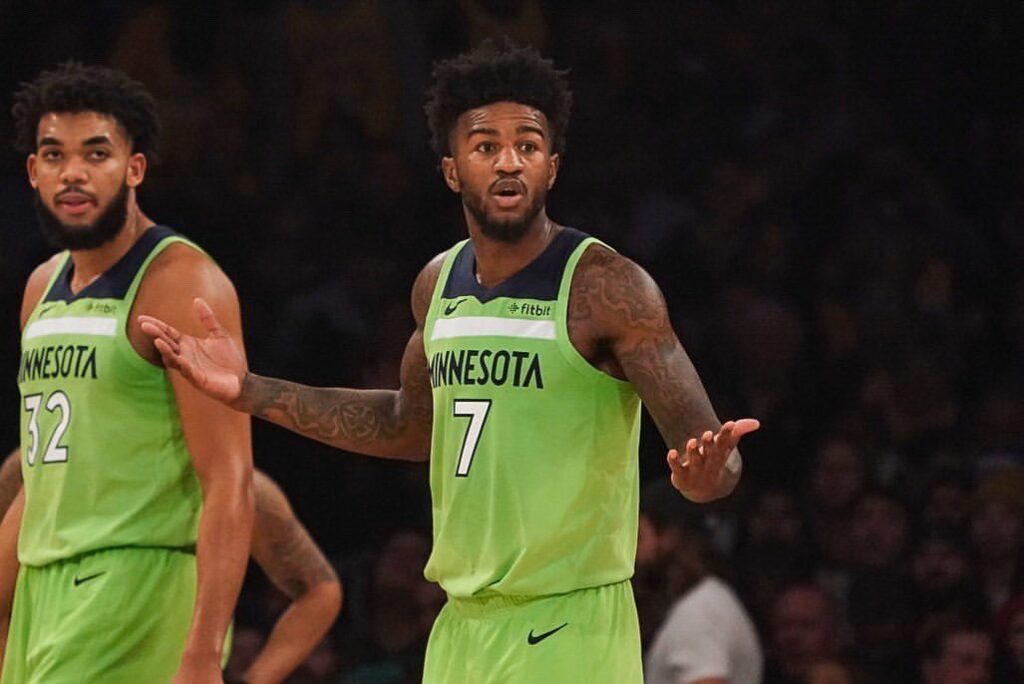 However, Bell had yet to make his on-court debut for that team when the 2019–20 season was suspended due to the COVID-19 pandemic. Later, the G League season was canceled.
The Cleveland Cavaliers announced the signing of Bell to a two-year contract on June 29, 2020.
On November 22, 2020, Bell was traded to the Lakers along with Alfonzo McKinnie in exchange for JaVale McGee; however, Bell was waived the next day.
2021 NBA Teams
Bell signed with the Washington Wizards on December 19, 2020, but was waived the next day and later added to the Erie BayHawks as a flex-affiliate player sent from the Capital City Go-Go on January 12, 2021.
However, prior to joining Erie, Bell signed a 10-day contract with the Wizards on January 23, 2021, but was released after three games on January 31.
The BayHawks re-added Jordan to the Erie roster for the start of the G League season on February 2, 2021. In seven games for Erie, he averaged 17.6 points, 9.3 rebounds, and 3.3 assists.
Jordan signed a second 10-day contract with the Wizards on April 14, 2021. The player signed a two-way contract with the Golden State Warriors on May 13, 2021.
The power forward joined the Atlanta Hawks for the 2021 NBA summer league in August 2021, making his debut in an 85–83 loss to the Boston Celtics, scoring 6 points in 17 minutes on 3–4 shooting.
He re-signed with the Warriors on September 24, 2021, but was released as one of the final cuts prior to the start of the regular season. Bell will join the Santa Cruz Warriors in October 2021.
Don't miss out; Maxi Kleber Bio: NBA & Net Worth.
Jordan signed a 10-day contract with the Chicago Bulls, the team that drafted him, on December 30, 2021, using the hardship exception that became available when the Bulls had multiple players in the NBA's health and safety protocols.
The athlete's contract was set to expire on January 9, 2022.
What NBA Team is Jordan Bell on?
On January 31, 2022, the Fort Wayne Mad Ants, presented by Lutheran Health Network of the NBA G League of the Indiana Pacers, declared a trade with the Santa Cruz Warriors to acquire Jordan Bell.
Bell as a member of the Mad Ants, wears #6. During the Showcase Cup season, Bell averaged 10.6 points and 12.4 rebounds per game for Santa Cruz.
During the 2022 regular season, Bell appeared in one game for Santa Cruz, scoring 12 points and grabbing eight rebounds.
Jordan signed a 10-day contract with the Chicago Bulls on December 30, 2021, before returning to Santa Cruz.
World Cup Qualifier
Jordan Bell, a former NBA champion and Santa Cruz Warriors center, is one of twelve veterans chosen for Team USA's qualifying games this month.
According to an announcement from USA Basketball, Bell has been added to the Americans' roster for the FIBA World Cup qualifying games later this month.
The basketball player was one of 12 players chosen to compete for Team USA in the first series of Round 1 qualifiers in November, but he did not take part.
The team, primarily composed of former NBA players and current G-League players, will face Puerto Rico and Mexico later this month in Washington as part of six first-round games to determine who advances to the second round of qualification in 2023.
After defeating Cuba, an American team led by former NBA All-Star Isaiah Thomas fell short against Mexico.
This season, Bell has averaged 11.0 points, 10.9 rebounds, 4.1 assists, 1.9 blocks, and 1.5 steals in 17 games with Santa Cruz and Fort Wayne.
As a hardship signee, he also had a cup of coffee with the Chicago Bulls, but he only saw two minutes of court time.
Jordan Bell: Family
The 27 player is a native of Los Angeles, California.
Jordan Trennie Bell was his given name when he was born. Carolyn Gray, Bell's single mother, raised him.
He has four siblings, three brothers and one sister, in addition to his mother. Bell was the youngest of his siblings, and one of his brothers' names was Josh.
Jordan Bell: Net Worth
Jordan Bell has a healthy net worth of $3 million as a result of his successful basketball career.
Furthermore, according to some sources, he earns an annual salary of $695 thousand. He spent four seasons in the NBA and earned approximately $4,759,473.
Bell signed a two-year, $2,193,857 contract with the Warriors after being drafted in the NBA in 2017.
In his first season, he was paid $815,615 per year. He was paid $1,378,242 the following season.
People also like to read about Roy Hibbert Bio: Career, Wife & Net Worth
Jordan is in a relationship with his long-term girlfriend, Clarissa West.
Bell is a towering figure at six feet and nine inches, while his girlfriend, Carissa West, is only five feet and ten inches tall.
The lovebirds, who met in college and are distinguished by their height, are forever bound by their love for each other.
Carissa, a human physiology major from Long Beach, is a student at the University of Oregon.
Jordan and his girlfriend, Clarissa, couldn't have started dating before 2015 because if they had, the former wouldn't have tweeted about dating Kim Kardashian in his dream.
Nonetheless, things between the smitten lovebirds appear to be escalating at an alarming rate. Take, for example, their September 2018 Disneyland trip with family and friends.
Social Media Presence
The center forward for the Fort Wayne Mad Ants is active on various social media platforms. The athlete utilizes his social media accounts to connect with his fans and followers.
He frequently posts pictures of his game and, on occasion, shares details about his personal life, including his girlfriend.
He shared a picture with his girlfriend in his most recent post, and her baby bump was visible as well.
However, the post was shared 22 weeks ago, implying that they may have already welcomed the child, as he captioned the post;
"Every day is your day, but today is extra special because it's your Birthday!! I can't believe we are weeks away from having our own miracle, but today is all about you, MY MIRACLE. Happy Birthday beautiful. "
Below is the link to his social media; you can follow him to keep updated about his life;
FAQs
What happened to Jordan Bell?
Jordan Bell, a second-year player at the time, was suspended for one game on March 27, 2019, for conduct detrimental to the team after allegedly charging a candle to Mike Brown's hotel room at the Peabody in Memphis.
Why did the Warriors waive Jordan Bell?
With a lackluster preseason, Bell was always expected to be waived by the Warriors. Furthermore, his skill set not fitting the Warriors' needs is most likely one of the main reasons.