Jordan Goodwin, an American basketball player, currently plays for Washington Wizards on a two-way contract. Undrafted in the 2021 NBA Draft, Goodwin made his way to NBA after stints in the Summer League & the G-league.
While playing for Capital City Go-Go, a G-league affiliate of the Wizards, he scored his G-league career-high 34 points against Motor City Cruise in the 2021-22 season.
Moreover, in the 2022 G-league conference semi-finals, the NBA point guard scored 35 points but lost to Raptors 905.
On October 15, 2022, the Wizards converted their Exhibit 10 contract with Jordan Goodwin into a two-way contract for the 2022-23 season.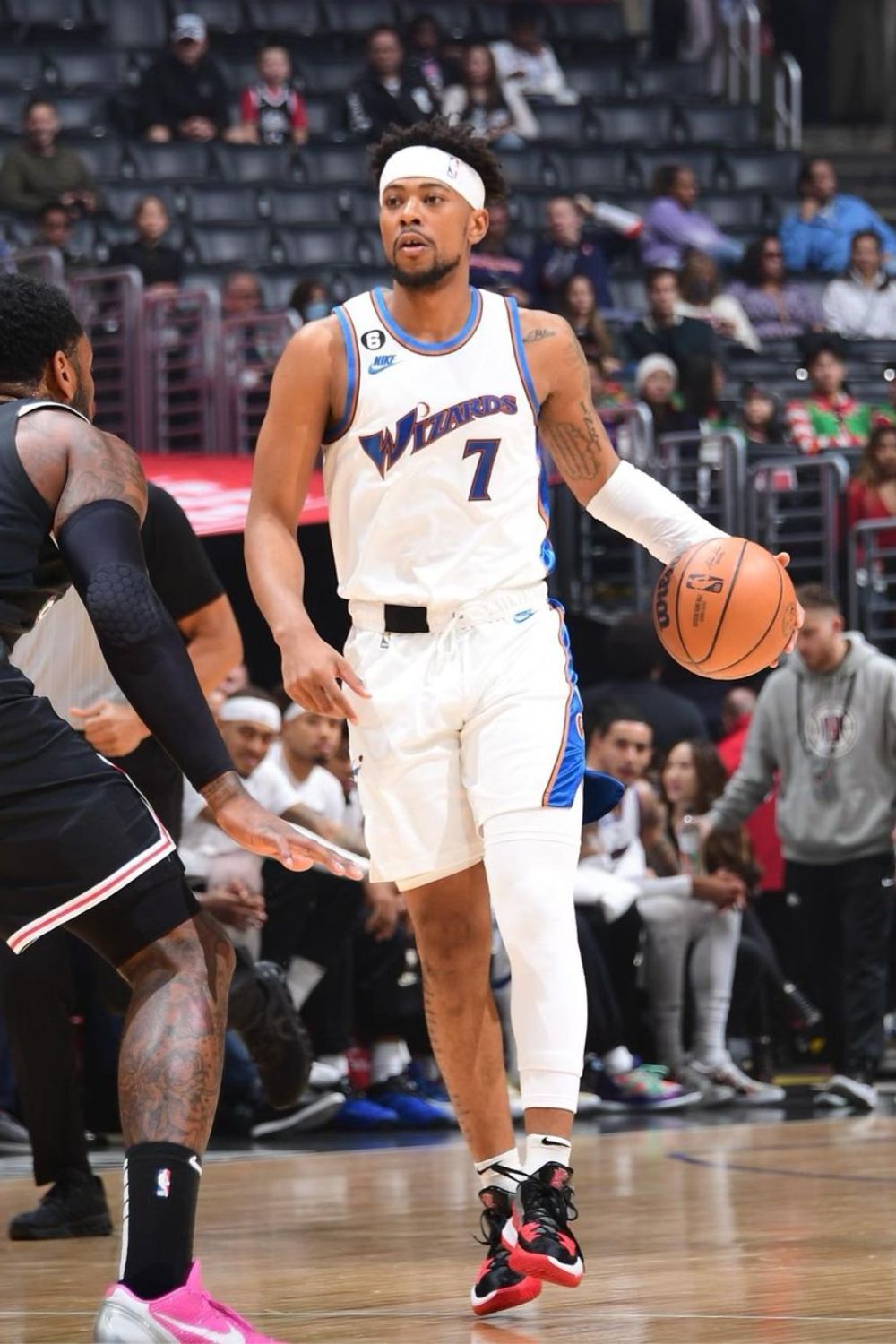 The Saint Louis alumnus clearly showed his basketball passion & prominence from his high school days & collegiate career.
Aside from his games, he got media attention after being accused of sexual assault while at college, but later got the clearance.
The Wizards player, in his mid-20s, is father of a kid, but who is his baba-mama? More on Jordan Goodwin's family, relationship & contracts here!
Quick Facts
Full Name
Jordan Goodwin
Date of Birth
October 23, 1998
Age
24 Years Old
Birth Place
Centreville, Illinois
Nationality
American
Ethnicity
African-American
Religion
Christianity
Father's Name
Tim Goodwin
Mother's Name
Unknown
Siblings
One (Tim Goodwin Jr)
Zodiac Sign
Scorpio
Chinese zodiac
Tiger
Height
6 feet 3 inches/ 1.90m/ 190cm
Weight
200 lbs./ 90.7 kg
Education

Althoff Catholic High School
Saint Louis University (2017-2021)

Relationship Status
N/A
Girlfriend
N/A
Profession
Basketball Player
League
NBA
Position
Point Guard
Team

Capital City Go-Go (2021-2022)
Washington Wizards (2021-Present)

Jersey Number
7
NBA draft
Undrafted (2021 NBA Draft)
Playing Career
2021-Present
Net Worth
$1 million
Social Media
Instagram, Twitter
Merch
Unavailable
Last Update
[Current-month] [Current-year]
Early Life & Education
Born on October 28, 1998, Goodwin grew up in Centreville, Illinois, before his family moved to Belleville.
Nothing much about his family background is out; the NBA player's father's name is Tim Goodwin & has an older brother named Tim Goodwin Jr.
Though, it is no secret that his parents are supportive of him. They encouraged him to pursue basketball career & has been there from his during his highs & lows.
He attended Althoff Catholic High School and later went to Saint Louis University, where he was a four-year varsity basketball player & majored in Sociology in 2021.
Collegiate Basketball Career
Goodwin led the Althoff Catholic High School to the victory in Class 3A State title as a junior. That year, he also made notable 26 points in a 74-64 victory against Mount Vernon High School on January 24, 2017.
Then, he underwent season-ending surgery for a partially torn labrum.
Upon recovery, Jordan went to play for St. Louis Eagles on the Amateur Athletic Union circuit.
For his collegiate basketball, he chose Saint Louis University over offers from Butler University, Alabama, Missourin, and many more.
The two-time 'First Team All-Atlantic 10' honoree averaged:
Freshman Year (2017-18): 11.5 points, 7.5 rebounds and four assists per game
Sophomore Year (2018-19): 10.5 points, 7.5 rebounds and 3.4 assists per game
Junior Year (2019-20): 15.5 points, 10.4 rebounds, 3.1 assists and 2.1 steals per game
Senior Year (2020-21): 14.5 points, 10.1 rebounds, 3.9 assists, and 2 steals per game
Goodwin had declared for the 2020 NBA Draft ahead of his senior year but later withdrew his name.
Then, he would go for the 2021 NBA Draft on July 29, 2021.
Professional Journey After Being Undrafted In NBA
Jordan Goodwin went undrafted in the 2021 NBA Draft, joining the list of unpicked basketball players like Jose Alvarado, Joël Ayayi, Micah Potter & Austin Reaves.
Although he signed an exhibit-10 contract with the Wizards in August 2021, they waived him later in September.
Then, Goodwin got a call for a 10-day contract with Washington Wizards in the 2021-22 season; he made his NBA debut on December 28, 2021, in a loss against Miami Heat.
Later, Jordan became an affiliate player for the Capital City Go-Go in October 2021, & scored the NBA G-league regular season-high 34 points against Cruise on March 18, 2022.
Then, in the G-league playoffs, when the Go-Go lost to Raptors 905 in a conference semi-finals, he made his career-high 35 points.
The 2021-22 NBA G-league season saw him 16.1 points, 6.1 rebounds, 4.6 assists & 2.0 steals per game.
What Is Jordan Goodwin Doing Now?
On September 14, 2022, Goodwin signed an Exhibit-10 contract with the Wizards that was later converted into a two-way contract on October 15, 2022.
Currently, Jordan splits his time between NBA's Washington Wizards & their G-league affialite team Capital City Go-Go.
In the Wizards, he plays alongside Will Barton, Bradley Beal, Daniel Gafford, and many more.
The American basketball player made his NBA season-high 19 points in a loss against Indiana Pacers on December 9, 2022.
The Washington Wizards plan to convert two-way guard Jordan Goodwin to standard NBA contract, sources tell @TheAthletic @Stadium. Goodwin earns new deal, emerging as a rotation player this season for Wizards.

— Shams Charania (@ShamsCharania) February 21, 2023
In February 2022, there were reports around social medias that the Wizards were planning to convert Jordan's two-way contract into a standard NBA contract.
Though, it is yet to be official.
Net Worth & Earnings
Jordan Goodwin, an undrafted player in the 2021 NBA Draft, strives prove his prominence in the hoops.
As of 2023, Goodwin has an estimated net worth between $200K- $500K.
Yet to sign a standard NBA deal, the American basketball made a considerable sum through Exhibit-10 contracts & two-way deals.
On August 18, 2021, Goodwin signed an exhibit contract worth $925,258 thousand with Washington for the 2021 season.
However, on October 16, 2021, he was waived by the Washington Wizards.
And later, in December of the same year, he was signed by the Wizards on a 10-day contract worth $53,176 (i.e., $5,318 per day).
On September 14, 2022, the Wizards & Goodwin inked an Exhibit-10 contract worth $1.63 million, which was later converted to a two-way deal on October 15 that year.
Relationship And Children
When it comes to his personal life and relationship, it's tough to crack about it, as the athlete doesn't share much information about it. He seems to keep his private life under the rock.
Talking about his partner, love life, or wife, the athlete hasn't speak anything about it.
The athlete, however, has a son born in May of 2022. His son's name is Jordan Junior Goodwin.
The child is the first thing Goodwin sees when he wakes up every morning and is what he thinks of before entering a basketball court. He adores his son and has his picture on his Twitter cover and profile.
The baby-mama identity has remained a mystery.
Age, Height & Social Media
Jordan, the 24-year-old basketball player, has an athletic body with brown eyes & black hair.
He stands of 1.9 m tall & weighs 200 lbs, with a winspan of 2.08 m. Goodwin followers a heavy workout & strict diet to maintain his body.
The Wizards point guard is active on social media profiles like Instagram & Twitter, with more than 8K followers & 2.3K followers, respectively. Often, his social media posts feature his professional career journey.
Clearance From Sexual Assault Charges
In early 2018, Jordan Goodwin was suspended for two months as part of the resolution of a Title IX investigation inquiry team involving many SLU basketball players.
The suspension came on the charge of sexual assault to three females in September 2017.
As part of his suspension, Goodwin was not permitted to visit the University or participate in basketball team activities.
The athlete's father however, confirmed to the investigation team that Jordan was moving out of the dorm when the incident took place, and during his suspension period, he will be spending his time at home.
On February 12, 2018, Goodwin was proved innocent of the assault charges but guilty of violating the school policy.
Popularity Graph
The below graph shows the popularity of Jordan Goodwin, a point forward for the Washington Wizards, over the period of 12 months.
Frequently Asked Questions (FAQs)
Who is Jordan Goodwin's agent?
Jordan Goodwin's agent is Kevin Martin of JCK sports group.
Is Jordan Goodwin related to Brandon Goodwin?
No, Jordan Goodwin is not related to Brandon Goodwin. However, they both share the same profession as basketball players. Jordan plays for the Washington Wizards, whereas Brandon plays for the Cleveland Cavaliers.