Fans seem to be confused regarding Jordan Mailata ethnicity because of the dual nationalities of his parents.
His parents migrated to Australia from another country that was not initially their home country.
Today, we'll delve into his background to learn where he came from and also look into his family history.
Lafoga Jordan Mailata was born March 31, 1997, and is a professional football offensive tackle.
Switching from rugby to football, Mailata now plays for the Philadelphia Eagles in the National Football League (NFL) showcasing his unique journey.
He completed his schooling at Condell Park High School, where he quit his academic career.
Mailata grew up with the Bankstown Bulls and was picked for the Canterbury-Bankstown Bulldogs' Under 18s team in 2015.
Mailata's playing style impressed several NFL executives, which gained him an opportunity to try out for their International Player Pathway Program.
However, he admits that he had minimal knowledge of football prior to that. He barely watched one NFL game per year.
Beyond football, Mailata is a huge fan of fiction and claims that he loves the Star Wars and The Lord of The Rings Series.
What Do We Know About Jordan Mailata Ethnicity And Nationality?
Mailata's ancestral pathway leads to the rich Samoan heritage through his parents.
They initially migrated to New Zealand in search of better opportunities. Both of his parents still hold the citizenship of New Zealand.
Later, they moved on to Australia in a town called Bankstown, Sydney, where the player was born and raised.
Interestingly, people know Bankstown for its high concentration of Samoan citizens. So naturally, Mailata would have had the opportunity to embrace and learn a lot about his ethnicity there.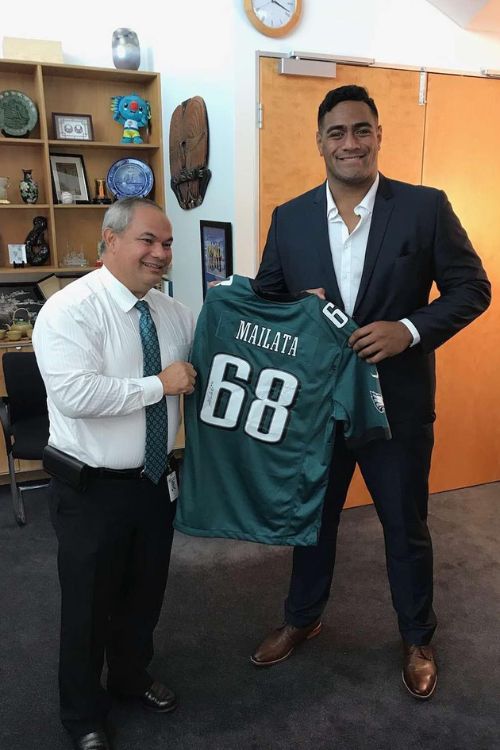 Samoan culture values collective participation in most activities. They view a person's family as an essential component of their life.
The extended family, or aiga, lives and works together. In Samoan culture, they highly regard the family's elders, who hold the highest position.
But, it does not mean that he doesn't embrace his Australian heritage by any means. Mailata is a big fan of the Australian way of life and he often misses it when playing away from home.
He claims that he loves Australian foods such as meat pies and sausage rolls. The Samoans consider music to be a big part of their culture.
This may be the reason why the football player has also tried to pursue a career in the music industry.
One Cannot Simply Ignore Mailata's Music Career
On top of being an amazing football player, Mailata is equally an amazing singer. He managed to impress his teammates with his vocal chords in NovaCare Complex's auditorium.
The Eagles also posted a video of the player singing and playing guitar in the locker rooms. Mailata appears to be singing Tennessee Whiskey by Chris Stapleton, which had managed to impress the entire team.
In 2022, Mailata participated in the seventh season of The Masked Singer as "Thingamabob" on Team Cuddly.
His voice charmed the audience, and all the judges began chanting, "Take it off!". It took him a while, but Mailata eventually managed to take his mask off after a lengthy struggle to reveal to the world that he had the voice of a god.
Later, the program eliminated both him and Jorge Garcia, who was "Cyclops" on Team Bad. In the 2022 offseason, he collaborated with teammates Jason Kelce, Lane Johnson, and former Eagles linebacker Connor Barwin to record a Christmas album titled "A Philly Special Christmas."