Jose Berrios wife, Jannieliz Marquez, is a native of Bayamón, Puerto Rico, just like him. The Puerto Rican couple are parents to three kids, two boys and a girl.
And it's safe to say all three kids have a shared interest in sports. Jose's daughter, Valentina, even repped the same jersey number as her dad while she plays volleyball.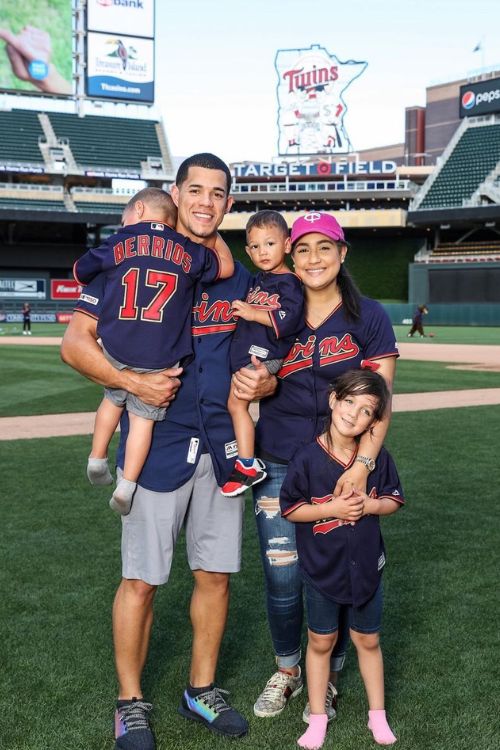 The Toronto Blue Jays pitcher, Jose Berrios, is looking for a revival season, and 2023 might be the one. Since signing the $131 million contract in 2021, Berrios seems to have lost his Midas touch that had once captivated the MLB world.
The pitcher's stats of the past two seasons do not depict the player he was during his initial years. But fans can be hopeful of the 28-year-old returning to form this season.
With teammates Whit Merrifield, and Vladimir Guerro Jr, Berrios will look to lead Blue Jays to its third world series title. The 2023 MLB season marks the 30th anniversary of their last title win.
Jose Berrios Wife Jannieliz Marquez
Jose Berrios and his wife, Jannieliz Marquez, are high school sweethearts. The couple met in Bayamón, the place where Jose was born and raised.
Jannieliz isn't the only MLB WAG from her family. Her sister, Irmarie Marquez, is married to Javier Baez, the infielder of the Detriot Tigers. The two baseballers met their wives independently despite having known each other for years.
Jose was two years junior to Javier in school, and the two occasionally played against each other. The offseasons are certainly fun for two sisters who share a similar lifestyle of being homemakers.
But unlike her sister, Jannieliz has decided to keep much of her details private. She is available on Instagram with the username @jannielizberrios and posts occasionally.
Even on his Instagram, Jose has shared more of his work than his family. Jose shared a sweet tribute to his wife by posting a picture of her and their three kids on Mother's Day. He also mentioned his mom and sister.
Jose And Jannieliz Share Three Kids
Jose Berrios and Jannieliz Marquez are parents to three kids. Their three children, Valentina, Sebastián, and Diego, time and again appear on their parents' social media handles.
The couple's first child, Valentina, was born in 2014. The only daughter of the MLB couple is the little princess of her parents. Last year, Jose took to his Instagram to share the news of his daughter's interest in volleyball.
The proud father could be seen walking his daughter to her volleyball practice. Valentina, 9, remains firm in continuing the family legacy in sports, even spotting the same jersey number as her dad, 17.
Jannieliz and Jose's second child Sebastián was born on June 8, 2016. Like his sister, Sebastián is also interested in sports, and that too of the sport that has brought his dad recognition.
In 2019, Jose shared a cute picture of his son, Sebastián, studying with his former Minnesota Twins teammates before the game. He might not have understood much, but he showed the spirit.
The couple's youngest son, Diego, was born on September 16, 2017. Like his siblings, Diego loves playing sports, and with his big brother, little Diego recently won a baseball tournament.
Earlier this month, Diego and his siblings, with Jannieliz, visited Fenway Park to root for his dad. Jannieliz had also previously shared a clip of her three children playing around as they participated in Family Spring Day training.