Javier Báez, famously known as El Mago, is a professional Puerto Rican baseball shortstop for the Detroit Tigers of MLB. He is the winner of the 2016 National League Championship Series and is also a two-time 'All-Star' for the years 2018 and 2019.
If you are a baseball fan, you might be familiar with the name, Báez. The player is a well-known baseball player who previously played for the Chicago Cubs.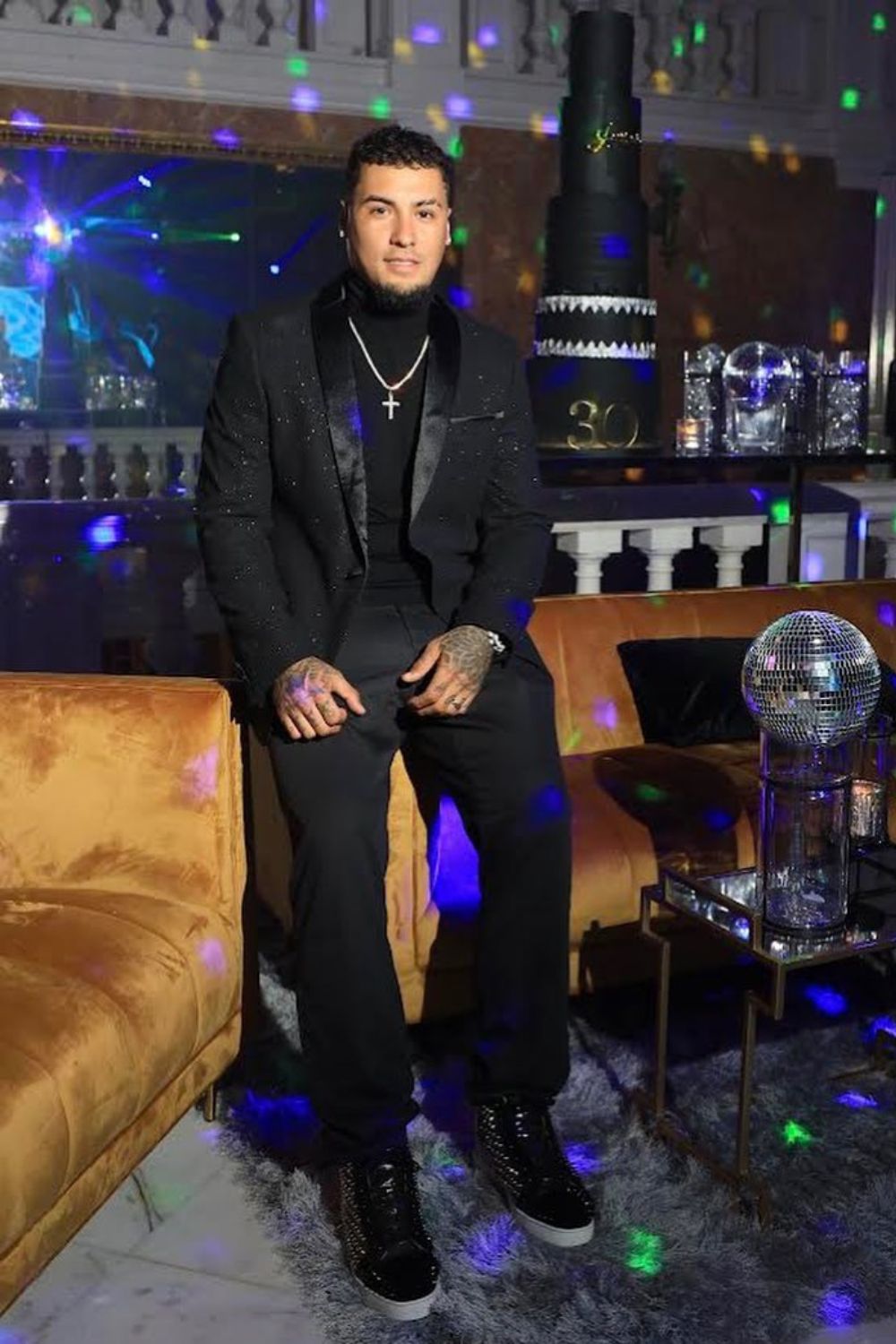 He was named 'El Mago' in MLB, which means Spanish for 'The Magician,' and has helped the Cubs end their trophy drought in 2016.
Moreover, he has also been featured in MLB for just more than half a decade. The former Cub's shortstop made his debut in 2014.
He became the first player in MLB history to start at second base and shortstop in successive seasons of the All-star game.
Baez is estimated to earn a base salary of $22 million in 2023.
This article will reveal more about Javier Baez's height, education, personal life, achievements, salary, and net worth.
Also, here are some quick facts about the player before we head into details.
Quick Facts
Full Name

Ednel Javier Báez

Birth Date

December 1, 1992

Birth Place

Bayamon, Puerto Rico

Age
30 Years Old
Nickname

El Mago

Nationality

Puerto Rican

Religion

Christianity

Ethnicity

Mixed

Education

Arlington Country Day School (Jacksonville, Florida

)

Father's Name

Angel Luis Baez

Mother's Name

Nelida Agosto

Siblings

Rolando Báez, Gadiel Báez, Noely Báez

Wife
I

rmarie Márquez

Son

Adrián Javier Báez Márquez

Profession

Baseball Player

Height

5 ft 9 in / 1.82 m / 182 cm

Weight

85 kg / 189 lb

Hair Color

Light Brown And Blonde

Eye color

Dark Brown

Horoscope

Sagittarius

Current Team
Detroit Tigers
Debut
MLB-2014


International League- 2017

Social Media
Instagram, Twitter, Facebook
Net Worth
$10 Million
Merch
Funkopop, Calendar & Jersey
Last Update

June 2023
Early Life, Family, And Education
Javier Báez of MLB was born Ednel Javier Baez on December 1, 1992, in Bayamon, Puerto Rico, and later moved to Florida in 2005. He was born to Angel Luis Baez and Nelida Agosto.
His father, Angel Luis Báez, had a vigorous influence on the player and was responsible for his baseball interest.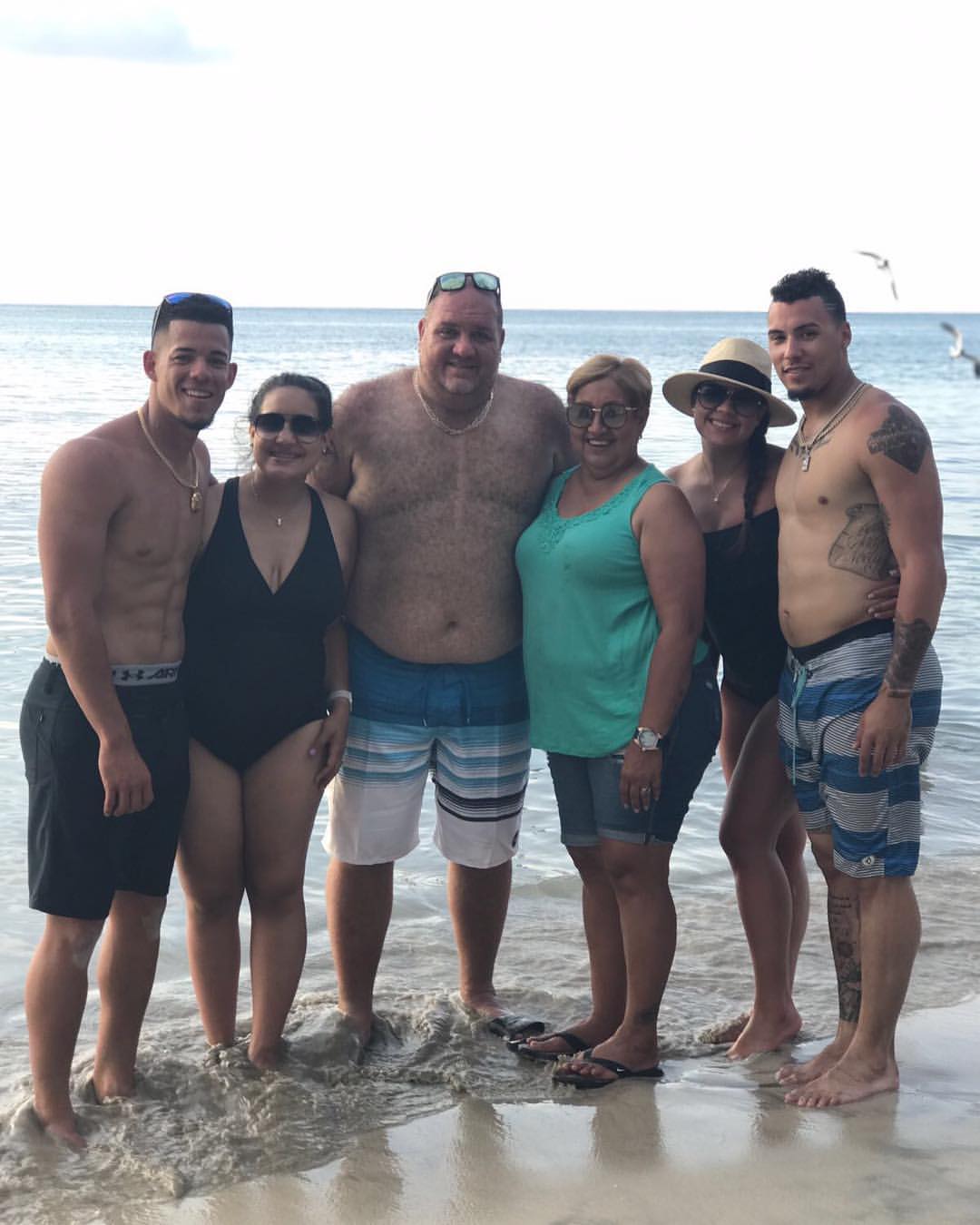 He belongs to a mixed ethnicity, and has three siblings, in particular Rolando Báez, Gadiel Báez, and Noely Báez.
However, his younger sibling and only sister, Noely Báez, died in 2015. Gadiel Baez, younger than Javier, is also a baseball player.
On the other hand, the former Cubs player went to Arlington Country Day School in Jacksonville, Florida, and later devoted himself to playing college baseball at Jacksonville University.
Age, Height, And Weight
Javier is an athlete with quite an impressive physique, standing at 1.82 meters tall and weighing 189 lb.
As you can see below, he has numerous tattoos on his shoulders, back, and arms.
Before turning 29, Baez had plaited hair highlighted in a blonde color.
Baseball Career
In Báez's high school, his coach recognized that the scouts did not see him as an exciting prospect. Nonetheless, his hard work and work ethic made him a real challenger.
It was his sophomore season that showed evident progress. He had a .463 batting average with 38 hits during that time, of which 9 were doubles, and 13 were home runs.
He additionally collected 60 runs batted in (RBI) while making 82 plate appearances in 25 games.
After having blast seasons starting from the sophomore season, he was exceptionally evaluated as Aflac All-American; as he finished his junior season.
Senior Season
Furthermore, young Báez smashed all his previous records in his senior season. During this particular season, he recorded 64 hits in 83 at-bats to accumulate an average of .771.
Those hits included 20 doubles and 22 home runs, which recorded 52 RBIs in 30 games.
However, it was in 2011 when the Chicago Cubs picked him with the ninth overall pick.
He began his competent career by playing in the Minor League as a shortstop for the Arizona Cubs of the Rookie-level Arizona League.
He played in three games, recorded three hits, including two doubles in 12 at-bats and two stolen bases, and featured in Single-A Boise.
While Javier's progression was going upward, he continued the same form playing with Single-A Peoria, having a batting average of .333. This also led him to get a promotion to Single-A Daytona.
Eventually, he was awarded Cubs Minor League Player of the Month for July after slamming seven home runs and 20 RBI in 28 games with a .368 average.
Well, the gradually advancing rookie was adjudged 16th best prospect in baseball by MLB.com before the 2013 season, while he was rated 62nd in the past year.
In 2013, Báez represented Single-A Daytona and Double-A Tennessee. During the same season, he became the first Minor League player to hit 30 doubles, 30 home runs, 100 RBIs, and 20 stolen bases.
Following his outstanding performance in the minor league, he won the MiLBY Award for Best Minor League Game of the Year.
Báez was declared the Cubs Minor League Player of the Year as he finished the season as third overall best in the Southern League and was a highly rated prospect in the Chicago Cubs.
Southern League All-Stars and FSL included him in their team at the end of the season.
MLB Debut And Career
Báez, after being selected by Chicago Cubs in 2011, made his MLB debut in 2014. On the day of his debut, he smashed the game-winning first home run.
Later in the next season, he was featured 52 times. He averaged .169 with 20 RBI, nine home runs, and five stolen bases, having played at shortstop.
Even then, he had a difficult time during spring training after having an excellent start to his MLB.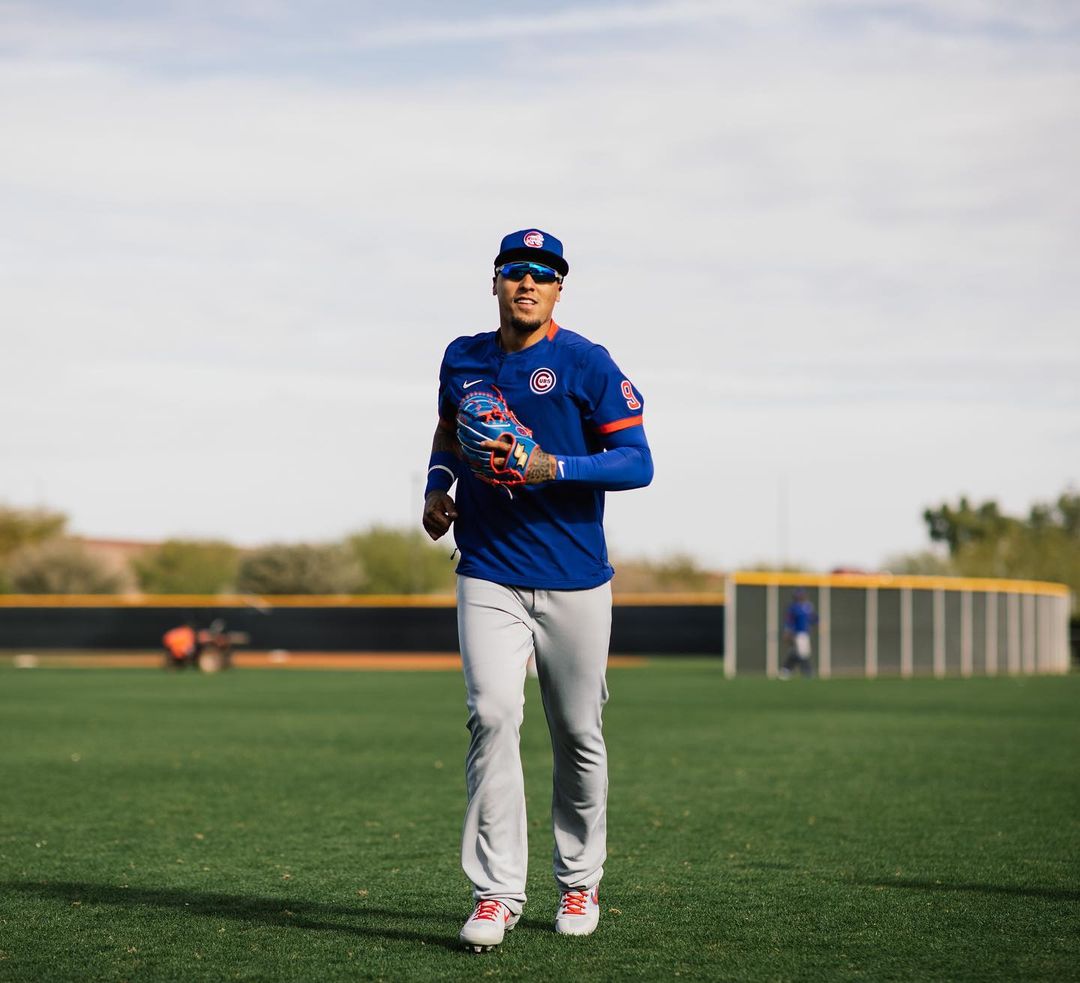 That led to him being offered to Iowa for that season, where he averaged .324 in 70-odd games. He was then called back in September to the Major League.
It was 2016 when he gained fame after match-winning performances for the Cubs. The versatile player hit solo home runs helping his side win against the Washington Nationals in a four-game series.
The San Francisco Giants were defeated in the playoff of the 2016 National League Division Series. He also managed to hit a grand slam to win against Cincinnati Reds.
Moreover, the star player played an integral role in the Cubs winning the 2016 National League Championship Series.
He was named joint MVP of the National League Championship Series as the Chicago player hit .318 with 5 RBI, four doubles, and two stolen bases, ending the Cubs World Series trophy dry spell after 108 years.
Afterward, he was also named in the 2018 and 2019 All-Stars. Baez managed a batting average of .294 and .333 each season, respectively. In 2019, during the All-Star season, he reached his 100th career home run.
Baez signed a six-year $140 million contract with the Detroit Tigers on December 1, 2021.
In his debut game for the Tigers on April 8, 2022, he hit a ninth-inning walk-off single to defeat the Chicago White Sox.
He was on the injured list for the 10-day because of right thumb soreness.
Than any other Major League batter, Javier swung at a higher percentage of pitches outside the strike zone (48.7%).
Also, he had the highest called strike plus whiff rate in the majors (32.2%).
International Career
In the 2017 World Baseball Classic, Javier secured a silver medal with the Puerto Rica national team.
He averaged .296 and was named to the 2017 All-World Baseball Classic team.
Injuries
To date, Baez has been indulged with numerous injuries throughout his career. He first faced a back injury in the Iowa Cubs of the Class AAA Pacific Coast League (PCL).
In the 2015 season, Baez missed a few days' intervals due to a fractured thumb.
Again, in the 2019 season, he struggled with a hairline fracture in his left thumb. He again struggled with an elbow injury which kept him for days.
Baez was diagnosed with a bruise in March 2021 during a game against the Cleveland Guardians.
Awards And Achievements
Won the 2016 National League Championship Series

Won the 2016 World Series

2016 NLCS Co-MVP

2017 World Baseball Classic Runner-Up

Two-Times MLB All-Star In 2018 and 2019

2017 All-World Baseball Classic Team

Fielding Bible Award(Multi-Position) In 2016, 2017, And 2018

The Silver Slugger Award In 2018
Wife And Children
A baseball player is a lucky man who married his school sweetheart. Yes, Javier was married to his long-time girlfriend, now wife, Irmarie Márquez.
They dated for a long time before getting engaged back in 2018. The couple soon got married in San Juan, Puerto Rico, in 2019.
This beautiful couple was blessed with a son on June 28, 2018, just after getting engaged. They named their son Adrián Javier Báez Márquez, who is 4 years old as of June 2023.
Javier also announced that the couple was expecting their second child. He took to Instagram to announce an adorable post with his son on it.
The post had the caption, "For More High & Low My Family Will Always Be My Present & My Future! ?? Thank you, God, for another blessing."
This showed how excited they were for the new baby and patiently they awaited their second child's arrival.
Their second child was born on 20 December 2020. Following the news, Cubs also congratulated Javier's family through Instagram.
Salary, And Net Worth
You must be wondering, how much does this baseball player earn? According to sources, Báez earned $5.2 million per his one-year contract.
In 2020, he agreed to a guaranteed $10 million salary a year lockdown player on a long-term contract running until 2026. This would reduce his estimated annual salary to around $23 million.
Well, his net worth for 2023 is $10 million.
The two-time All-Star also owns several assets in Chicago, Illinois. Moreover, we have also learned that he owns a mansion worth $1 million in Chicago.
Looking at his estates, there is no doubt that the baseball player lives a luxurious life with his family.
Baez's contract is expected to be extended some time of the year, and with it, he is to make changes of around $24 million.
His career earnings as of June 2023 are $45,207,493.
Restaurant
Javier Baez hit the headlines in February 2021 after providing meals to over 500 families through Taquiza.
Taquiza is a Mexican restaurant chain run by its operations manager and executive assistant in Puerto Rico.
To illustrate, he commenced the work alongside his brother-in-law, Minnesota Twins pitcher José Berríos and they are investing their money in a good cause.
Baez was also featured in the Gurabo location to provide autographs and gifts to 40 local children.
Additionally, they have even planned to expand the chain in La Placita de Santurce (San Juan) and the municipalities of Fajardo and Cabo Rojo.
Social Media Presence
Javier is quite an active personality on social media. He has more than 1.4 million followers on Instagram; he joined the platform in 2012.
Moreover, his feed is utterly good and filled with adorable pictures of his son and wife. Also, there are quite a few of his baseball games, short clips, and photos.
View this post on Instagram
He is also present on Twitter and Facebook. Baez has 514.7k followers, and thousands of people have liked his Facebook page.
The three-time fielding bible award winner posts mostly photos and videos from baseball games on these social media platforms.
Popularity Graph
Javier Baez is a baseball player for the Detroit Tigers of the MLB.
The above graph shows Báez's popularity over the past twelve months.
Frequently Asked Questions (FAQS)
Which bats and baseball gloves does Javier Baez wear?
Javier Baez features in the Marucci GJ5 maple bat paired with an Evoshield elbow guard. However, we can even find him using a Dove Tail 356 birch bat and an SSK JB9 birch bat.
Does Javier Baez have a Gold Glove?
Yes, Javier Baez does have a Gold Glove that he won in the 2020 National League Gold Glove Award. Apparently, with the award, Baez became the first Cubs shortstop to take home the honor since Don Kessinger in 1970.
Is Javier Baez left handed? What is his career and season statistic like?
Yes, Javier Baez is left-handed, as he does all his normal work to gameplay with his left hand. Throughout all his seasons, Javier Baez maintains a career statistic of a .260 batting average, 166 home runs, and 532 runs batted in. As for his season statistic, Javier Baez has 335 at-bats, 48 runs, 83 hits, 65 RBI, 131 strikeouts, and 22 home runs.
What is Javier Baez's jersey number?
Javier Baez wears jersey number 23 for the New York Mets. For the Detroit Tigers, he wears #20 jersey.