Karsyn Elledge, the daughter of Jimmy and Kelley Earnhardt Miller, is part of the esteemed Earnhardt family in NASCAR. Both of her parents have had successful careers in NASCAR.
Karsyn Elledge's racing lineage runs deep as she is the granddaughter of seven-time NASCAR Cup Series Champion Dale Earnhardt and the niece of NASCAR driver Dale Earnhardt Jr.
Growing up in a family of drivers, Karsyn developed a natural love for racing and began her journey in go-kart racing at a young age.
In 2019, Karsyn made her debut in the prestigious Chili Bowl race weekend, a significant event in Dirt Midget racing.
She also participated in other Dirt Midget events, demonstrating her versatility as a racer.
Recently in 2023, she made a comeback in the 2023 Chili Bowl Nationals after taking a break for three years.
Karsyn Elledge Parents: Kelley Earnhardt And Jimmy Elledge
Karsyn Elledge, born on September 18, 2000, is the daughter of Kelley Earnhardt and Jimmy Elledge.
When Karsyn and her sister Kennedy were small, they experienced their parents' separation in 2008.
Kelley later remarried former NASCAR driver L. W. Miller III on January 22, 2011, and the couple has one child together.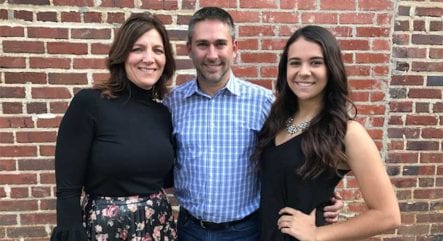 However, her father, Jimmy Elledge, worked as a NASCAR crew chief through more than 400 races and still remains close with his daughters.
Karsyn Elledge Mother Kelley Is A Businesswoman
Karsyn's mother, Kelley, was born on August 28, 1972, to Dale Earnhardt and his second wife, Brenda Lorraine Jackson.
She is a highly accomplished American businesswoman in the motorsports industry.
Before her business career, Kelley also had a racing career, competing at Hickory Motor Speedway and Myrtle Beach Speedway until 1996.
In 1996, Kelley transitioned to a different sector of sports and began her professional career.
She joined Action Performance, a prominent NASCAR marketing company specializing in the distribution of souvenirs, and worked as the vice president and the vice president of sales.
In 2001, Kelley transitioned to the family business, JR Motorsports, as manager and vice president.
At JR Motorsports, she played an important role in overseeing various aspects of the organization's operations, contributing to its growth and success within the NASCAR community.
Kelley's knowledge of the industry, combined with her business acumen, helped shape the development and strategic direction of JR Motorsports.
Kelley Earnhardt Uncle Dale Earnhardt Jr
Dale Earnhardt Jr is the younger brother of Kelley Earnhart and the uncle of Kelley. He was born on October 10, 1974.
Dale is involved in the NASCAR Xfinity Series, where he drives the No. 88 Chevrolet Camaro for his team, JR Motorsports.
Kelly's parents went through a divorce right after Dale Earnhardt Jr's birth. After separating, she and Dale Jr lived with their mother, Brenda.
Unfortunately, their home was destroyed in a fire, leaving Brenda without the necessary financial means to support her children.
As a result, she made the difficult decision to relinquish custody of Kelley and Dale Jr to their father, Earnhardt Sr, before his marriage to Teresa Houston.
Kelley played a vital role in looking after her younger brother, ensuring their well-being, and providing support in their father's absence.