Katie McCabe's parents, Gary and Sharon McCabe can't get enough of expressing their delight at watching their daughter captain Ireland to their first-ever FIFA Women's World Cup soccer in Australia and New Zealand.
The talented captain of the national soccer team of Ireland is undeniably a remarkable player. Her extraordinary talents and unwavering dedication stand out among the rest.
Since the start of her career, Katie's proud parents, Gary and Sharon McCabe, have been standing by her side, cheering her on every single step of the way.
Katie McCabe is an Irish professional soccer player who plays for the English Women's Super League club Arsenal and the Republic of Ireland women's national team.
Born on September 21, 1995, in Dublin, Ireland, McCabe is known for her numerous accolades with Irish and English clubs.
Nevertheless, McCabe displayed a deep passion for soccer from a young age and quickly emerged as a standout player.
After contributing to the boys' team Kilnamanagh AFC and Crumlin United F.C., she joined her first girls' team in Templeogue at the age of 10. Likewise, she played for both the boy's and girls' teams until she turned 13.
Apart from that, the pride of Ireland also played Gaelic football and basketball when she was in secondary school. In 2011, McCabe signed with Raheny United and represented Shelbourne and Glasgow City since then.
The player has won the Women's National League, FAI Women's Cup, FA Women's Cup, Super League, and League Cup throughout her career.
Katie McCabe's Parents: Gary And Sharon McCabe
Katie McCabe became a historical figure in the Irish women's soccer team, all thanks to her parents' love and encouragement.
McCabe led Ireland out for their first-ever game in a World Cup against Australia in front of a sold-out 82,500 crowd at Stadium Australia.
Gary and Sharon McCabe have been instrumental in nurturing the Ireland captain's soccer dreams.
They stood by her through every victory and defeat, teaching her the values of hard work, perseverance, and sportsmanship. Today, they are beaming with pride, having watched their daughter captain their country.
Like every proud parent, they were emotional as the country was breaking the ice on the world stage and honored more so as their daughter led the special moment.
Gary, Katie's father, didn't even think he'd ever be there. He credits the team for progressing so well over the last few years.
The father of the Republic of Ireland women's national team captains has been following her since she was five. Furthermore, he has seen most of Ireland's matches, bringing his daughter here and there.
Gary and Sharon feel that it's been an honor for them to follow Katie and to be in her life. As it has ever been, they will always remain her biggest fans, taking pride in every milestone she achieves.
The World Cup Journey And Familial Support
The Republic of Ireland women's national team qualified for their first World Cup finals in October 2022.
Both of Katie's parents had traveled to Hampden Park, Scotland, to support the team along with Katie's younger sister Lauryn.
The Irish captain comes from a large family of 10 siblings, six sisters and four brothers.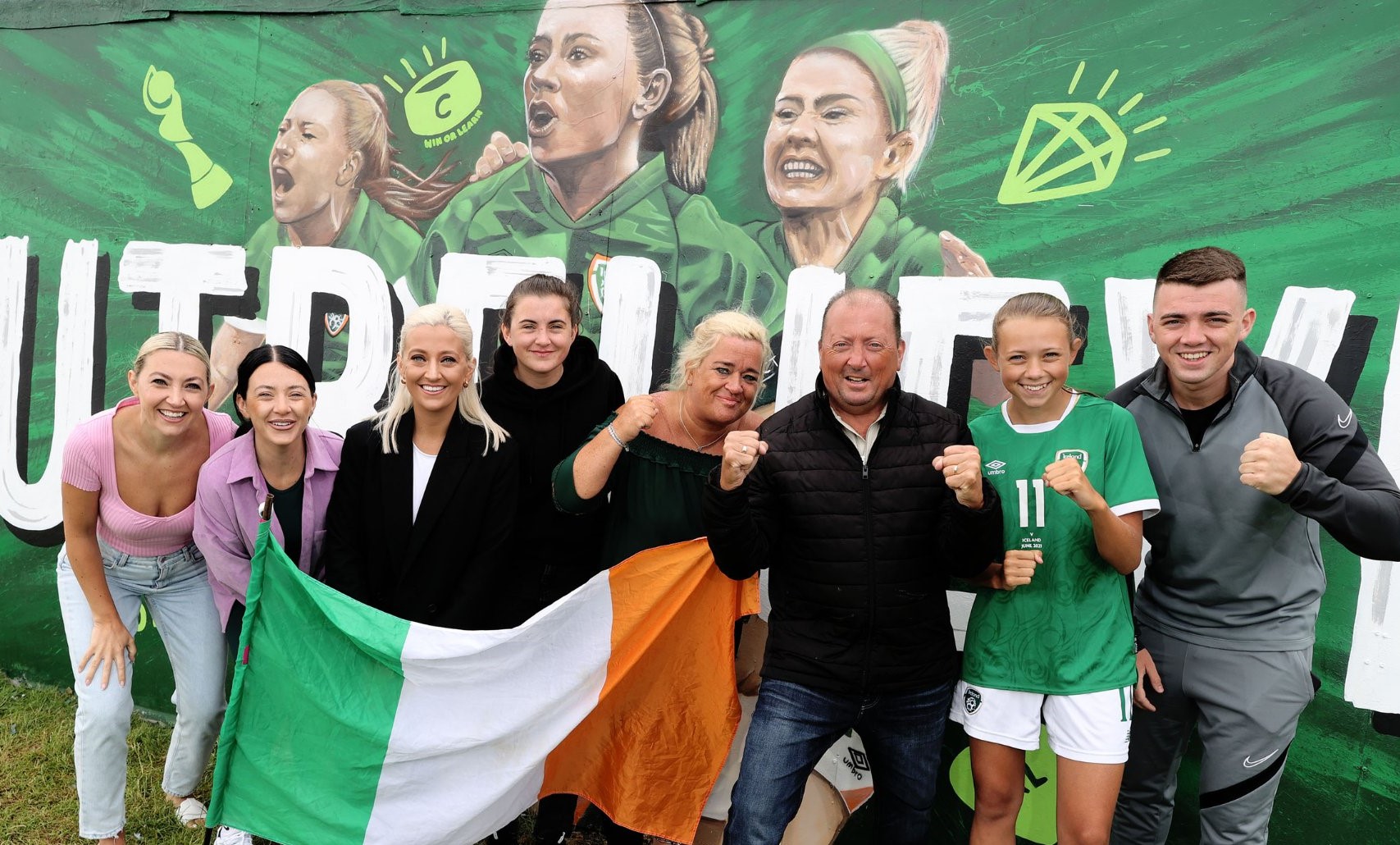 Ireland had met with great support in their 2023 World Cup campaign. Thousands of fans traveled to Australia to cheer on the Girls in Green.
Along came Katie's family members traveling Down Under to attend the historic occasion.
Katie McCabe's parents, Gary and Sharon, and her brother Shane were all at the opening match. The rest of Katie's siblings witnessed her representing the homeland from her parent's home in Tallaght, Dublin.
In fact, Gary couldn't believe the atmosphere around the stadium. It was a very proud moment for the family as well as the whole nation to watch Katie coming out on that pitch.
Sadly though, Ireland were unable to go past the group stage as they were unable to secure a win in the three games.
Katie's fourth-minute goal against Canada, Ireland's only goal in the tournament, was a consolation for her family and supporters.