Three-times Olympic gold medalist beach volleyball player, Kerri Walsh Jennings, has a net worth of $6 million.
Beach Volleyball is not just a fun beach activity but, in fact, a full-fledged sport. Though indoor volleyball has been around for a long time now, beach volleyball is relatively new.
It officially became an Olympic sport just in 1996. But even in such a short time, some players have proved their strong athleticism and sportsmanship.
One of those few is American Player Kerri Walsh Jennings. 44 years old Kerri is commonly regarded as one of the most decorated players in Beach volleyball.
Alongside her three golds and a bronze in Olympics, she has an impeccable track record with a 112-win streak in AVP.
Surely, her career has helped her make a substantial amount of money. In this article, we will explore her income, salary, assets, and expenditure. But first, here are some quick facts:
Kerri Walsh Jennings: Quick Facts
| | |
| --- | --- |
| Full Name | Kerri Lee Walsh Jennings |
| Common Name | Kerri Walsh Jennings |
| Nick Name | Six Feet of Sunshine |
| Birthdate | August 15, 1978 |
| Age | 44 years old |
| Zodiac Sign | Leo |
| Mother's Name | Margery Lee |
| Father's Name | Timothy Joseph Walsh |
| Siblings | Two sisters & a brother |
| Birthplace | Santa Clara, California |
| Home Town | Saratoga, California |
| Citizenship | American |
| Residence | Manhattan Beach |
| Religion | Christian |
| School | Archbishop Mitty High School |
| College | Stanford University |
| Education | B.A. in American studies. |
| Height | 6'2″ (188 cm) |
| Weight | 157 lb (71 kg) |
| Eye Colour | Brown |
| Hair Colour | Brwon |
| Shoe Size | N/A |
| Martial Status | Married |
| Partner | Casey Jennings |
| Married | 2005 |
| Children | Two Sons, One daughter |
| Profession | Beach Volleyball Player |
| Current Partner | Brooke Sweat |
| Previous Partners | Misty May-Treanor, April Ross |
| Career High Rank | World no. 1 |
| Olympics Wins | 3 golds, 1 bronze |
| Status | Active |
| Net Worth | $6 million |
| Hobbies | Travel, Reading |
| Brands | P1440 |
| Social Media | Facebook ,Twitter, Instagram |
| Website | N/A |
| Merch | Official USA Volleyball Merch, Poster |
| Last-Update | January, 2023 |
Kerri Walsh Jennings Net Worth: Income and Salary
Beach volleyball is not as famous as other sports, and that's why even the best players tend to earn significantly less.
Pro beach volleyball players do not earn a regular salary as they are not officially employed. Their major source of income is winning prizes, sponsorships, and endorsements.
And, of course, there is a small stipend for Olympians. It is need-based and ranges from $500-$20,000.
However, Kerry is one of the lucky few who have managed to earn millions by being at the top of their game. In 2016, her total prize money was reported to be $2,542,635.
It is estimated that she earns a little more than $1 million per year. Of course, the numbers may vary in different years.
>>>Harper Hempel: Jamal Murray, Volleyball Career & Net Worth>>>
Kerri Walsh Jennings Net Worth: House
Besides being a fabulous player, Kerri is also a family person. Kerri is married to fellow beach volleyball player Casey Jennings and has two sons and a daughter.
The Walsh family lives in the manhattan beach area in a house they bought in 2017.
The house is two-story with five-bedroom, five bathrooms, and an interior space of 3,600 sq feet., The whole place is built on a neutral palette and a 'plantation theme.'
The couple bought the house for $2.6 million. They got the house before construction was complete and customized it based on their needs.
The house comprises a natural, wide-plank wood floor, and the kitchen is adorned with white ceramic subway time.
As both couples are on the taller side, the cabinets were built 1 ¾ inch higher than the normal size.
The most striking part of their home is the big backyard, ideal for working out and playing. As a mother of three kids, Kerri prioritizes a space to play and explore over indoors.
Kerri Walsh Jennings Net Worth: Endorsements
Kerri's bright and cheerful personality makes her a popular choice for brand endorsement deals. On the other hand, her athletic appearance makes her loved by sports brands.
Previously, she has worked with Speedo, Gatorade drinks, Bolle, McDonald's, Kinesiology Therapeutic Tape, Oakley sunglasses, Visa & Wilson, Halls Fruit Breezers, and so much more.
Alongside her deals, the U.S beach volley team is also sponsored by Crocs and Jose Cuervo. Thanks to the sponsors, winning teams get lucrative prize money with additional bonuses as well.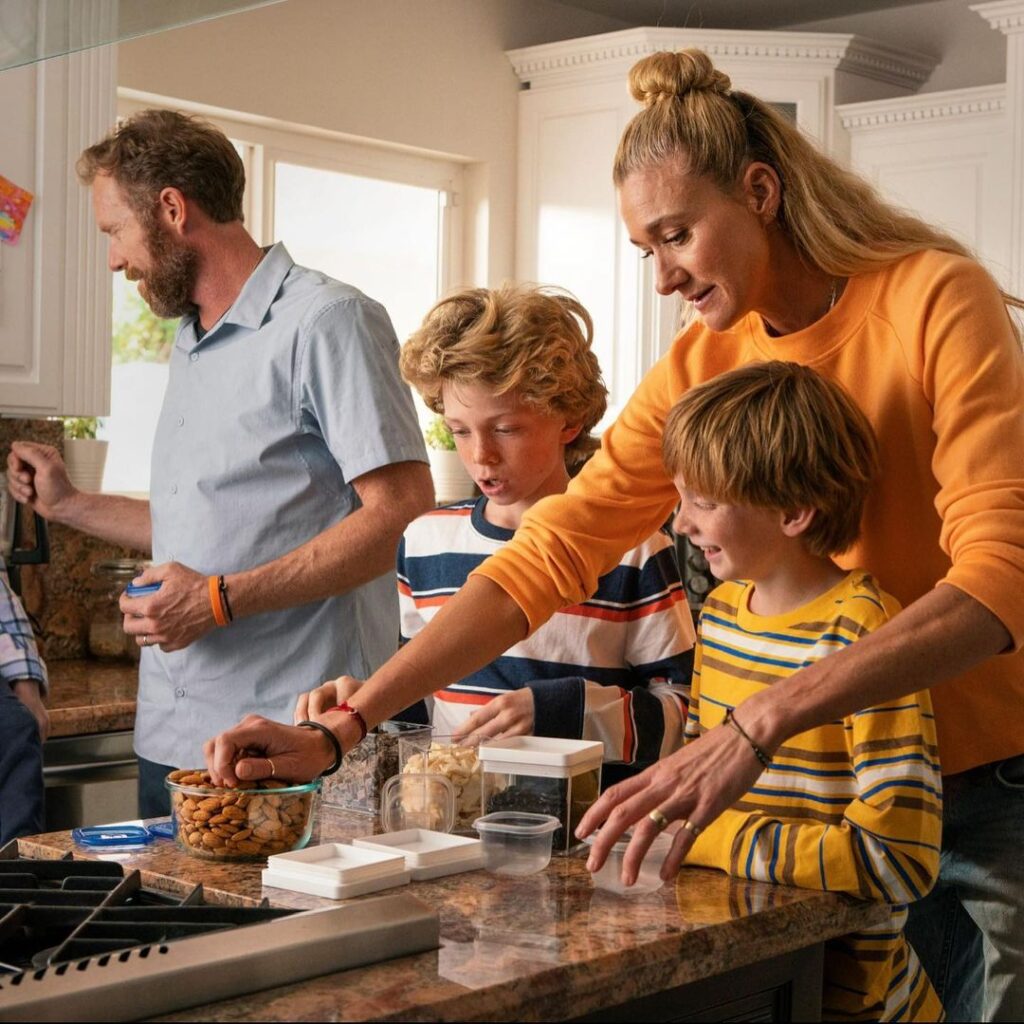 Sometimes, endorsement deals come with unique agreements. Similarly, Kerri had gotten a temporary tattoo of Gatorade and Halls Fruit Breezerts for promotion purposes.
Moreover, in 2015 she signed a sponsorship deal with Jaybird, a sports electronic brand.
In her very active social media, she is frequently seen endorsing the brands that she personally finds helpful. Recently, she endorsed California almonds and sunsweetgrowersinc via social media.
Kerri Walsh Jennings Net Worth: Business
Kerri has invested her high-earned money in projects that promise her a stable passive income.
She is the founding member of Kindli, a unique social media platform aiming to promote kindness and humanity. The one-of-a-kind app allows users to make a $1 charitable donation to post and comment.
Kerri stated that she had had a love-hate relationship with social media, and kindli offered a great alternative to the existing platforms.
She was instantly hooked and decided to invest her time and money in the idea.
Kindli is working towards generating 1 billion acts of kindness through the platform.
The legendary player is also one of the founders of P1440, a digital platform exclusively built around the sport with a culture of beach volleyball. The other founder is her husband Casey, who himself is a seven-time AVP champion.
To add up, Kerri is seen promoting @californiaalmonds @franklinsports in her Instagram posts as she is in a paid partnership with the team.
Kerri is also seen appearing for interviews where she shares her journey from the beginning and talks about her mighty preparations and how did she train herself to become a gold medalist.
She was featured on NBC Sports Network for the "Going 4 Gold: Kerri Walsh Jennings" Special on April 15, 2021.
>>>Chris Evert Net Worth: Book, Charities, Tennis & Salary>>>
Kerri Walsh Jennings: Charity
Popularly known as six feet of sunshine, Kerri is an endorser of everyday kindness, which is also evident from her involvement with Kindli. She is also an advocate of healthy lifestyles and well-being through sports.
In 2004, Kerri founded her philanthropic foundation, 'chase the stars,' with an ambition to improve the lives of children. The foundation partners with the good tidings foundation supporting children's arts, education, and athletics in underprivileged communities.
The two foundations together have built five sand volleyball courts at schools throughout California.
Besides that, she is doing her best to support the future of volleyball, the junior athletes, through the various programs organized by p1440.
In 2019, she made a charitable donation of $25,000 to starlings volleyball, the USA, in partnership with the Dicks sporting goods foundation.
The organization helps at-risk girls through the power of volleyball.
Kerri has also made monetary donations to organizations like Colorado Springs Foundation. Recently, Kerri has partnered up with
@socalhondadealers
and the Volleyballers of Canyon High School for a random act of helpfulness.
She is also seen supporting
@kindlisocial
, an app that encourages people to commit 1 billion acts of kindness where there is no fear and no judgments.
Kerri Walsh Jennings: Lifestyle
Between her training, matches, foundation, and family, Kerri rarely gets time to take a break and go on a nice holiday. But still, she gets to travel a lot more than the average person because of the international tournaments.
Kerri has an active lifestyle, and as an elite athlete taking care of your body is one of the biggest priorities. She has a strict exercise regimen and prefers raw but nutritious food in her diet.
As the 2020 Olympics were postponed due to the pandemic, her lifestyle took a major turn.
For an elite athlete, such news can cost a lot. But on the other hand, Walsh got to spend quality time with her family, which was compensation.
Kerri Walsh Jennings: Career
Kerri started playing volleyball at school and even lead her high school to win state championships three times.
But she started to leave her mark during her time at Stanford, where she won two national championships and was a co-national player of the year in 1999. She is still regarded as one of the best all-rounder collegiate volleyball players.
Professionally, Kerri players nationally with AVP Tour and internationally with the FIVB world tour.
The most successful time in Walsh's career was her partnership with Misty May. Their 8 years long association brought them three times Olympic gold and no one world ranking.
Subsequently, Misty retired, and Walsh teamed with April Ross. In 2013, she won the FIVB Grand Slam, which made her the record holder for most wins by a female professional volleyball player.
Kerri and her newest partner Brooke Sweat lost their qualifying tournaments for the Tokyo Olympics, which could have been the sixth Olympics of her career.
>>>Tonya Harding Bio: Husband, House, Boxing & Net Worth>>>
Kerri misses the 2021 Olympic Beach Volleyball
The three-time gold medalist and one of the most expected names on the USA team miss out on Tokyo Olympics 2021 after losing in the beach volleyball qualifying round.
Walsh Jennings, along with partner and 2016 Olympian Brooke Sweat, had the minute lead for the second and final United States spot for Tokyo.
But in the qualifying round, Sarah Sponcil and Kelly Claes, now the youngest US Olympic beach volleyball duo in history, passed Walsh Jennings and Sweat in the standings, which left them with their backs against the wall.
"It's been a really rough year, and to lose in a qualifier, it feels really hard right now," Kerri said.
Kerri Walsh Jennings: Facts
1. The legendary player was in the early stage of pregnancy when she won the London Olympic Gold. Earlier she had received warnings about losing sponsors, but she went ahead and showed everyone what she was capable of.
2. Being a star player doesn't automatically make you the smartest person, though. Kerri posted a photo on Instagram in September 2020 where she was seen grocery shopping without a mask. Moreover, her caption implied that she believes wearing a mask or not is a matter of personal freedom. Following a backlash from netizens, she posted an apology later.
3. Misty and Kerri first talked about partnering up at the 2000 Olympics. However, that was not their first interaction. The power team's history goes back to their high school days when their respective schools actually competed against each other. Both were star players during high school, and they would eventually go on and set the standards of an outstanding volleyball team.
Kerri Walsh Jennings: Social Media
Kerri is not far from the charms of social media and is, in fact, the founder of a social media platform herself.
Being one of the most popular beach volleyball players has made her social media numbers hike very well.
She loves to post cute pictures of her family time and occasional words of motivation for her followers.
Facebook: 304K followers
Instagram: 239k followers
Twitter: 167.9K Followers
Quotes
"The balancing act of motherhood and a career, and being a wife, is something that I don't think I'll ever perfect, but I love the challenge of it."
"I think the No. 1 thing that helps me get through every single day is the support of my friends and my family."
"There's only one way to prepare for playing beach volleyball, and that's by getting in the sand."
Kerri Walsh Jennings: Frequently Asked Questions
Is Kerri Walsh retiring?
In 2020, she made it clear that she had no plans to retire before Tokyo Olympics. 41 years Kerri Walsh has had a long and successful career, and she might be considering retiring in a few years.
But since she could not qualify for Tokyo, it is unsure what plans she has ahead.
Are Misty may and Kerry Walsh friends?
Besides being great on-court partners, Misty and Kerry are also excellent friends in real life.
Since their career has moved on in the different direction, they have frequently talked about missing training with each other.
Why did Kerry Walsh stop playing together?
In 2017, Kerry decided not to sign with AVP because she believed it was limiting her growth potential.
However, April Ross signed the agreement and stayed with AVP. Due to that, they stopped playing together immediately after winning a bronze in Rio Olympics.
Which religion does Kerry Walsh follow?
She is a profound believer in Jesus Christ and has a lot of faith in him. To go by her Instagram post, Kerry has mentioned Jesus to be her good friend, protector, and leader she aspires to follow as she goes through her life.