The renowned football player Kevin De Bruyne's sister, Stephanie De Bruyne, is his biggest supporter and one of the most crucial figures in his life.
Kevin De Bruyne currently plays for Premier League club Manchester City, where he also holds the position of team captain.
He has made headlines for his exceptional performance with Manchester City.
During a crucial match against Arsenal, De Bruyne scored two goals, keeping City in the lead for the title race.
In addition to his success on the field, Kevin De Bruyne didn't hesitate to acknowledge the remarkable contribution of Erling Haaland.
Kevin De Bruyne is a highly acclaimed Belgian soccer player known for his exceptional skills as a midfielder.
De Bruyne is also a key player for the Belgium national team, known for his versatility and ability to excel in different areas of the game.
Kevin has earned a reputation as a "complete soccer player," showcasing his all-around abilities on the field.
Meet Kevin De Bruyne Sister, Stefanie De Bruyne
Kevin De Bruyne was born as the son of Herwig and Anna De Bruyne on June 28, 1991.
De Bruyne is not a single child. He also has a sister named Stephanie De Bruyne. She is often spotted at his matches, showing her support.
Despite having a young family of her own, Stephanie manages to make time for attending matches and being present with the family at both club and international levels.
Kevin De Bruyne Parents
Kevin's mother, Anna, gave birth to him in Belgium when she was 18. But he spent most of his childhood in England and the Ivory Coast due to his mother's side of the family.
His grandfather was involved in oil investments in Africa in the 1990s. So they had to travel frequently between Europe and Africa.
Anna has worked in oil-related fields her entire career and now looks over the family business.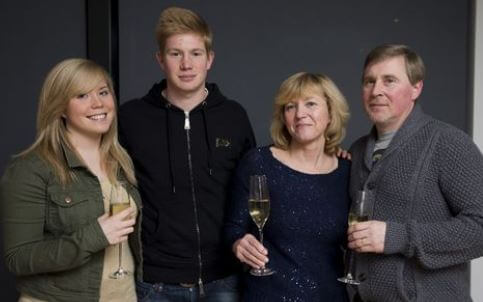 While working most of the time in Africa, she met Kevin's father when she was traveling to Belgium.
Kevin's father, Herwig, manages his son's career, overseeing sponsorships, appearances, and more.
Herwig's prior experience as a businessman and negotiator has made the transition to managing Kevin's career seamless.
Kevin De Bruyne Relationship
The popular soccer player Kevin De Bruyne has been in a relationship with Michele Lacroix since 2014.
The adorable couple got married in 2017 after dating for almost three years. They have three children together; Mason, Rome, and Suri.
The two met on Twitter in 2014. In an interview, Kevin said he "didn't even have the heart to slide into my future wife's DMs," so his friend had to write a message on his behalf.
If it weren't for his friend, we would not have been able to see these lovebirds together.
He shares occasional updates about them on Instagram but generally avoids discussing them in the media.
De Bruyne's approach to keeping his family life private is commendable. Despite being in constant limelight, he prioritizes the well-being and privacy of his children.
Kevin De Bruyne Beef With Courtois
Kevin and Courtois are not in good terms since 2014. Despite playing for the same national team, they do not exchange any words between them.
Kevin was in a relationship with Caroline Lijnen in 2014. Caroline admitted that she cheated on Kevin and slept with Courtois in Madrid.
She told the Belgian newspaper Sport Kevin had an affair with her old best friend, but she gave him another chance.
Even after giving him a second chance, their relationship was never the same. Lijnen added that Courtois gave her what she missed with De Bruyne for years.
After this incident, the City's midfielder lost his form at Chelsea FC. But later, De Bruyne gained form after joining Manchester City.