Kevin Harlan is an announcer for American television and sports radio. He currently broadcasts CBS NFL and college basketball games and is also a play-by-play announcer on TNT for the NBA.
Interestingly, Kevin is the son of former executive Bob Harlan of Green Bay Packers. Moreover, Harlan had been the voice of Final Four coverage by Westwood One Radio until 2008.
Likewise, he has also served as the lead announcer for Monday Night Football at Westwood One in 2010, calling his first Super Bowl in Super Bowl XLV.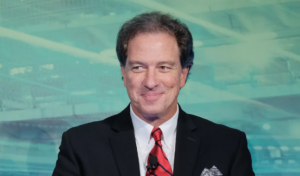 He broadcasted nine consecutive Westwood One Super Bowls, Super Bowls 45-53, out of which nine are the second-most in radio networks' history (Jack Buck, 17).
Likewise, Harlan has also been calling his hometown Packers' pre-season games for the team's statewide television network since 2003.
In 2001, Harlan also broadcasted Super Bowl XXXV's CBS HD feed. Notably, he has also received National Sportscaster of the year in 2017 for his incredible performance.
Hence, today, we will focus more on Kevin Harlan's career and also discuss his personal life, net worth, children, and much more.
So follow to the end of the article to know more about Kevin. Let us start with some of the quick facts.
Quick Facts:
| | |
| --- | --- |
| Full Name | Kevin Harlan |
| Birth Date | June 21, 1960 |
| Birth Place | Milwaukee, Wisconsin |
| Famous As | Kevin Harlan |
| Birth Country | USA |
| Nick Name | NAt |
| Religion | Christian |
| Nationality | American |
| Ethnicity | White |
| Education | Lady of Premontre High School |
| Mother's Name | Madeline Harlan |
| Father's Name | Bob Harlan |
| Horoscope | Cancer |
| Siblings | Unknown |
| Age | 63 years old |
| Height | 6 ft 3 in |
| Weight | Unknown |
| Hair Color | Dark Brown |
| Eye Color | Bright Brown |
| Build | Athletic |
| Profession | Anchor |
| Marital Status | Married |
| Wife | Ann Harlan |
| Kids | Two |
| Salary | Not Available |
| Net Worth | $1 million |
| Social Media | Instagram, Twitter |
| Last Update | November,2023 |
Kevin Harlan | Early Life, Family & Education
Kevin Harlan was born in the Milwaukee, Wisconsin, on 21 June 1960 to Bob Harlan and Madeline Harlan. His father Bob was a Green Bay Packers executive.
As for his education, Kevin attended Lady of Premontre High School, where he became interested in broadcasting.
He began to work for WGBP, a high school radio station, calling for play-by-play for various basketball, ice hockey, and football teams.
After matriculation, he enrolled in the School of Journalism and Mass Communications at the University of Kansas and graduated in 1982 with a BA in Broadcast Journalism.
While there, Tom Hendrick spotted him and admired his talent, eventually making him his understudy, which led Kevin to gain sufficient knowledge and experience.
How old is Kevin Harlan? Age, Height & Body Measurements
Harlan was born in 1960, which makes him 63 years old as of 2023. Moreover, he was born on 21 June, which makes his birth sign Cancer.
Speaking of his appearance and physical statistics, Kevin stands at 6 ft 3 inches (1.90 m) tall, while his weight has not been revealed to the public.
He has dark brown hair and bright brown eyes. In addition, he has a well-maintained body shape, though he is in his late 50s. Besides, he is an American citizen whose ethnicity belongs to White.
Kevin Harlan | Professional Career
After graduating, Kevin decided to make a professional career in the field of journalism.
His career started when he was hired to do the job as the host on radio and television voice of the NBA's Kansas City Kings (now the Sacramento Kings).
After that, he spent a year as a basketball announcer for the Kansas Basketball Network University (1983).
Moreover, his outstanding academic performance undoubtedly helped him climb the success ladder so fast, so both of these projects helped establish his net worth.
Further, Harlan became the television and radio voice of NBA's Kansas City Kings in 1982, at the early age of 22.
Not to mention, Harlan was also the basketball announcer for his alma mater, the University of Kansas, for a year.
Later, he then went on to call games for the NFL's Kansas City Chiefs from 1985–93. After several years of hosting and producing surrounding pre-game and post-game programming.
Coincidentally, the current Packers play-by-play voice Wayne Larrivee left the position of Chiefs open when he began a thirteen-year run.
Rise to Fame
Kevin came to prominence as he began calling for games for the Kansas City Chiefs of the NFL, working in the position for nine seasons until 1993 from 1985.
He also worked as a basketball announcer from 1986 to 1989 and as a football announcer for the Missouri University.
Later, he then went on to do the job as a play-by-play commentator on KARE-TV and KFAN-AM Radio for the NBA's Minnesota Timberwolves team for nine seasons between 1989 and 1998.
Likewise, he also split time calling football and basketball games with the University of Missouri (1986–1989).
Not to mention, he also worked as the NBA's Minnesota Timberwolves' play-by-play voice for nine seasons from 1989 through 1998.
On the network level, Harlan called NFL football for NBC in 1991, college football for ESPN in 1992–93, NFL for Fox from 1994 to 1997.
Further, he joined Turner Sports in 1996 to cover NBA playoff games and start calling games throughout the 1997 season. Then, in 1998, Harlan began working for CBS.
Network Career
His career moved to the next level at the beginning of the 1990s, as he was given the job to call NFL football games for the NBC network in 1991.
He then went fast and steady on to call college football for the ESPN network between 1992 and 1993.
Further, Harlan continued to line up successes in the following year, calling for Fox Sports to NFL games until 1997, raising his net worth by a large margin.
Likewise, he also joined Turner Sports in 1996 to call for the NBA playoff games. After which, throughout the 1997 season, he was promoted to call games, the position he holds to this day.
Later, Kevin also joined the NFL broadcast team at CBS Sports in 1998, working as a play-by-play announcer there. In addition, Kevin also covered The NCAA Men's College Basketball Championship.
During the same year, Kevin was hired for the Goodwill Games as a basketball announcer, after which he also covered several Bowl games for the Chicago Bears and Jacksonville Jaguars.
Likewise, he also covered pre-season games on WBBM-TV for Green Bay Packers, increasing his net worth further.
Some of his Recent Projects
Kevin also spent some time as the voice of the NCAA Final Four for both the Westwood One Radio Network and CBS Radio Network from 2003 to 2007 to further speak about his career.
In 2009, he started to work as the lead play-by-play announcer for Westwood One Radio's "Monday Night Football," covering Super Bowl XLV.
Kevin Harlan has been named National Sportscaster of the Year by the National Sports Media Association (NSMA) in 2017, another accolade to add to his collection.
Voice in Video Games
In addition to his involvement in broadcast journalism, Kevin also tried himself as a voice-over actor in the video game.
Since 2006, he has provided his voice in the NBA's "2 K" video games series.
Harlan also lent his voice to Acclaim Sports' video game "NFL QB Club 2002," which has exposed his engrossing voice to thousand of admirers of this video game series.
Achievements
The NSMA voted Harlan in 2017 by his peers National Sportscaster of the Year. In 2019, the NSMA again elected him National Sportscaster of the Year.
He was also named by The Athletic as National Sportscaster of the Year 2019.
Harlan was inducted into the Notre Dame Academy High School Hall of Fame in September 2019 (the former Premontre HS, which he attended in Green Bay, Wisconsin).
Who is Kevin Harlan's wife? Marriage, Relationship, And Children
Kevin Harlan is a happily married man. He exchanged his wedding vows with Ann Harlan. Her wife supports him and helps him in every circumstance. In 1987, the couple tied their knots.
The lucky couple has been blessed with two children, a daughter, Olivia Harlan, and a son, Robert Harlan.
The happy family currently resides in Mission Hills, Kansas and Kevin have a good relationship with his wife. So there is no question of any kind or any news of a divorce between perfect couples.
Sources said that no one was his dating partner during his long career. He's loyal to his wife and a responsible father as well.
He has an amazing wife and lovely children; therefore, there is no question about his sexuality. In addition, he's a good friend of Susie Gharib and Michael Kay.
Kevin Harlan's Daughter | Olivia Harlan Dekker
Their daughter, Olivia Harlan, exchanged the wedding vows on 14 July 2018 with Sam Dekker: He is a basketball player for the National Basketball Association's Washington Wizards.
Harlan's daughter Olivia was born on 9 April 1993 and became enamored by sports at a very young age.
Olivia had covered athletics for the school website during her time at the University of Georgia.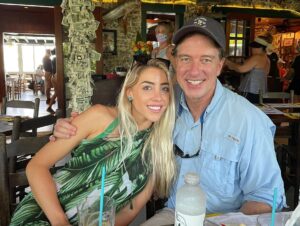 Olivia enjoyed a rapid ascent as a daddy in her career. By 2014, Olivia was hired as a college football reporter by ESPN and SEC.
In addition, she is the host of ACC All Access. She especially came into the limelight through her marriage to Los Angeles Clippers' player Sam Dekker.
What is Kevin Harlan's salary? Net Worth and Salary
As of 2019, the American television and radio sports announcer Kevin Harlan has an estimated net worth of $1 million. This net worth is $0.3 million less compared to Lindsay Rhodes, a fellow journalist.
Harlan currently has a $400,000 annual salary from his profession. In addition, he's one of the media world's most lovable names.
He is living a lavish lifestyle with tremendous net worth and earnings. His fans follow him actively on social networking sites. You can get a lot of info about his bio from Wiki.
Net Worth of Kevin Harlan in Different Currencies
Also, have a look into Kevin Harlan's net worth in different currencies.
| | |
| --- | --- |
| Currency | Net Worth |
| Euro | 845,955€ |
| Pound Sterling | 720,835£ |
| Australian Dollar | 1,340,465A$ |
| Canadian Dollar | 1,251,895C$ |
| Indian Rupee | 74,530,500₹ |
| BitCoin | 31฿ |
Social Media Presence:
Kevin Harlan is quite active on social media. If you want to know more about his daily life and events, be sure to check him out. In addition, you can follow him via these links.
Instagram: 10.8k followers
Some FAQs:
What was Kevin Harlan's comment about the drunk fan at the Super Bowl?
An unidentified fan wearing a pink one-piece bathing suit and black shorts ran onto the field at Super Bowl LV and interrupted the game.
It became quite a funny moment at the Super Bowl field as it was quite surprising and unusual. Likewise, it was just about five minutes remaining in the game.
To add more fun to the moment, Kevin Harlan commented about the fan saying,
"Someone has run on the field, some guy with a bra. He runs to the 50; he runs to the 40. The guy is drunk, but there he goes."
Who does Kevin Harlan commentate for?
Kevin Harlan currently announces NFL, NBA, and college basketball games on CBS. Likewise, he also works as a play-by-play announcer for the NBA on TNT.
Does Kevin Harlan call NBA games?
Yes, Kevin Harlan also broadcast NBA games. During the 2020 season, he even called NBA games remotely and broadcasted the game from his house basement in Kansas.
Where does Kevin Harlen live?
Kevin Harlan currently resides in Mission Hills, Kansas, with his family.