Kevin Jones is a former college and professional football player from the United States. He was a consensus All-American running back for Virginia Tech University in 2003.
The exceptional football star was drafted first overall in the 2004 NFL Draft, where Kevin showed his dominance as a National Football League player for the Detroit Lions and Chicago Bears from 2004 to 2010 (NFL).
However, his career wasn't limited to just NFL; Jones was also briefly part of the United Football League(UFL) in 2010 and served close to the field even after his retirement at Virginia Tech.
But that's not all; the former NFL player also co-founded Void Design Haus (later renamed Joba), a Blacksburg, Virginia-based design firm, to chase his designer dream.
Want to know more about Kevin Jones? We have summed up everything about the former NFL running back, Kevin Jones, in this article. So, please read this article to the end to know about Kevin.
But, before that, here are some quick facts about the former NFL player.
Quick Facts
| | |
| --- | --- |
| Full Name | Kevin Shaheed Jones |
| Nick Name | Kevin |
| Date of Birth | August 21, 1982 |
| Age | 40 years old |
| Birth Place | Chester, Pennsylvania |
| Nationality | American |
| Ethnicity | African-American |
| Zodiac Sign | Virgo |
| Religion | Christian |
| Height | 6 ft 0 in |
| Weight | 103kg |
| Hair Color | Black |
| Eye Color | Black |
| Father's Name | Thomas Jones |
| Mother's Name | Tracy Jones |
| Siblings | Not Available |
| High School | Cardinal O'Hara High Schoo |
| Education | MBA, Ph.D. Candidate |
| University | Virginia Tech University |
| Marital Status | Married |
| Wife's name | Robyn Daniel |
| Children | Three; Kevin, Jr. Jones, Kennedy Jones, and Kensington Jones |
| Profession | Former NFL Player, Designer |
| Position | Running back |
| Jersey Number | 27, 34 |
| Leagues | National Football League (NFL), United Football League (UFL) |
| NFL Draft | Round: 1, Pick: 30, 2004 |
| Debut Year | 2004 |
| Rushing attempts | 795 |
| Rushing yards | 3,176 |
| Rushing touchdowns | 24 |
| Receptions | 143 |
| Receiving yards | 1,011 |
| Receiving touchdowns | 3 |
| Net Worth | Under Review |
| Social Media | Instagram, Twitter |
| Merch | Jersey |
| Last Update | March, 2023 |
Kevin Jones: Early Life and Family
The football player, Kevin S. Jones, was born on August 21, 1982, in Chester, Pennsylvania. His father's name is Thomas Jones, and his mother's name is Tracy Jones.
Kevin was interested in sports ever since he was a child. The player became a highly conditioned athlete at a young age thanks to his natural ability and his father's training regimen.
Kevin Jones: High School Career
Kevin was a multi-sport athlete in high school (1997-2001) at Cardinal O'Hara High School in Springfield Township, Delaware County, Pennsylvania.
George Stratts, the head football coach at O'Hara, reluctantly started Kevin as a freshman. To George's surprise, Kevin had immediate success on the field and went on to be a four-year starter, setting numerous school records.
The player led his team to the Philadelphia Catholic League championship as a senior and became the league's all-time leading rusher.
Calvin Johnson, a Detroit Lions player, holds the NFL record for most 100-yard games in a season. Learn more about him here>>>
Kevin Jones: College Career
The player played from 2000 to 2003 for Virginia Tech and Hall of Fame coach Frank Beamer. He is the highest-rated recruit ever to commit to Virginia Tech's football program.
Likewise, Jones took over as the starter during his freshman season after starter Lee Suggs was injured. He also established a freshman rushing yardage record.
In 2002, Suggs and Kevin split time at tailback and were dubbed "The Untouchables" as a result of a fan contest to name the duo.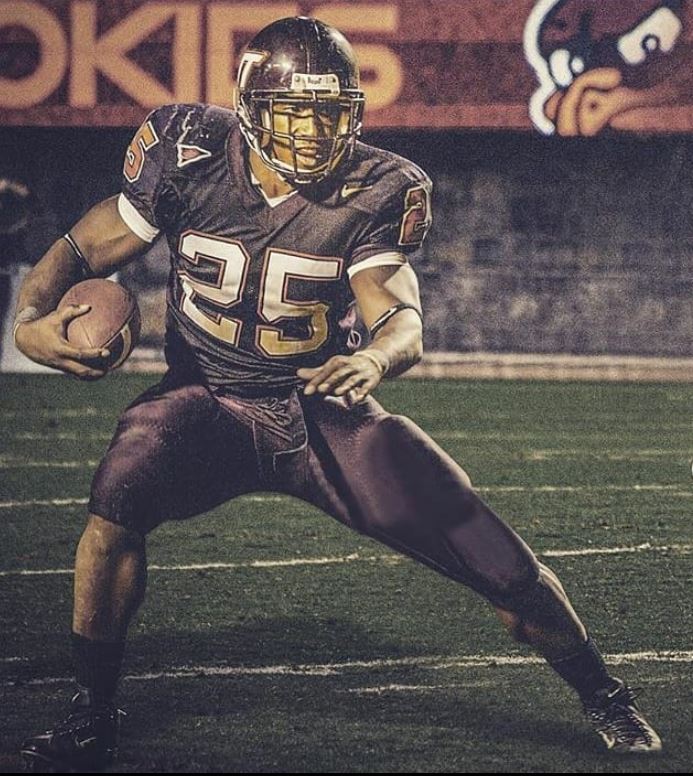 The American player finished his college career with 3,475 yards and 35 touchdowns on 616 carries and 24 receptions for 229 yards.
Kevin's 3,475 rushing yards and 35 touchdowns are both second on the school's all-time list. In 2016, he was inducted into the Virginia Tech Sports Hall of Fame.
Professional NFL Career
Kevin had a successful rookie season with the Detroit Lions. He was only the third running back in franchise history to rush for 1,000 yards in his debut, joining Billy Sims and Hall of Famer Barry Sanders.
Kevin took over as starter against the Tampa Bay Buccaneers in Week 7. In a Week 8 win over the division rival Chicago Bears, he rushed for 105 yards on 23 carries and scored once.
Kevin signed a one-year contract with the Chicago Bears on July 15, 2008. On March 6, 2009, he was re-signed to a two-year contract. The player was supposed to be Matt Forte's primary backup.
Kevin was released on March 9, 2010, after the Bears signed free agent Chester Taylor.
Kevin Jones: Injuries and Setbacks
Jones was sidelined with a foot injury at the end of the 2006 season. He later started the 2007 season as a backup.
The player, however, suffered another season-ending injury. The player was released by the Lions on March 13, 2008.
Similarly, Kevin was injured during a preseason game on September 3, 2009, when the player was hit out of bounds by Browns' linebacker Marcus Benard. He missed the 2009 season due to torn ligaments in his left ankle.
Career Highlights and Awards
2004 PFWA All-Rookie Team
2003 Consensus All-American
2003 First-team All-Big East
Wide receivers are primarily in charge of catching forward passes from quarterbacks. While a receiver must be quick, having a tall stature is always advantageous. Here are the top ten tallest NFL receivers of all time>>>
Kevin Jones: Facts and Trivia
Jones is the first recipient of the United States Army Player of the Year Award, known as the "Hall Trophy," which is given to the best high school football player in the country.
Jimmy Clausen, Adrian Peterson, and Terrelle Pryor are among the other notable recipients of the award.
Similarly, Kevin was the nation's top overall recruit in 2000. The former running back was courted by a number of colleges before settling on Penn State and Virginia Tech.
Many people were surprised when Jones decided to become a Hokie the day after Virginia Tech Head Coach Frank Beamer paid him a home visit.
The player's college announcement was so anticipated that it was covered nationally and aired on several local news stations. Since then, recruits' use of props (hats, shirts, gear, music, etc.) to announce their college choice became a standard part of the recruiting process.
The phenomenon can be attributed to Kevin, who was the first to do so with his announcement in 2000.
Kevin Jones: A Designer Athlete?
Kevin Jones is not only a former NFL football player but also a designer and a marketing entrepreneur.
After his retirement from football in 2011, Kevin returned to Virginia Tech after seven years in the NFL to study industrial design in the College of Architecture and Urban Studies.
Because his previous studies had been in property management, he had to start over with this new degree path. The player was 29 years old, married, with kids, and spending hours every week in a studio!
All of that was definitely not an easy task, but Kevin was determined to make it happen. Pursuing his dream of becoming a designer required the same rigor and sacrifice as his football training.
In 2014, the player earned a bachelor's degree in industrial design. The player refers to himself as "the designer athlete," and admits that his background in both disciplines helps him solve complex design problems.
Kevin's projects range from designing children's spoons to creating designs for Virginia Tech athletic facilities such as English Field at Atlantic Union Bank Park and the Merryman Athletic Facility.
Gokies
Kevin was the lead designer of "Gokies," a keychain shaped like a turkey track that is shaken during "the key play," which occurs on third downs during Virginia Tech football games.
It was the success of Gokies that prompted the establishment of Joba Studio, a multidisciplinary design firm based in the Virginia Tech Corporate Research Center.
Other Post-Retirement Ventures
Kevin worked as the only American in a 22-man crew aboard the 68-foot racing yacht Caol ila R while interning at a furniture design firm in Switzerland. The former player had worked five races with the team by the summer of 2014.
Virginia Tech hired Kevin as "Special Assistant to the Athletic Director" in 2014. However, Kevin resigned from his position on June 12, 2016.
Similarly, Kevin collaborated with Swiss brand USM Modular Furniture at International Art Basel + Design events in Miami in 2020 and 2021, building on relationships formed during an undergraduate internship in Switzerland.
The HUE+MAN Design Competition winners' work is featured in the 2021 collaboration. The competition promotes diversity in the global design industry by providing funding and mentorship to emerging designers of color.
At the 2022 American Advertising Awards, the work received Best in Show, Gold, and Mosaic awards (Western Virginia).
Kevin Jones: Marital Life
The former NFL player is happily married to Robyn Daniel, and the couple has three children together; Kevin, Jr. Jones, Kennedy Jones, and Kensington Jones.
Kevin loves his family from the bottom of his heart and occasionally expresses gratitude toward them. Which, of course, is also reflected on the walls of his social platforms, the NFL veteran doesn't miss giving updates about them.
The running back veteran often dedicates his success and accomplishments to his wife and children. Jones is frank about how much of inspiration and motivation his family has been for him to be where he is today.
Kevin Jones: Net Worth
Kevin made quite a sum of money during his 7 years NFL career. The player signed a one-year, $605,000 contract with the Chicago Bears on July 15, 2008.
Likewise, on March 6, 2009, he was re-signed to a two-year contract worth approximately $3.5 million. The contract also included a $1 million bonus and a $2 million salary for the first season.
After his retirement too, the player received wide success as a designer. Currently, the player's exact net worth is not available.
J.J. Watt is the epitome of a gentleman. The top NFL player of 2015 has been with the Houston Texans since his first draft. Here's all you need to know about Watt>>>
However, looking at his successful career, we know that he has made enough money for himself and his family to afford a lavish lifestyle.
Social Media
Frequently Asked Questions
Was Kevin Jones interested in sports other than football?
Football was not the only sport that grabbed Kevin's attention. The player was a standout track and field performer during his high school days.
He won the 60 meters (6.79 seconds), 100 meters (10.59 seconds), long jump (6.92 meters), and triple jump (14.57 m).
What is Kevin Jones doing now?
Kevin, who is always striving for the best, is now working on a Ph.D. in environmental design and planning.
The program is part of the multidisciplinary, practice-based Ph.D. program at Virginia Tech. Students in this program create projects that correspond to the contributions they want to make in their area of expertise.
Did Kevin Jones also play for the UFL?
Yes, Kevin also played for the UFL. The player signed with the Hartford Colonials of the United Football League on September 27, 2010.
Jones played in two games for the Colonials in his only season, rushing for 41 yards on 16 carries before being placed on injured reserve on October 21, 2010.