Nicolas Hülkenberg, famous by the name Nico Hülkenberg is a German professional racing driver. He participated in Formula One events in 2010 and from 2012 to 2020.
Currently, the racer is a part of the Aston Martin F1 team. He serves as their reserve and development driver for Formula One racing.
In December 2020, Nico held the record for the most Formula One career starts without a podium finish.
Likewise, Hülkenberg participated in two rounds of the 2015 FIA World Endurance Championship season for Porsche and won the 24 Hours of Le Mans on his first attempt.
Nico has also been the champion of the 2009 GP2 Series, Formula 3 Euro Series, and A1 Grand Prix, with A1 Team Germany.
Since 2005, he has been one of only five drivers to win the Formula 2 Championship, formerly known as the GP2 series, in his debut season.
We will read about Nico's personal life, social life, career, and achievements throughout this biography. Let us start with some quick facts.
Quick Facts
| | |
| --- | --- |
| Full Name | Nicolas Hülkenberg |
| Birth Date | August 19, 1987 |
| Birth Place | Emmerich am Rhein, West Germany |
| Nationality | German |
| Education | N/A |
| Horoscope | Leo |
| Father's Name | Klaus Dieter Hülkenberg |
| Mother's Name | Susanne Hülkenberg |
| Siblings | Stephanie Hülkenberg |
| Age | 35 years old |
| Height | 6 feet (184 cm) |
| Weight | 75 kg (165 lb) |
| Shoe Size | Size 43 (Europe) |
| Profession | Professional Racing Driver |
| Debut | 1997 (Karting), 2005 (Formula BMW) |
| Net Worth | $4.6 million |
| Married | No |
| Partner | Egle Ruskyte |
| Children | No |
| Salary | $4 million annually |
| Social Media | Twitter (1m followers), Facebook (396k followers), Instagram (1m followers), YouTube (841 subscribers) |
| Formula One Merch | Tshirt, Apparel |
| Last Update | June, 2023 |
Nicolas Hülkenberg | Early Life, Family, and Education
Nicolas Hülkenberg was born on August 19, 1987, at Emmerich am Rhein in North Rhine-Westphalia, West Germany. His father's name is Klaus Dieter Hülkenberg.
Likewise, Nico's mother's name is Susanne Hülkenberg. Nico's father owns a shipping company named Hülkenberg Spedition e. K, and it is based in their hometown of Emmerich am Rhein.
At his father's company, Nico trained as a freight forwarding agent for some time, and he is multilingual, i.e., he is fluent in Dutch, German, French, and English.
Nicolas Hülkenberg | Height and Weight
Nico stands about 6 feet or 184 cm tall, and he weighs around 75 kg or 165 lb. His hair color is blond. Nico's eyes are blue.
Similarly, he was once the heaviest driver at the grid, and it hindered his move to a top F1 team.
Leah Pruett Bio: Early Life, Career, Racing & Net Worth >>
Nicolas Hülkenberg | Racing Career
In 1997, when he was 10, Hülkenberg made his karting debut and won the German Junior Karting Championship and German Kart Championship in 2002 and 2003. Nico made his Formula BMW debut in 2005.
After nine wins in his rookie season, Hülkenberg became the most successful driver in A1GP history and single-handedly helped Germany win the championship with 128 points.
GP2 Series (2009)
After making his debut for GP2 Asia Series with the ART Grand Prix team at the third round of the 2008-09 GP2 Asia Series in Bahrain, Nico took the pole position. He finished sixth in the championship.
In the 2009 GP2 Series, he won with his teammate Pastor Maldonado and then went on to win the sprint race. He clinched the title with two races to spare.
In 2007, in a test for Williams, Hülkenberg drove a Formula One car for the first time. Similarly, he gained his first Formula One pole position on November 6 at the Brazilian Grand Prix.
Force India (2011-2012)
Hülkenberg and di Resta were declared their drivers for the 2012 season by Force India on December 16, 2011. Hülkenberg qualified ninth for the Australian Grand Prix, but he could not complete the race.
At the Belgian Grand Prix, he attained his best Formula One finish with fourth. At the Brazilian Grand Prix 2012, Nico qualified for 7th but was then promoted to 6th position.
Hülkenberg then signed for Sauber for the 2013 season. He failed to start the Australian Grand Prix due to a fuel system leak, finished the Malaysian Grand Prix at eighth, and the Italian Grand Prix at fifth place.
However, in the Korean Grand Prix, he had his best finish of the season by achieving the fourth position.
Return to Force India
Force India signed Hülkenberg for 2014 to race alongside Sergio Pérez. He finished fifth in Malaysia, and Bahrain put him in the third position behind Lewis Hamilton and Nico Rosberg in the drivers' standing.
He finished the 2015 season at 10th place with 58 points, 20 behind his teammate, and helped Force India finish sixth in the Constructors' Championship. Nico signed with Force India again alongside Sergio Pérez for the 2016 season.
Moreover, he finished seventh in Australia, followed by two 15th position finishes, and then a sixth-place finish at Monaco.
In the last race of the season in Abu Dhabi, Hülkenberg qualified and finished at seventh place. He finished ninth in the Drivers' Championship with 72 points. Force India finished the season with a fourth-place finish in the Constructors' Championship.
Alex Albon: Net Worth, Girlfriend, Nationality & Red Bull >>
Nico's contract with Renault
It was announced by Renault Sport on October 14, 2016, that Hülkenberg had signed a multi-year contract to race with the Renault Sport Formula One team.
He earned his initial points for the team with a ninth-place finish at Bahrain in the season's third race.
Renault finished at sixth position in the Constructors' Championship, and Hülkenberg finished the Drivers' Championship at 10th.
Multiple Grand Prix
In the United States, following a series of disappointing results, he bounced back with a 6th place finish. He then finished sixth in Mexico too. Nico finished the season with 69 points at the 7th position, and Renault finished fourth.
Multiple Grand Prix winner Daniel Ricciardo joined Renault from Red Bull for the 2019 season.
With 17 points, Nico was 14th in the Drivers' Championship into the summer break, while Daniel had 11 points. It was announced before the Belgian GP that Hülkenberg would be replaced by Esteban Ocon the next season.
In Japan, he was disqualified for the first time in his entire Formula One career after it was reported that both Renault cars had pre-set automated brake bias system, which was considered a driver aid and illegal.
Racing Point
After Sergio Pérez tested positive for SARS-2 coronavirus, Hülkenberg replaced him at Racing Point for the British Grand Prix and 70th Anniversary Grand Prix.
After failing to start the race due to an engine failure at the British Grand Prix, he got another chance at 70th Anniversary Grand Prix at Silverstone Circuit after Sergio tested positive for COVID-19.
Hülkenberg qualified in the third position and finished seventh. At Eifel Grand Prix, he finished eighth and won the fans' vote for Driver of the Day.
Sportcars
Hülkenberg won the 24 Hours of Le Mans race alongside Nick Tandy and Earl Bamber on June 14, 2015.
Aston Martin F1 Team
After being out of the track for some time, Hülkenberg made an entry by signing a deal with an F1 team in 2021.
The contract signed him with a British car manufacturer, Aston Martin. Further, he is a reserve driver behind fellow German racer Sebastian Vettel.
Likewise, during the season-opening Bahrain Grand Prix, the racer replaced Sebastian Vettel. He tested positive for COVID-19 which led Hülkenberg to take on the wheels.
Moreover, the German driver finished 17th in the race. Similarly, he also raced at the Saudi Arabian Grand Prix where he started at 17th and finished in 12th position.
Aside from that, he is also a part of Aston's development team. As a result, his veteran experience is a very viable asset for the team.
Nicolas Hülkenberg | Relationships, Wife, and Children
Hülkenberg is not married, and he has no kids yet, but he has been in a relationship with Lithuania native Egle Ruskyte. The couple has been together since 2015, and Egle has been seen on the paddock over race weekends.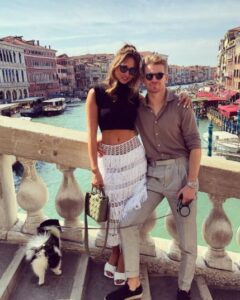 Though not much is known about Ruskyte, it's reported that she runs her own fashion business. Before Egle, Nico dated a police officer by the name of Laura Zinnel.
However, the couple split in 2014 after eight years together. The reason behind their split has yet to come to light.
Nicolas Hülkenberg | Net Worth
Hülkenberg made his debut for the Williams team back in 2010 and managed to attain the pole position at the Brazilian GP the same year. He has participated in Williams, Sauber, Force India, and Renault races.
Nico has always fallen short of attaining the pole position despite his tremendous potential.
The 4th position is the highest ever, a feat he achieved in Belgium 2012, Korea 2013, and Belgium 2016. In addition, with Nick Tandy and Earl Bamber, he won the 2015 24 Hours of Le Mans.
German vehicle inspection company Dekra sponsors Nico, along with Alpinestars and others. He has a net worth of about 4.6 million as of 2023.
Nicolas Hülkenberg | Social Media Presence
Hülkenberg has profiles on Instagram with 1 million followers, Facebook with 396 thousand followers, and Twitter with 1 million followers.
He also has a YouTube channel with 841 current subscribers, to which he used to upload content about 6 years ago.
On his social media, Nico shares a lot of different kinds of stuff. Sometimes his pictures are with his colleagues and friends, sometimes they are about his travel, sometimes it's simply a pic with Egle, and many of the times it's about his past moments in racing and the ongoing scenario.
Through his posts, it is evident that he likes keeping himself in perfect shape, as he likes to cycle and work out.
Nico is a star, on and off the track, and has huge support, and the supporter must be thankful he shares his moments with them, even if it is only via social media.
Nicolas Hülkenberg | FAQs
What languages does Nico Hülkenberg speak?
Nico Hülkenberg, the professional racing driver, was born in Germany. As a result, he is fluent in many languages, like Dutch, German, French, and English.
When did Nico Hülkenberg sign contracts with the Renault Sport Formula One team?
On October 14, 2016, the professional racer signed a multi-year contract to race with the Renault Sport Formula One team.