Kirk Gibson is a former American baseball player turned sports commentator who works for the sports channel Bally Sports Detroit.
Gibson played in the MLB for around sixteen years for different teams, including Detroit Tigers, Pittsburgh Pirates, Kansas City Royals, etc.
However, people mostly remember his role in leading the Tigers to win the championship twice.
Before starting his professional career, Kirk had a fantastic college football career with the Michigan State Spartans.
One may find it amusing that Gibson was an extremely successful football player in college before he made up his mind to play baseball.
He was unsure about making a professional baseball career after college graduation. Kirk even got into the NFL after a successful draft in 1979 but eventually chose baseball.
So, what prompted him to play in the MLB, although he could have a great career in the NFL?
Please read the article below to find answers and get a closer look at his incredible life. But before we proceed further, let's see some quick facts.
Kirk Gibson | Quick Facts
Full Name
Kirk Harold Gibson
Birth Date
May 28, 1957
Birth Place
Pontiac, Michigan, United States
Nick Name
Gibby
Religion
Christianity
Nationality
American
Known as
Kirk Gibson
Education
• Waterford Kettering High School (Waterford, Michigan)

• Michigan State University (East Lancing, Michigan)

Zodiac sign
Gemini
Father's Name
Bob Gibson
Mother's Name
Barbara Gibson
Siblings
Two
Age

65

Years Old
Height
1.90 m/6 feet 3 inches/190 cm
Weight
97 kg/215 lb.
MLB debut
September 8, 1979
Eye Color
Brownish
Playstyle
Batted: Left, Threw: Left
Build
Athlete
Marital Status
Married
Wife's Name
Joann Sklarski
Kids
Four (Colleen, Cam, Kirk Jr., and Kevin)
Position
Outfielder
Profession
Former baseball Player/ Sports commentator/ special assistant
Net Worth
$14 Million
Salary
Not Available
Currently Plays for
None / Retired
League
Major League Baseball (MLB)
Active Years
1979-1995
Social Media
Twitter
Merch
Signed L.A. Dodgers Jersey
Last Update

March 2023
Kirk Gibson | Early Life, Family & Education
Kirk Harold Gibson, famous as Kirk Gibson, was born in Pontiac, Michigan, on May 28, 1957. He was born as the youngest child of his parents, Bob (father) and Barbara Gibson (mother).
The other members of his family included his two elder sisters: Jocelyn and Christina. He says that as the youngest one, his parents never made him do house chores and his sisters, too, had an essential part in spoiling him as a kid.
His mother, Barbara, was originally from East Lancing, Michigan, and graduated from Michigan State University.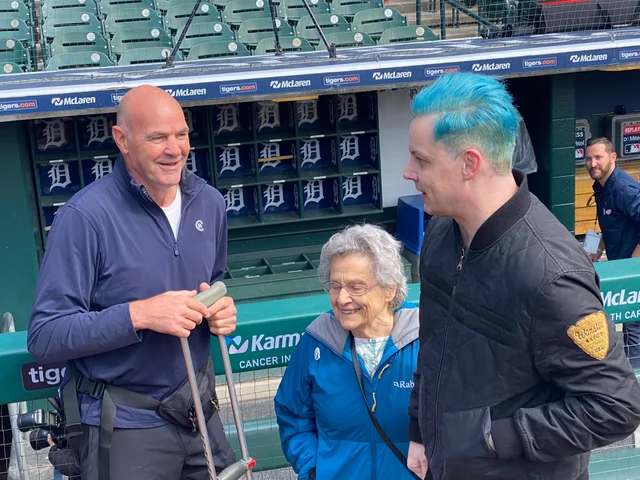 She taught theater at the Clarkston High School in Michigan all her life and raised all her children in a religious environment.
Barbara actively worked as a member of various Christian organizations, including Clarkston Methodist Church and Caring Hearts Bible Study.
Besides dedicating her life to academics and religious activities, Kirk's mother was a lifelong fan of various sports and enjoyed watching her children and grandchildren play the games.
She died at eighty-nine in 2020.
Similarly, Kirk's father, Bob, was an auditor for Michigan State and later worked as a math tutor at Kettering High School in Waterford, Michigan. Kirk attended the same high school from which he graduated in 1975.
After high school, Gibson enrolled at Michigan State University, graduating with a bachelor's degree in 1979.
Kirk Gibson | Career
College Career
As stated above, Kirk was initially more into playing football than any other sport. He mainly played wide receiver for the Michigan State Spartans and was largely successful in college tournaments.
In 1976, however, he had only four touchdowns and nine receptions, covering only 262 yards.
He improved his game drastically in his second season, with 39 receptions and seven touchdowns playing all matches.
Moreover, Kirk appeared in all eleven matches in both the last seasons. Besides his accomplishments, Kirk led his team to win the Big Ten title in 1978.
Shift to Baseball
The Spartans' football head coach Darryl Rogers liked Gibson's game, but he suggested Kirk pursue a professional career in baseball.
He did not just tell him to try the other sport out of the blue, but he had heard a lot about Gibson's performance in the American Legion baseball games when he was a teenager.
Rogers believed that football was too basic a game for a tactful athlete like Kirk.
Consequently, Gibson heeded his coach's advice and played one college baseball season in which he had pretty decent stats.
He had averaged .398 at-bats with 52 RBIs and 16 homers in 48 matches.
MLB Career
Kirk tried for the NFL and the MLB draft after his college graduation in 1979.
However, he decided to join his hometown team Detroit Tigers, and hence, he debuted for them on September 8, 1979, in Major League Baseball.
After playing for nearly four seasons as a second-choice player, he eventually got to represent the Tigers as their regular right fielder in 1983.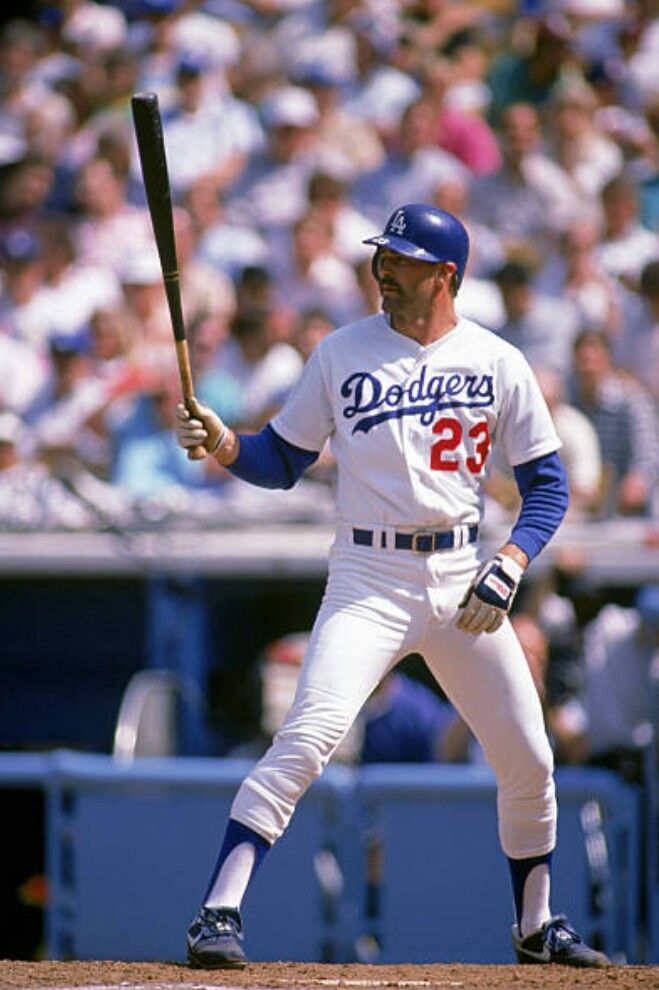 He stayed with the Detroit Tigers until 1987 and won his first World Series title in 1984.
He was with the Los Angeles Dodgers for around three seasons and bagged another World Series championship in 1988.
Kirk went on to appear for other MLB teams, such as Kansas City Royals and Pittsburgh Pirates.
He eventually retired from his professional career in 1995, during which he was with his hometown club, Detroit Tigers.
Post-Baseball Career
After retirement, Kirk took a break from work for a while before starring as a TV analyst on FSN Detroit.
He worked there for around four years, after which he joined his former MLB team Detroit Tigers as one of its coaches.
He later associated with the Arizona Diamondbacks for nearly three years as a coach and then as a manager later on from 2010 and 2014.
Gibson has been working as a color commentator on BSD and a special assistant for the Tigers since 2019.
Madison "MadBum" Bumgarner is an American-born pitcher from North Carolina. He started his MLB career as the tenth overall pick in 2007 and is currently one of the best baseball players worldwide. Read his bio here!
Career Accolades & Achievements
World Series Championship (1984, 1988)
NL Manager of the Year (2011)
NL MVP (1988)
Silver Slugger Award (1988)
ALCS MVP (1984)
Kirk Gibson | Net Worth
According to sources, Kirk Gibson has a net worth of $14 million.
He earned most of his fortune through his baseball league games during his youth. However, he still makes decent money through his television job.
Starting his career in 1979, Gibson had received around $685k for his rookie season, which was a considerable amount at that time. Soon the Tigers started paying him over a million for his games.
He played for other MLB teams, such as the Pittsburgh Pirates, Kansas City Royals, Los Angeles Dodgers, and the Tigers (again) in the last years of his career, from which he amassed colossal wealth.
Kirk Gibson earned more than $15 million in his MLB career.
Click here to learn about the Mexican baseball club, Sultanes de Monterrey's talented pitcher Wander Suero who was in the minor leagues for eight long years before debuting in the MLB for the Washington Nationals in 2018!
Age & Body Measurements
As of 2023, Gibby is 65 years old.
Regarding his body measurements, Kirk stands at about 1.90 meters (6 feet 3 inches) tall and weighs around 215 lb.
Kirk Gibson | Personal Life
Kirk Gibson has been married to his girlfriend, Joann Sklarski, for a long time. The couple married in a ceremony hosted in Gross Pointe Memorial Chruch in Michigan on December 22, 1985.
With them, Kirk's teammate, Dave Rosema, also wed his wife's sister, Sandy Sklarski.
According to sources, more than 400 people had attended their marriage but had not allowed any media to cover the event.
They later hosted a dinner party for the attendees at Detroit Yacht Club.
Joann was formerly a model and is the same age as her husband. Besides, there is no reliable information about her early life and family.
It has already been nearly forty years since their marriage, but they still have great chemistry and reside together in Detroit, Michigan. The couple has four kids: Colleen, Cam, Kirk Jr., and Kevin Gibson.
Out of four children, Cam followed in his father's footsteps and has succeeded in making a career in baseball.
The Detroit Tigers drafted him in the 2015 MLB Draft. Likewise, his other son, Kevin, plays hockey but has not been so successful.
The Kirk Gibson Foundation
In 1996, Kirk and his wife, Joann, set up the Kirk Gibson Foundation in Michigan, mainly to provide college scholarships to financially weak and academically gifted students, primarily graduates from Kettering and Clarkston High Schools.
However, after 2015, Kirk (diagnosed with Parkinson's disease) extended the scope of the foundation and vowed to raise awareness, and began funding research related to Parkinson's disease.
In 2017, they collected about $1.2 million through an event named Gibby & Friends vs. Parky, which they handed over to MSU's College of Human Medicine, Spectrum Health, and Van Andel Institute to further research Parkinson's disease jointly.
Furthermore, the foundation plans to fund and increase its awareness and patient outreach programs all over the country and abroad in the coming years.
Social Media Presence
Twitter: @23KGibby
7am Sparty call….Tuck and [email protected] blank slate fitness! pic.twitter.com/95FlwGSye3

— Kirk Gibson (@23KGibby) August 18, 2022
Instagram: @kirkgibsonfoundation
Frequently Asked Questions (FAQS)
Why did Kirk Gibson retire?
Kirk Gibson retired in 1995 after spending sixteen years playing in the MLB. He told the media that he had to do it to spend the rest of his time peacefully with his family back in his home in Michigan.
He was thirty-eight years old at the time of his retirement.
Is Kirk Gibson a Hall of Famer?
Yes, Kirk Gibson is a Hall of Famer. However, it was not for his baseball games that he was inducted into the hall of fame.
Michigan State University elected him to the College Football Hall of Fame in 2017 for his outstanding performances for the Spartans back in his college days.
You may also like to learn about Alex Cora, a former Puerto Rican professional baseball player who was the winner of three World Series championships, mainly playing as an infielder, and currently works as a manager for the MLB club, Boston Red Sox!