Klay Thompson is not a foreign name for any basketball fan or analyst. He is the second-most famous player of the Golden States Warriors (GSW).
Considered one of the greatest shooters in NBA history, he is the three-time NBA Champion with GSW.
The American basketball player has played almost a decade in the NBA with the Warriors.
Along with his 'Splash Brother' Stephen Curry, he has helped lead the Warriors into their first-ever Championship title in 2015 ever since 1975.
He is also one of the prime players in the 2017 and 2018 tags.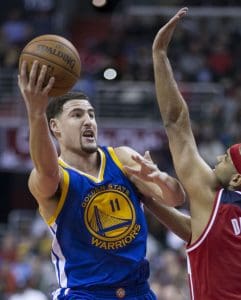 Not to mention, Thompson recently signed a $190 million max contract with the GSW for a five-year extension.
He missed out on the $221 million supermax contract as he didn't make it to the All-NBA team. Nevertheless, the deal also includes a 15 percent bonus, which roughly amounts to 28.5 million.
Jersey number 11 plays as the shooting guard for the Warriors. Klay, along with his teammate Curry earned the name 'Splash Brothers' for setting a record for 484 combined three-pointers.
Before getting into details about the Player's life, here are some quick facts.
Quick Facts
| | |
| --- | --- |
| Full Name | Klay Alexander Thompson |
| Birth Date | February 8, 1990 |
| Birth Place | Los Angeles, California |
| Nick Name | The Splash Brother |
| Religion | Christian |
| Nationality | American |
| Ethnicity | Mixed |
| Education | Washinton State University |
| Horoscope | Aquarius |
| Father's Name | Mychal George Thompson |
| Mother's Name | Julie Thompson |
| Siblings | Two; Mychel and Trayce Thompson |
| Age | 33 Years Old |
| Height | 6 ft 6 in |
| Weight | 215 lb |
| Hair Color | Black |
| Eye Color | Brown |
| Build | Athletic |
| Profession | NBA player |
| Current Team | Golden State Warriors |
| Position | Shooting Guard |
| Active Years | 2011-present |
| Marital Status | Unmarried |
| Ex-Girlfriend | Laura Ruth Harrier |
| Kids | None |
| Net Worth | Approx. $50 million |
| Social Media | Instagram, Twitter |
| Merch | Jersey, Socks |
| Last Update | November, 2023 |
Klay Thompson | Early Life, Family and Education
The NBA player was born to a college volleyball player, Julie Thompson, and former NBA player Mychal Thompson in Los Angeles, California.
His father was the first overall pick and is a two-time NBA Champion with the Los Angeles Lakers in the 1980s. Hence, it is safe to say he had a basketball filled childhood.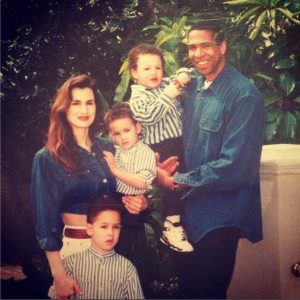 Klay has two brothers, namely Mychel Thompson and Trayce Thompson.
His older brother, Mychel, is a former basketball player who also played in the NBA and was the D-league champion, while his younger brother, Trayce, is a baseball player.
The former Cougar graduated high school from Santa Margarita Catholic High School and joined the Washinton State University for a college education.
Thompson studies at WSU for three years till he got drafted by the Golden State Warriors in 2011.
The Californian weighs about 215lbs, which is about 98 kgs and is 6 feet 6 inches high. Thompson recently celebrated his 30th birthday on February 8, 2020.
College Career
The 30-year-old Player joined Washington State University after high school to play for the Washinton State Cougars.
Freshman Year
In his first year as a Cougar, he led the team with his three-pointers and free throws.
The NBA player started all the games under coaching a former NBA player Tony Bennett and was named the Pacific-10 All-Freshman Team and All-Freshman Honorable Mention Team in the Collegehoops.net.
Sophomore Year
In Great Alaska Shootout, Thompson was named the Most Outstanding Player for setting a record for 43 points in a single game. Thereupon, he led the Cougars to the Shootout Championship.
The Warrior player also falls among the fastest Cougar to reach 1,000 points hence being named to the All-Pacific-10 First Team. In the Pacific-10, he was Player of the week twice.
Junior Year
In his junior and final year at the WSU, he was named the All-Pacific-10 First Team by leading his scoring team.
Then he went on to become the first cougar to be named Pacific-10 Player of the week three times. Also, Thompson set records at the 2011 Pac-10 with 43 points and eight three-pointers.
As a result of his shooting skills and dedication to basketball, he became one of Washington State University's leading scorers.
In January of 2020, WSU, as an act of respect for his contribution to the basketball team, retired his Jersey No.1 in his honor, which made him the second Cougar ever to receive such a tribute.
NBA Career
Thompson was drafted into the Golden State Warriors in the 11th overall.
In the first season, he scored his season-high of 26 points against the Boston Celtics and later on 27 against the New Orleans Hornets. The former Cougar later made it to the NBA All-rookie First Team.
Klay improved as a defensive player and overall a basketball player under the Warriors coach Mark Jackson's coaching, who also suggested Thompson pair with Curry.
In the 2013-14 season, the duo set a record for the most combined three-pointers, i.e., 483. And the next season, they followed it up by 484 combined three-pointers breaking their previous record.
In the 2014-15 season, GSW signed Thompson for a four-year extension. That year he went on to win the NBA championship title against the Cleveland Cavaliers.
Again in the 2016-17 season, they won their second championship title, where Thompson's defensive skills shined in the game.
The Warriors again went on to win the championship title back-to-back in the 2017-2018 season with a lead of 19 points against the Cavaliers, making the final score 122-103.
However, in the next season, he injured his hamstring and later on tore his Anterior Cruciate Ligament (ACL), causing him to miss out on the 2019-20 game.
National Career
The NBA player won a gold medal in 2009 while playing for the United States' team in the FIBA Under-19 World Championship held in Auckland, New Zealand.
Thompson was also part of the US team in the 2014 FIBA Basketball World Cup when the team won the gold. He also played in the 2016 Rio Olympics, where the USA team once again managed to grab the gold.
As we are all well-aware that Klay Thompson has not played in an NBA game since the 2019 NBA Finals.
Additionally, it is also known that Thompson suffered a painful torn ACL (Achilles tendon), which was the one to keep him away throughout the 2019-20 season.
Following it, the athlete had also undergone surgery for his injury in November. Apparently, the player had tweeted that he has been recovering well and is walking out.
Furthermore, he also announced that he had begun mobility exercises to strengthen his calf muscle. Therefore, everyone is counting on his full recovery now.
Awards And Achievements
Following are the shooting guard's achievements and honors:
Three times NBA champion in the year 2015, 2017 and 2018
Five Times NBA All-Star from 2015 to 2019
Two times All-NBA Third Team in the year 2015 and 2016
All-Defensive Second Team in the year 2019
Three-Point Contest champion in the year 2016
NBA All-Rookie First Team in the year 2012
Two times First-team All-Pac-10 in the year 2010 and 2011
Three times Pac-10 Player of the Week in the year 2009, 2010 and 2011
Record for most three-pointers made in a single playoff in the NBA
Playoff record for most three-pointers made in a game, i.e., 11
Klay Thompson was in a relationship with American actress and model Laura Harrier. The duo is speculated to have started dating somewhere around 2018.
Harrier is well-known for her role as Liz in the movie Spider-man: Homecoming.
She also stars in the music video for Kygo's 'What's Love Got To Do With It' and is the brand ambassador for Louis Vuitton and Bulgari.
Apart from it, Harrier can also be known as the face of Garnier, who has appeared in almost all the beauty magazines like Vogue, Elle, and Glamour.
The pair hadn't confirmed their relationship for a long time despite being seen together. Recently in 2019, the lovebirds attended the Vanity Fair Oscars bash, where they seemed happy as ever.
However, as of 2020, the pair are reportedly broken up amid Klay Thompson cheating rumors.
He allegedly invited some girls to hang out with him and his friends while he was still in a relationship with the Spiderman actress.
The girl spilled the beans in her TikTok account, which quickly gained the media's attention, citing it to be the reason for the duo's separation.
In the meantime, they have stopped following each other on social media and have deleted all of their photos together, which is usually the first indication of a break up in this era.
Klay Thompson | Net Worth, Salary and Charity
Net Worth And Salary
The net worth of the shooting guard is estimated to be around $50 million. In contrast to last year's $19 million, the basketball player is earning over $32 million this season.
Besides, he's also estimated to pay $15 million from his endorsements. On top of that, he signed a $190 million max contract, which only increases his salary and value as a player.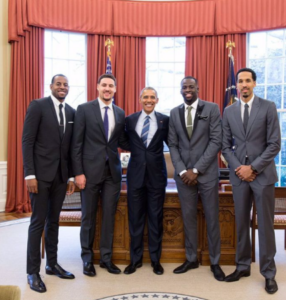 Despite the injury, because of which the player resigned from the current 2019-20 season, his earnings are barely affected.
The Warrior, as per his new max contract, will earn over $30 million per season.
Besides, he is the only player sponsored by Chinese shoe company Anta with whom he signed a 10-year deal worth $80 million.
He's also sponsored by BodyArmour SuperDrink, Gillette, Panini America, and Electronic Arts.
The 30-year-old also has an upcoming movie named Space Jam: A New Legacy with LeBron James, Kyrie Irving, Anthony Davis, Don Cheadle, and that is releasing in July of 2021.
House
Klay Thompson has a beach house in Orange County, the East Bay. To elaborate, he had purchased the house in 2015 for $2.2 million. Apparently, this house is designed with Spanish-style and is a single-story home.
As a brief description, his home consists of a central courtyard with a pool and spa, two guesthouses, and a patio with ocean views.
Additionally, it also includes a rec room with a bar, lounge area, and pool table.
However, he has now moved to live near the new Chase Center in Mission Bay.
Furthermore, he had opened up that he won't be selling his beach house as it was his first house and holds a particular part in his memory.
Also, take a look at 50 LeBron James Quotes for some motivation.
Charity
Thompson helped raise money that would proceed to the relief of the people affected by the Northern California Wildfires in 2017.
He donated $1000 for every score against particular rival teams. Moreover, He eventually ended up raising more than $360 thousand.
Klay Thompson | Social Media Presence
The NBA player has an Instagram account with more than 7.5 million followers. He shares a lot of pictures of himself with his teammates.
The star player also owns a cute English bulldog, which he can be seen cuddling in some of the photos. Moreover, his account is filled with pictures and highlights of his basketball games with the Warriors.
Klay Thompson is also on Twitter with 1.3 million followers. The former Cougar is quite regular with his tweets and replies. A lot of his Warrior teammates and other NBA players, including few celebrities, follow him.
The 30-year-old is a big fan of Kobe Bryant and considers the black mamba his idol. In the above post, he remembers how nervous he was to play against the very person who inspired him in a basketball career.
Kaly Thompson | FAQs
Is Klay Thompson set to return this year, 2021?
Although Klay Thompson has shown steady progress and walking activity; however, they have confirmed that he won't be returning for this season.
According to the sources, Thompson will miss out on all 72 regular-season games in 2020-21, even if Golden State could secure a spot in the Finals.
When did Klay Thompson score 37 in a quarter?
Klay Thompson scored 37 points in a third-quarter on January 23, 2015, against the Kings. Also, this is the NBA record for the points in a quarter.
Did Hannah Stocking and Klay Thompson date?
Prior to Laura, Klay Thompson had dated the YouTube star Hannah Stocking for at least a year. However, they later broke up in the midst of a cheating scandal that exploded on social media.
How much is Klay Thompson's wingspan?
Klay Thompson's wingspan measures up to 2.06 meters.
How many rings does Klay Thompson have?
Klay Thompson has three rings from 2015, 2017, & 2018.