Kobe Bufkin's parents, Kimberly Camp and Mike Bufkin love Michigan teams like no other couple. The couple has now seen their son going from becoming a Michigan star to an NBA player.
Holding the initial K.B. in basketball means a lot to many people. Though his mom, Kimberly, has denied her son being named after the basketball legend, the evidence doesn't back her up.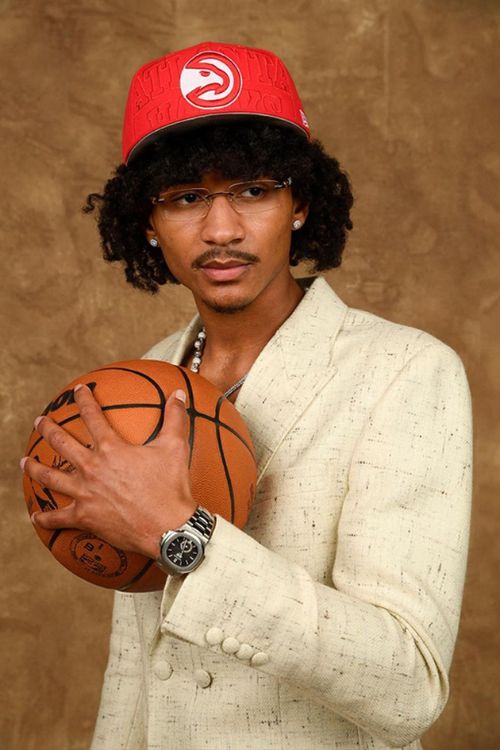 Born and raised in Grand Rapids, Michigan, Kobe Bufkin was a star player for Grand Rapids Christian High School before he joined the University of Michigan.
At Michigan, after having a mild freshman year, Kobe bounced back with a strong performance in his sophomore year, making him send his name for the NBA Draft.
After being selected as the 15th overall pick by Atlanta Hawks, Kobe joins the likes of Trae Young, Dejounte Murray, and John Collins.
The youngster needs time to develop but brings an all-round play into the Atlanta lineup.
Kobe Bufkin Parents, Kimberly Camp, And Mike Bufkin
Kobe Bufkin's parents, Kimberly Camp and Mike Bufkin, have supported the Michigan basketball team since their Fab Five days.
Growing up in a household of sports fanatics, Kobe believes his mother named him after Kobe Bryant. But previously, in an interview, Kimberly denied it, saying if Kobe's name had been George Bryant, she wouldn't have named her son George.
And we would've probably believed Kimberly if that was the case for only one son. Her other two sons are named Michael (as in Jordan) and Isaiah (as in Thomas).
So, there was an obvious reason for Bufkin to believe he was named after the legendary Lakers player.
During the interview with FOX17 in 2021, Kimberly said Kobe had to keep family biases aside when picking his college. And after doing all that, they believed Michigan to be the right choice for him.
Last year, when asked about her son's first year as a collegiate player, Kimberly said it had been a rollercoaster.
Kimberly also revealed she says a huge prayer before every game, wishing for victories and no injuries.
One of the mottoes for Kimberly for driving her son to success has been, "Play like the whole world is watching."
Kimberly is available on Instagram with the username @kjoycamp and has shared several family photos.
Kobe's father, Mike Bufkin, hasn't appeared much for interviews but was present on Draft Day.
Kobe Bufkin Story So Far
If you check Kobe Bufkin's Instagram bio, the youngster has classified himself as an author. And below it, he has added, "Writing a story."
Yesterday, the story entered a new chapter after he became the 15th overall pick of the Atlanta Hawks. His journey so far has been filled with ups and downs.
A kid who started playing basketball at age seven, Kobe earned tons of praise at Grand Rapids Christian High School.
He was a four-star recruit and was chosen to play in the McDonald's All-American game. Kobe always dreamt of playing for Michigan.
When he was only five, his mom recorded him saying he wanted to play for Michigan. And though he might have been holding a football, that dream did come true.
But his freshman season that Michigan wasn't up to the level everybody expected from him. He played 28 games, all from the bench, and averaged 3 points per game.
But he tremendously improved himself in his sophomore year. He starred in 33 games and averaged 14 points per game. He also recorded his first career double-double and came second in the assist tally with 96.
His improvement in his sophomore year has now led him to the door of becoming an NBA star. It is now up to Kobe to keep the momentum going.