It is out in the open that Kurt Rambis wife is his boss in the Lakers. But what does she do, and how did the pair meet? Read this article to the end to find out.
Kurt Rambis has been married to his wife, Linda, for over 3 decades. The couple are still going strong.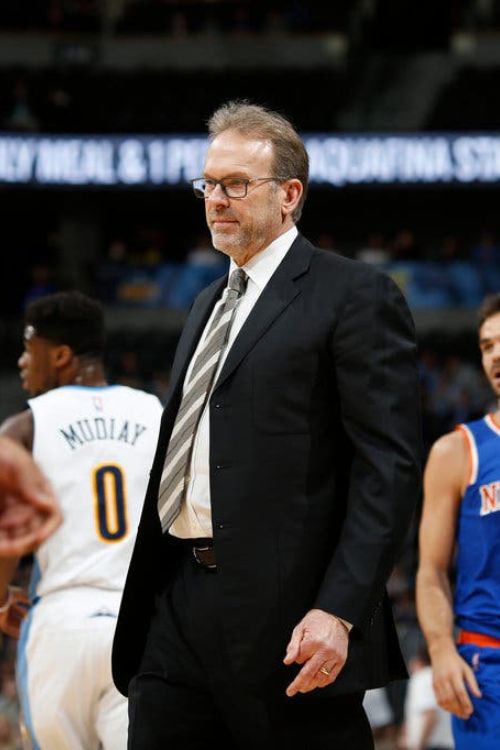 Darrell Kurt Rambis is an American former professional basketball player and coach. He is currently a senior basketball adviser for the Los Angeles Lakers of the NBA.
Rambis went to Cupertino High School for his early education. He later earned his bachelor's degree from Santa Clara University, where he played from 1976 to 1980.
The New York Knicks drafted Rambis in the third round of the 1980 NBA draft, but he started his career in Greece with AEK Athens before joining the Lakers.
He won four NBA titles as a power forward for the Los Angeles Lakers. Rambis was a vital player of the Showtime-era Lakers and was well-known for his tough blue-collar play.
Rambis' signature black horn-rimmed glasses fit the glitzy Hollywood aesthetic of the Showtime-era Lakers.
Kurt Rambis Wife: Linda Rambis, And Their Children
Kurt Rambis wife, Linda Rambis, is the Executive Director of Special Projects at Los Angeles Lakers. In 1979, Linda started a job in the sales department for the Lakers.
Before that, she was engaged with another big franchise, The Playboy Club, in Chicago. She also managed a club in Century City, Miami.
Linda's sporting career began in 1980 when she managed the Los Angeles Strings, a tennis team. She graduated from Florida State University.
Rambis, in addition to her sporting background, is creating entertainment ventures in collaboration with Lakers President Jeanie Buss. The duo recently signed a deal with Showtime for a drama based on life behind the scenes of the professional basketball team.
Kurt Rambis wife, Linda, and her family enjoy beach volleyball and are animal lovers. She was born in Chicago but currently resides in Manhattan Beach, California.
The couple are parents to three children: Jordan, Jesse, and Ali. Jordan is an entertainment, video game, and esports executive and entrepreneur.
Similarly, their son, Jesse, is the founder and owner of Gremly Media. Jesse and his wife, France, use a joint Instagram account, where they mostly post about their work.
Likewise, Ali Rambis is an Associate Attorney at Lagasse Branch Bell. She completed her J.D. from Loyola Law School.
How Did Kurt And Lina Meet
Kurt Rambis and his wife Linda Zafrani (now Rambis) have a sort of "corporate love story" to their name.
The couple met because of both of their affiliation with the Lakers. In 1981, Rambis entered the Lakers picture when they signed him up as a free agent.
At the start of training camp, Rambis was sleeping in a sleeping bag on the floor at a friend's house in Huntington Beach.
According to Linda, they initially crossed paths at the Forum in Inglewood.
She remembers how they had accidentally bumped into each other in the hallway and subsequently entered the same office simultaneously.
Maybe he felt overwhelmed, but Rambis appeared very shy and uncomfortable in that meeting.
When he asked a mutual friend about her, the friend replied that Linda had also been asking about Rambis to him.
Things started to get going after their first date at a video game arcade. They later got engaged and got married on February 9, 1985.
Frequently Asked Question
Who is Kurt Rambis wife?
Kurt Rambis wife is Linda Rambis.