Jamal Crawford is an American former professional basketball player who played in the NBA for 20 seasons. He is regarded as one of the best ball handlers in the history of the NBA.
He played in the NBA from 2000 to 2020 and is the only three-time NBA Sixth Man of the Year winner, along with Lou Williams.
Among Jamal's notable achievements, he is the NBA's all-time leader in four-point plays.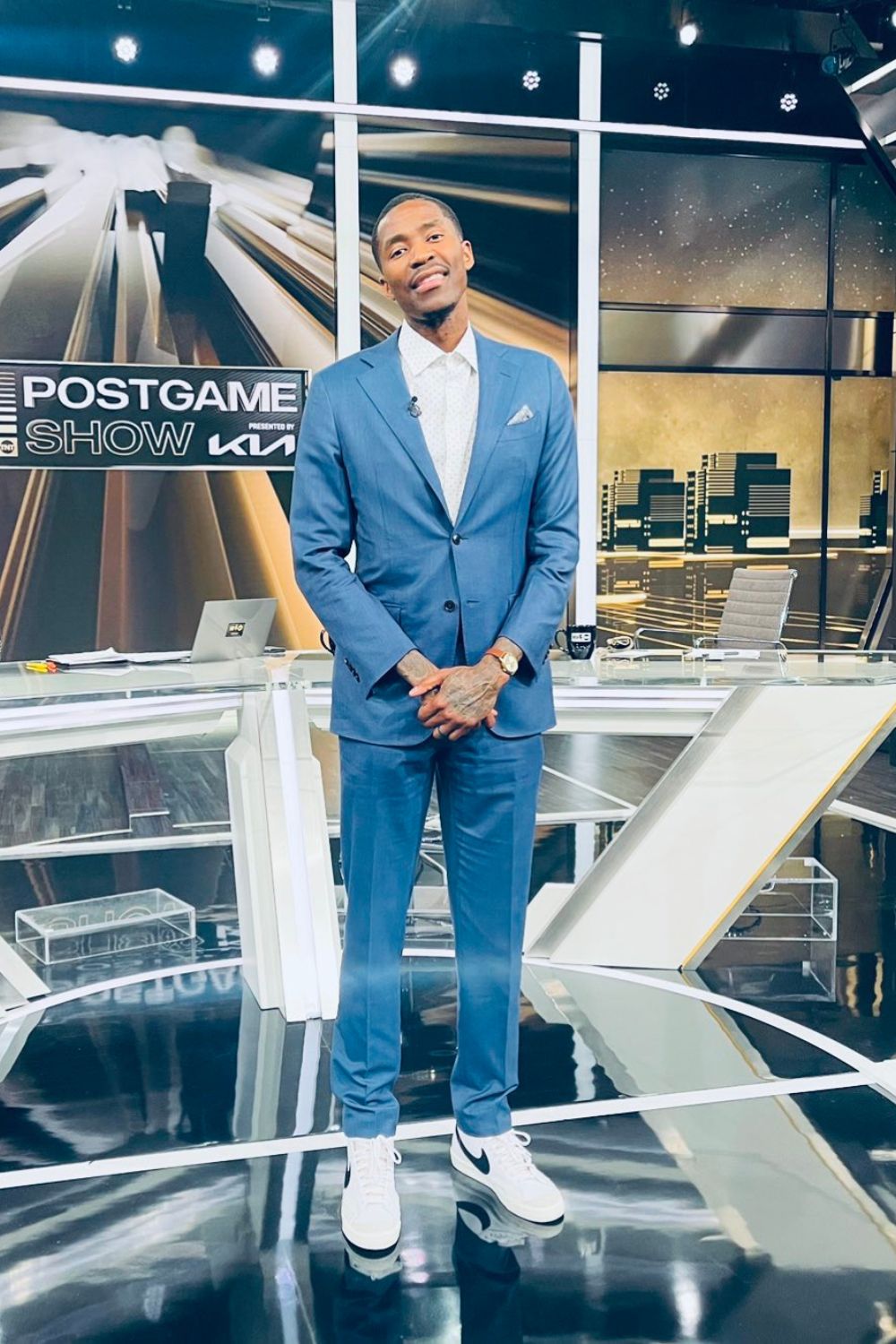 Jamal became the first player in NBA history to score 50 points in four different organizations and the oldest player to do it on April 9, 2019.
The 51 points also set a new record for the most points scored by a reserve.
Jamal is tied for 21st in NBA history with four 50-point performances (with nine others, including Larry Bird and George Mikan).
He also stands 10th in career three-point field goal attempts (2,221). The former basketball player is only the second player in NBA history to record 10,000 plus career points as a reserve.
Jamal began delivering NBA League Pass commentary in 2021.
Today, we have gathered information about Jamal Crawford, his NBA career, retirement, family, and more.
First, have a look at some quick facts about the basketball player.
Quick Facts
Full Name
Aaron Jamal Crawford
Birth Date
March 20, 1980
Birth Place
Seattle, Washington, U.S.
Famous Name
Jamal Crawford
Religion
Christianity
Nationality
American
Ethnicity
Black
High School
Rainier Beach
College
University Of Michigan
Playing Career
2000-2020
Zodiac
Pisces
Chinese Zodiac
Monkey
Father's Name
Clyde Crawford
Mother's Name
Venora Skinner
Siblings
(Sisters) Lisa Crawford, Lori Brown
Age
43 Years Old
Height
6 ft 5 in / 196 cm / 1.96 m
Weight
91 kg / 200 lb
Shoe Size
14 (U.S.)
Food Habits
Non-Vegetarian
NBA Draft
2000, Round: 1, Pick: 8th Overall
Hair Color
Black
Eye Color
Dark Brown
Career Highlights And Awards

Second-team Parade All-American (1999)
3× NBA Sixth Man of the Year (2010, 2014, 2016)
NBA Teammate of the Year (2018)

Build
Athletic
Marital Status
Married
Wife
Tori Lucas
Date Of Marriage
August 23, 2014
Children
Eric Crawford (Son), JJ Crawford (Son), London Crawford (Daughter), Aerin Crawford (Daughter)
Position
Shooting Guard / Point Guard
Profession
Former Basketball Player
Net Worth
$55 Million
Salary
Under Review
League
NBA
Social Media
Instagram, Twitter
Merch
Trading Card
Last Update
November 2023
Early Life & Family
Jamal Crawford was born on March 20, 1980, to his father, Clyde Crawford, and his mother, Venora Skinner. He has two sisters named Lisa Crawford and Lori Brown.
Jamal attended Rainer Beach High School and later went to the University of Michigan. He has been passionate about playing basketball since his high school days.
The Rainier Beach High School has produced a slew of NBA and collegiate players, including Kevin Porter Jr., Doug Christie, Terrence Williams, Nate Robinson, and Dejounte Murray.
Jamal led the Vikings to the state championship in the Washington Interscholastic Activities Association (WIAA) in 1998.
To recognize his contribution, Rainier Beach retired his number 23 jersey in 2001. They also inducted him into its Hall of Fame to honor his legacy in 2018.
Age & Body Measurements
The basketball player, Jamal Crawford, was born in 1980, so he is currently 43.
Jamal was born in the Monkey year, according to the Chinese calendar.
Talking about Jamal's physical appearance, he has a well-maintained body with a healthy diet and exercises daily.
The American player stands tall at 1.96 m and weighs around 200 lb.
Jamal does not have any tattoos on his body. He has dark brown eyes and black hair and wears a shoe size of 14 (U.S.).
His zodiac is Pisces. Pisces are known to be loyal, passionate, and optimistic. They are also highly innovative and creative, and Jamal is no different.
College Career
Jamal committed to playing collegiate basketball for the Wolverines under coach Brian Ellerbe after earning a scholarship to Michigan.
However, he received a six-game ban from the National Collegiate Athletic Association (NCAA) at the start of the 1999–00 season.
The NCAA retrospectively concluded that Jamal's high school living arrangement violated its amateurism standards.
University protested the contentious decision, but to no avail. Jamal returned to the starting lineup following his suspension and finished the season with 16.6 points, 4.5 assists, and 2.8 rebounds.
After his rookie season, the American player declared for the NBA Draft in 2000.
Professional Basketball Career
Chicago Bulls
Jamal was drafted eighth overall by the Cleveland Cavaliers in the NBA Draft in 2000. He was later traded to the Chicago Bulls in a draft-day transaction that included Chris Mihm's rights.
The basketball shooting guard struggled with his shot in his debut year as a Bull, completing only 35.2 percent of his shots from the field.
He managed to score in the double digits ten times despite this. In 61 games, Jamal averaged 4.6 points, 1.5 rebounds, and 2.3 assists (8 starting).
The American player was restricted to 23 games in his second NBA season, 2001–02 (6 starting).
Despite this, he improved in practically every statistical category, averaging 9.3 points, 1.5 rebounds, and 2.4 assists while making 44.8 percent of his 3-point tries.
Jamal developed as a crucial component of coach Bill Cartwright's offense in his third season with the Bulls, 2002–03.
Over 80 games, Jamal's per-game averages increased to 10.7 points, 2.3 rebounds, 4.2 assists, and one steal.
The 2003–04 NBA season was his final with the Chicago. In his last game as a Bull, he scored 50 points against the Raptors on April 11, 2004.
The Bulls won 114–108 in overtime, but only after Crawford hit six three-pointers and scored 24 points in the fourth quarter alone.
New York Knicks
Jamal joined the New York Knicks, another youthful and developing squad.
In his debut season with the team, he appeared in 70 games (67 starts), averaging 17.7 points, 2.9 rebounds, 4.3 assists, and 1.4 steals per game.
He scored over 20 points in several games, including a memorable triumph over the Charlotte Bobcats on December 4, where he scored 41 points on 17-of-25 shooting.
Under head coach Larry Brown, Jamal was downgraded to a sixth-man role in his second year in New York City, the 2005–06 season.
The American player eventually warmed up to the new position, but it took some time. In 79 games, he averaged 14.3 points, 3.1 rebounds, and 3.8 assists.
The Knicks finished with a 23–59 record, missing out on the playoffs. In 2006–07, the Knicks replaced Larry Brown with Isiah Thomas, the team's fourth head coach turnover in three years.
Unfortunately, Jamal's season was cut short due to an ACL injury. However, he still managed 17.6 points, 3.2 rebounds, and 4.4 assists per game.
He was reinstated in the starting lineup for the 2007–08 season, appearing in all 80 games. The point guard had a 20.6-point, 2.6-rebounds, and 5-assist average.
Jamal was among the few bright players for the 23–59 Knicks on January 26, 2007, when he scored a career-high 52 points.
He made 16 of his shots in a row and 8 of his three-pointers, one shy of the franchise record established by Latrell Sprewell in 2002.
In the 2008-09 season, Jamal only appeared in 11 games for the Knicks. After that, he was traded to the Golden State Warriors.
Golden State Warriors
Jamal's three-point shooting, ball-handling abilities, and court vision made him an excellent match for coach Don Nelson's run-and-gun approach.
In 2008–09, he appeared in 54 games for the Warriors, starting all of them. The player averaged nearly 20 points, 4.4 assists, and 1.5 rebounds per game.
Jamal scored 50 points in a 110–103 win over the Bobcats on December 20, 2008, making him the fourth player in NBA history to score 50 points with three different teams.
The Atlanta Hawks acquired Jamal Crawford in a trade for guards Acie Law and Speedy Claxton at the end of the season.
Atlanta Hawks
Jamal was a member of the Atlanta Hawks during the 2009–10 season. He clinched a 102–101 victory over the Phoenix Suns with a three-point jumper at the buzzer on January 15.
On February 3, 2010, the player broke Reggie Miller's all-time NBA record for most career four-point plays in a win over the Los Angeles Clippers.
Jamal was also a front-runner for the NBA Sixth Man of the Year Award in 2010, and he won it.
He had a strong season in 2010-11, averaging 14.2 points, 1.7 rebounds, and 3.2 assists per game, despite coming off the bench and seeing his numbers decrease from 2009–10.
He was also nominated for the Sixth Man of the Year Award.
The Hawks upset the Magic in a tough series after qualifying for the playoffs as the Eastern Conference's fifth seed, but not until Crawford hit the game-winning three-pointer with six seconds left in Game 3.
As a result, the Hawks went to the conference semifinals, where they were ousted in six games by the Bulls.
Portland Trail Blazers
On December 15, 2011, Jamal signed with the Portland Trail Blazers.
He scored nearly 14 points per game in the lockout-shortened season while leading the league in free-throw shooting with a career-high 92.7 percent.
Los Angeles Clippers
Jamal signed with the LAC on July 11, 2012. He averaged 16.5 points, 1.7 rebounds, 2.5 assists, and 29.3 minutes in 76 games for the 2012–13 season.
The American player topped the league's reserve players, scoring 18.6 points per game, 3.2 assists, and 2.3 rebounds in the 2013–14 season.
Jamal received the 2014 NBA Sixth Man of the Year Award on May 8, 2014, his second time earning the award.
Crawford also contributed to the Clippers' most remarkable record in team history (57–25).
The player was called for a loose ball foul after getting involved with Suns player Eric Bledsoe at midcourt on December 8, 2014, in the final quarter of a game against the Phoenix Suns that the Clippers won 121–120 in overtime.
Jamal earned a technical foul and was ejected for the first time in his 976-game career after shouting something to referee Mark Lindsay.
The American player became the third shooting guard in NBA history to achieve 16,000 points during a victory over the Suns on November 2, 2015.
In a 101–96 win over the Pistons on November 14, he had a game-high 37 points.
Moreover, in a 114–111 overtime win over the Pelicans on January 10, 2016, he made his 46th four-point career play.
He scored 30 points and nailed a three-pointer with 0.2 seconds left in the Clippers' 102–99 overtime victory over the Jazz on April 8, 2016.
For the third time in his career, Jamal was awarded NBA Sixth Man of the Year on April 19.
Minnesota Timberwolves
Jamal joined the Timberwolves on July 19, 2017. He made his Timberwolves debut on October 18, 2017, scoring 10 points in a 107–99 defeat to the Spurs in the team's season opener.
Likewise, the player scored all 17 of his points in the fourth quarter, including a 3-pointer with 27.5 seconds remaining, to help the Timberwolves beat the Jazz 100–97 in their home opener two days later.
Jamal scored a season-high 23 points in only 23 minutes against the Trail Blazers in the fourth quarter on December 18, 2017.
He also scored 24 points in a 93–92 win over the Mavericks on March 30, 2018, and won the Twyman-Stokes Teammate of the Year Award in June.
Phoenix Suns
On October 17, 2018, Jamal signed with the Suns and had a career-high 14 assists in a 128–110 win over the Knicks on December 17.
On January 6, 2019, Jamal scored 16 points in a 119–113 defeat to the Hornets, joining Dell Curry as the only NBA player with 11,000+ career points as a reserve.
Moreover, Crawford averaged 15.1 points and 6.8 assists per 36 minutes in the 2018–19 season, which was a career-high.
Brooklyn Nets
The Nets signed Jamal as a reserve player for the remainder of the 2019–20 season on July 9, 2020.
He was signed after four Nets players dropped out of the NBA relaunch in Orlando due to positive COVID-19 tests.
Crawford joined the Nets in Orlando for the last eight regular-season games and the first round of the playoffs.
On August 4, 2020, Jamal made his team debut, scoring 5 points and dishing out three assists in five minutes of action. It was a 119–116 win over the Bucks.
In November 2021, Crawford joined game broadcasts for NBA League Pass alongside Quentin Richardson.
He announced his retirement from the NBA on March 21, 2022.
Wife & Kids
Jamal got married to Tori Lucas on August 23, 2014. Despite years of their marriage, the pair's love for each other remains more vital than ever.
In August 2021, on their Wedding anniversary, Jamal tweeted with the caption:
"The perfect picture.Not because of the background but because you're always in it. I love you forever. Happy anniversary Crawford."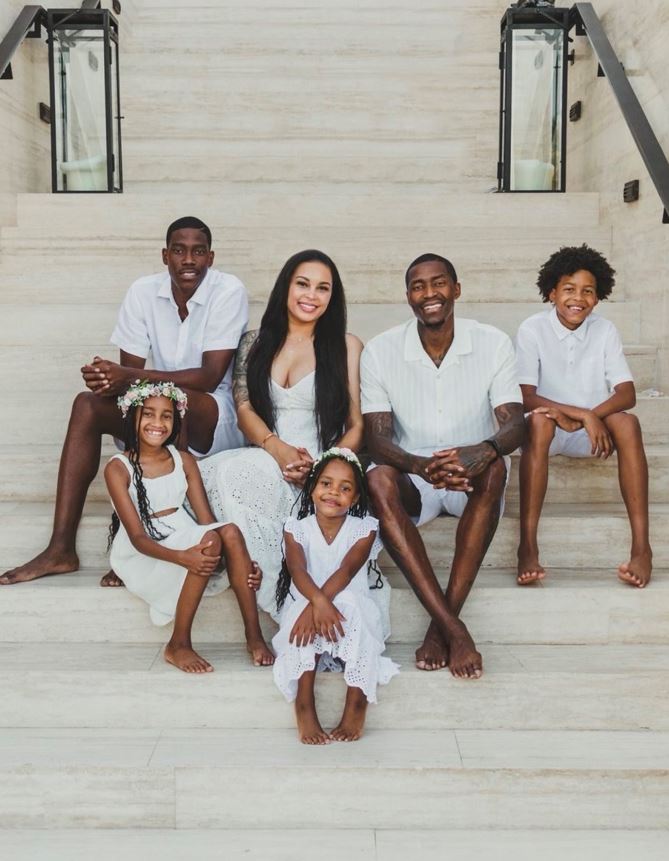 Jamal and his long-term lover, Tori, have four children together. Their first child's name is Eric Crawford, and their second child is JJ Crawford, born on June 6.
The couple had their third child London Crawford in 2013, their first daughter. Likewise, their youngest daughter Aerin Crawford was born on June 10, 2016.
Net Worth
Jamal Crawford had a very successful 20 years long NBA career, and most of his wealth is the result of his time in the league.
The retired basketball player Jamal Crawford has a $55 net worth as of 2023.
His last season earning of 2019-20 with the Brooklyn Nets was $289,803. Other information about his cars, houses, and assets is currently under review.
The Crawsover League
Yes, the former basketball player is engaged in various charity works.
Crawford's "The Crawsover" league, among other philanthropic community initiatives, provides a platform for local players to develop from amateur to professional.
Even though this Pro-am summer league at Seattle Pacific University is one of the best in the country, entry is free.
Social Media Presence
The 43-year-old is very active on social media. He has 1.6 million followers on Twitter (@JCrossover). However, his last tweet was on March 2022.
Jamal occasionally posts pictures with his wife and children. Besides, he tweets and retweets about various NBA players and NBA news.
His Twitter bio describes, "I love basketball, but basketball doesn't define me."
Jamal follows other athletes like Isaiah Thomas, San Antonio Spurs, Chris Duarte, Tom Brady, and Barry Sanders.
The retired basketball has a perfect relationship with other athletes—Baron Davis tweeted Happy Birthday on Jamal's birthday, regarding him as one of his favorites.
As a reply to Davis's Birthday wish, Jamal retweeted along with a picture of his wall and wrote:
"@BaronDavis, another hero to mI memorizedzed watching you play 👑. Got you on my wall of fame #tooeasy.."
Moreover, Jamal has a website called jamalcrawford.com.
He is also on Instagram (@jamalcrossover) with two posts and 533 followers.
Popularity Graph
Jamal Crawford is a broadcaster and a former NBA player who was with Brooklyn Nets before retirement.
The popularity graph shows the wavelength from the last twelve months.
Frequently Asked Questions (FAQS)
What is Jamal Crawford doing now?
The former basketball player is broadcasting games for the NBA League Pass and Quentin Richardson.
What was Jamal Crawford's jersey number?
Jamal wore jersey no. 1, 11, and 6 for the prominent NBA teams he played for in his two decades career.
Has Jamal Crawford ever appeared in music videos?
Do Jamal Crawford's children play basketball?
Eric and JJ Crawford, both of his sons, play basketball. He has even shared his younger daughter training basketball on his social media.