The all-time record-holder for wins in both NASCAR Craftsman Truck Series and NASCAR Xfinity Series, Kyle Busch, has a staggering net worth of $80 million as of March 2023.
Also known as Wild Thing and Rowdy, Kyle's driving style often gets him into headlines either for his race wins or speeding off the track.
He is the younger brother of Kurt Busch, a professional auto racing driver.
Kyle earned his first career victory at Auto Club Speedway in Fontana in 2005, and on February 26, 2023, he gave the track where he clenched his first career victory a commendable send-off by writing another new chapter in record books.
He drove off to win the Pala Casino 400 at Fontana, the final race at Auto Club Speedway's original two-mile configuration.
With his win at Auto Club Speedway on February 26, 2023, Busch is now the sole record holder for the most consecutive seasons with a win.
Quick Facts
Full Name
Kyle Thomas Busch
Known As
Kyle Busch
Nickname
"Rowdy" and "Wild Thing"
Birthdate
May 2, 1985
Age
37 Years Old
Birthplace
Las Vegas, Nevada, United States
Current Residence
Lake Norman, North Carolina, United States
Father's Name
Tom Busch
Mother's Name
Gaye Busch
Siblings
Kurt Busch (Brother)
Nationality
American
Marital Status
Married
Wife
Samantha Busch (m. 2010-Present)
Children
Lennix Key Busch, Brexton Locke Busch
Built
Athletic
Sexual Orientation
Straight
Eye Color
Black
Hair Color
Brown
Height
6 ft 1 in / 1.85 cm / 185 cm
Weight
84 kg / 185 lb
Tattoos
None
Ethnicity
White American
Zodiac Sign
Taurus
Religion
Christianity
Profession
Professional Race Car Driver
Education
Durango High School
Awards & Achievements
2015, 2019 NASCAR Cup Series Champion

2018, 2019 NASCAR Cup Series

Car Number
8
First Race
2004 UAW-DaimlerChrysler 400 (Las Vegas)
Last Race
2023 Pala Casino 400 (Auto Club)
First Win
2005 Sony HD 500 (California)
Last Win
2023 Pala Casino 400 (Auto Club)
Net Worth
$80 Million
Social Media
Instagram, Twitter, Facebook
Last Update
March 2023
Net Worth & Income
One of the highest-paid NASCAR drivers Kyle Busch as of March 2023, boasts a gigantic net worth of $80 million.
Half of his wealth can be attributed to his racing career, while the other half comes from brand endorsement deals.
Aside from that, he also makes decent money from his entrepreneurial endeavors.
But if we were to get the actual numbers, the NASCAR driver Busch has so far made over $61.45 million from track earnings, excluding bonuses.
Similarly, including salaries, track earnings, and endorsement deals, Kyle's career earnings comfortably sit around $234.5 million.
Kyle Busch's annual net worth:
| | |
| --- | --- |
| Year | Net Worth |
| 2018 | $63 Million |
| 2019 | $68 Million |
| 2020 | $70 Million |
| 2021 | $75 Million |
| 2022 | $80 Million |
| 2023 | $80 Million* |
Racing Earnings
As mentioned before, Busch has earned around $61,455,676 from the track, and this does even include his recent track earnings because the prize money for close to eight races has not been disclosed yet.
In 2007, Kyle signed a nine-year contract with Joe Gibbs Racing. Throughout this nine-year time, he earned $101.5 million just from salaries.
After the conclusion of this contract, he extended his stay with the team with a four-year contract.
During his four-year stay with Joe Gibbs, he made another $55.5 million.
After that came to a two-year extension on February 28, 2019.
Another $49.9 million came from this two-year extension.
On September 10, 2022, Kyle signed a contract with Richard Childress Racing (RCR) for the 2023 season.
Given below is an estimated overview of Kyle's annual earnings:
| | |
| --- | --- |
| Year | Earnings |
| 2018 | $16.7 Million |
| 2019 | $17.8 Million |
| 2020 | $19.8 Million |
| 2021 | $19.6 Million |
| 2022 | $18.9 Million |
| 2023 | TBD |
Kyle became the second-highest-paid driver in NASCAR for 2018, with earnings of $16.7 million.
The majority of the earnings, around $14 million, came from salaries on the track and the rest from endorsements.
Brand Endorsements
As aforementioned, Kyle made half of his fortune from lucrative brand endorsement deals with some of the top tire brands and companies.
Some of the significant contributors to his wealth include companies such as M&Ms, Kellogg's, Interstate Batteries, CARQUEST, Skittles, Pedigree, Snickers, and Doublemint.
Here is a list of his earnings from his brand deals:
Kellogg's: $11,789,355
M&M's: $21,896,332
CARQUEST: $5,739,283
Interstate Batteries: $8,354,202
Investments
Kyle "Rowdy" is not that Rowdy when it comes to spending his hard-earned money.
Instead, he chooses to invest those and multiply.
He invests money in properties and business ventures to get a handsome return.
In 2021, Busch worked with entrepreneur Jeff Church to launch Rowdy Energy drink, investing $1 million in the beverage.
Similarly, in 2009 Kyle splashed $7.5 million for a 13,000 square feet European-style expansive home on the shore of Lake Norman. This transaction broke the local Charlotte home sales record.
If you watched the 2019 reality TV show Racing Wives on CMT, which chronicled the daily lives of Kyle's wife Samantha and other racing driver's wives, you've probably seen some of what makes the home so expensive and special.
Charity
Aside from tens of millions in income and a continuous flow of money, Kyle is a good human being and often lends his hands to help others.
He and his wife Samantha run a Samantha and Kyle Busch Bundle of Joy Fund, which is dedicated to encouraging infertility education and wakefulness and removing financial fences by granting monetary awards to couples who require fertility treatments.
Inspired by their own struggles with infertility, the pair established the foundation in 2015 to help others.
Throughout its existence, the foundation has dispensed 70 grants totaling $940,000.
Personal Life
Kyle married Samantha Sarcinella on New Year's Eve of 2012 in Chicago.
Before their relationship began, she graduated with a Master's Degree in Industrial/ Organizational Psychology from Prude University.
She is active on Instagram and runs her personal blog website, where you can find a lot of health and fitness-related stuff in addition to NASCAR-related content.
Similarly, she also runs a woman's boutique store named "Murph" in North Carolina, which she launched in 2017.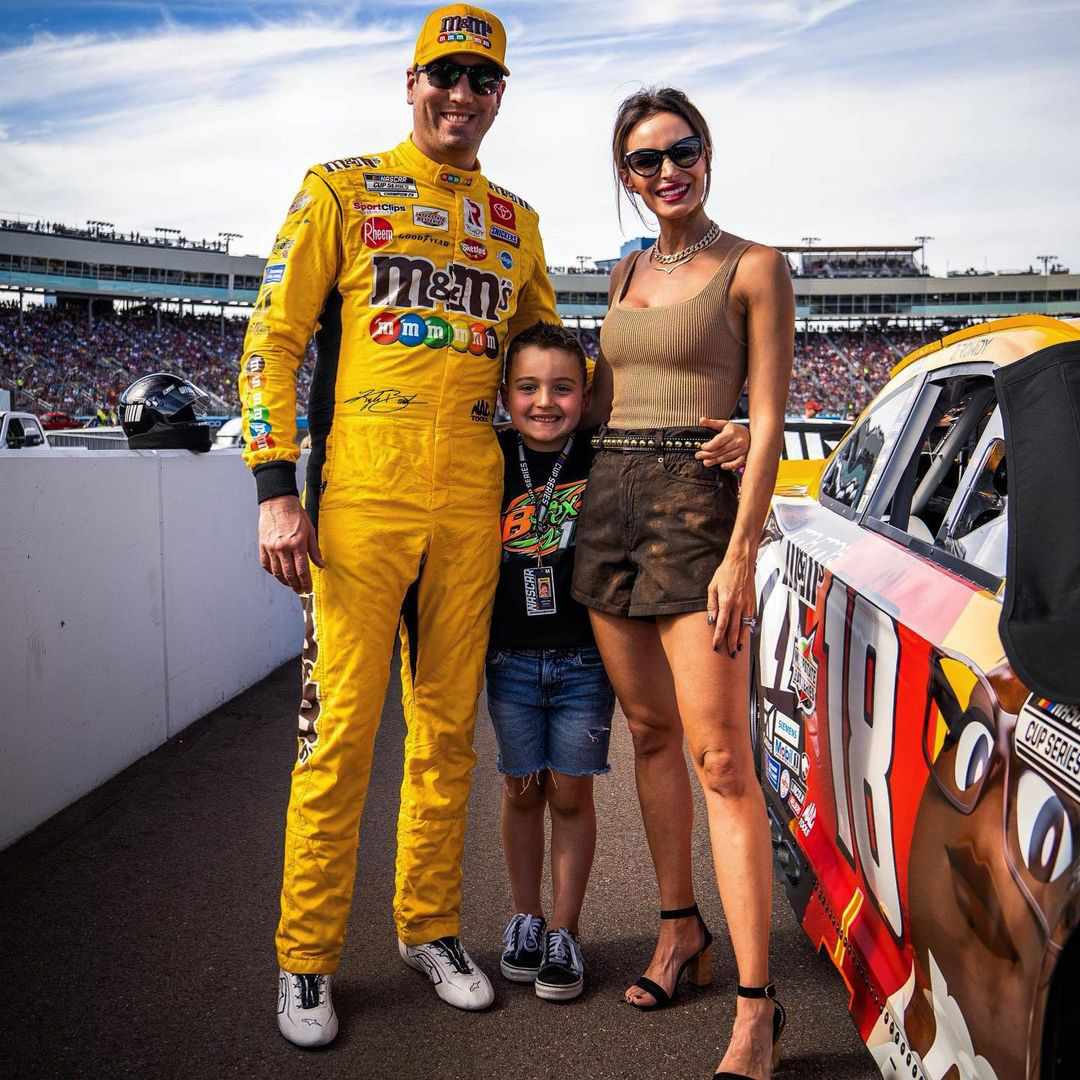 According to sources, the store is named after Samantha's grandmother Alvina, whom she credits for her love of fashion.
Moreover, naturally, she is heavily involved in the day-to-day operation of Kyle Busch Motorsports.
The supportive couple welcomed their first child, a son named Brexton Locke Busch, on May 18, 2015.
Likewise, they welcomed their second child, a daughter Lennix Key Busch on May 10, 2022.
Speeding & Other Legal Charges
Kyle was cited for driving recklessly in North Carolina on May 24, 2011.
He was driving 128 mph in a 45 mph speed limit zone, for which he issued a public apology and stated he got carried away while test-driving a Lexus LFA.
He pleaded guilty to speeding and received 45 days license suspension, 30 hours of community service, and a $1,000 fine.
Recently on February 6, 2023, it was reported that Kyle had been arrested in Cancun, Mexico, for handgun possession in January.
The attorney indicated Kyle had been sentenced to 42 months in prison and a $1,100 fine. For this, Kyle issued a statement apologizing for being unacquainted with the relevant Mexican laws.
Unknown Facts About Kyle Busch
Busch's Rowdy energy drinks are available in ten flavors, including seven sugar-free options; Keto certified.
On September 4, 2005, Kyle and Rick Hendricks donated their winning shares from the race to help benefit those in need after Hurricane Katrina.
On 29 June 2022, an American documentary Rowdy was produced, which focused on the career of Kyle Busch.
Frequently Asked Questions (FAQS)
Do the Busch brothers get along?
The Busch brothers have had their share of dust-ups over the years, most particularly a fight after they crashed at the 2007 All-Star Race that kept them from speaking for a lengthy period. They don't seem that close.
Is Kyle Busch retired?
The Rowdy Kyle Busch retired from NASCAR Xfinity Series after a five-win season in 2021. However, he has returned and is performing exceptionally well on the track.
How many miscarriages has Samantha Busch had?
After Brexton was born, Kyle's wife Samantha suffered a failed surrogate cycle in 2020, a failed IVF in 2019, and a miscarriage in 2018.