Corey LaJoie, the American professional stock car racing driver, not only boasts an impressive career on the track but also has a dreamy personal life. Standing by his side through triumphs and challenges is his beloved wife, Kelly LaJoie.
What makes their story truly exceptional is that Kelly is not just a spouse but also Corey's long-time girlfriend and best friend.
They got married in 2018. Today, their love has blossomed as they embrace the joys and responsibilities of raising two beautiful children together.
Want to know more about Corey Lajoie's wife? Then, you have come to the right place. In this article, we have gathered all that there is to know about Kelly LaJoie. So, sit back and read the entire article.
Before that, here are some quick facts!
Quick Facts
| | |
| --- | --- |
| Full Name | Kelly LaJoie |
| Age | 33 Years Old |
| Birthdate | April 2, 1990 |
| Birthplace | USA |
| Mother's name | Not known |
| Father's name | Not known |
| Marital Status | Married |
| Married on | December 2018 |
| Husband | Corey LaJoie |
| Husband's profession | NASCAR racer |
| Religion | Christianity |
| Nationality | American |
| Children | Two sons |
| Son's names | Levi Ronnie LaJoie, Jenson Daniel LaJoie |
| University | Not known |
| Tattoos | None |
| Profession | Not known |
| Hair Color | Brunette |
| Net Worth of Corey LaJoie | Between $1 million and $5 million |
| Social Media | Instagram |
| Last Update | September, 2023 |
Corey LaJoie Married Life & Kids
Kelly and Corey LaJoie have been happily married for over 4 years since their wedding in December 2018.
Their journey to the altar began with their engagement in 2017, which Kelly joyfully shared on Instagram, accompanied by the words, "I have found the one whom my soul loves."
Their relationship started even earlier, as they have been dating since 2013. Their love has grown stronger over the years, and they continue to cherish each other.
The couple is blessed with two wonderful children. Their first son, Levi Ronnie, was born on March 10, 2020. Likewise, they welcomed their second son, Jenson Daniel, on May 26, 2022.
Fans often say that the boys look like their father.
Brief Wiki Of Corey LaJoie
Corey LaJoie is a professional stock car racing driver from Charlotte, North Carolina.
His father, Randy LaJoie, is a two-time NASCAR Busch Series champion, winning in 1996 and 1997.
Moreover, Corey has competed in various racing series, including the NASCAR Cup Series, Xfinity Series, Camping World Truck Series, and ARCA Menards Series.
He has raced in over 200 NASCAR Series events, driving for teams like Spire Motorsports and Hendrick Motorsports.
Although he hasn't won a race yet, he has achieved seven top-ten finishes in the NASCAR Cup Series.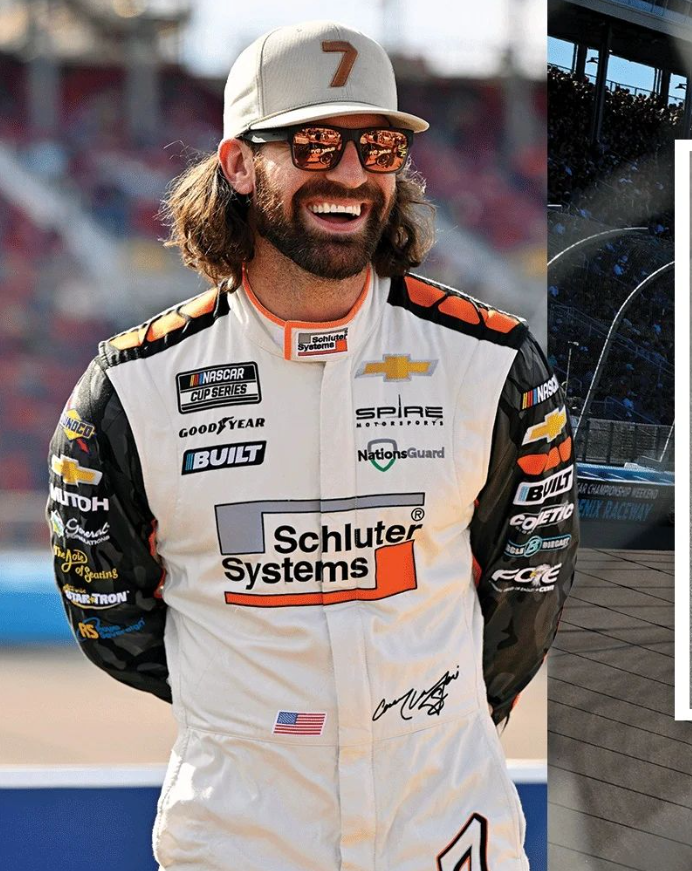 In the NASCAR Xfinity Series, Corey participated in 22 races and earned two top-ten finishes. Likewise, he raced in three NASCAR Camping World Truck Series events and got one top-ten finish.
Corey's racing career also includes competing in the ARCA Menards Series, winning three out of seven, and the ARCA Menards Series East, winning six out of 37.
Corey LaJoie Wife | Faith in God
Kelly LaJoie is a devoted Christian who holds a deep and unwavering faith in God. She frequently shares her faith on her Instagram posts, often quoting passages from the Bible.
In one of her posts from 2018, Kelly expressed the significance of her relationship with God, stating,
"This year, we've worked so hard on the most important relationship in our lives, the one with God. He has sought us, and we have sought in return… It's so much more amazing to trust in God through the process and see what he had envisioned all along unfold."
These words exemplify the strength of her faith and her belief in God's plan for her life. Kelly's faith is a central aspect of who she is, guiding her actions, choices, and perspective on life's journey.
The Pair Are Involved In Charity Works
Corey and his wife, Kelly, are involved in a charity called Samaritan's Feet, which provides shoes to children and individuals in need to inspire hope and encouragement.
In 2019, Corey waived his entire month's salary to put the charity on his No. 32 Ford for the Watkins Glen race. Similarly, he also invited donors to have their names written on his car by him.
His wife, Kelly, came up with the idea to have people donate to Samaritan's Feet and get their names on the car.
Net Worth Of LaJoie Couple
The details of Kelly's net worth and career path aren't publicly available. However, she is married to Corey LaJoie, and as a couple, they have enough money to live a lavish life.
Corey LaJoie's net worth is between $1 million and $5 million. His annual salary with Spire Motorsports is reportedly $200,000.
His income source is mainly from being a race car driver. Moreover, Lajoie's podcast and social media presence is also beneficial. The remainder comes from endorsement and sponsorship agreements.
Interesting Facts
Although the details of Kelly's parents aren't publicly available, her Instagram bio mentions "Daughter of the King," which means that she is very close to her father and is grateful to have him.
Besides being a wife and a mom, Kelly is also a bookworm. She is an avid reader and often loses track of time when engrossed in a good book.
Frequently Asked Questions (FAQs)
What is Corey LaJoie's podcast about?
Corey's podcast is called Stacking Pennies with Corey LaJoie. It is a podcast where he dives into all things NASCAR and shares his insights and opinions on the sport.
Likewise, he also interviews other drivers, crew members, and personalities from the racing world.