Football is one of those competitive sports that Americans follow religiously. It is almost a tradition to watch a football game with the family, especially during thanksgiving. Hence, players like Kyle Sloter is a household name for many of these hardcore fans.
For those who don't know, Kyle is an American football player who has been playing as a free agent since 2017. Back then, the Denver Broncos signed Sloter as an undrafted free agent.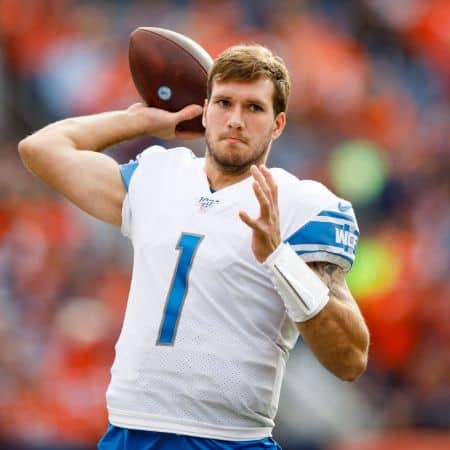 Likewise, just in his mid-20s, Sloter has played for numerous teams and clubs undoubtedly. But as much as we are well-aware of his career achievements, the same can not be said about his personal life.
Hence, today, all this article will focus on his personal life while also disclosing his football career. If you are one of those who want to know more about him, then make sure to read till the end.
Kyle Sloter: Quick Facts
| | |
| --- | --- |
| Full Name | Kyle Joseph Sloter |
| Birth Date | February 7, 1994 |
| Birth Place | Atlanta, Georgia, the United States of America |
| Alias | Kyle |
| Religion | Unknown |
| Nationality | American |
| Ethnicity | White |
| University | University of Northern Colorado |
| School | Mount Pisgah Christian School |
| Horoscope | Aquarius |
| Father's Name | Daryl Sloter |
| Mother's Name  | Michelle Sloter |
| Siblings  | Unknown |
| Age | 26 years |
| Height | 6 feet 5 inches (196 cm) |
| Weight | 99 kgs(218 lbs) |
| Build | Athletic |
| Profession | Professional Football Player |
| Active years | 2017-present |
| Team  | Detroit Lions |
| Position | Quarterback |
| Net Worth  | $1 million |
| Salary  | $690,000 |
| Marital Status | Dating |
| Girlfriend | Alyssa Klostermann |
| Social Media | Instagram, Twitter |
Who is Kyle Sloter?- Parents and Ethnicity
One of the quarterbacks for the Detroit Lions, Kyle Sloter, was born in the small town of Atlanta, Georgia, the United States of America. His full name is Kyle Joseph Sloter. Likewise, he is the son of his parents, Daryl Sloter and Michelle Sloter.
Sadly, any other information disclosing their current whereabouts are unknown to the public. Also, there is no mention of siblings anywhere in the media. So, we are assuming that Kyle might be an only child.
Similarly, Sloter is American, while his ethnic background happens to be white. His religious beliefs are not disclosed at the moment.
Where did Kyle Sloter go to college?- Early Life and Education
As for his education, Sloter went to Mount Pisgah Christian School, where he was a two-sport star: football and basketball. Already a star football player, Sloter was a two-time All-State selection, four times team All-District, All-Area, All-Region, and All-Metro honoree.
During his high school, Kyle set the record with 9,200 total yards, including roughly 6,000 passing yards and 3,000 rushing yards with 87 career touchdowns.
As mentioned, Kyle also played basketball in high school and excelled in this as well. With his help, the team won two Regional Championships and even advanced to the Final Four.
Likewise, to this, Kyle also added All-State, All-Region, All-District, and Team MVP honors under his name. When he played basketball, Sloter recorded 2,100 career points, ranked as the Top 10 scorer in the state, and averaged 18.0 points per game with nine rebounds per game as a senior too.
Moreover, the young Kyle completed his college studies from the University of Northern Colorado and played for the university's team as well.
How old is Kyle Sloter?- Age and Body Measurements
As we have read, Kyle was a star player since his time in high school, not only as a football player but also as a basketball player. It is incredible just how much he has achieved in such a short time. But many find it surprising that Kyle Sloter is only 26 years old.
Yes, Kyle Sloter, quarterback for the Detroit Lions, was born on February 7, 1994. Also, his birthday falls under the sun sign of Aquarius. And from what we know, this sign is known for being smart, practical, and attractive among the other signs.
True to the statement, Kyle is a smart player. The number is not the only thing that helps the team win the game; strategy is essential as well. But aside from that, it is also Sloter's physical fitness that helps him excel in the field.
Likewise, the young Kyle stands at 6 feet 5 inches(196 cm) and weighs about 99 kgs(218 lbs). His agility has helped him stay in the game for a long time. Years of training in the field had made him strong and fit for the game.
Other than that, he has got short light brown hair and a pair of blue eyes.
College Years- Southern Miss and Northern Colorado
Having a bright future and impressive stats in his high school years, there was no shortage of offers from the college after his graduation. Right after Tulane and Southern Miss offered a scholarship for Kyle to play in their team as a quarterback.
After much thought, he committed to Southern Miss because of former Tulane assistant Rickey Bustle who worked hard to recruit him. During his first season at the Southern Miss, Sloter started as a redshirt freshman by the coaches in order for him to have a chance to be the Golden Eagles' 2013 starter.
However, with the sudden change of the head coach, Kyle found himself back in the quarterback depth chart and asked the coaches to work with the wide receivers. Finally, his wish was granted, and as a result, Sloter finished the season with five catches for 35 yards and a touchdown.
During his junior season, Sloter decided to leave Southern Miss for the University of Northern Colorado, as his scholarship was pulled. There also Kyle filled the position of the backup quarterback; only rushed 5 yards and caught six passes for 60 yards on the season.
Similarly, at the beginning of his senior season, Kyle only threw three passes against the Rocky Mountain College. But during their game against Abilene, Sloter indeed came forward as a player. He threw 408 yards with seven touchdowns and eventually won the match by 55-52.
Not to mention, Sloter was named the Big Sky Player of the Week and FCS Offensive Player of the Week. Likewise, young Kyle finished the season with 2,656 passing yards, 29 touchdowns passes, and ten interceptions in ten games.
Professional Career- Who picked up Kyle Sloter?
Despite being athletically gifted and worthy quarterback player, Kyle received no invitation to attend the 2017 NFL Combine. Still, eager to show his athletic ability, Sloter ran a laser-timed 4.65 40-time and posted a 9'1″ broad jump in someone else's sneakers at Northern Colorado's pro day.
The following day, Kyle was ready to make a good impression but was stopped to run since he was already on record from the previous day. Still, they allowed him to throw the ball for scouts where he registered an arm speed of 58 mph, just one mph shy from being the best-clocked throwing speed at the NFL Combine.
Likewise, on May 13, 2017, Sloter signed with the Denver Broncos as an undrafted free agent. In his preseason, the Atlanta-native completed 31 of 43 passes for a total of 413 yards, including three touchdowns. He also recorded no interceptions for a passer pf 125.4, the highest of any rookie quarterback.
Why did Vikings cut Kyle Sloter?
After being waived by the Broncos on September 2, 2017, the Minnesota Vikings signed him two days later in the practice squad. On September 16, Kyle was promoted to the active roster. He played for the Vikings until August 31, 2019.
Upon asking for the reasons after Vikings waived Kyle, it was disclosed no one wanted to trade Sloter for their team. This led the Vikings to let go of the 25 years old when 53-man rosters had to be set at 3 pm.
Even though Kyle played well in the preseason last year, coach Zimmer was not precisely impressed since he's mostly gone against third stringers. Talking with the Pioneer Press, Kyle told,
"I'm going to come out with some sort of reactions depending on what happens(after the waiver period). Whatever happens next, I'll put something out there. I'm not in the mood to comment on it."
Similarly, after a month, Arizona Cardinals signed Sloter to the practice squad. But on November 30, 2019, Kyle signed with the Detroit Lions of the Cardinals practice squad after an injury of Jeff Driskel. 
Net Worth and Income- What does Kyle Sloter make?
Active as a professional football player since 2017, Kyle has accumulated a net worth of $1 million as far as we know. The number may vary regarding the club and his current stats.
Likewise, with the Lions, he signed a two-year contract worth $1,380,000, where he made an average salary of $690,000. So far from his football career, Sloter has made around $1,637,647, which is a considerable amount.
But the young player has not disclosed all of his assets and income to the public yet.
Personal Life- Dating and Girlfriend: Who is Kyle Sloter dating at the moment?
Just like his professional life, Kyle's personal life has also attracted many fans from the football background. As a matter of fact, Sloter is not shy and reserved like other athletes.
Having said that, Kyle, 26, at this time, has a girlfriend named Alyssa Klostermann. According to sources, the two have been dating for a long time, since 2016 to be precise.
Any other details disclosing Alyssa's life has not been made public in the media yet. And even the two have made no plans to tie the knot anytime soon either.
However, this has not stopped, Sloter from posting the couple pictures on his social media handles.
Social Media Presence
Instagram–  19.2k Followers
Twitter–  12.7k Followers