It is not unusual for people to recognise celebrity right from the get-go. Not to mention, it is easy to detect their significant other as well. Brynn Cameron is one of those people who is recognized for being the ex-fiance of renowned NBA star, Blake Griffin.
Even though the couple parted ways long ago, Brynn still enjoys the limelight. However, her ability is often overshadowed by her ex-fiance fame.
For those who don't know, Brynn is an athlete herself. This blonde beauty is a former professional basketball player and used to be active as a player in her college days. Other than that she is also a sports personality and businesswoman.
Likewise, there is much information that we don't know about her. Today, we will disclose all details about her right here and right now.
Brynn Cameron: Quick Facts
| | |
| --- | --- |
| Full Name | Brynn Elaine Cameron |
| Birth Date | July 8, 1986 |
| Birth Place | Van Nuys, Los Angeles, the United States of America |
| Alias | Brynn |
| Religion | Christianity |
| Nationality | American |
| Ethnicity | White Caucasian |
| University | University of Southern California |
| School | Newbury Park High School |
| Horoscope | Cancer |
| Father's Name | Stan Cameron |
| Mother's Name  | Cathy Cameron |
| Siblings  | Three |
| Age | 34 years |
| Height | 5 feet 10 inches (178 cm) |
| Weight | 56 kgs(123 lbs) |
| Build | Slender |
| Eye color | Grayish Blue |
| Hair color | Blonde |
| Profession | Celebrity, Social Media Personality |
| Marital Status | Unmarried |
| Boyfriend | Matt Leinart, Blake Griffin |
| Children | Three |
| Net Worth | $755,000 |
| Famous As  | Ex-fiance of Blake Griffin |
| Social Media | Instagram |
Who is Brynn Cameron?
Former basketball player and current businesswoman who is widely known as the ex-fiance of famous NBA player, Blake Griffin. Despite having children together, the couple parted ways due to some personal reasons. Not to mention, she filed a lawsuit against Blake demanding child support. We will discuss it further later on.
How old is Brynn Cameron?- Age and Height
The former basketball player who is better known as the ex-fiance of Blake Griffin, Brynn Cameron is just 34 years. Brynn was born on the eighth of July in the year of 1986. Her sun sign also happens to be Cancer. This sign is known for being stubborn, emotional, and one of the hard-working signs.
We are sure being a professional basketball player, she is mentally prepared and calm. But it is not only her mental stability and personality that impressed the public.
Just like her personality, Brynn's physical appearance is also stunning, to say the least. Griffin stands at 5 feet 10 inches(178 cm) which undoubtedly helped her as a basketball player.
Likewise, Brynn weighs around 56 kgs(123 lbs) and her slender yet toned physique measures 34-26-32 inches. Not to mention, Brynn is gorgeous with her long blonde hair and stunning greyish-blue pair of eyes.
Early Life and Education
Athlete by nature herself, Brynn Cameron was born in the uptown city of Los Angeles, California, the United States of America. She was named Brynn Elain Cameron by her parents: father, Stan Cameron and mother, Cathy Cameron.
Aside from her parents, Cameron grew up alongside her siblings: two brothers, Jordan Cameron and Colby Cameron, and her sister, Emily Cameron.
Sadly, other than their names, any further details and their current whereabouts are unknown as of now. But we will try to update if we get any information.
But from what we know, one of the brothers, Jordan, is also an athlete himself. He played for the Cleveland Browns from 2011 to 2014 at Tight End. Similarly, he then went to Miami Dolphins from 2015 for a year.
Moving on to her education, Brynn went to Newbury Park High School for her early education and then went to the University of Southern California. Likewise, from the University Cameron graduated with a degree in sociology back in 2009. 
Brynn Cameron: Ex-fiance of NBA player, Blake Griffin
As we all know, Brynn is widely known for being the ex-fiance of NBA star player, Blake Griffin. The two met back in 2009 when apparently the love sparked between them, and they started dating.
Soon after the news of them, dating broke out; it took media by storm. All the NBA fans pried on the new girl of Blake and instantly limelight was on Brynn.
Just within four years of dating, the two welcomed their first child, a son named Ford Wilson Cameron-Griffin on August 1, 2013. Right after their first child, Brynn gave birth to their second child, this time a daughter in September 2016. They named her Finley Elaine Griffin.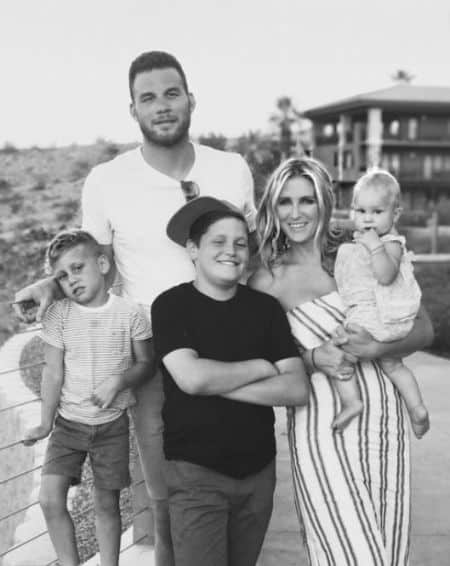 With the two children and support of each other, everything seemed to be going well for the couple. In fact, Brynn even gave up her shinning basketball career, despite being a top scorer during the 2003-2004 season; to support her family and support Blake's career.
Moreover, the two were even on the verge of getting married. Together the duo was concerned not only for their future but also for their children. However, Brynn never got to live the planned future together with Blake.
In July 2017, Blake called off the engagement, and that's how the couple's life came to an end. After their split, he even stopped sending child support. This led Brynn to file a lawsuit against him on February 14, 2018.
According to the reports, Cameron demanded alimony and asked for child support. Not only that but she accused the father of her two children of abandoning them and having an alleged affair with beauty mogul, Kendall Jenner.
Aftermath and Child Custody
Since both Blake and Brynn were public figures, their separation and legal issues caught the media attention quickly like wildfire. Hence, on August 2, 2018, the two settled the dispute and agreed on a term to co-parent their two children.
Likewise, Brynn also received $258,000 a month as child support. Apparently, the two negotiated privately before they showed up to the court for final hearing.
Apart from that, Blake will also pay for the housing arrangement of the former basketball player. As per the record, the NBA player will pay for the five-bedroom house located in Manhattan Beach in a South Bay Community.
So, after the issue was solved, Brynn has stayed off the media for quite some time now. But people want to know where she is? And if she is dating anyone at the moment or not?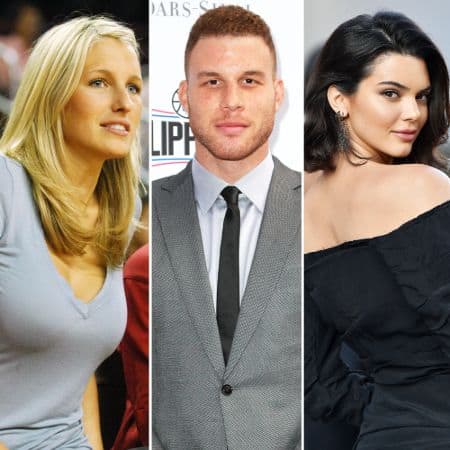 From what we know, the former basketball player is single at the moment and has not dating anyone at the moment. However, prior to her engagement with Blake, Cameron used to date another athlete, Matt Leniart, who is a former football quarterback.
Moreover, Brynn dated Matt when she was a teenager around 2004. But the duo soon parted ways after dating for a year. Shortly after the split, Brynn gave birth to her first child, a son, Cole Cameron. She was just 19 at that time.
Hence, at the moment, Brynn is living a single life at the moment, looking after her three children; residing in her residence in Manhattan, the United States of America.
Brynn Cameron- Professional Career and Now
When it comes to Brynn, there is not much information that sheds light on her career and works details at the moment. Similarly, as we have mentioned before, Brynn is a former NCAA basketball player who played for the USC.
Not to mention, she excelled as a basketball during her college years and emerged as a top scorer with 9.8 points per game. Cameron also ranked number 25 in the nation in three-point field goal percentage.
Other than that, she made numerous records during her prime college basketball years. To start up, Brynn became the no. Three all-time 3-pointers with 131 career threes and ranked no—5 with a 34.5% three-point shooting percentage.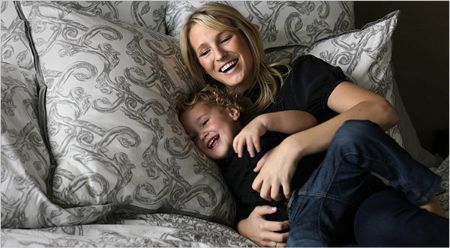 However, her hip injury during the 2005-06 season prevented from playing in most of the matches. She spent almost all the season recovering from the stubborn injury.
Then in 2007-08 seasons, Cameron made her much-awaited comeback and appeared in almost 28 games. She ended the year with 40 three-pointers along with 5.8 points per game.
Sadly, instead of continuing her career as a basketball player, Brynn worked as an interior decorator right after her graduation. But in 2012, the blonde bombshell left the job and signed an opportunity to work as the sports marketing executive for global brands like Addidas and Gatorade.
Net Worth and Income – How much is Blake Griffin worth?
Being a basketball player herself, Brynn has earned a significant amount of salary. From her successful career as a basketball player, Brynn has acquired a net worth of $2 million.
Furthermore, Cameron's former boyfriend, Blake Griffin, has a staggering net worth of $60 million. The famous National Basketball Association(NBA) player earned such amount from his successful career as an athlete.
Moreover, on July 19, 2017, Blake signed a five-year contract worth $173 million with the Clippers. As rewarding and hefty the amount is, the agreement also included an average annual salary of $34 million with a base salary of $31 million.
Financially, Blake has been earned an insurmountable figure that if we add them all up, his entire career making will be worth $1.92 billion.
Social Media Presence
Instagram–  537 Followers